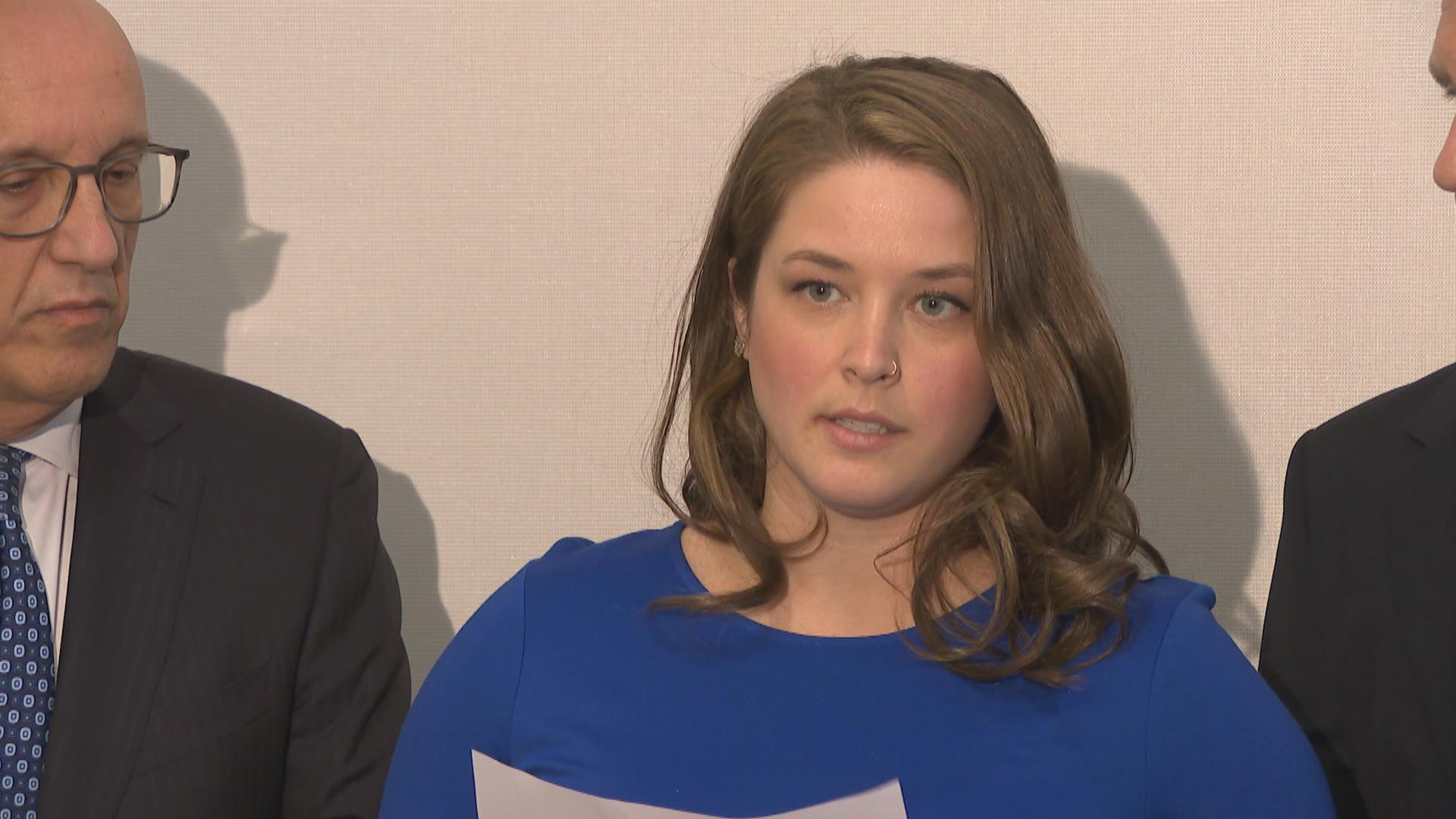 "This is not simply about standing up for myself and my own career. It is also about the countless other women who have been subject to this type of harassment," Alaina Hampton said Thursday.
Alaina Hampton, a former political and legislative staffer in House Speaker Michael Madigan's political organization, is taking her ex-boss to federal court.
Hampton, through her attorneys Shelly Kulwin, Jeffrey Kulwin and Rachel Katz, filed a federal complaint Wednesday alleging Madigan's organization retaliated against her for coming forward about sexual harassment she faced on the job.
Document: Read the complaint According to the complaint, Madigan and the Democratic Party of Illinois failed to hire Hampton to work on a political campaign that she says she was qualified to work on, and that it has caused injury to her career as a political worker. Hampton is seeking an undisclosed amount in damages and attorneys' fees.
"The primary goal of this lawsuit is to get relief for what she sought," said Kulwin. "But these lawsuits can also help more women come forward."
Madigan's spokesperson, Steve Brown, responded to the lawsuit filing with a simple statement:
"The pleading is being reviewed by counsel," it reads. "However, I can assure you that the Democratic Party of Illinois and the Friends of MJM have not retaliated against Ms. Hampton in any way."
Hampton first blew the whistle in February, announcing that she was filing a complaint with the Equal Employment Opportunity Commission. She made public statements outlining the harassment she faced at the hands of Kevin Quinn, her supervisor in Madigan's political organization. According to the complaint, Quinn called and texted Hampton repeatedly between August 2016 and February 2017, urging her to pursue a romantic and sexual relationship with him. Furthermore, Quinn ignored Hampton's repeated attempts to rebuff these advances and her wishes that the relationship remain strictly professional, the complaint states. In February, Hampton reported the harassment to another supervisor, Quinn's brother, Chicago Ald. Marty Quinn (13th Ward).
According to the complaint, Marty Quinn informed Hampton that she could "block" his brother on her cellphone, and that she would no longer have to report to him. But Hampton says she was later forced to work under Kevin Quinn when Marty Quinn promoted her to the position of precinct officer. The complaint says that Hampton was "constructively discharged and forced to stop working for the Madigan Defendants" in April 2017. She wrote a letter to Madigan in November coming forward about the harassment and explaining why she left the organization.
Madigan's office issued a statement Feb. 11 saying that the office, through counsel Heather Wier Vaught, conducted an investigation after receiving Hampton's letter and had terminated Quinn. It was the same day Hampton first spoke publicly about her complaint. Hampton says she had never been informed of a formal investigation against Quinn, and claims the action came simply because Madigan had gotten word that she was about to speak out.
Kulwin says the Madigan organization will have to come clean about what they knew, and when, throughout the deposition process.
"If there was some internal investigation, as they say, then let's see it," he said.
The EEOC ruled that Hampton could proceed with a lawsuit if she chose to do so. Hampton says the situation has caused her extreme distress and health problems, but that she felt obligated to continue forward.
"I was forced to leave a job that I loved, derailing my career path," Hampton said Thursday. "My reputation was sullied and I lost out on key job opportunities when word spread that I was persona non grata with these defendants. But this (lawsuit) is not simply about standing up for myself and my own career, it is about the countless other women that have been subjected to some type of harassment. It is my hope that by filing suit, I can create space for more women to feel that their voices are being heard."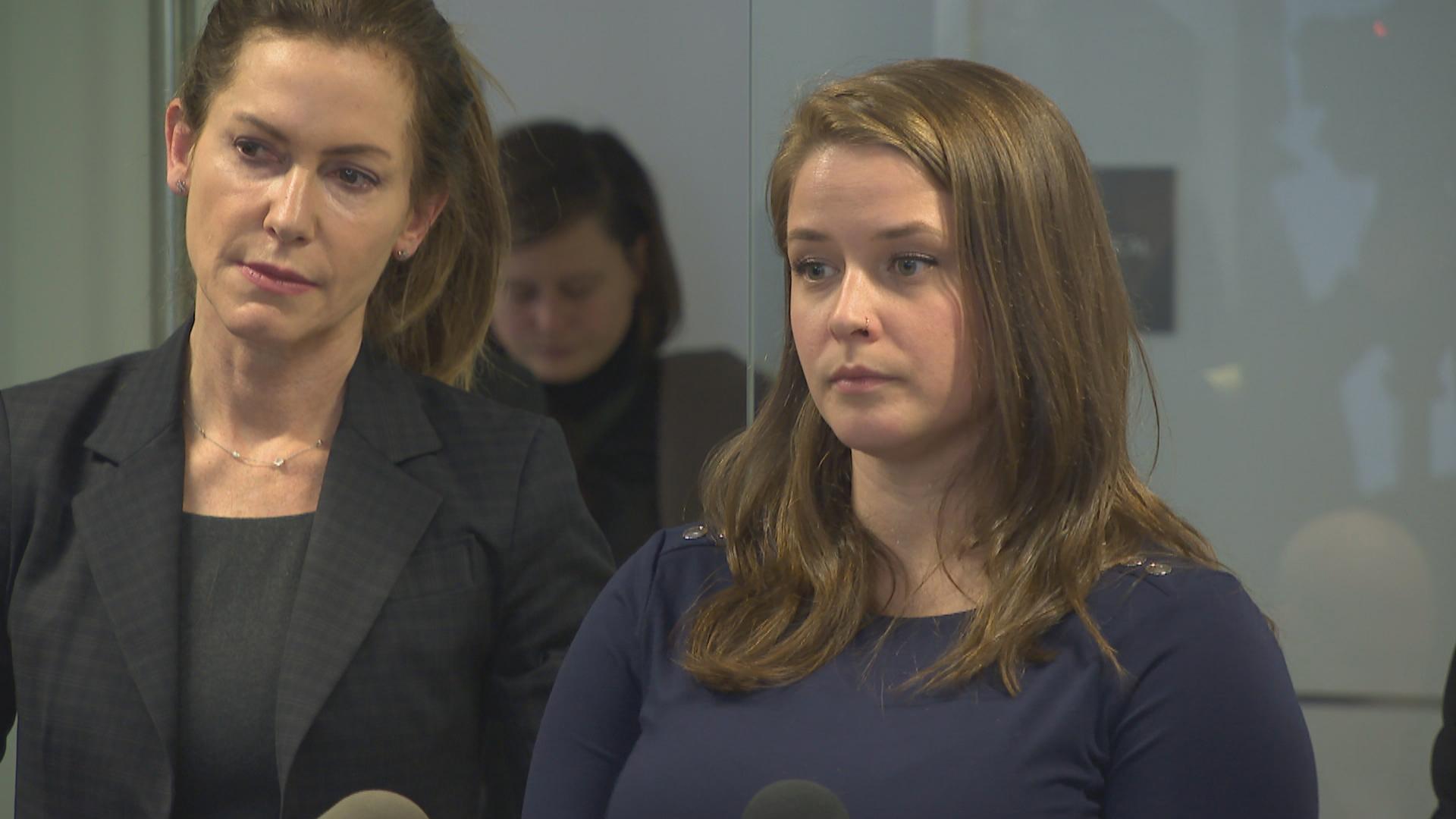 Alaina Hampton, right, speaks to the media Feb. 13, 2018 with her spokesperson Lorna Brett.
Hampton went to work for the political campaign of 3rd Congressional District candidate Marie Newman after she left Madigan's office. Newman's opponent, incumbent Dan Lipinski, is closely aligned with the Madigan organization. When asked if Madigan's refusal to hire Hampton after she came forward constituted political retaliation, as opposed to retaliation for coming forward about sexual harassment, Kulwin responded: "I think that will be the subject of this lawsuit."
Kevin Quinn, who is in the middle of a divorce and custody battle, was arrested three times for allegations of domestic abuse between August 2016 and July 2017, according to records. Quinn's estranged wife says she faxed a letter to Madigan's chief of staff Tim Mapes in August warning him about Quinn's behavior and pleading that she felt she had nowhere else to turn. Mapes, through a spokesperson, has denied knowing about the fax. Kulwin on Thursday slammed Madigan for keeping someone with Quinn's arrest record on staff, especially around other women.
"If you know that your employee is engaged in that type of conduct, any reasonable employer would call you in and say, 'What's going on?'" Kulwin said.
Madigan has since taken several public measures to curtail sexual harassment in his office, saying that he would personally step in if anyone acted up. He hired an outside "independent" counsel to investigate all complaints. Hampton and her lawyer say they have not been contacted by that outside counsel.
Follow Paris Schutz on Twitter: @paschutz
---
Related stories:
Democratic Candidates for Governor Want Madigan to Resign
Woman Accusing Madigan Aide of Sexual Harassment Speaks Out
Madigan Fires High-Ranking Aide Amid Sexual Harassment Claims
---