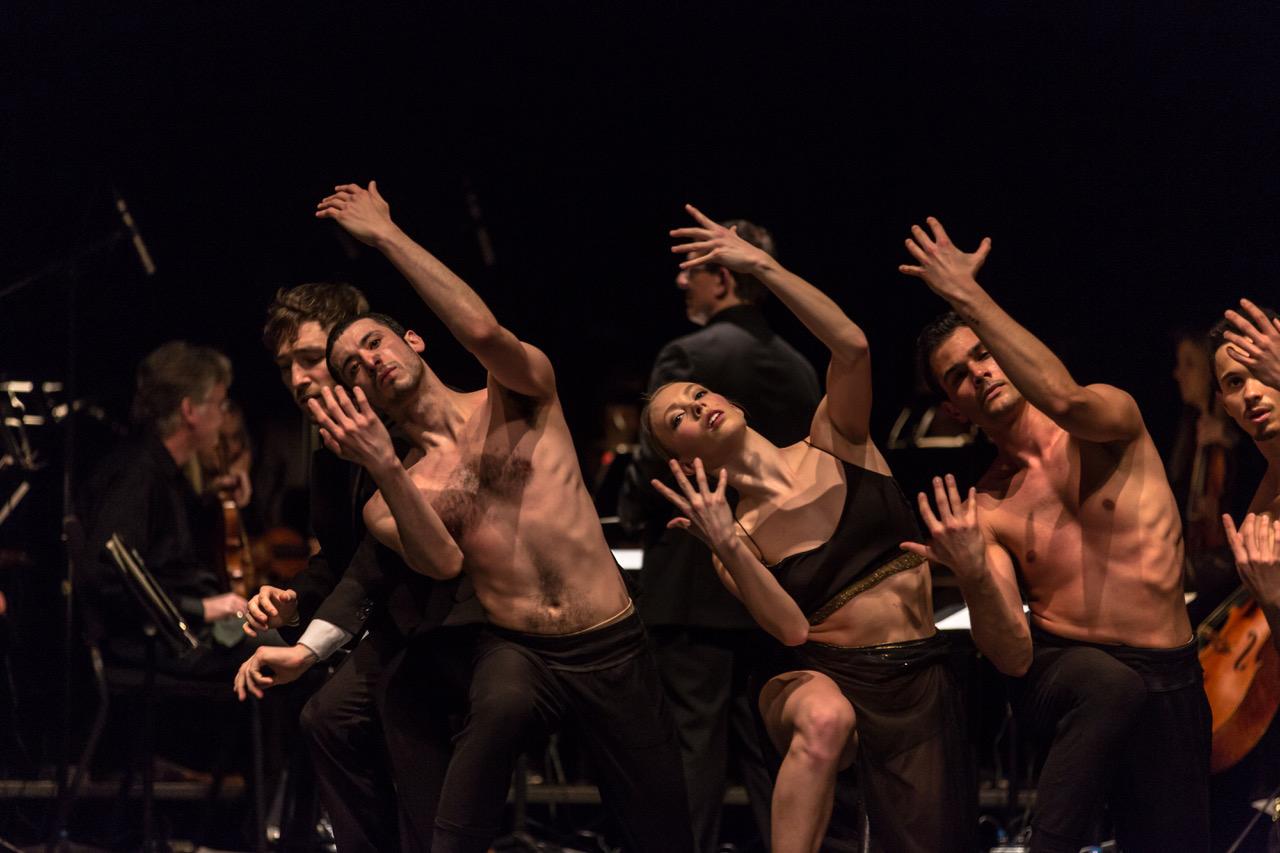 Visceral Dance Chicago performs Nick Pupillo's "The Dream." (Photo by Quinn Wharton)
Five years ago, in an act of unmitigated daring and confidence, Visceral Dance Chicago, then a brand new contemporary company under the artistic direction of Nick Pupillo, arrived on the stage of the Harris Theater for Music and Dance. And it quickly proceeded to wow its audience with a small ensemble of supremely polished dancers who performed several beautifully crafted pieces choreographed by Pupillo and others, embellished by the lighting of master designer Brian Sidney Bembridge.
Earlier this month, again at the Harris Theater, its home base, Visceral demonstrated why it has become a serious contender on the dance scene, and how it can captivate audiences with exceptionally elegant, sophisticated, superbly danced, musically intriguing work notable for its use of lighting (by both Bembridge and Nathan Tomlinson) to sculpt movement and mood.
While I didn't write a review of that single – and singular – concert, now, as the company prepares to revive "The Dream," which debuted in March 2017, and is now receiving a much-deserved revival this Sunday afternoon (April 29) at The North Shore Center for the Performing Arts, it is time to call attention to the beauty and power of Visceral.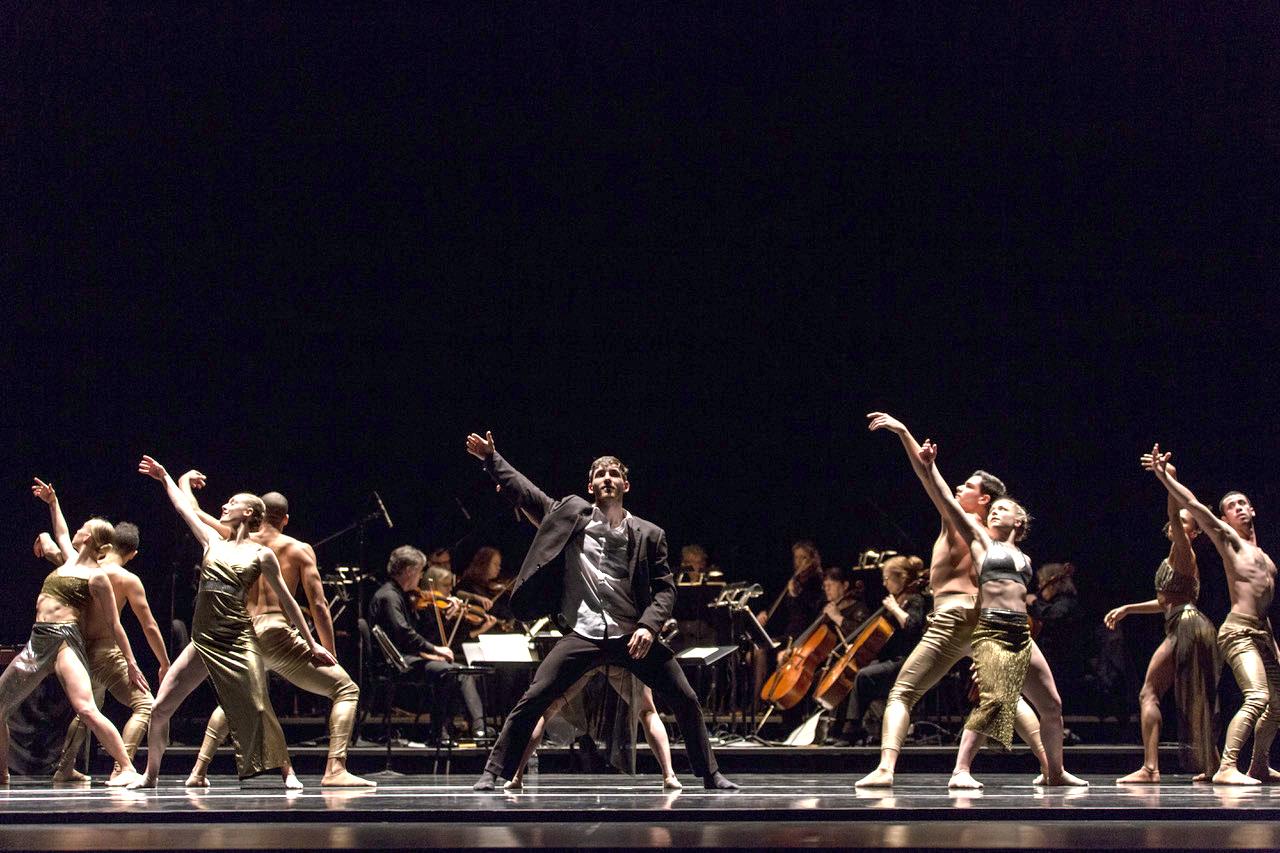 Nick Pupillo's "The Dream." (Photo by Quinn Wharton)
First, a few words about "The Dream," Pupillo's haunting, hourlong narrative work inspired by "The Dream of a Ridiculous Man," a short story by Dostoyevsky and performed, in an ideal collaboration, with the Chicago Philharmonic led by conductor Scott Speck.
The story told is of a man profoundly disillusioned by life who is so swept up into a state of nihilism that he contemplates suicide. After a disturbing chance encounter on the street during which he shuns a young girl in need of help, he arrives home and falls into a vivid, extended dream that takes him to a strange planet where his experiences leave him a changed man, and where, upon awaking, he is a changed man.
The Visceral dancers possess impressive dramatic skills, with the work of the lead male dancer a tour de force. And the live performance of Pupillo's expertly mixed-and-matched score (that draws on the music of Shostakovich, Tchaikovsky, Rachmaninov, Heitor Villa-Lobos, Osvaldo Golijov, Ennio Morricone, Radiohead's Jonny Greenwood and others), adds immense intensity to the storytelling.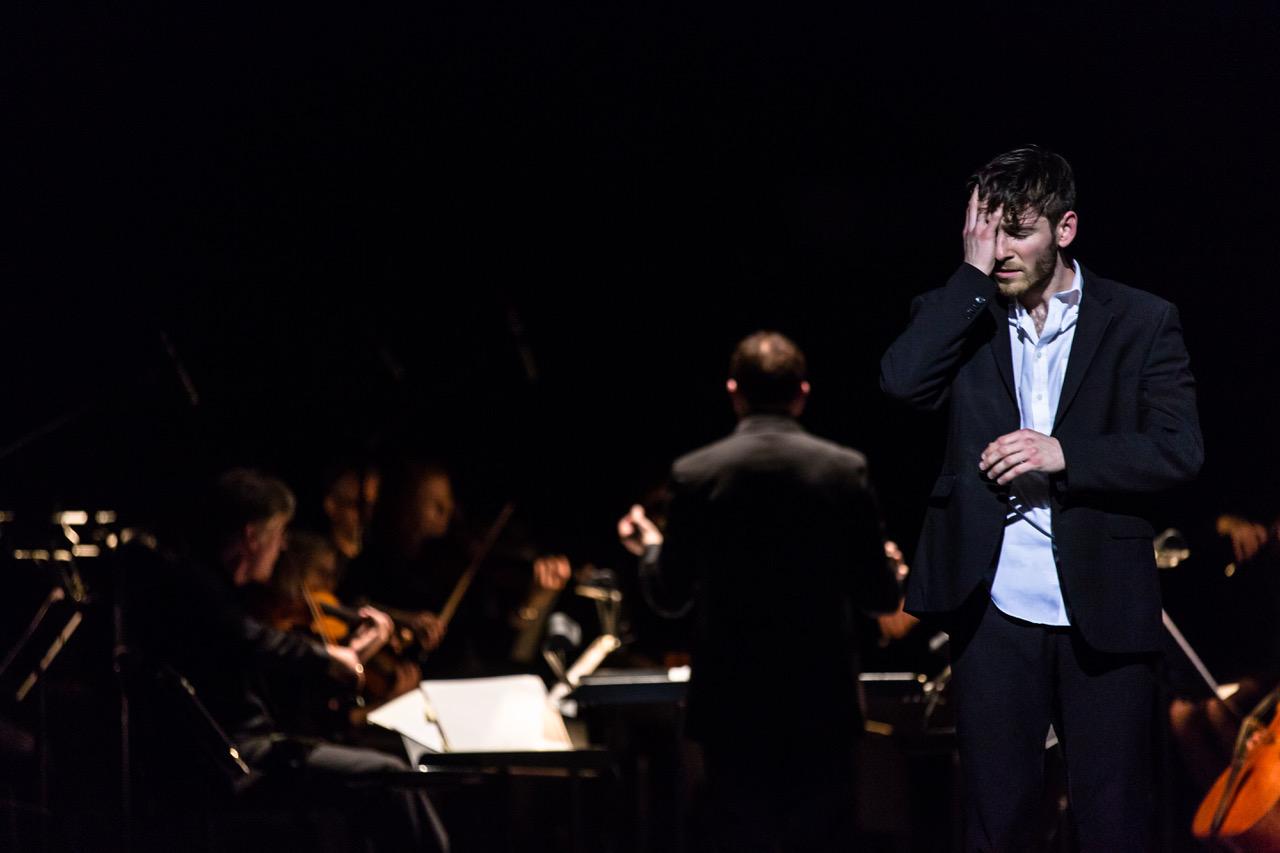 Nick Pupillo's "The Dream." (Photo by Quinn Wharton)
Finally, a few belated notes about Visceral's April 7 concert at the Harris. The first half took a retrospective look at three important early works, while the second half was devoted to two world premieres. The abiding theme throughout was the complexity of human relationships and the many elements of passion, playful exploration, power dynamics and rejection and separation involved in them. All were marked by a mix of the lyrical and acrobatic, the intriguing use of gesture, a riveting attention to the use of patterns and space and an adventurous choice of music. And the dancers, with their breathtaking balances, gorgeous leg extensions, daring partnering and overall precision create a formidable ensemble.
Dating from the very first season were Pupillo's "Impetere" (aptly rooted in the words "impetus" and "attack"), with 10 dancers in alternately fierce and lyrical relationships, and "Senza di te," a heated beauty of a pas de deux set to the music of Invert and sinuously danced by Riccardo Battaglia and Meredith Harrill. In addition there was a revival of "Changes," a wholly magical work of gesture and playful human interaction by Spanish choreographer Monica Cervantes (a force in the sadly defunct Luna Negra Dance company), who, rumor has it, might return next year to create another work for Visceral.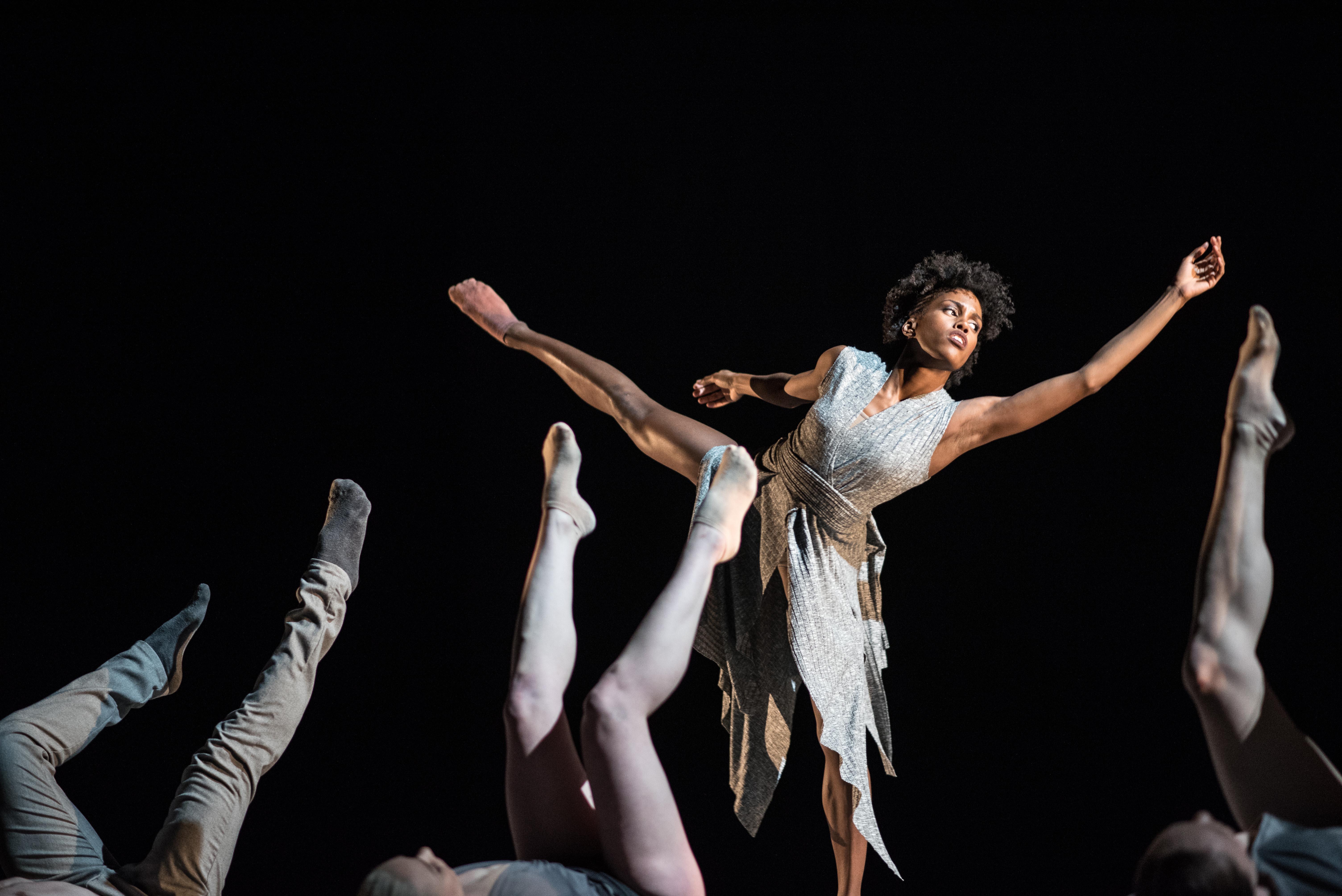 Paige Fraser Nick Pupillo's "Soft Spoken." (Photo by Michelle Reid)
The program's second half featured the world premiere of "A Fine Line," Kevin O'Day's athletic work that seemed like a riff on the notion of bardo (the Buddhist notion of the limbo between life and death) as well as the world premiere of Pupillo's "Soft Spoken."
With a sheer white carnival-like curtain as backdrop, this diverse series of dances was set to an equally diverse but unified mix of the music of Colin Stetson, Frank Sinatra, Irma Thomas, Arvo Part, Joni Mitchell and Max Richter. And it featured a true "coup de theatre" ending that had the dancers, bathed in blazing light, peering into the audience from the edge of stage and then walking up the steep aisles of the Harris Theater so that they made a direct connection with the audience. It was a vivid reminder that you'd been watching very real people set apart by their sublime artistry.

"The Dream" will be performed April 29 at 3 p.m. at the North Shore Center for the Performing Arts, 9501 Skokie Blvd., Skokie. For tickets ($25-$75) call (866) 811-4111.
Follow Hedy Weiss on Twitter: @HedyWeissCritic
---
Joffrey Ballet Celebrates a Wild and Crazy Swedish-Style 'Midsummer Night's Dream'
2 Chicago Dance Companies Feature Bravura Performers in Divergent Styles
Ailey Company Mixes It Up With Faith, Poetry, Pain and Athleticism
Chicago's 2018-19 Dance Season Already Spinning Into View
---