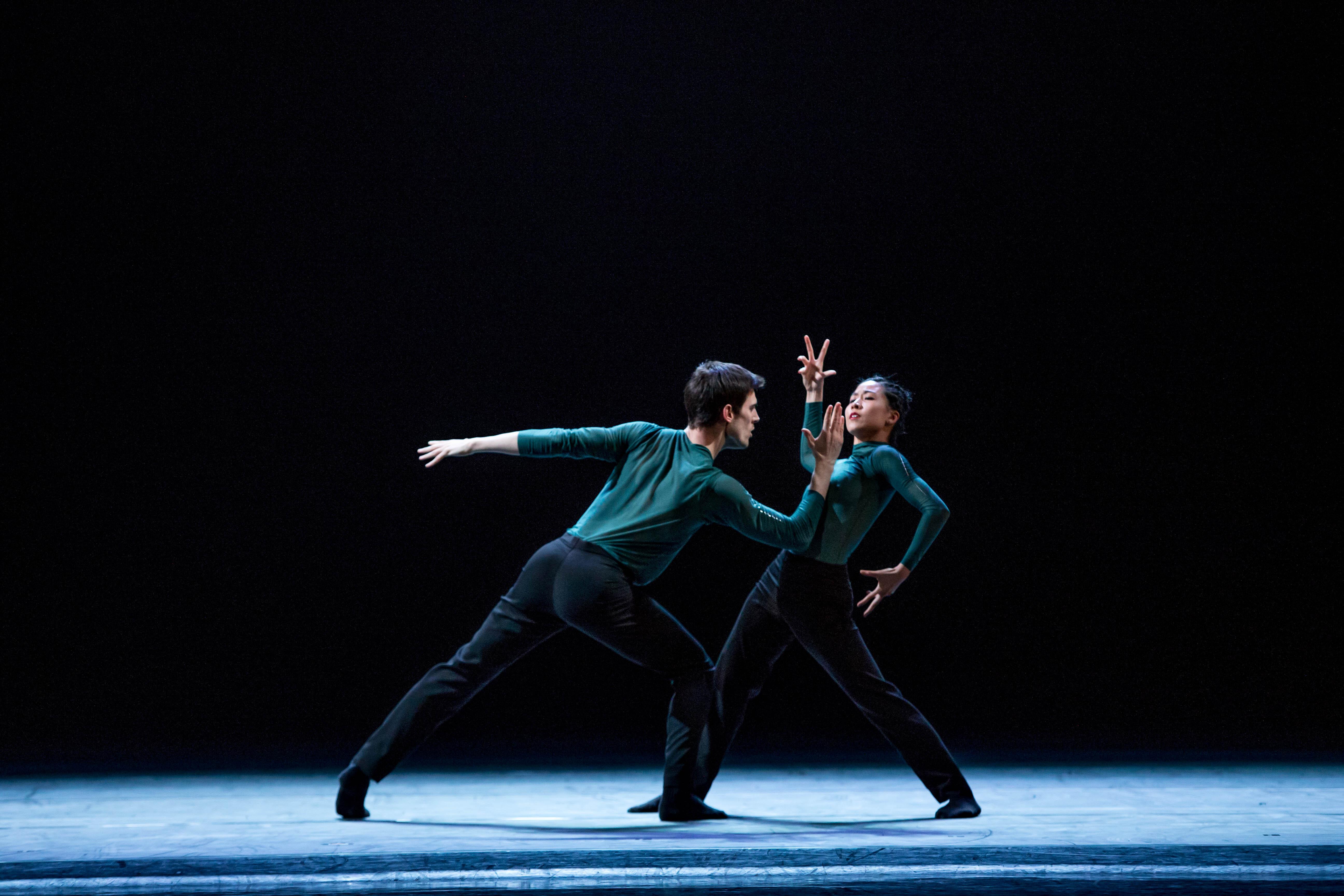 Dancers Michael Gross and Connie Shiau in Alejandro Cerrudo's "Out of Your Mind." (Photo by Cheryl Mann)
The work of two of Chicago's most enduring but dramatically different contemporary dance companies – Hubbard Street Dance Chicago and Giordano Dance Chicago – was on elaborate display this past weekend. And while each company cultivates a distinctive artistic profile, the crucial quality they both share is the absolutely breathtaking technical prowess and cohesion of their dancers.
Hubbard Street, now celebrating its 40th season (and performing a full program on the stage of the Auditorium Theatre for the first time in two decades), showcased the interlocking nature of four pieces by the Spanish-bred Alejandro Cerrudo, who joined the company as a dancer in 2005, became its resident choreographer in 2009, and now creates work for companies around the world.
The Giordano company, now in its 55th season, is still billed as "America's original jazz dance company," although it has evolved into a far more eclectic ensemble as evidenced by its program at the Harris Theater for Music and Dance, which featured six works by as many different choreographers.
Hubbard Street, which started out as a jazzy, Broadway-inflected troupe, has grown increasingly European in its aesthetic over the decades. At the same time, while holding on to its jazz roots, the Giordano troupe has ventured well beyond them.
One thing is beyond debate when it comes to Hubbard Street: No dance company can match its uncanny ability to make an ensemble of 16 dancers move as a single, seamless organism. Watch as they join in a single horizontal line of snakelike movement and you would swear they were breathing through the same set of lungs. Amazing.
The company's all-Cerrudo program was what scientists might have dubbed "a thought experiment" with four pieces (ranging from the choreographer's initial work for Hubbard Street to a world premiere), exploring love, loss, and the very nature of reality and identity as manifested through the arts of theater and cinema, as well as the psychological manipulations of New Age meditation charlatans.    
From the very start of his career, Cerrudo's work has thrived on a delicate, playful, intimate gestural language that suggests how human beings get to know each other. Tentative explorations gradually grow into something deeper, and in the course of complex pas de deux involving the most exquisite, fluid partnering, the attachments evolve into something more that is often signified by one partner's head pressing up against the other's stomach in an affectionate, childlike, endearing way.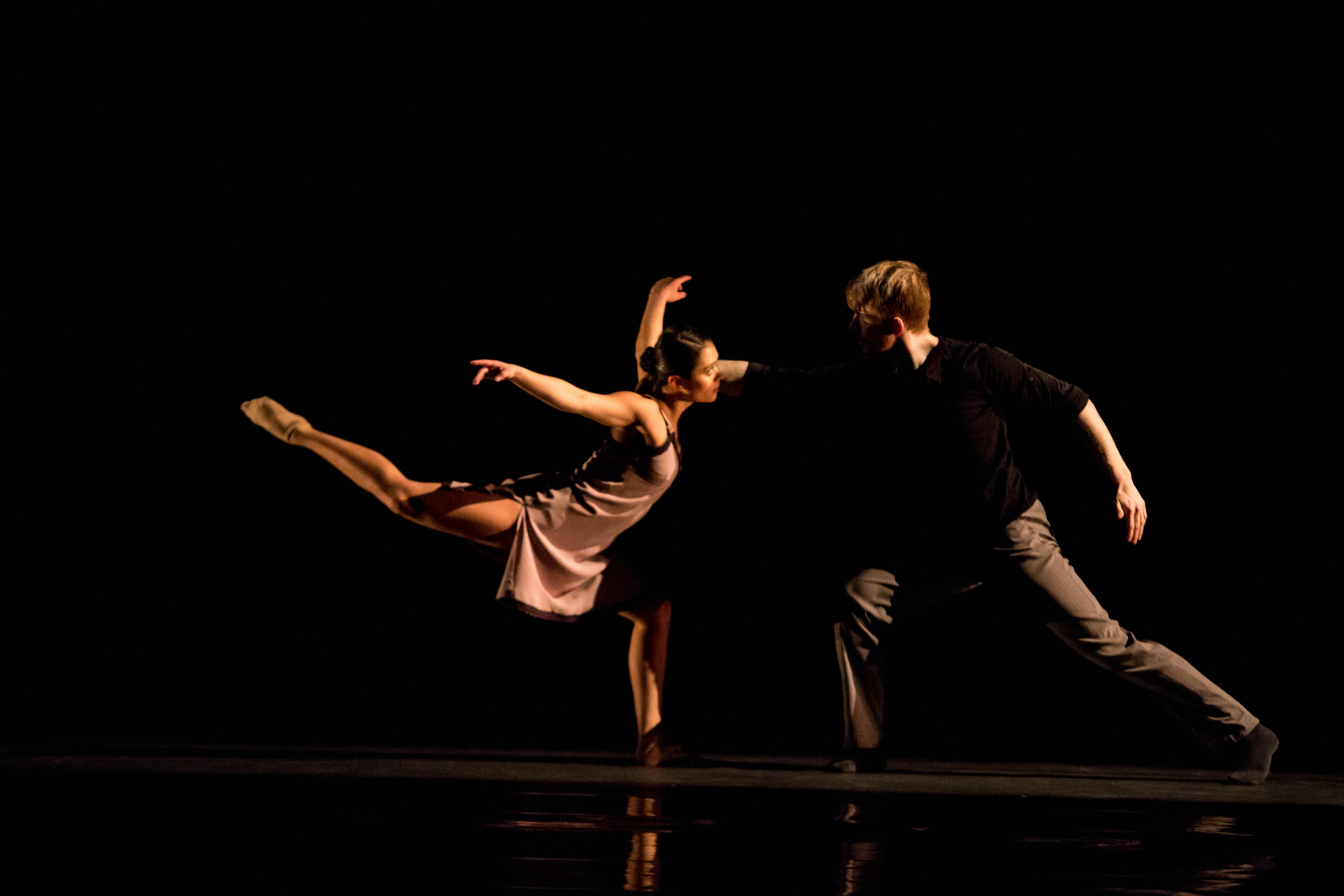 Dancers Alicia Delgadillo and Elliot Hammans in Alejandro Cerrudo's "Lickety-Split." (Photo by Cheryl Mann)
This was certainly the case with the couples in "Lickety-Split," the first work on the program, created in 2006, set to the quirky singing of Devendra Banhart and danced to perfection by Alicia Delgadillo, Elliot Hammans, Rena Butler, Myles Lavallee, Alice Klock, Florian Lochner and Adrienne Lipson.
Cerrudo's fascination with the cinema came to light in the often surprising "Off Screen," as Butler (a skilled actress as well as a dancer costumed in impresario-like finery) riffed on the thin line between real life and acting from her perch in one of the Auditorium's boxes. The very sound of speech instantly changed the aura of this dance concert. And back on stage, the dancers – Craig D. Black, Jr., Kellie Epperheimer, Michael Gross, David Schultz, Kevin J. Shannon, Minga Prather, Lipson and Lochner – proceeded to suggest a sort of Hollywood vaudeville, displaying Cerrudo's more antic but easily recognizable signature style as well as his eclectic "mix-tape" approach to scoring a work.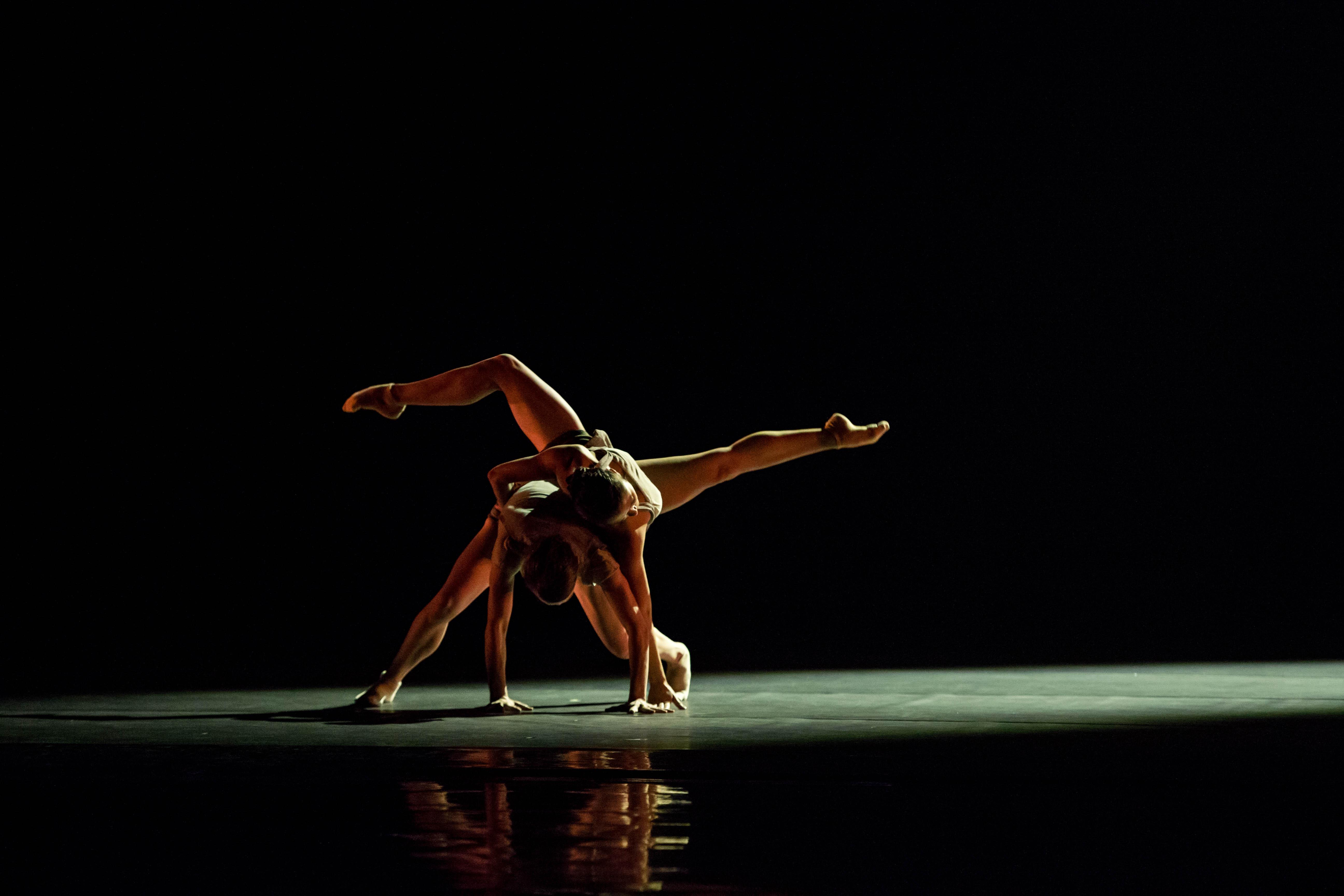 Dancers Kellie Epperheimer and Alicia Delgadillo in Alejandro Cerrudo's "Silent Ghost." (Photo by Cheryl Mann)
A darker push-pull relationship played itself out in "Silent Ghost," with Black and Delgadillo as the fierce central couple backed by an ensemble of four other pairs. And finally it was a return to words in the world premiere of "Out of Your Mind," as Schultz assumed a folksy Southern accent and slick Colonel Sanders-like style and riffed on the nature of self-knowledge, and more, with just the right sardonic tone. By this time Cerrudo's choreographic signature was feeling a bit predictable, but the dancing remained as breathtaking as ever.

Dancers Maeghan McHale and Devin Buchanan in Brock Clawson's "Give and Take" (2009). (Photo by Reveuse Photography)
And now, to the Giordano company, which has a particular knack for opening and closing its programs with the most eye-popping, high-impact, aerobically fearsome pieces.
The troupe's dancers are, above all, fearless, top-flight athletes as exemplified in Brock Clawson's explosive "Give and Take," a dynamic exploration of love and rage, and Christopher Huggins' "Pyrokinesis," which more than lives up to its title with its "can you top this?" vibe. The work sets each member of the company into a marathon of gyroscopic turns, split jumps and more, all set to the music of George Winston and the United Future Organization.
Ray Mercer's "Tossed Around," set to a dynamic original score by Sbongiseni "Bongi" Duma, conjured an intense musical chairs scenario and also was powerfully performed.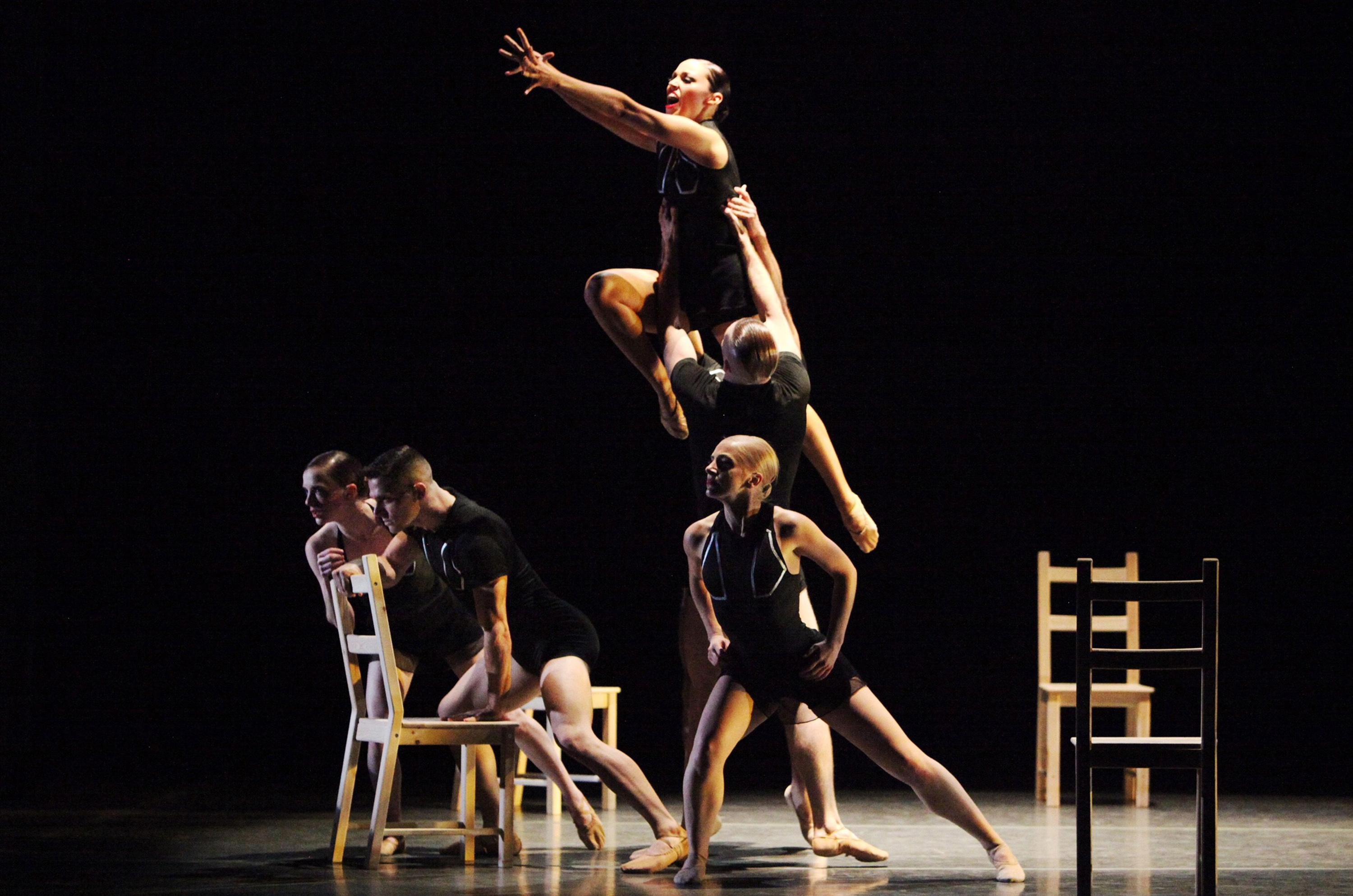 Giordano Dance Chicago in Ray Mercer's "Tossed Around"(2017). (Photo by Gorman Cook Photography)
"Take a Gambol," a most entertaining world premiere by Joshua Blake Carter, put the spotlight on the company's exceptional male dancers – including Devin Buchanan (a stellar presence), Jacob Frazier, Ryan Galloway, Jack Halbert, Zachary Heller, Adam Houston, Nathan Rommel and Imani Williams – all dressed in black suits and competing in a dance club atmosphere with awash with Rat Pack-like attitude.
For the women, including Maeghan McHale (the company's veteran dynamo, who seems powered by some as yet unharnessed energy source), Ashley Downs, Ari Israel, Katie Rafferty and Linnea Stureson Tolbert, it was all gonzo ferocity in three excepts from Ronan Koresh's "Crossing/Lines." The dancers, dressed in basic training camouflage and muscle shirts, moved in ways that suggested they could easily flatten any man.
"Hiding Vera," a world premiere by Davis Robertson, was a lyrical but somewhat shapeless piece that lacked the choreographer's usual intriguing sense of mystery.
Giordano Dance Chicago in the world premiere of Davis Robertson's "Hiding Vera" (2018). (Photo by Reveuse Photography)
Throughout the program, the lighting by Jacob Snodgrass and Kevin Dreyer was exemplary.
And this final note: With help from an anonymous donor, Giordano Dance Chicago recently purchased the Hermon Baptist Church at 1754 N. Clark St. in Lincoln Park. The landmark building will be undergoing renovation to house the company's rehearsal studios, school and administrative offices, and an official opening is planned for 2021.
---
Ailey Company Mixes It Up With Faith, Poetry, Pain and Athleticism
Spinning Out of a Weekend of Dance
American Ballet Theatre in a Mostly Modern Mode at Harris Theatre
Chicago's 2018-19 Dance Season Already Spinning Into View
---