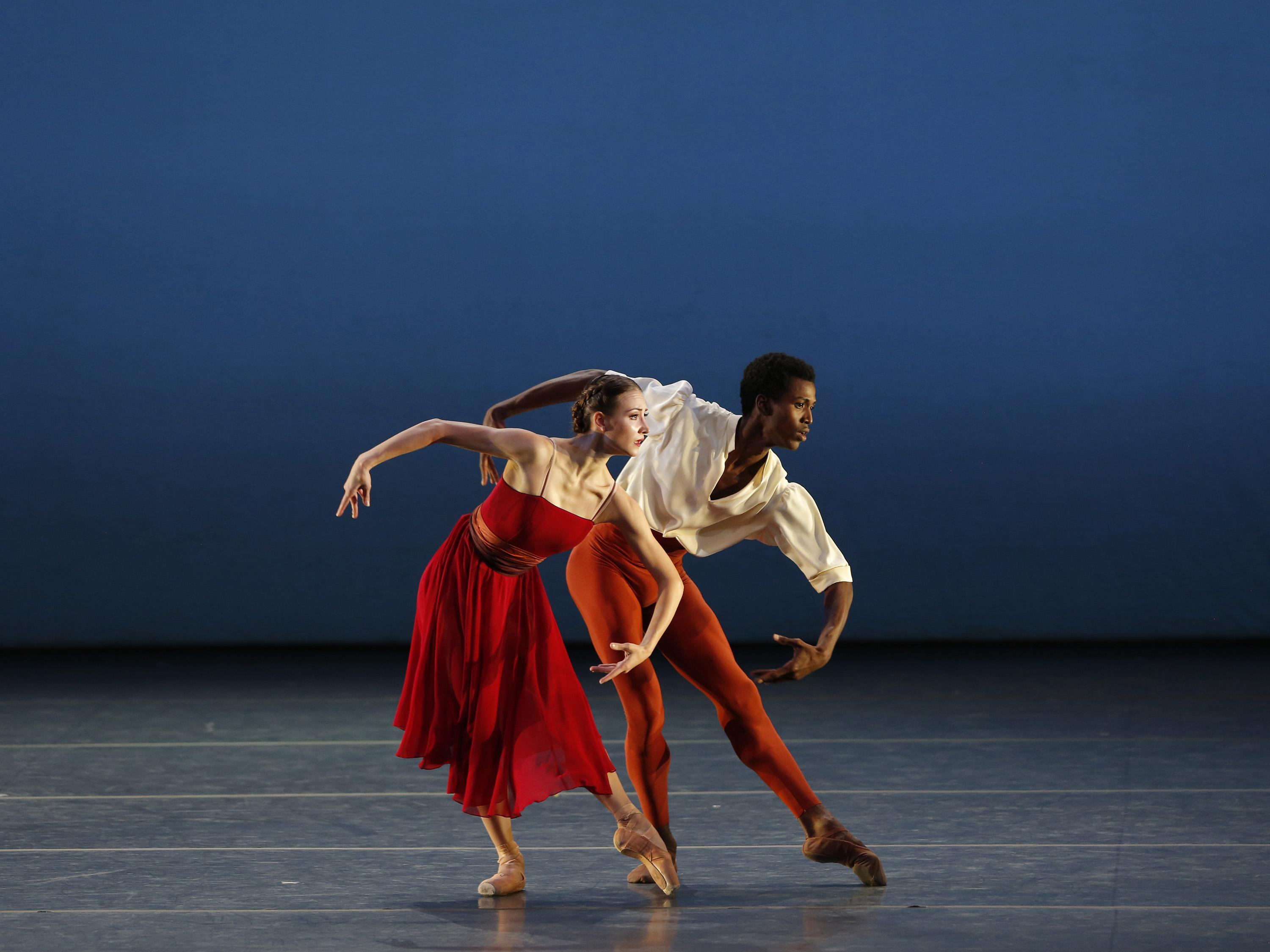 Christine Shevchenko and Calvin Royal III in "Songs of Bukovina." (Credit: Marty Sohl)
American Ballet Theatre's visit to the Harris Theatre this week marks the first time the company has appeared in Chicago since 2012, as well as the first time it has danced at the Harris.
The company has made some interesting choices in its programming for the engagement (which runs through Sunday and is all but sold out). And it has traveled light, foregoing the usual grand-scale classics laden with sets and elaborate costumes that are expensive to transport, and homing in on modern works that mostly thrive on a variety of lighting effects, with several pas de deux lifted from larger ballets and performed on a bare stage that puts the movement in stark relief.
In many ways the two different programs also can be seen as an intriguing continuation of the Joffrey Ballet's recent "Modern Masters" program at the Auditorium Theatre.
Program A, which I saw on Thursday night, featured four pieces: "Songs of Bukovina," a 2017 work by the Bolshoi-bred choreographer Alexei Ratmansky, who serves as artist in residence with ABT; "Thirteen Diversions," a 2011 work by Christopher Wheeldon, who is already widely familiar to Chicago audiences; a pas de deux from Antony Tudor's 1975 ballet, "The Leaves are Fading," and that flashiest of all showpieces of bravura technique, the Act III pas de deux from the 19th century Petipa/Gorsky ballet, "Don Quixote."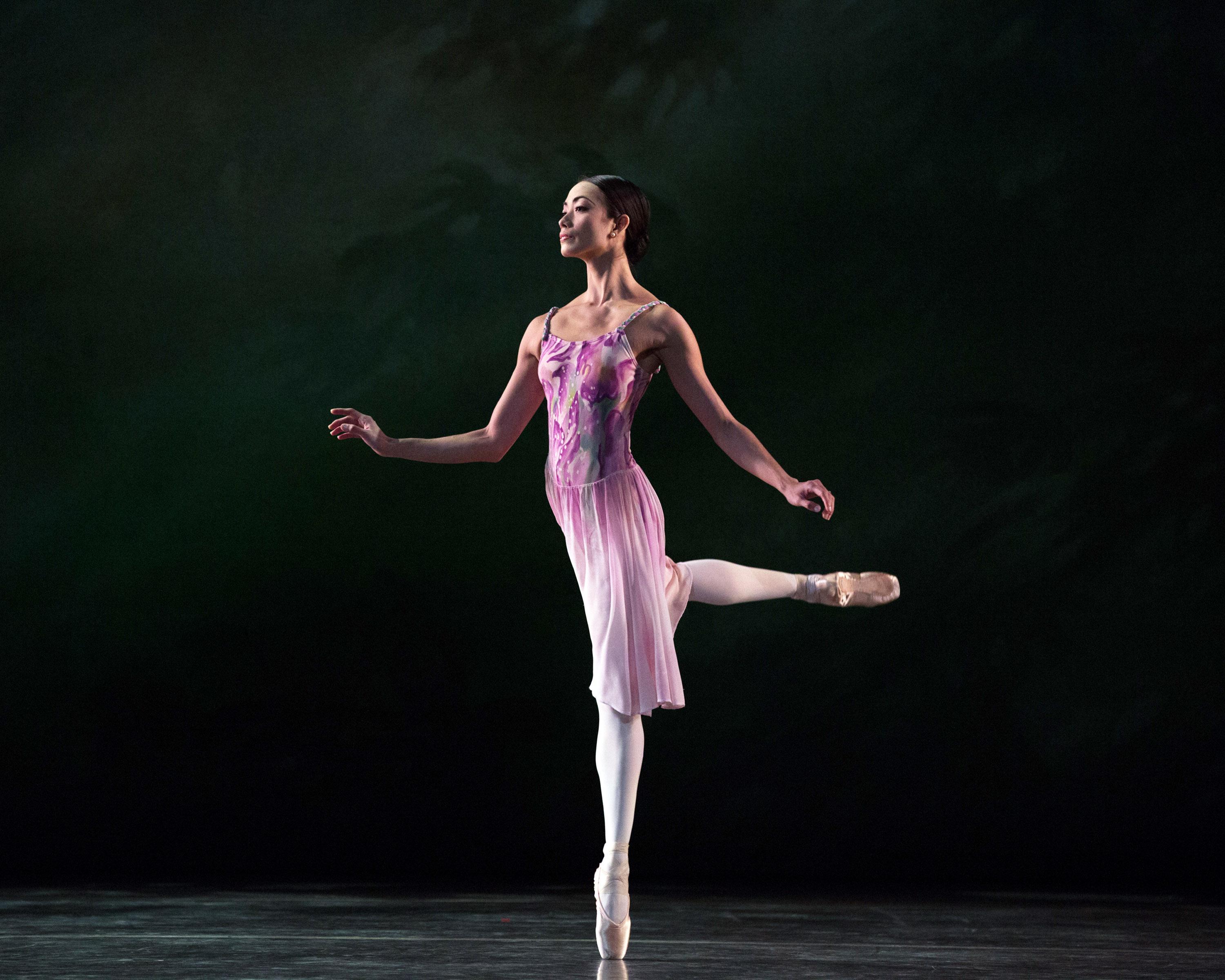 Stella Abrera in "The Leaves are Fading." (Credit: Rosalie O'Connor)
Ratmansky's "Bukovina" (the name refers to a region of Romania and Ukraine) is in many ways an homage to Jerome Robbins, who decades ago found a way to combine classical ballet with hints of Eastern European folk dance in such works as "Dances at a Gathering" and "Other Dances" (featured in Program B). But rather than Chopin, Ratmansky turned to the stunning piano preludes of Leonid Desyatnikov, a contemporary Russian composer known for his film scores and operas, who here seamlessly blends classical, folk and jazz themes. (The score was superbly played by Jacek Mysinski.)
Wearing costumes by Moritz Junge that bear the very subtlest suggestion of traditional folk outfits, "Bukovina" features four couples (with the male dancers notably strong, and Joo Won Ahn especially fine), plus a leading pair - Isabella Boylston (Jennifer Lawrence's ballet double in the upcoming film, "Red Sparrow"), in blazing red, partnered by Gabe Stone Shayer. The chemistry between the two was largely missing.
Ratmansky's exceedingly tricky choreography, which plays ingeniously on folk patterns and style, at times seemed more nerve-racking for the dancers than pleasurable, frequently robbing the piece of an essential spirit of joy and abandon.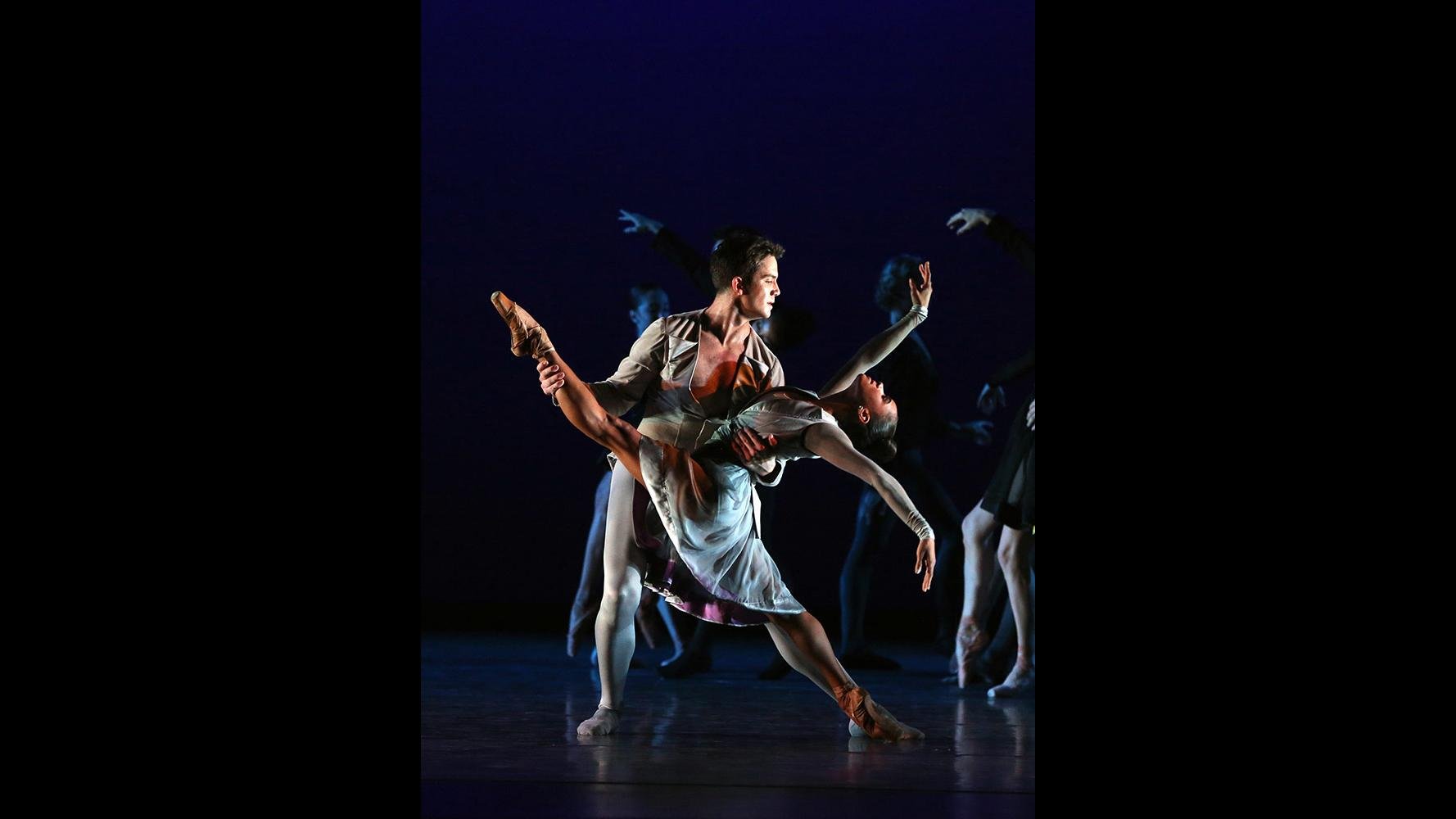 Misty Copeland and Gray Davis in "Thirteen Diversions." (Credit: Marty Sohl)
Wheeldon's "Thirteen Diversions," set to music by Benjamin Britten (expertly played by the Chicago Philharmonic, with Barbara Bilach as piano soloist) is a dynamic exercise in contrasts that uses the classical ballet vocabulary but deftly moves it into the realm of contemporary extremes.
It features an ensemble of eight powerhouse couples in black, counterpointed by four couples in grayish white, like flocks of birds moving in different parts of the sky and then sometimes intermingling.
The ballet's two leading couples from that latter group included Misty Copeland (unquestionably the marquee name for this engagement) and Ahn, and Stella Abrera and Blaine Hoven. And in their quite different ways they provided the sort of feverish emotional connection often missing during the evening.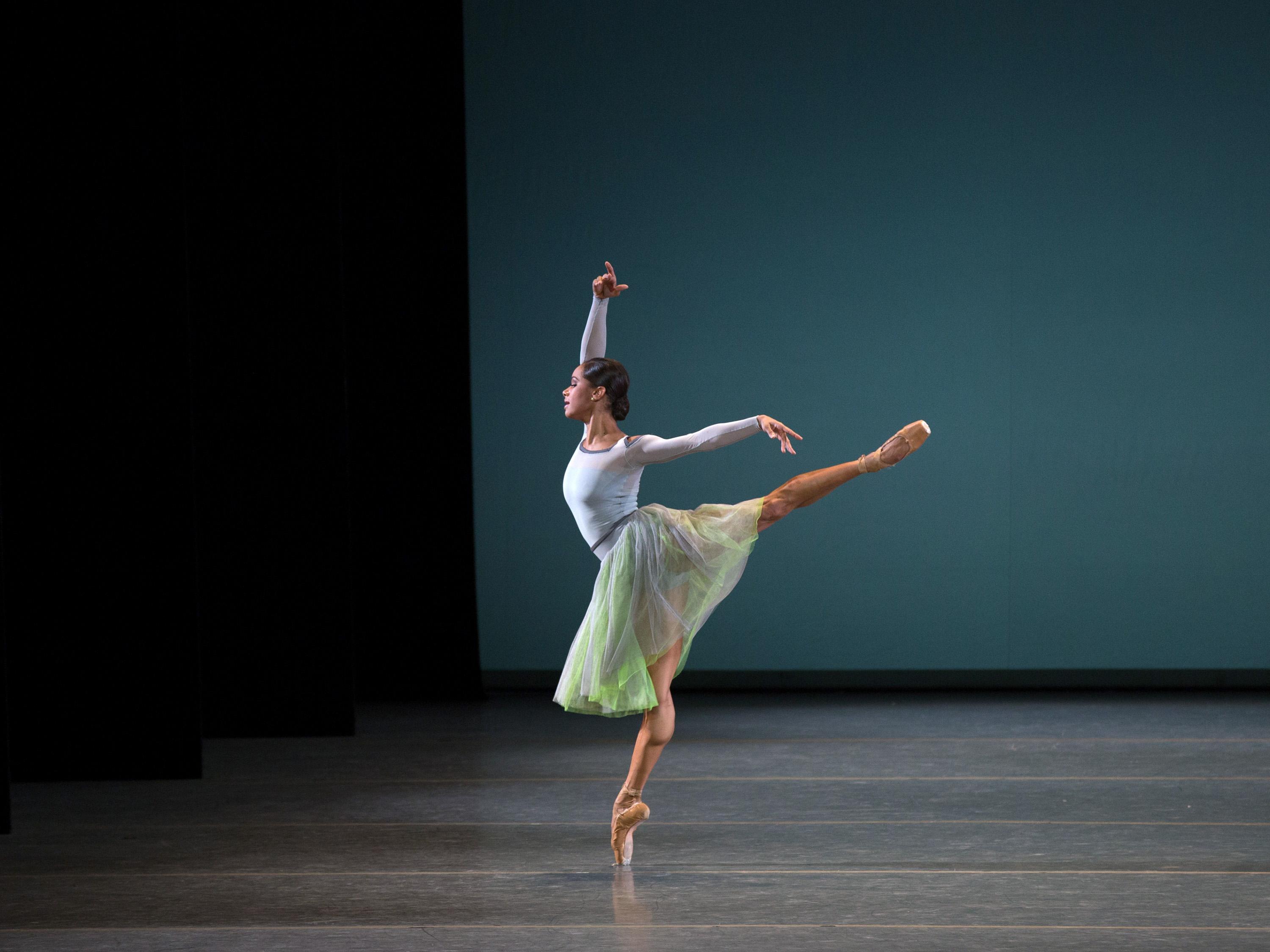 Misty Copeland in "Her Notes." (Credit: Rosalie O'Connor)
Copeland is surprisingly tiny and fearless, with finely muscled legs and a beautiful arch in her upper body, and she and Ahn connected with every glance and fish-dive leap. Abrera is a leggy beauty with a spare but exquisite lyric minimalism, and she was ideally matched by Blaine Hoven.
In "The Leaves are Fading," a meditation on a past love, Hee Seo, a wisp of a dancer, partnered with Cory Stevens, was all lightness and feathery motion, but the two never felt fully connected. 
Sarah Lane and Herman Cornejo did the honors in the devilishly difficult "Don Quixote" (to the music of Ludwig Minkus). The precision-tuned Lane was a bit uneven at moments, but Cornejo, whose high-flying leaps and airborne turns are simply breathtaking (and whose landings are noiseless perfection) had the crowd cheering.
Program B will feature "Her Notes," choreographed (and with an element of her trademark architectural design) by Jessica Lang; Robbins' "Other Dances"; Ratmansky's 2017 work, "Serenade after Plato's Symposium" (a meditation on love for seven men and one woman, set to Leonard Bernstein's score of the same name); and Benjamin Millepied's "I Feel the Earth Move," to music by Philip Glass.

American Ballet Theatre runs through Feb. 25 at the Harris Theater for Music Dance. The engagement is almost totally sold out. For tickets call (312) 334-7777 or visit www.harristheaterchicago.org.
---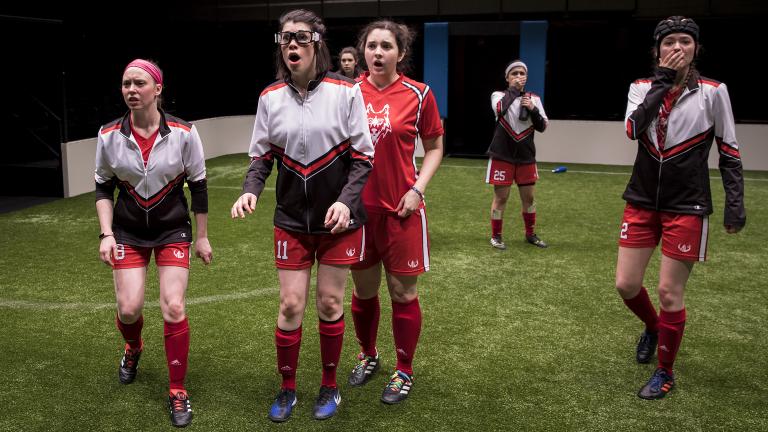 In 'The Wolves,' the Tensions Beneath a Fierce Team Spirit
Feb. 22: Talk about timing: The Chicago premiere of Sarah DeLappe's tour de force mix of verbal and physical athletics and teen angst comes as the U.S. women's ice hockey team wins the 2018 Olympic gold medal.
---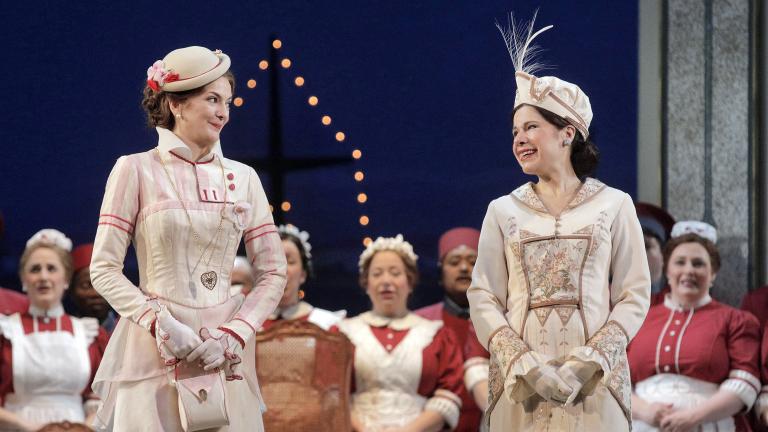 In Lyric's 'Cosi,' a Spirited Toast to the Imperfections of the Heart
Feb. 20: The production of "Cosi fan tutte" now at Lyric Opera of Chicago is a beauty. And in its playful but unquestionably bittersweet exploration of love, fidelity, betrayal and the unreliable nature of both men and women, it could easily have been written yesterday.
---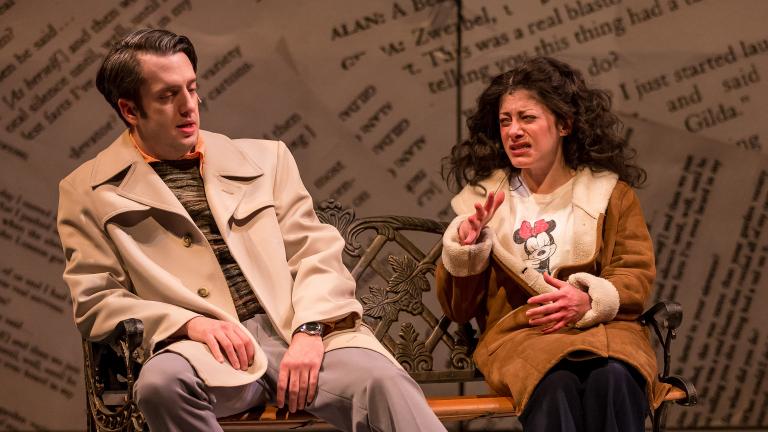 In 'Bunny Bunny,' Tapping Into Gilda Radner's Sad Clown
Feb. 15: You will catch only a brief glimpse of the big explosion of hair, but in "Bunny Bunny" at Mercury Theater Chicago you will fully feel the manic energy and rapid-fire comic responses of Gilda Radner.
---