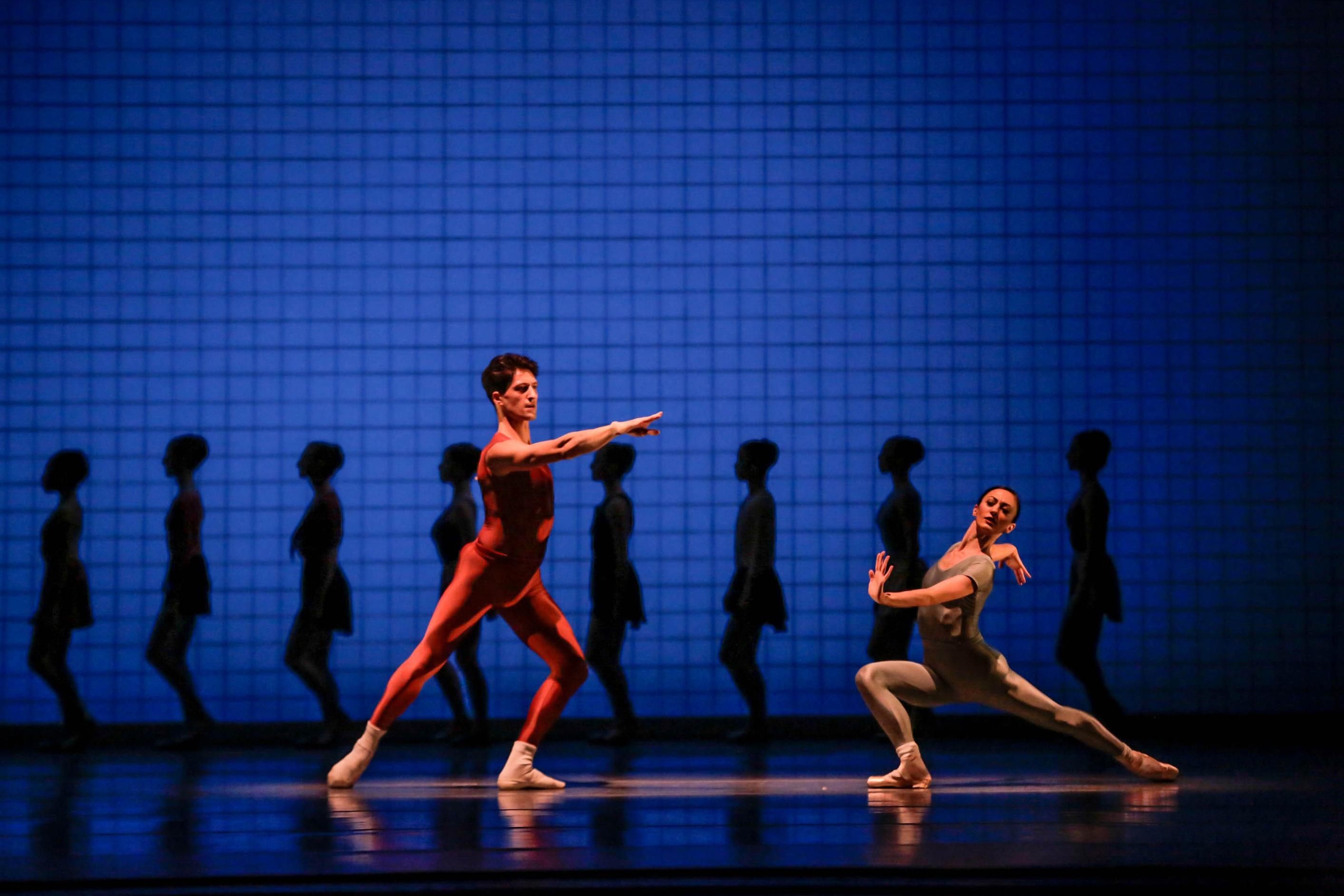 Dancers Temur Suluashvili and Victoria Jaiani in "Glass Pieces." (Photo by Cheryl Mann)
The Joffrey Ballet in "Modern Masters"
Highly recommended
Through: Feb. 18
Where: Auditorium Theatre, 50 E. Congress Pkwy. | MAP
Tickets: $34 - $159
Run time: 2 hours and 15 minutes with two intermissions

How do you define the word "modern"?
Is it connected to a specific date? A new concept? An altered look? A different sound? Is it whatever is of this very moment, or is it part of a long trajectory of evolution rooted in some profoundly revolutionary idea?
These are just some of the questions you might find yourself asking as you watch (and listen to) the four pieces that comprise "Modern Masters," the Joffrey Ballet's altogether brilliant winter program at the Auditorium Theatre. 
Not incidentally, it is a program of extreme technical challenges that serves as a stunning showcase of the prowess of the Joffrey dancers, as well as the stellar talents of the Chicago Philharmonic and music director Scott Speck.
But back to the whole notion of what is modern, and how the work of four choreographers created between 1946 and (quite literally, the past month), captures this quality.
The "Modern Masters" program begins with "The Four Temperaments," an unequivocal mid-20th century masterpiece by George Balanchine, the Russian-bred choreographer who came to America, founded the New York City Ballet and turned classical ballet on its head.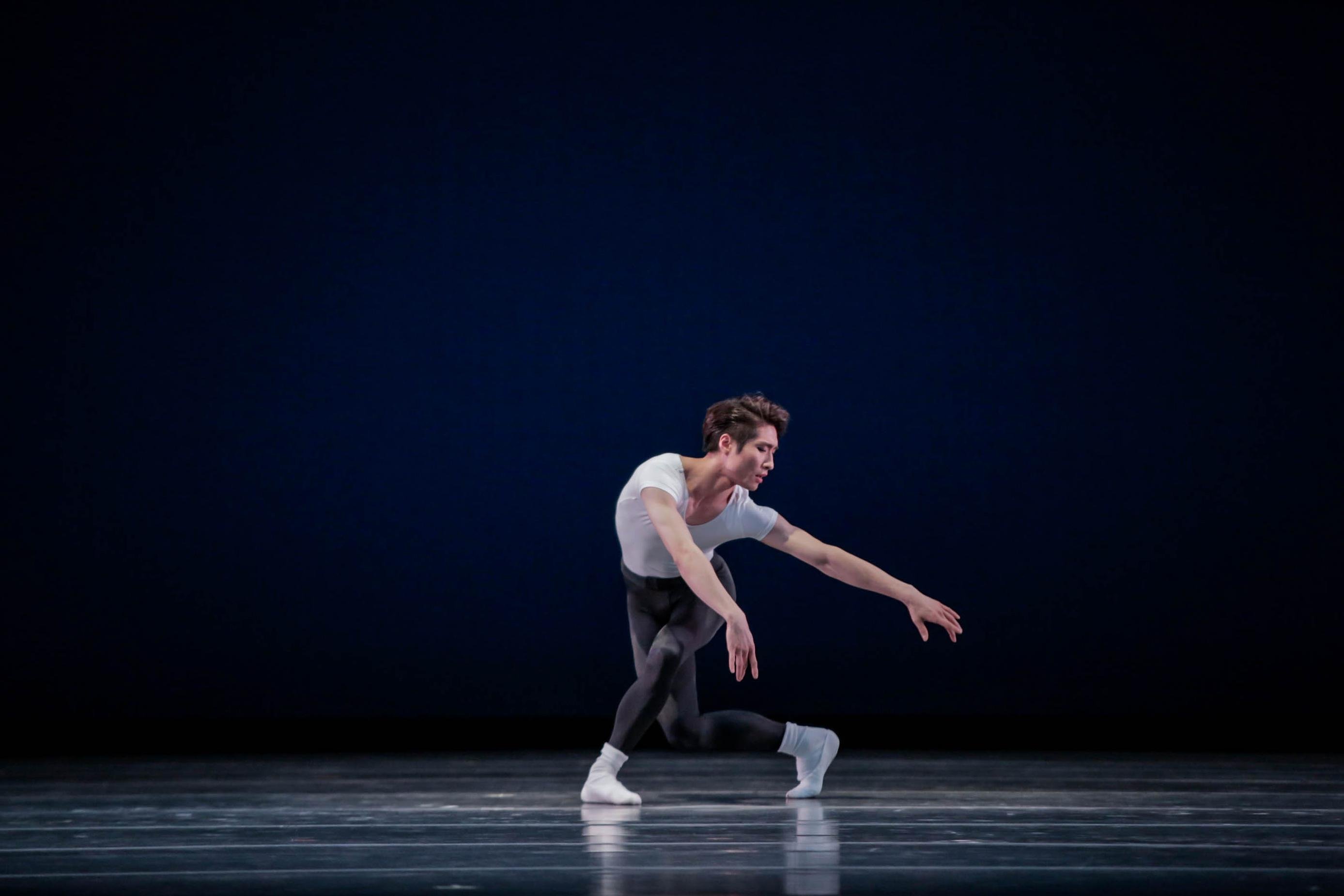 Dancer Yoshihisa Arai in "The Four Temperaments." (Photo by Cheryl Mann)
As Balanchine once noted, there is a big difference between dancers who arrive at the theater in a carriage (as they might have done in 19th century imperial Russia), and those who step off a motor scooter on a Manhattan street in the 20th century. It's a matter of speed, manners, style of motion, attitude, bearing.
So, to make ballet "modern" he drew on many of the essential elements and patterns of the classical ballet vocabulary (including the use of pointe shoes), but then gave it all an abstract, almost Cubist-like edge, with sharp angles of the legs, geometrically designed arm movements, extreme acrobatic lifts and a sensuality and knowingness unlike anything in a traditional story ballet. He also tapped into what was then (and remains) a gorgeous contemporary score by Paul Hindemith, which, along with the use of the most minimalist costumes (leotards and tights), shifted the whole art form into a new dimension.
Staged to perfection by former NYCB ballerina Colleen Neary, with the superb Joffrey dancers bringing their distinctive personalities to each of the four major variations, the work is both a display of immense virtuosity and a gorgeous celebration of the many guises of the human spirit.
Yoshihisa Arai's "Melancholia" solo was full of poetry. The "Sanguinic" duet with Christine Rocas and Dylan Gutierrez possessed a subtly spicy sensuality. Greig Matthews brought a fine shifting moodiness to the "Phlegmatic" variation. And Victoria Jaiani brought a commanding, dagger-sharp attack to the "Choleric" variation.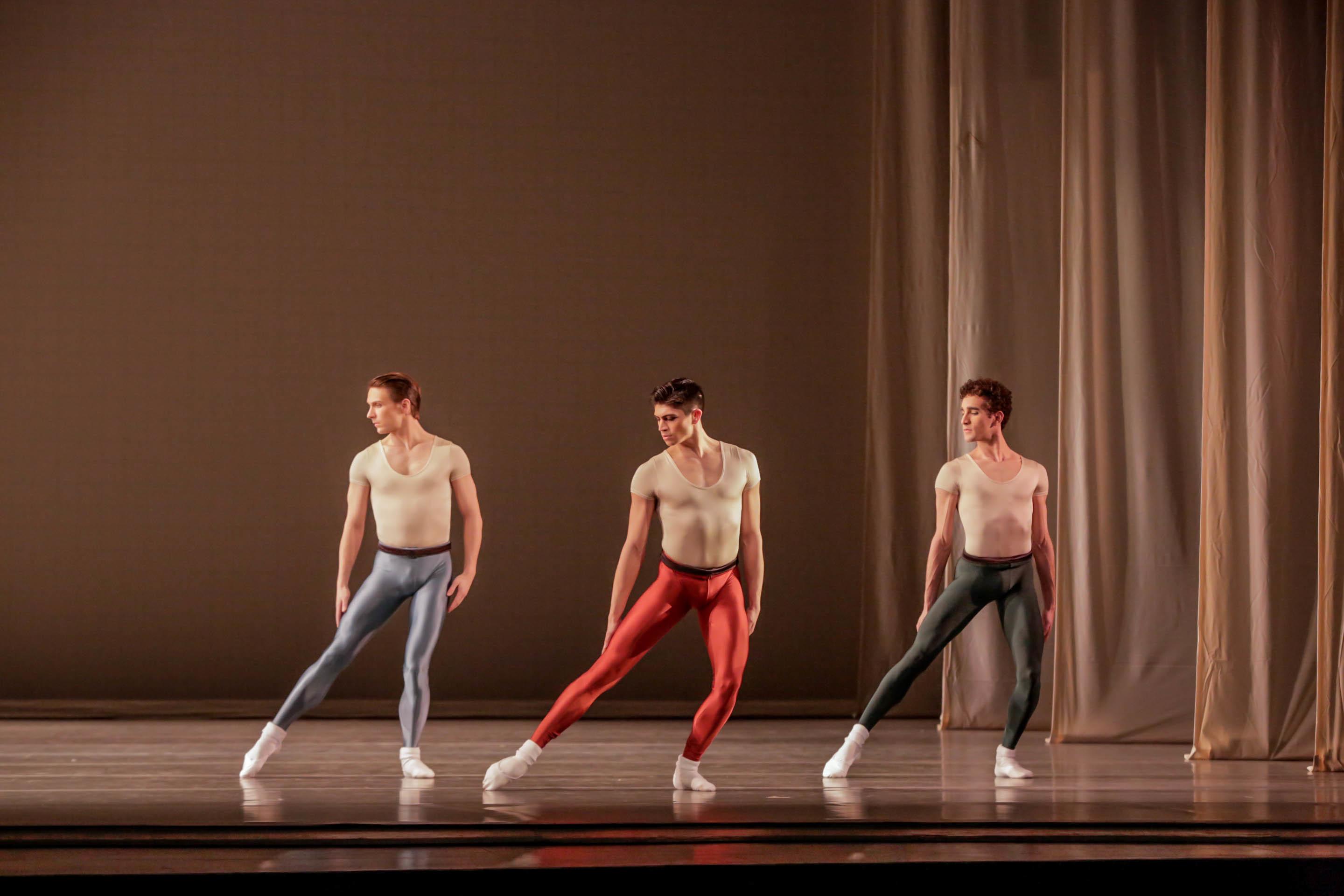 Dancers Graham Maverick, Aaron Renteria and Edson Barbosa in "Glass Pieces." (Photo by Cheryl Mann)
There also was pristine work by the many supporting dancers, including Anais Bueno, Aaron Renteria, Nicole Ciapponi, Graham Maverick, Jeraldine Mendoza, Edson Barbosa and others.
Jerome Robbins, a half-generation younger than Balanchine, and the latter's longtime associate at NYCB (as well as a groundbreaking force on Broadway) brought a highly theatrical spirit to everything he did, yet also was in the direct modernist line of Balanchine. And all this is on display in the most fascinating, grand-scale ways in his 1983 masterpiece, "Glass Pieces," which plays ingeniously with the music of Philip Glass—with all its mind-bending, subtly shifting and intriguingly repeated rhythms. Two geniuses meet here.
Using the full company of more than 40 dancers, Robbins' piece is comprised of a series of stunning duets backed by a "chorus" of dancers moving in patterns that can suggest everything from pedestrians at a crowded intersection to a tightly regimented horizontal line that embodies the beats in the Glass score.
The movement and music exert a hypnotic effect, with ravishing dancing by April Daly and Greig Matthews, Christine Rocas and Rory Hohenstein, Amanda Assucena and Alberto Velazquez and Victoria Jaiani and Temur Suluashvili.
With the impressive, immensely ambitious world premiere of "Beyond the Shore," Nicolas Blanc, the Joffrey's ballet master, proves himself a choreographer with both a strong modernist inheritance and a voice very much his own.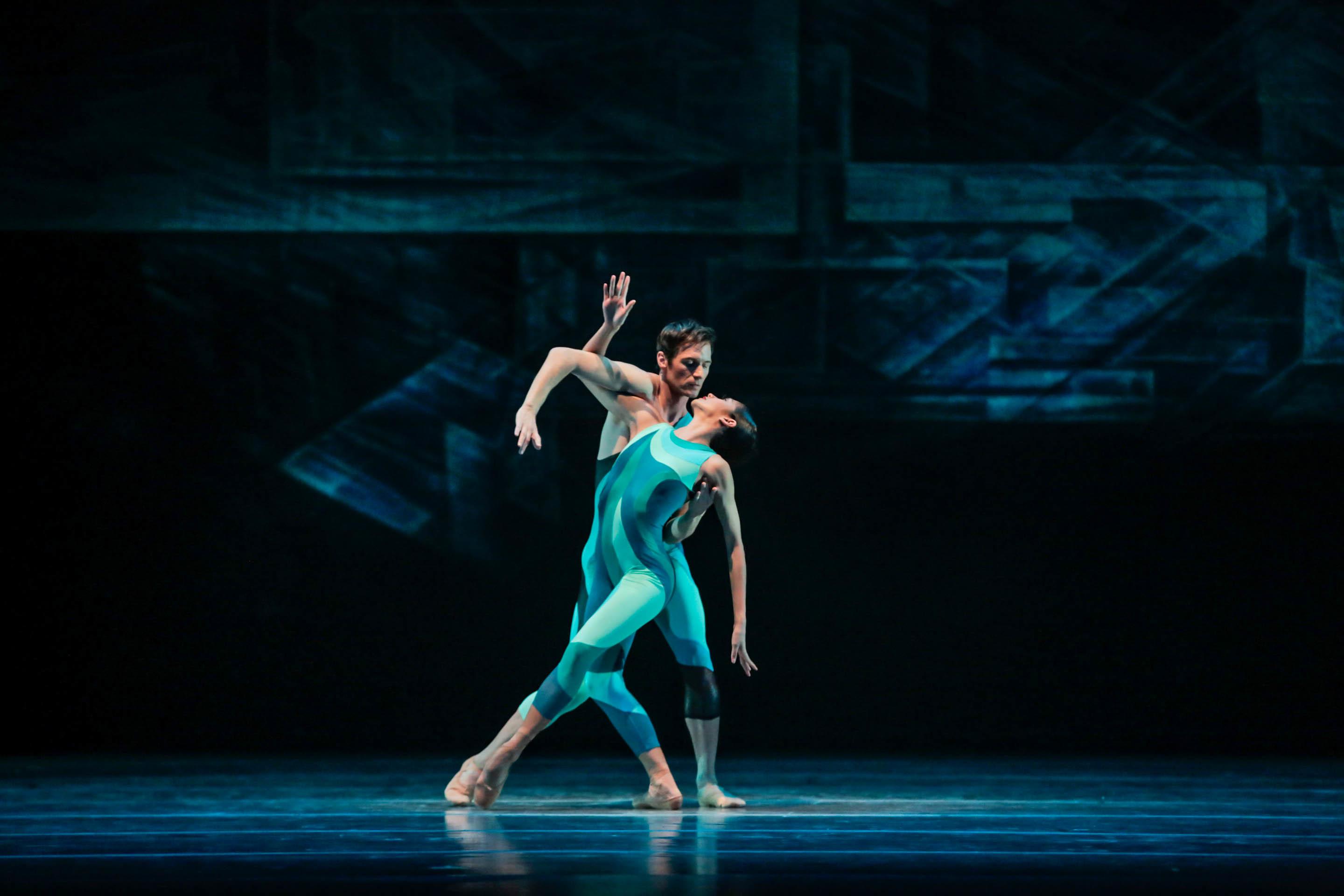 Dancers Rory Hohenstein and Christine Rocas in "Beyond the Shore." (Photo by Cheryl Mann)
The piece, in six sections (and with just a hint of the flavor of Guillermo del Toro's recent film, "The Shape of Water"), is set to the richly inventive music and soundscapes of composer Mason Bates. And it evokes a darkly surreal series of adventures (on land, sea and in outer space), while putting often extreme twists on the vocabulary of Balanchine's neo-classicism and the dramatic qualities of Robbins.
The pristinely lovely April Daly and Yoshihisa Aria were ideally paired in the "Broom of the System" section (with straw brooms "played" in the orchestra pit). Christine Rocas and Rory Hohenstein brought a lush sensuality to "Aerosol Melody." Victoria Jaiani and Fabrice Calmels finessed every acrobatic and dramatic demand of "Gemini in the Solar Wind" and "Warehouse Medicine." And Amanda Assucena, Alberto Velasquez, Cara Marie Gary and Derrick Agnoletti brought their formidable energy to "Temescal Noir," with its punkish aura.
(Mark Stanley's superb lighting enhanced the mood throughout.)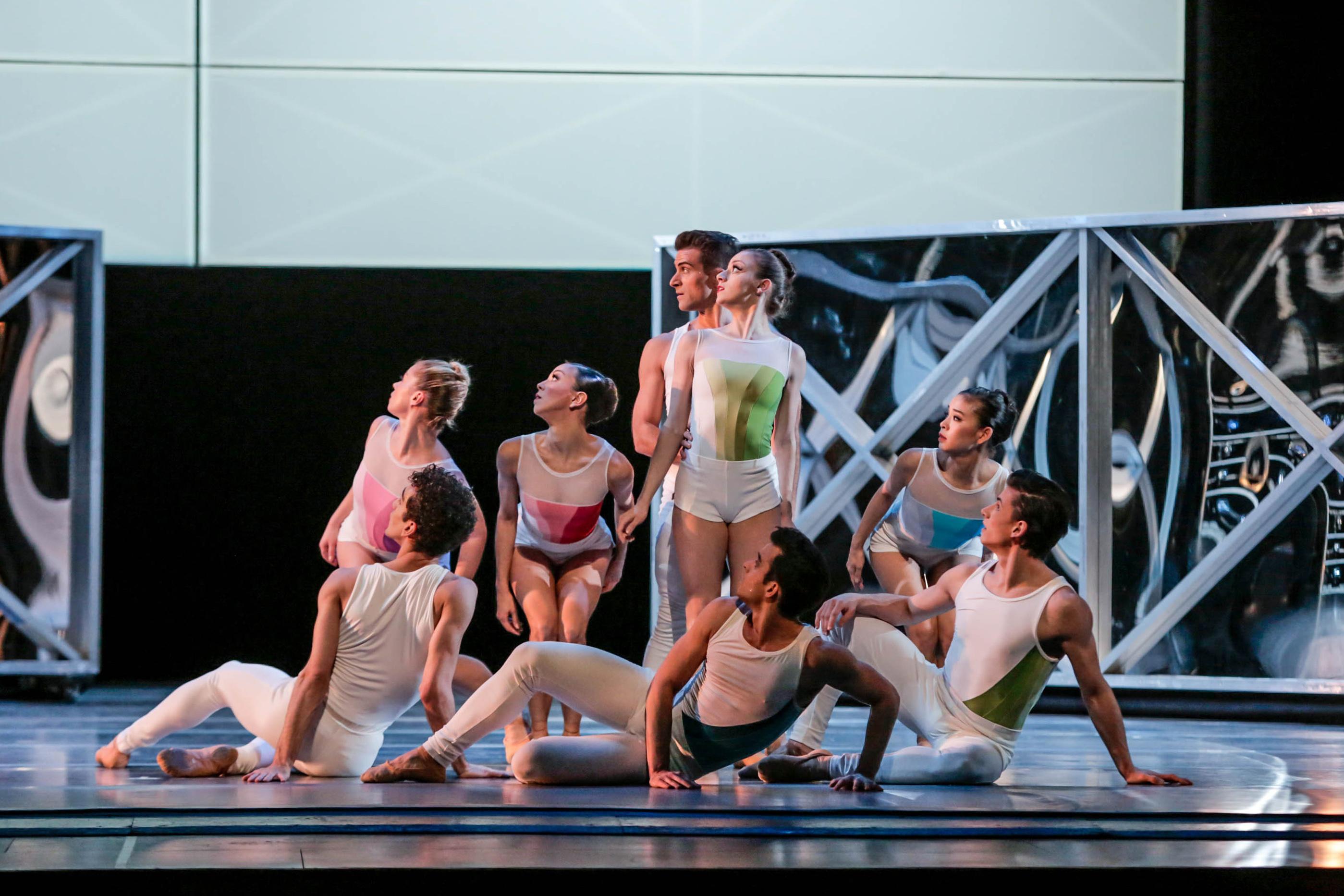 "Body of Your Dreams" (Photo by Cheryl Mann)
"Body of Your Dreams," a hiply playful, calorie-crunching satire about our obsession with fitness, is the zestily acrobatic work of Myles Thatcher, 26, a dancer and choreographer with the San Francisco Ballet. With its cleverly engineered score by Jacob ter Veldhuis—laced with bits of text suggesting the familiar clichés of enthusiastic trainers—it elicited instant laughter. Of course the audience was comfortably seated while the Joffrey dancers were performing at an Olympic gold medal level.
---
Related stories: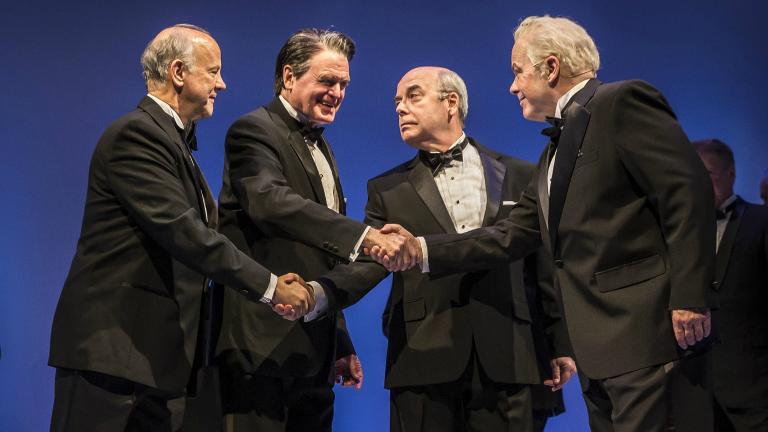 Hedy Weiss Reviews 'Blind Date,' 'Ragtime,' 'Skeleton Crew,' More
Feb. 6: "Ragtime," Ronald Reagan and a rarely seen Stephen Sondheim show are currently featured on Chicago-area stages. Theater critic Hedy Weiss joins us with recommendations – and two exclusive reviews.
---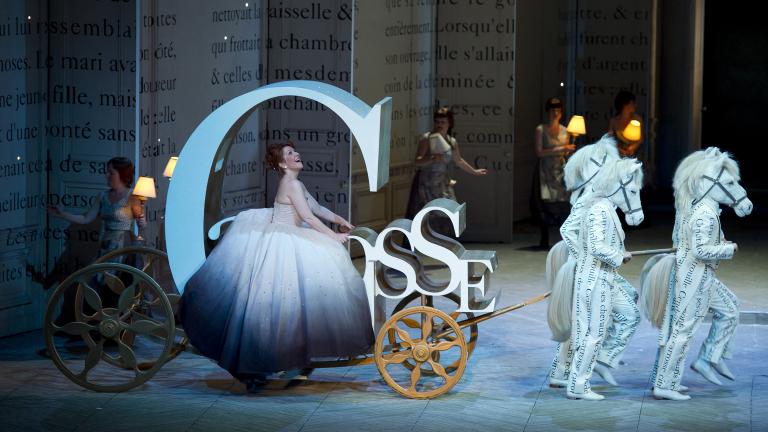 Vocal, Emotional Firepower in Lyric Opera's 2018-19 Season
Feb. 6: Lyric Opera of Chicago announces its 2018-2019 season, including Massenet's "Cendrillon" ("Cinderella"), a Lyric premiere of a new-to-Chicago production.
---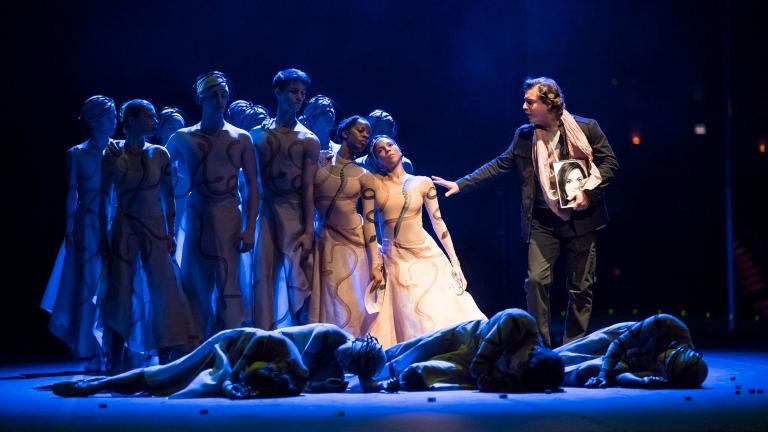 Lyric Opera and Joffrey Ballet to Join Forces Under One Roof
Sept. 28: What brought about the new business arrangement of two of Chicago's most prominent cultural institutions? We speak with two of the driving forces behind each company.
---