"Ragtime," Ronald Reagan and a rarely seen Stephen Sondheim show are currently featured on Chicago-area stages. Theater critic Hedy Weiss joins us with recommendations – and two exclusive reviews.
"Ragtime" at the Marriott Theatre | Through March 18
Highly recommended
This musical by Stephen Flaherty and Lynn Ahrens, based on the novel by E. L. Doctorow, is a true American masterpiece that deserves a place beside such works as "Porgy and Bess" and the Rodgers and Hammerstein canon.
The show was ahead of its time when it debuted in 1997. Now it could not possibly feel more timely as it looks at immigration, racial inequality, the beginning of feminism, the rise of the auto industry and celebrity.
The Marriott production, superbly directed for Marriott's in-the-round space by Nick Bowling (who had a hit there last year with "The Bridges of Madison County"), features a large cast of superb actor-singers.
More: Hedy Weiss previews Lyric Opera's 2018-19 Season
With a soaring score that is semi-operatic at times, it also features ragtime, hymns and more. The show is set in New York City, the suburb of New Rochelle and the seaside playground of Atlantic City in the early decades of the 20th century. A vast wave of immigrants is arriving from Europe, ragtime was the music of the moment in Harlem, and the quest for freedom and change was in the air. The show is interwoven with cameos by such historical figures as Booker T. Washington, Emma Goldman, Henry Ford and Harry Houdini. All are in search of the American Dream.
The score is extraordinary, and the story is at once angry and full of romance as it interweaves the stories of three main groups of seekers undergoing great change.
"Skeleton Crew" at Northlight Theatre | Through March 3
Highly recommended
This very fine play by Dominique Morisseau, one of the most interesting African-American playwrights around, picks up a century after Henry Ford made Detroit the thriving centerpiece of the U.S. auto industry. In fact, the whole thing is now in steep decline.
The play is set in a small auto manufacturing plant in Detroit where the threat of total closure, the loss of many jobs and carefully planned futures is in play. Rumors of a shutdown have everyone on edge.
The story spins around four characters: The female union rep who is close to retirement but has a serious hidden gambling problem; the pregnant single woman who is a skilled worker; the young firebrand who has a crush on her and is saving money to open his own garage; and the manager of the plant, a father and husband terrified of losing his job.
Directed by Ron OJ Parson, with four stellar performances, it is theatrical realism at its best.
"Merrily We Roll Along" at the Ruth Page Center for the Arts | Through March 11
Highly recommended
Weiss writes: "If you plan to see just one musical this winter — and you are fearless enough to face up to the truth about the nature of success and failure, youth and age, love and resentment, loyalty and betrayal, and change of every kind — "Merrily We Roll Along" is the one to choose. It is for adults. And in many ways it is without parallel." Read Weiss's full review on the Chicago Sun-Times website.
"Blind Date" at the Goodman Theatre | Through Feb. 25
Highly recommended
Weiss writes: "Blind Date," Rogelio Martinez's playfully titled and altogether amusing geopolitical romp — now receiving a high-spirited Goodman Theatre premiere — might very well be described as a "Ron-com." Ron as in Ronald Reagan, the actor, California governor and 40th President of the United States whose military and foreign policies some say helped bring the Cold War to an end (at least temporarily)." Read Weiss's full review on the Chicago Sun-Times website.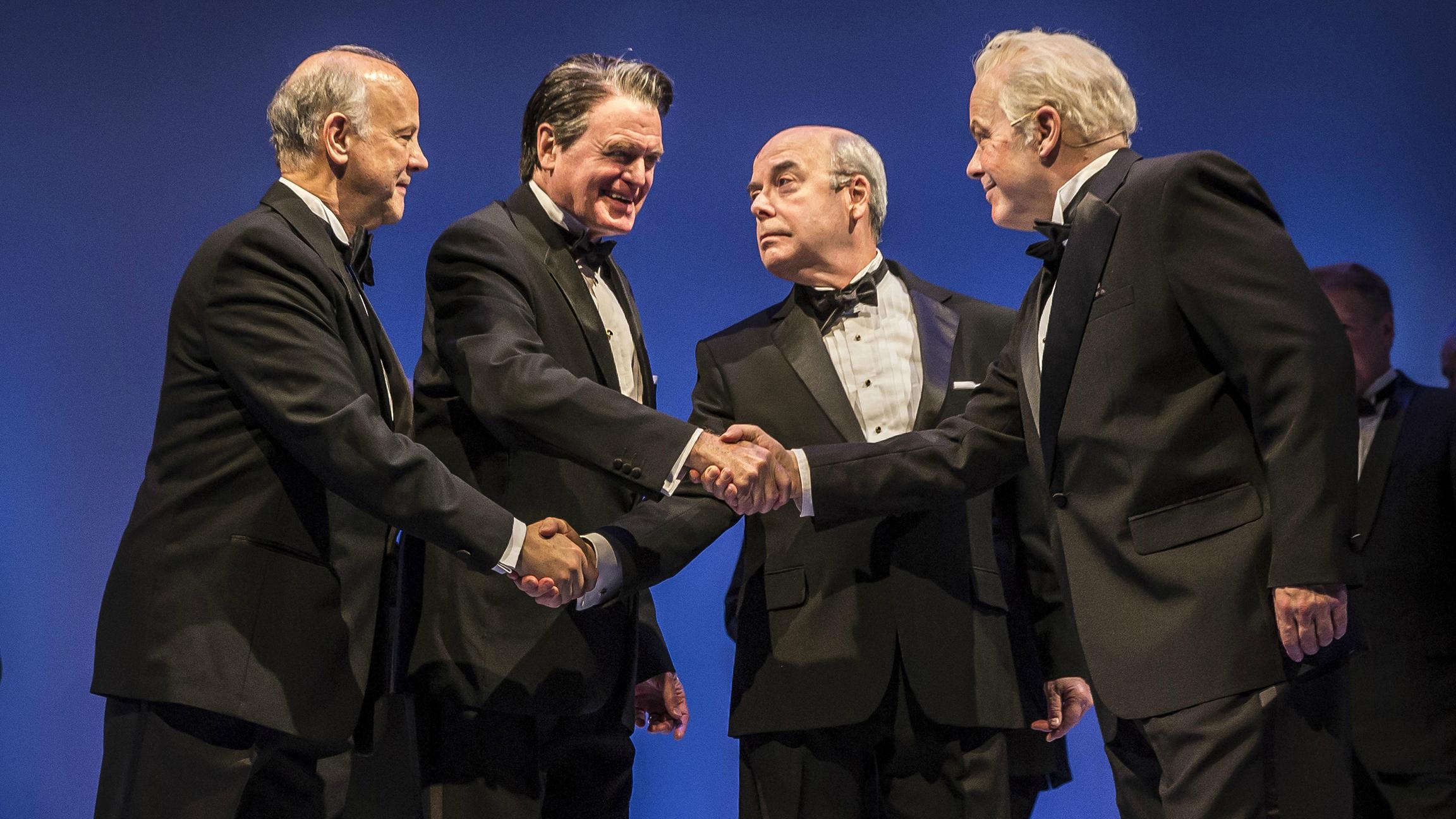 Jim Ortlieb (George Shultz), Rob Riley (Ronald Reagan), William Dick (Mikhail Gorbachev), and Steve Pickering (Eduard Shevardnadze) in "Blind Date" by Rogelio Martinez. (Liz Lauren / Goodman Theatre)
Related stories: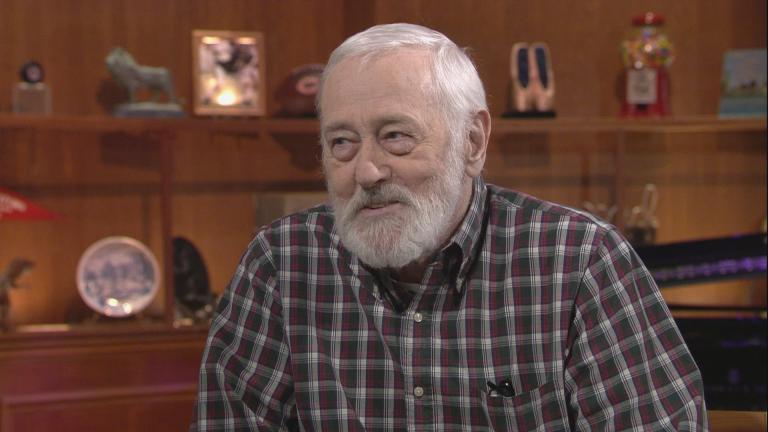 John Mahoney, 'Frasier' Dad and Steppenwolf Actor, Dies at 77
Feb. 5: Actor John Mahoney died Sunday at the age of 77. He was best known for his role as Martin Crane in the hit series "Frasier," but Mahoney was also a long-time ensemble member at Steppenwolf Theatre.
---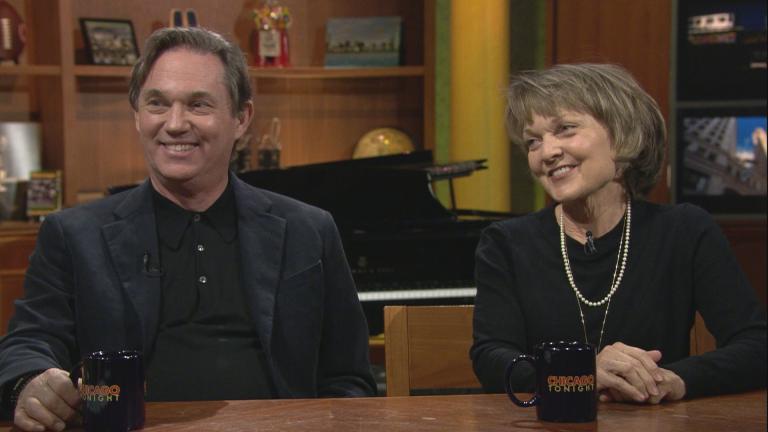 'The Humans' Revisits Chicago with Actors Richard Thomas, Pamela Reed
Feb. 1: Actors Richard Thomas and Pamela Reed talk about the comedy of "The Humans," a touring play with deep Chicago roots.
---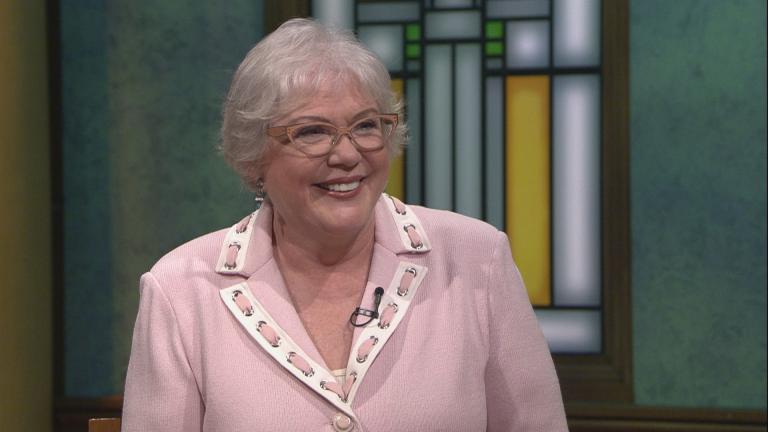 Julia Sweeney Makes Second City Debut with 'Older and Wider'
Jan. 11: The author, actor and former "Saturday Night Live" cast member tells us about her new stand-up residency at The Second City.
---