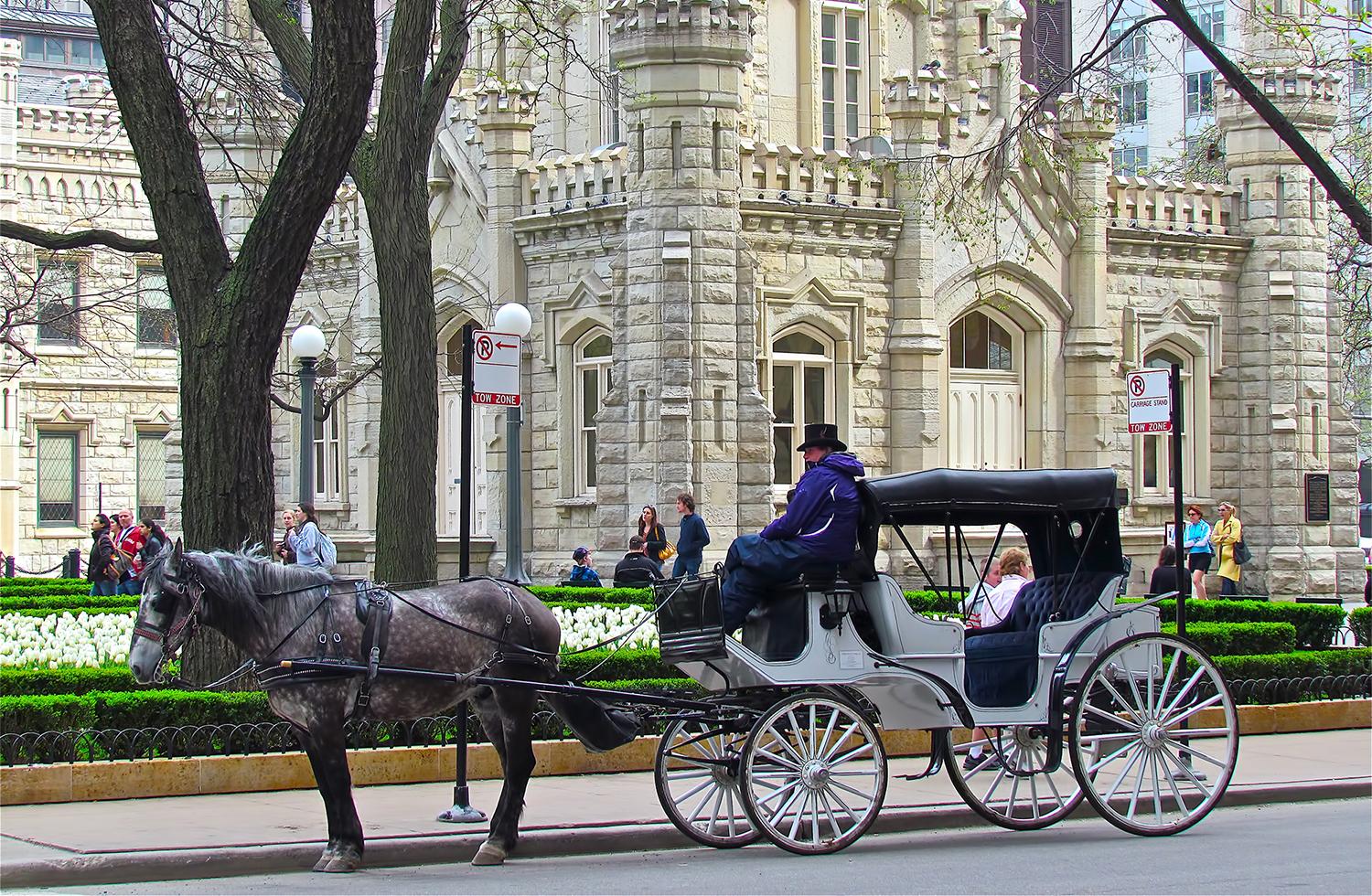 (Nanamac47 / Wikimedia Commons)
Jodie Wiederkehr spent 13 hours Saturday on Chicago's Magnificent Mile without stepping inside a single store.
Unlike tens of thousands who hit the retail strip to cross items off their holiday shopping lists, Wiederkehr was there to watch the horses – and the roughly two-dozen horse-drawn carriages that provide rides up and down historic downtown streets, recreating an old form of transportation now seen as charming and romantic.
The rides are popular with the likes of tourists and high school prom dates, and Chicago's three licensed carriage companies say they're preserving a tradition that literally helped pave the city's diagonal streets.
But animal welfare advocates like Wiederkehr say the practice is inhumane, forcing horses to pull oversized loads while pounding their hooves on pavement for hours upon end, at times in extreme heat or cold.
As she and others have done a handful of times this year, Wiederkehr took detailed notes during her watch Saturday near the historic Water Tower, the approximate starting point for carriage rides. By day's end, she says she had witnessed nearly a dozen carriage operators working their horses for more than six hours – a violation of the city's rules and regulations for horse-drawn carriages – with some working continuously for 12 hours.
Wiederkehr says she saw carriage drivers earlier this year washing their hands in horses' drinking water, and watched a carriage operator flick a lit cigarette toward a horse's hoof.
"The drivers always say, 'We love our animals like we love our pets,'" said Wiederkehr, campaign director for Chicago Alliance for Animals. "I would not throw a lit cigarette down at my dog's or cat's feet. I would not ride them. I would not work them for 12 hours straight."
Chicago prohibits horse-drawn carriages from operating when the temperature rises to 90 degrees or drops to 15 degrees. (Courtesy Chicago Alliance for Animals)
Wiederkehr and CAA are not the first to raise a stink about horse-drawn carriages in Chicago. In 2014, Southwest Side Ald. Edward Burke (14th Ward) tried to get rid of the tradition after New York Mayor Bill de Blasio pledged to end carriage rides in Central Park. Burke argued that the carriage rides clog up traffic and are cruel to animals.
A year earlier, downtown Ald. Brendan Reilly (42nd Ward) got the city to update its ordinance to require carriages to display decals showing temperatures under which horses can legally operate carriages. The ordinance states that horses cannot be worked if the temperature rises to 90 degrees or drops to 15 degrees. Earlier this month, he said the city should change the temperature requirements to prohibit work if temperatures hit 80 degrees or 20 degrees.
The efforts to further regulate or ban horse carriages have signaled trouble for the city's carriage operators, prompting the launch of the website savechicagocarriages.com to champion the industry and push back against groups like CAA and People for the Ethical Treatment of Animals, or PETA.
"A ban serves no one, potentially creating homeless horses and unemployed Chicago residents who rely on the carriages for work," read a post on the website four days after Burke's proposal to ban horse carriages in February 2014. "Stay tuned for more … but we will not go quietly into the night."
The carriage companies later that year successfully resisted a proposal by Mayor Rahm Emanuel that would have required them to pay higher licensing fees and have carriage drivers pass a geography test.
The following year, Wiederkehr co-founded CAA "with the goal of making Chicago a more humane city." The group's first project, she and other members decided, would be to "expose the cruelty and dangers of horse-drawn carriages" and work toward a ban of them in Chicago.
CAA's online petition calling for such a ban has been signed by more than 10,000 people. Wiederkehr said about 20 organizations and businesses have also signed a paper petition, which includes another 1,000 signatures from individuals.
Citations spike in 2017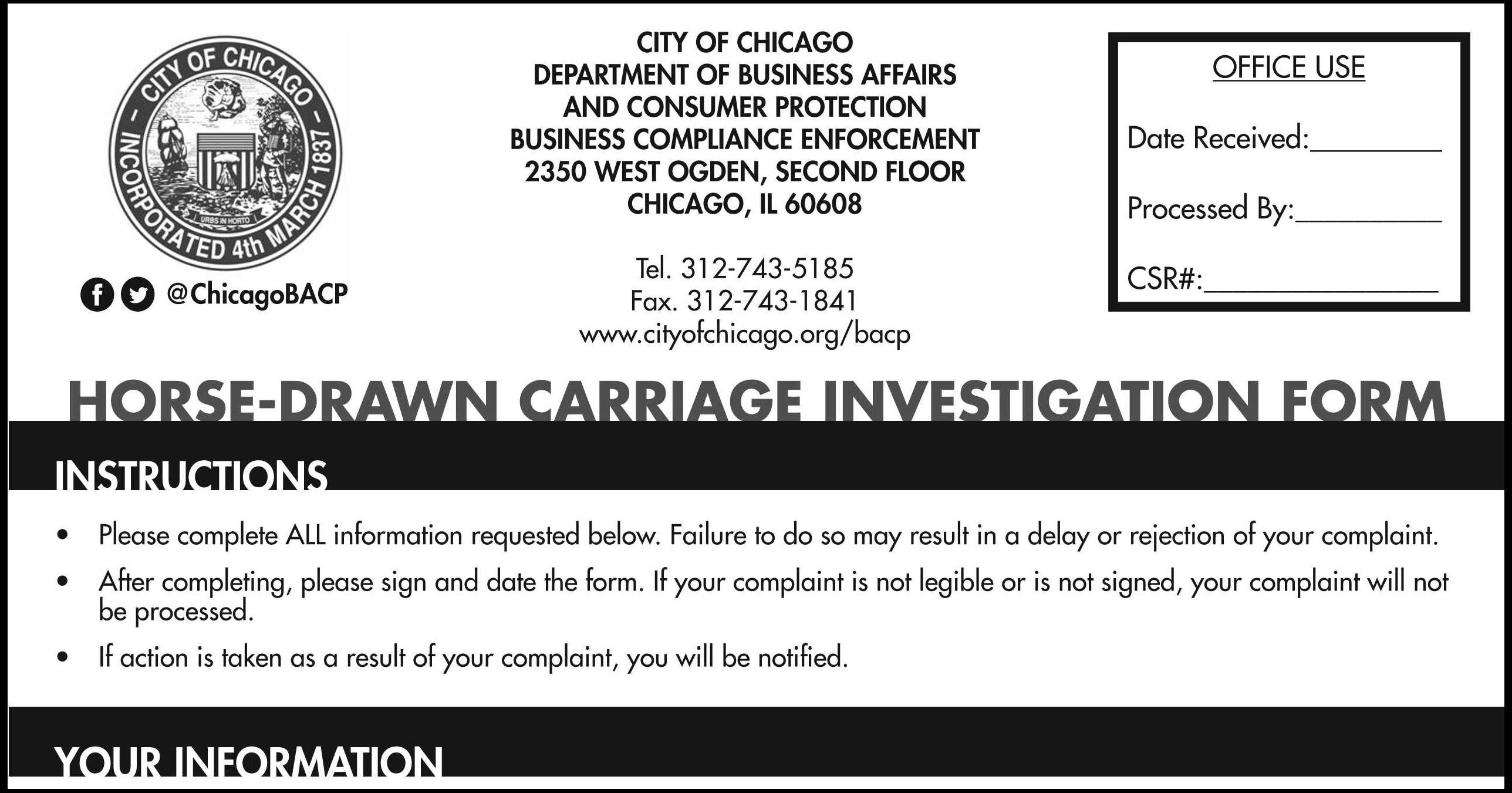 Complaints filed by Chicago Alliance for Animals have coincided with a spike in violations against horse-drawn carriage operators. (Chicago Business Affairs and Consumer Protection)
In late 2016, Wiederkehr and other CAA volunteers began monitoring carriage drivers and filing complaints with Chicago's Department of Business Affairs and Consumer Protection, which regulates horse-drawn carriages.
"We're doing this to prove to the public and the city that these horses are always overworked," she said.
The city appears to have taken notice. After issuing a total of three violations to carriage operators in 2015 and 2016, the city has given out 146 citations so far this year, according to data provided by BACP. The citations have so far resulted in $8,500 in fines.
BACP spokesperson Lilia Chacon said the increase in violations is the result of "targeted enforcement" undertaken by the department this year. She also said the department is using new software that allows for better responses to complaints.
"Chicago BACP has no tolerance for businesses that abuse the privilege of doing business in Chicago by ignoring the law," the department said in a statement. "The carriage companies are part of the public vehicle industry that serves tourists and residents alike and is subject to the municipal laws and regulations. The city enforces the laws that govern horse-drawn carriages, and that enforcement has resulted in hundreds of violations being issued to the three companies licensed in Chicago. 
"These companies will be afforded the due process of law and will have their day in court to address the various violations and establish a compliance plan that among other corrective actions will provide better training for drivers and owners."
Most of the violations were for working horses for more than six hours in a 24-hour period, or for operating during prohibited hours, including those between 4 p.m. and 6 p.m. on weekdays. 
Other violations were for drivers working without a carriage driver's license, failing to control horses and driving in prohibited areas.
"I think most of it was due to our documentation," said Wiederkehr, a 48-year-old Chicago native who previously worked in animal protection and several years ago led a successful campaign to ban greyhound racing in Massachusetts. "I think the average person thinks these horses are taken care of and the law is enforced, but that is far from true. And we've been documenting this for more than a year."
Wiederkehr says she has discussed enforcement with BACP staff, including with one investigator who monitors horse carriage operators.
"He has told me they simply don't have the manpower to do this," she said. "As far as we can tell, they only go out [to monitor] if they get called."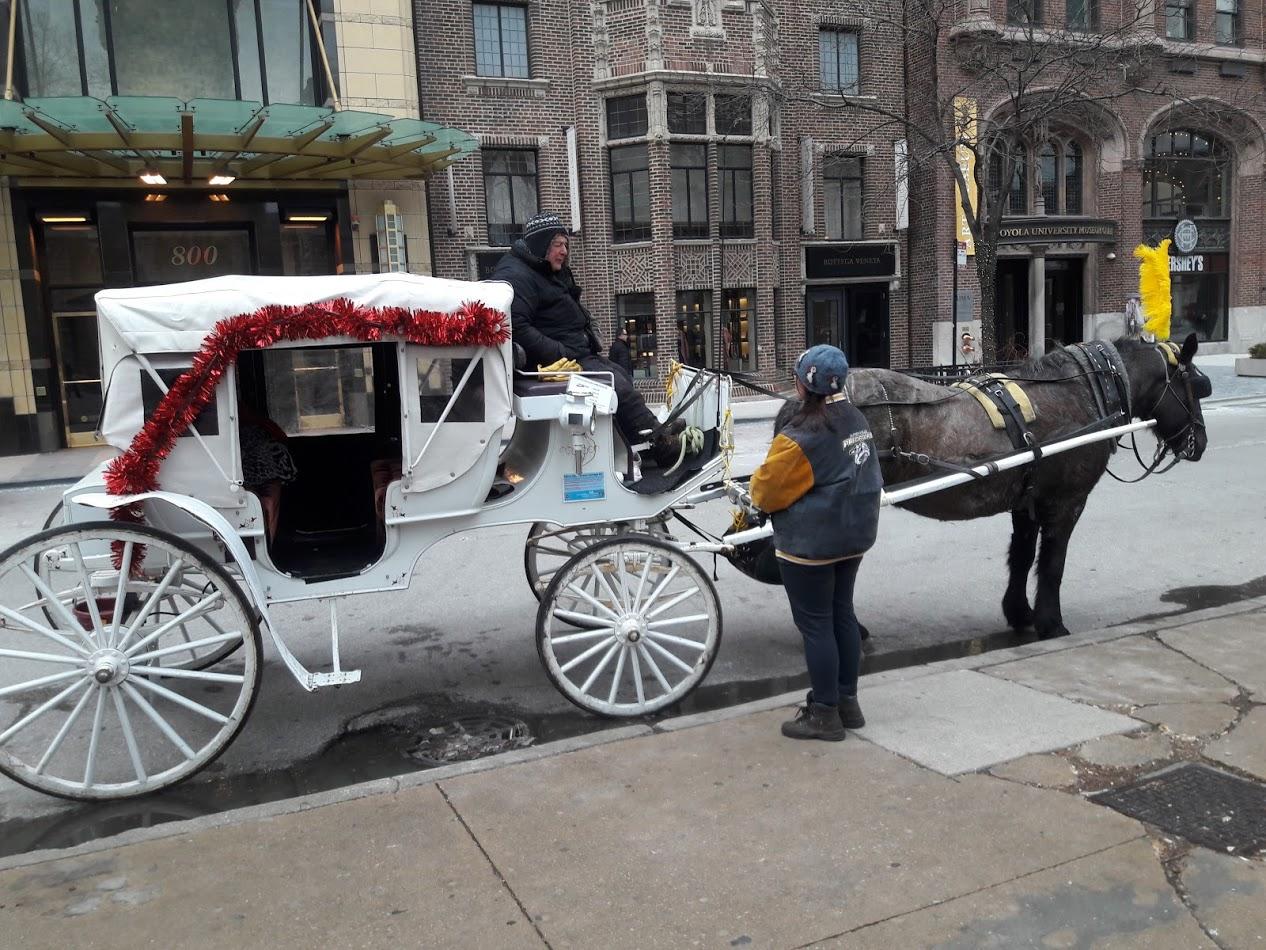 (Courtesy Chicago Alliance for Animals)
Nearly half of the citations – 70 – were issued to Antique Coach & Carriage Co. or drivers for the company. The remaining 76 citations were issued to the city's other two licensed carriage companies – Great Lakes Horse & Carriage and Chicago Horse & Carriage – or to the companies' drivers.
Tim Murphy, an attorney who represents the three companies, said he is working with the city to clarify its rules for carriage operators, such as how it calculates the time a horse is considered to be working.
"Traditionally, the rules and regulations were interpreted in a certain way by the city, which would lead to the occasional violation. The fine would get paid and that would be the end of it," he said. "I think the problem now is there is an animal rights activist who has decided that pulling a carriage is de facto abuse of a horse. So she follows the carriage around, videotapes them, harasses the customers and then makes complaints."
Murphy is familiar with Wiederkehr's monitoring efforts. "We believe quite firmly that her activity has gone beyond the bounds of protected First Amendment speech and crossed into a tortious behavior [of] interference with business relations and defamation."
Wiederkehr said Murphy's claim is inaccurate.
"We don't talk to customers. We don't talk to drivers," she said. "We simply videotape when we catch them violating the law. We don't harass anyone."
But drivers have engaged her in conversation on several occasions, she says, including one who made a vulgar gesture, and another who called her an obscene name.
CAA, which now has nearly 700 members, has been urging the city to not renew the companies' annual licenses, which are set to expire Thursday – though they are expected to be renewed. Chacon, of the BACP, says license renewal is not related to enforcement, and that the companies will have their licenses renewed if there is no outstanding debt and they meet the criteria for renewal. One company has already received a renewed license, and another is in the process of renewing, she said. 
Either way, Wiederkehr said the department needs to step up its enforcement of rules governing carriage operators.
"The public has a right to know the sad truth behind the romantic myth of horse carriages in a chaotic urban setting," she said. "If any other business in Chicago broke the law as often as these companies, they would have folded long ago."
Contact Alex Ruppenthal: @arupp | [email protected] | (773) 509-5623
---
Related stories: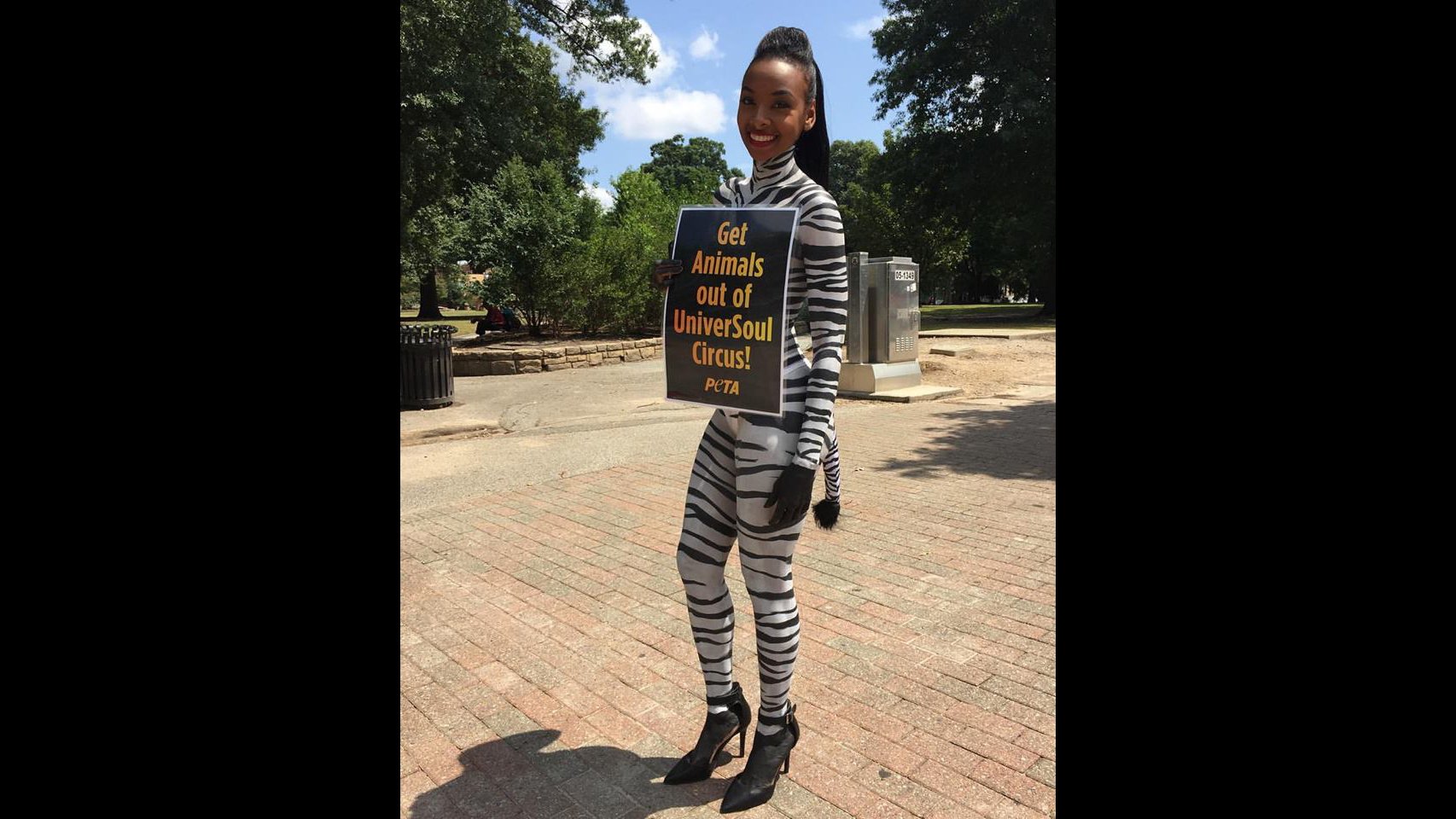 Half-Naked 'Zebra' to Protest Circus Opening This Week in Chicago
Oct. 3: Dressed in little more than black-and-white body paint, a PETA supporter on Wednesday will urge passersby to skip performances this month by a circus company with a track record of mistreating animals.
---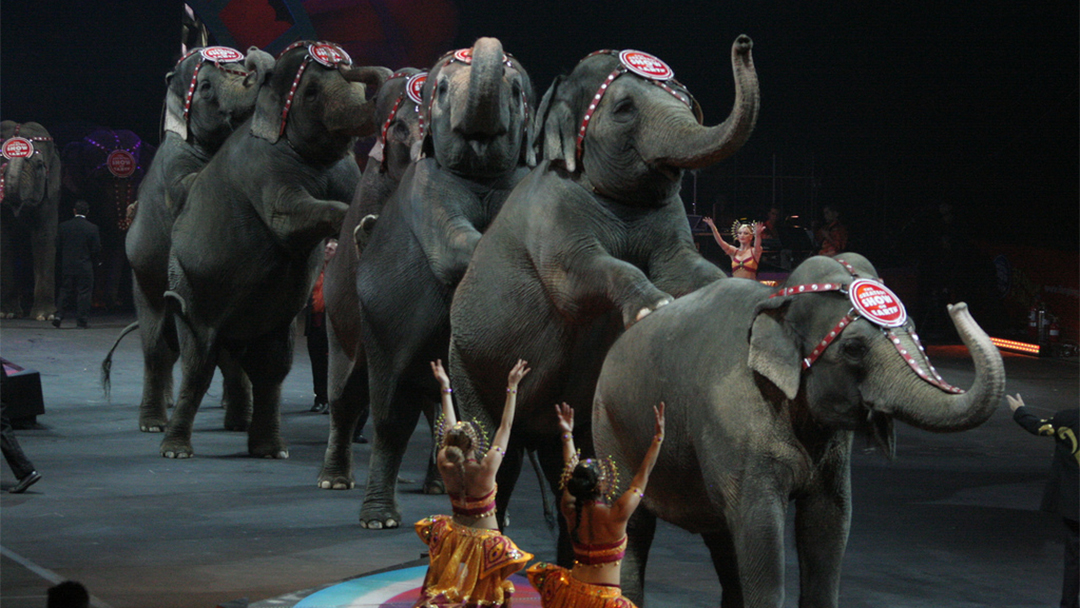 Circus Elephants to Take Final Bow in Illinois
Aug. 14: Illinois will become the first state to ban the use of elephants in circuses and other traveling exhibitions, putting an official end to a practice that animal rights activists have been protesting for decades.
---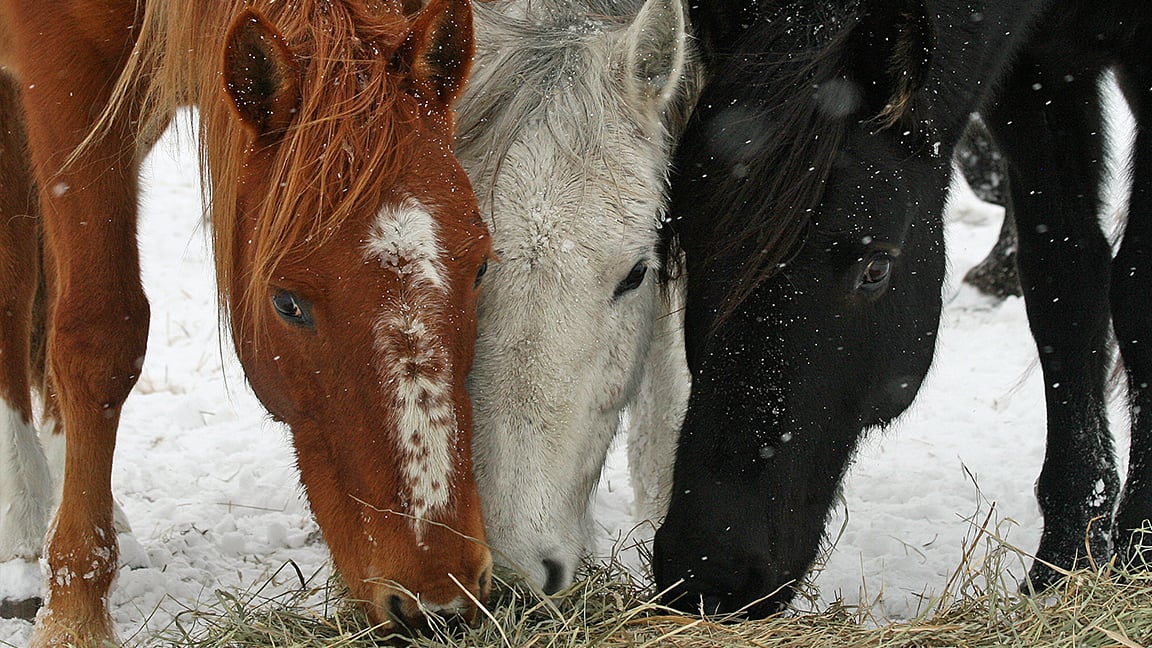 Bureau of Land Management: We Won't Euthanize 45,000 Wild Horses
Sept. 15, 2016: The Bureau of Land Management said Thursday it will not follow the recommendation made last week by an independent board to euthanize or sell thousands of wild horses and burros, including 179 being held in Illinois.
---