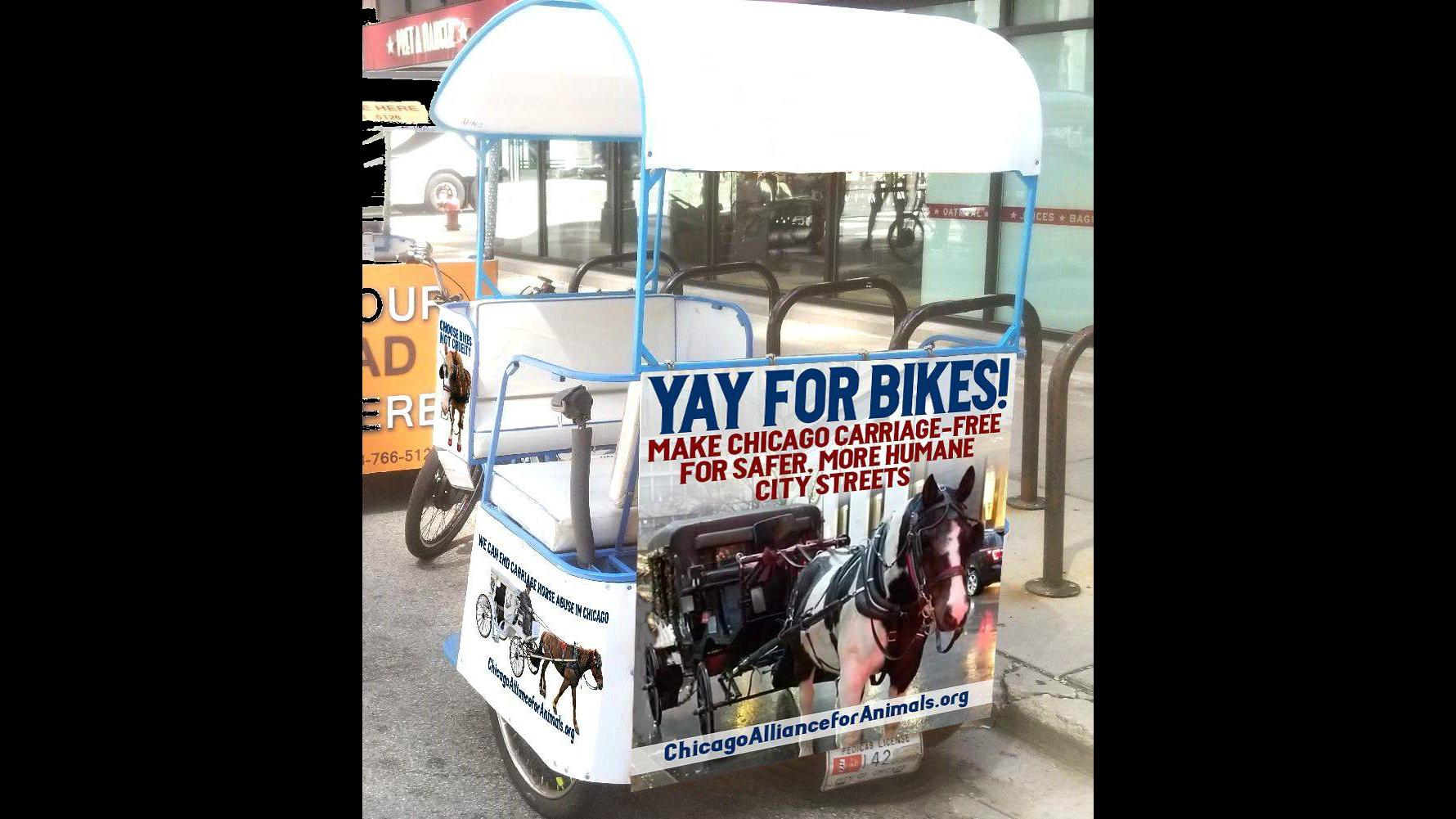 A pedicab operated by Pedicab Ride Guys wrapped with signage from the Chicago Alliance for Animals, which is seeking to ban horse carriages in the city. (Marla Rose / Facebook)
Save a horse, ride a bike.
That's the message some Chicago animal welfare advocates are looking to send by sponsoring one of the pedicabs that shuttles riders up and down the Maginificent Mile and throughout downtown.
For about two weeks, a pedicab operated by Pedicab Ride Guys has been outfitted with wraparound signage protesting the city's horse carriage businesses.
"Yay for bikes! Make Chicago carriage-free for safer, more humane city streets," reads a sign on the back of the pedicab, which also includes images of a horse pulling a carriage.
The Chicago Alliance for Animals is behind the sign. The group has been calling for a ban on horse-drawn carriages in the city and urging regulators to crack down on operators who violate the city's rules and regulations for horse-drawn carriages.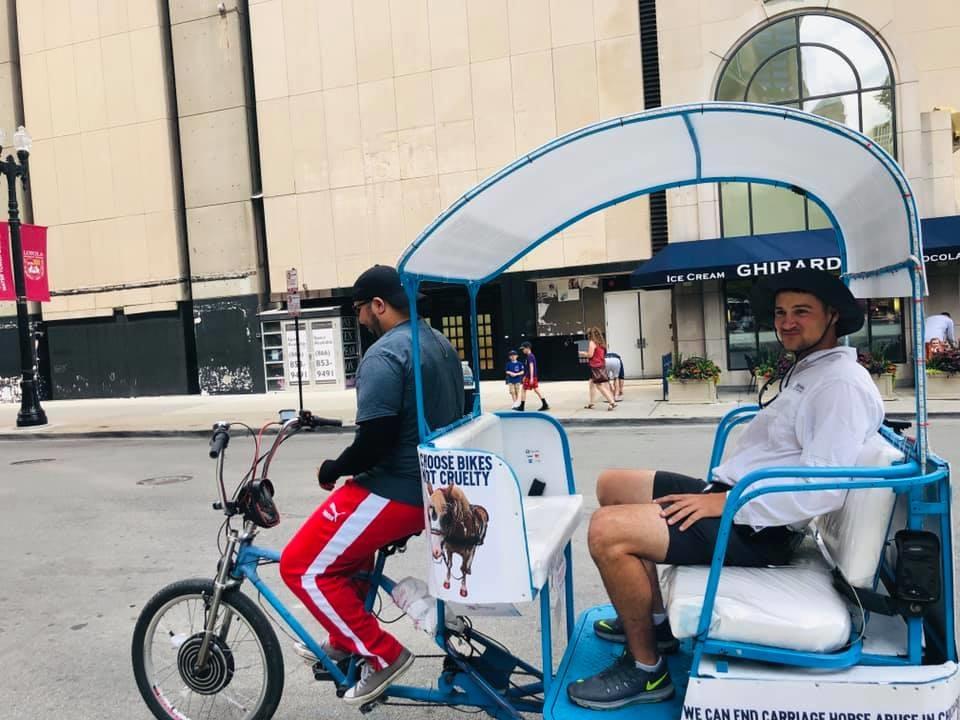 A Pedicab Ride Guys employee drives a passenger in a pedicab covered with advertisements from the Chicago Alliance for Animals. (Marla Rose / Facebook)
Chicago's three licensed carriage companies have said they are preserving a tradition that remains popular with both tourists and couples on romantic dates. But others, like CAA campaign director Jodie Wiederkehr, say the practice is inhumane, forcing horses to pull oversized loads while pounding their hooves on pavement for extended periods, at times in extreme heat or cold.
"We don't want to put anyone out of business," she said. "We don't want people to lose their jobs. But there are more humane ways to get around town."
CAA members raised more than $1,000 to create and pay for the new advertisement, which will remain on the pedicab through September. 
Wiederkehr said the group has received positive feedback from the company's drivers, who say the signage has prompted cheers and honks from pedestrians and vehicle drivers.
"I think it is reaching people," she said.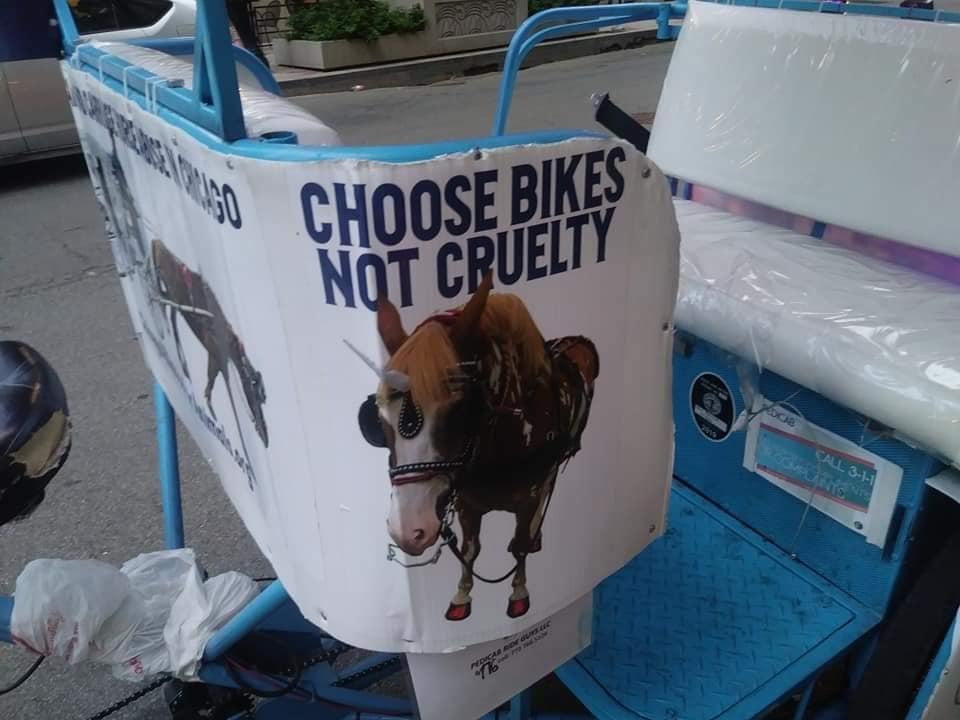 Signage protesting Chicago's horse carriages will remain on a pedicab operated by Pedicab Ride Guys through the summer. (Giovanna Gia Maria Mona-Campola / Facebook)
The group's goal remains a ban on horse-drawn carriages in Chicago. Although previous efforts have stalled, Wiederkehr said she is optimistic about an ordinance introduced in June by Ald. Brian Hopkins, 2nd Ward, that would prevent the city from issuing or renewing licenses to carriage operators.
The proposed ordinance has 18 sponsors, and Wiederkehr said other City Council members have also expressed support.
The Council's Committee on License and Consumer Protection is expected to consider the proposed ordinance in September.
Contact Alex Ruppenthal: @arupp | [email protected] | (773) 509-5623
---
Related stories:
Should Horse-Drawn Carriages Be Banned in Chicago?
Chicago Considers Banning Horse-Drawn Carriages
Horse Carriage Violations Spike, But Activists Say Oversight Lacking
---