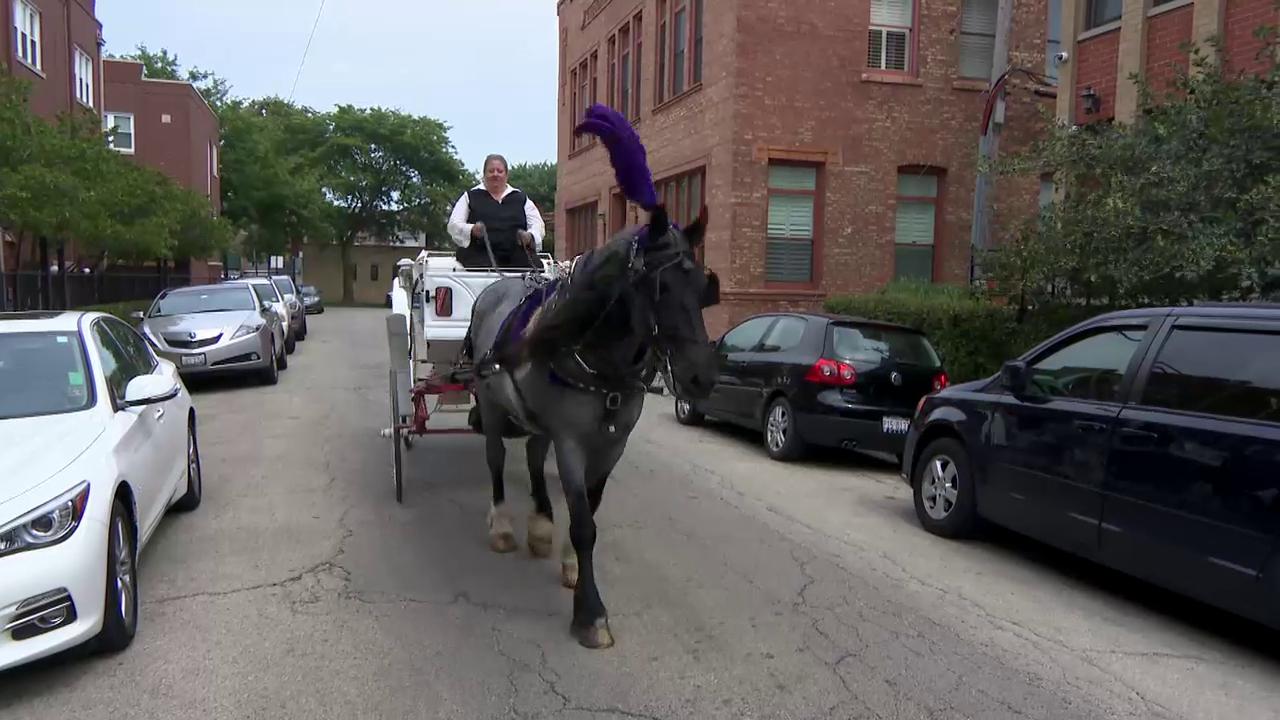 (WTTW News)
The sound of hoofs pounding the pavement around Water Tower and along the Magnificent Mile will be a thing of the past starting Friday, as a ban on horse-drawn carriages takes effect after a yearslong effort by animal welfare advocates.
The ban on the remaining horse-drawn carriage companies that operated in Chicago in 2020 is the final act in a debate that raged for years and often turned deeply personal. The City Council imposed the ban on a vote of 46-4, relegating the clip-clop of horses along Michigan Avenue to a bygone era.
The ban is a result of a campaign by the Chicago Alliance for Animals, which was founded by Jodie Wiederkehr, that began in earnest in August 2017.
Armed with data from a daylong observation of the carriages that they said showed horses being mistreated and city laws violated, members of the all-volunteer group pressured aldermen to ban the "archaic, inhumane" practice before a horse died on Chicago's streets.
But for months, the push went nowhere.
So Wiederkehr and her fellow animal welfare advocates became frequent speakers during the monthly meetings of the Chicago City Council, signing up to speak for three minutes at a time about the peril the horses faced while pulling carriages through downtown.
"We definitely used the public comment period to push a ban," Wiederkehr said.
Eventually, Alds. Brian Hopkins (2nd Ward) and Brendan Reilly (42nd Ward) threw their support behind a ban and forced a hearing in front of the City Council's License and Consumer Protection Committee in September 2018.
But the proposed ban ran into a wheelbarrow full of opposition from the owners of the carriage businesses — and opposition from Ald. Emma Mitts (37th Ward), the committee's chair, who refused to allow a vote.
"I cried myself to sleep that night," Wiederkehr said. "But we knew we had to keep pushing."
The breakthrough came in March 2020, just before the coronavirus pandemic shut down City Hall.
While Ald. Jason Ervin (28th Ward) was one of a number of aldermen who said he would miss the carriages, noting that he "had his first kiss" on one, Hopkins spoke for the majority of the City Council when he said "the time has passed for these devices in downtown Chicago," Hopkins said.
Wiederkehr said she was "overjoyed" that the ban would take effect Friday, and credited the victory to the hard work of those who volunteered for her group.
Representatives of the Horsemen's Council, which opposed the ban, as well as the owners of the three firms that operated in Chicago in 2020 before all were forced to shut down in the spring by Gov. J.B. Pritzker's stay-at-home order to stop the spread of COVID-19 either declined to comment on the ban or could not be reached by WTTW.
Contact Heather Cherone: @HeatherCherone | (773) 569-1863 | [email protected]
---