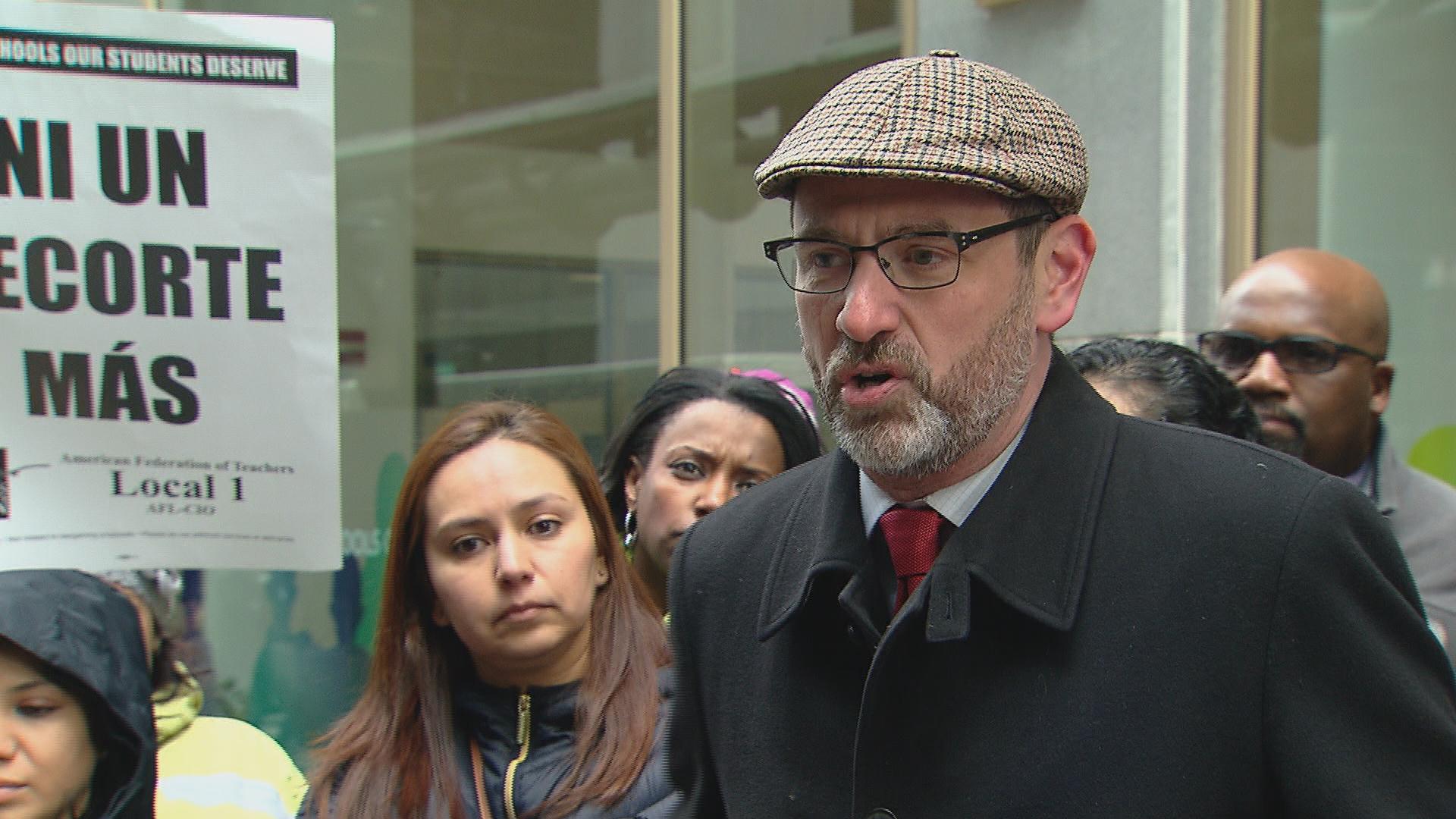 Chicago Teachers Union officials blasted Mayor Rahm Emanuel and Gov. Bruce Rauner on Wednesday, demanding they "do their jobs" to help fund Chicago Public Schools. (Chicago Tonight)
While Chicago Teachers Union Vice President Jesse Sharkey admits union members are having a difficult discussion surrounding a possible one-day strike this spring, he believes the move is necessary to help secure adequate funding for the cash-strapped Chicago Public Schools district.
CTU delegates are taking this month to discuss the possible May 1 strike with the union's rank-and-file members before a vote on the action, scheduled for April 5.
While the legality of such a move is unclear, CTU has repeatedly pointed to what it sees as "massive" contract violations by the district, which has implemented four furlough days and has threatened to end the school year nearly three weeks early on June 1, unless it receives pension funding from the state.
When asked about confusion or dissent from members surrounding those ongoing talks, Sharkey admitted it has been "a hard discussion internally," noting it would be the union's third work stoppage in five years.
"We'd rather be in our classrooms doing our job," he told media outside the district's office Wednesday morning. "What we have to do is understand that hiding and going back into our classrooms and not speaking out in public isn't going to get the job done. We have to bring the discussion to the public about the need to fund the schools."
On top of that internal discussion, CTU is also facing a challenge from CPS, which last week filed a charge with the Illinois Educational Labor Relations Board seeking to prohibit the possible one-day strike under state law.
The district claims the union is engaging in unfair labor practices by violating the Illinois Educational Labor Relations Act, which outlines how and when strikes may be held legally.
The union says no decision has been made on the strike, and claims there is nothing illegal about discussing the yet-to-be-finalized action.
"I think it's rich with hypocrisy for them to criticize us for talking about one day to bring parents and community together to protest for more state funding when they themselves are talking about cutting 17 days out of the school year," Sharkey said.
"Not only that, but they won't give us an answer on whether they're going to do it or not. Right now it's a threat and we don't have the ability to plan and make adequate accommodations for how we're going to deal with the end of the school year."
CPS has threatened ending the school year early in a separate legal filing, seeking injunctive relief that would require the state to send $215 million in funding to CPS that was previously vetoed by Gov. Bruce Rauner.
The governor has claimed those funds are tied to statewide pension reform that has not yet been reached.
CPS CEO Forrest Claypool again criticized the governor during Wednesday's Board of Education meeting, calling Rauner's claim that the city is responsible for the district's financial crisis "a statement of 'Alice in Wonderland' absurdity."
"He is only holding hostage our students," Claypool said. "He is only threatening to take away critical school days for CPS students, he is only threatening to take away textbooks and after-school programs from children of color in the state's largest school district."
He also highlighted the district's ongoing lawsuit against Rauner, which claims the state runs "separate and unequal" education funding systems that discriminate against CPS' largely minority student population. Claypool said the judge handling the case has agreed to an expedited schedule, beginning with an April 19 hearing, but has not yet committed to issue a ruling by May 1.
CPS requested an answer by that date to allow parents and families to make arrangements in the event of a shortened school year.
In response, Rauner-appointed state Education Secretary Beth Purvis issued a statement telling Claypool to "look in the mirror" after submitting a budget predicated on $215 million the state had not yet handed over.
"Mr. Claypool, how often did you come to Springfield asking them to pass statewide reform?" Purvis said. "Republicans have put a deal on the table that will help Chicago Public Schools and bring pension reform statewide. Instead of pointing fingers, we again ask CEO Claypool to come to Springfield and work to push the General Assembly to pass pension reform that will in return secure the $215 million in funding for CPS."
Rauner has said recently he would reverse course on that veto if state Democrats in turn would support removing a pension bill from the so-called "grand bargain" and passing that measure on its own.
But state Democrats criticized that "piecemeal approach," saying it won't solve Illinois' financial problems.
Rather than picking a side, teachers have called out both the governor as well as Mayor Rahm Emanuel, who they say could provide CPS with adequate funding through the city's TIF funding surplus or a corporate head tax.
"At some point we need a solution out of Springfield," Sharkey said. "The governor has got to do his job, and if what it takes to get us through this year is that the mayor does the right thing, the mayor needs to do the right thing."
Follow Matt Masterson on Twitter: @ByMattMasterson
---
Related stories:
CPS Files Order to Halt Proposed 1-Day Teacher Strike
March 17: Chicago Public Schools is seeking to prevent a proposed teacher strike later this spring, claiming the move would be illegal under state law.
---
CTU Delegates to Consider 1-day Walkout
March 8: A union spokesman confirmed the union's 800-member House of Delegates will begin discussions Wednesday over a "possible May 1 action." No strike vote has yet been scheduled.
---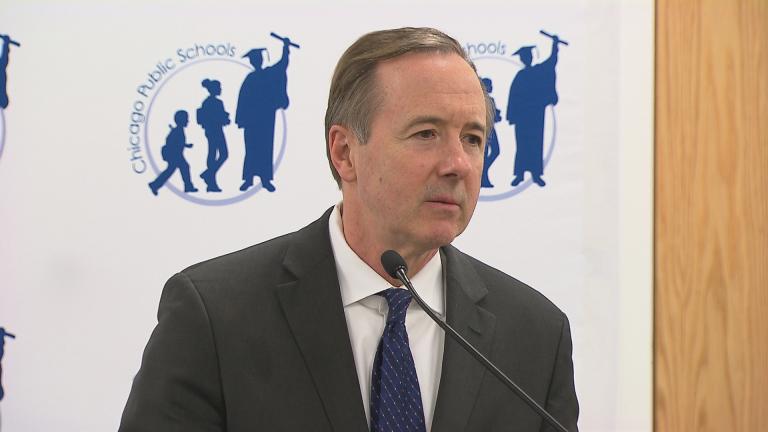 Cash-Strapped CPS Files Motion, Threatens Shorter School Year
Feb. 27: Chicago Public Schools students could be in for a shorter school year.
---