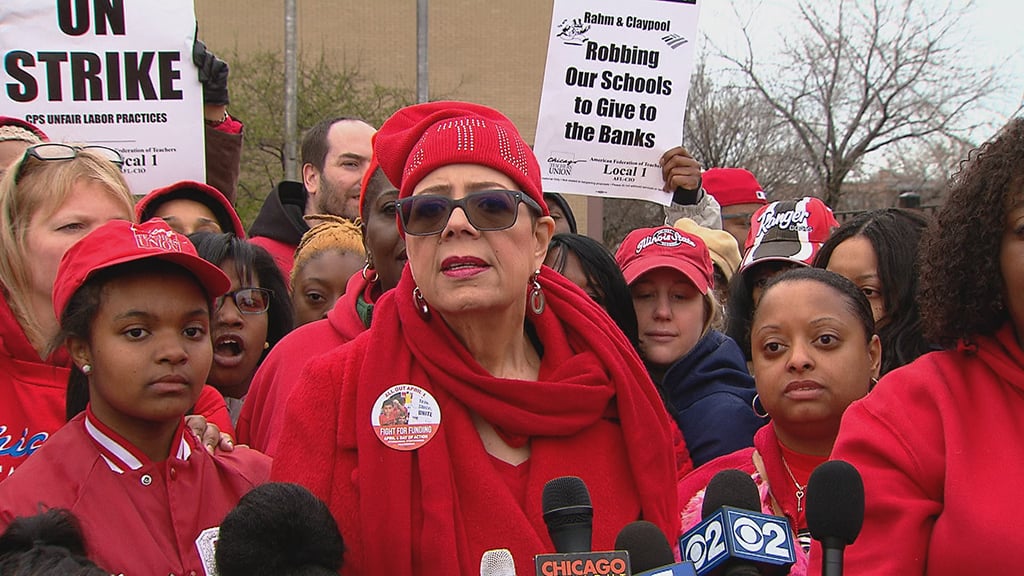 Chicago Teachers Union President stands with educators during a one-day walkout last April. CTU delegates will now consider another one-day strike this May. (Chicago Tonight)
Citing a potential "massive violation" of their labor agreement, Chicago teachers say they will consider walking out of the classroom for one day this spring in protest of Chicago Public Schools' threat to end the school year early.
A Chicago Teachers Union spokesman confirmed the union's 800-member House of Delegates will begin discussions Wednesday over a possible May 1 "day of action."
"If the Board (of Education) goes ahead with the threat of cancelling three weeks of school, we would view their actions as a massive violation of our contract and that could provoke a strike," CTU President Karen Lewis told media Wednesday. "If we don't fight back and they threaten us with furloughs and school closures – if we cower under the covers – then we are never going to stop these fights."
The delegates will vote Wednesday on whether to discuss the option of a strike with the union's rank-and-file members over the next month. If there is enough support, the delegates would vote to approve an actual strike at their April 5 meeting.
If held, the walkout would occur exactly one month prior to the day CPS says it will end the school year if it doesn't receive injunctive relief in its lawsuit against Gov. Bruce Rauner and the state of Illinois.
The union held a similar day of action last spring during ongoing labor negotiations with CPS. The district argued that one-day strike was illegal because union organizers failed to follow conditions set forth under state law and because the work stoppage wasn't related to CTU's labor negotiations. CPS also claims Lewis promised the Illinois Education Labor Relations Board the union would not hold another illegal strike.
When asked how they would avoid similar claims about a potential May walkout, union officials said the district's actions provide them with enough legal justification. 
"They already violated their side of the agreement," Lewis said. "What are we supposed to do? Give us some great ideas, give us some better ideas. We will take that under consideration."
CTU has already claimed four district-wide furlough days violate the labor contract it finalized with the district last fall. In February, union delegates also passed a resolution calling on CPS CEO Forrest Claypool to resign his position.
The district says it may trim the school year by more than two weeks if a Cook County court doesn't intervene and require the state to help fill the district's remaining $129 million budget hole, calling that a "worst-case scenario."
In court documents, the district notes that it will still have to access capital markets to borrow hundreds of millions of dollars to make its $721 million pension payment due June 30. CPS claims the next round of cuts is likely to require the district to cancel summer schools for elementary and middle school students.
"The Governor's $215 million cut blew a hole in the CPS budget that is forcing painful choices, and we should all work to avoid students losing days of instruction and teachers losing days of pay," CPS spokeswoman Emily Bittner said in an email. "We hope that all Chicagoans can stand united against Gov. Rauner's racially discriminatory funding, which is at the root of CPS' funding challenges."
In the suit, CPS claims the state runs "separate and unequal education funding systems," claiming they violate students' civil rights under Illinois law.
On top of furlough days, the district has also resorted to freezing school spending over the rest of this school year as it works to fill its budget gap.
District-run schools saw half of their discretionary funds – dollars saved to use for supplies, field trips and additional programming – frozen by the district, totaling more than $30 million. Charter schools are also expected to have $15 million frozen from their fourth-quarter payments.
The freeze was announced earlier this month as CPS works to fill a $215 million hole in its budget left after Rauner vetoed state funding intended for the cash-strapped district. The governor claims those funds were tied to statewide pension reforms that have not yet been achieved.
Rather than walking out on May 1, the district says a day of action held instead on April 7 – the next scheduled furlough day – would not impact student learning. May 1 is a scheduled class day and CPS says teachers who do not go to school that day will not be paid.
But the idea of using a furlough day for a strike was a non-starter for Lewis, who wants to see CPS take April 7 off the table and reinstate that date as an instructional day.
"That would show us some seriousness," she said, "about really trying to work with us."
Follow Matt Masterson on Twitter: @byMattMasterson
---
Related stories: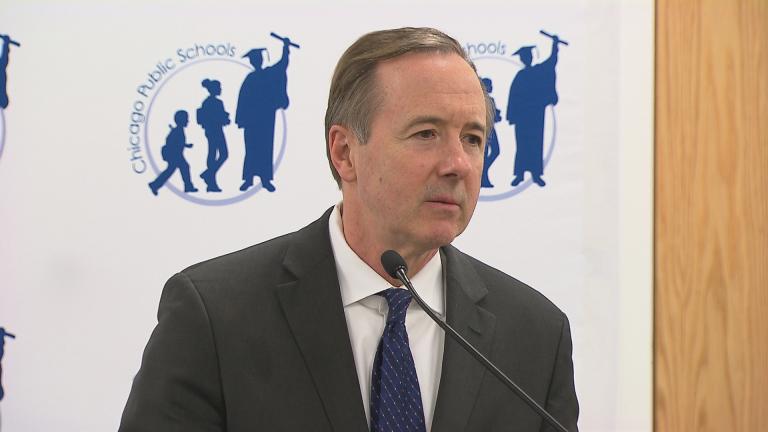 Cash-Strapped CPS Files Motion, Threatens Shorter School Year
Feb. 27: Chicago Public Schools students could be in for a shorter school year.
---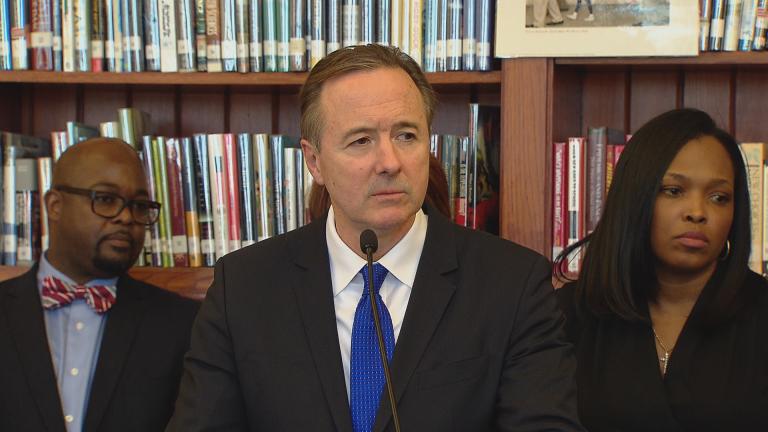 CPS Unfreezing $15M in School Funds After Latino Community Outcry
Feb. 24: Chicago Public Schools announced Friday it will return $15 million in frozen discretionary funds to high-poverty district schools, citing a "disproportionate impact" that freeze had on predominantly African-American and Hispanic schools.
---
CTU Post Claims Furlough Dates Could Violate Labor Contract
Jan. 20: The ink has barely dried on the labor contract between Chicago Public Schools and the Chicago Teachers Union, but with a wave of upcoming furlough days announced, one side has made the claim that deal may have been violated already.
---