In an interview on WBEZ Friday morning, Gov. Bruce Rauner called President Trump's immigration ban "overly broad" and "rash."
Illinois Gov. Bruce Rauner is often delicate when speaking about President Donald Trump, including statements that have seemed to tiptoe around the edges of criticizing his fellow Republican's executive order banning refugees and immigrants from seven countries in the Middle East.
But Rauner on Friday morning offered a sharper rebuke of that policy.
"I think the president's order was overly broad. I believe it was rash," Rauner said during an interview Friday morning on WBEZ's "Morning Shift" with Tony Sarabia. "I do not support immigration restrictions based upon religion."
As he has before, Rauner pitched himself as "very pro-immigration," and said it's important to remember that "we are all immigrants."
"America is the home to the downtrodden around the world," Rauner said. "We should be welcoming to refugees, and we should be welcoming to immigrants."
"Illinois is a welcoming, diverse state. We should always strive to be that in every way that we can," he said.
Nonetheless, Rauner defended his November 2015 move to keep Syrian refugees from relocating in Illinois – a stance immigrant rights and religious freedom organizations have questioned and admonished as a form of fear-mongering.
"The one thing I did and I will stand by it … when ISIS announced that they were working to put terrorists inside the flow of refugees coming from Syria … I said 'Let's pause'" he said.
The halt, he says, was intended to make time for the federal government and the state's own terrorism task force to scrutinize the refugee vetting process so as to ensure Illinois' safety.
Rauner on Friday reiterated calls for Congress to pass "comprehensive" immigration reform. He says that's better than a "piecemeal" approach, and that he's actively encouraging members of Illinois' delegation to act.
The governor was also asked about public education following a war of words this week with Chicago Public Schools CEO Forrest Claypool. The two sides have traded barbs after the district announced Monday it will freeze half of schools' discretionary funding to help balance its 2017 budget.
Claypool blames this on the governor's veto of $215 million in state funding that CPS had anticipated in its budget. Rauner, on the other hand, says those dollars were a condition of a sweeping statewide pension reform deal that has not yet been reached.
"I understand why the city would love to get a massive new payment from the state," the governor said. "They've been financially mismanaged for years, they continue to be financially mismanaged. As I pointed out, it would be unfair to taxpayers to have taxpayers send $215 million for a pension payment when CPS already gets $250 million more in a block grant to pay for it.
"That's unfair to taxpayers outside of Chicago. And to deny that or lay blame other places, that's political spin, that's playing politics with kids' education and that's wrong."
When asked by Sarabia if CPS had OK'd that deal, Rauner said it was Senate President John Cullerton and other legislative leaders who were in agreement.
Monday's announcement of cuts will save CPS up to $69 million, and coupled with four unfunded staff furlough days, the district has made up nearly half of that $215 million gap.
Chicago is the only district in the state required to pay its teachers' pensions, and it does indeed receive $250 million from the state, but those dollars are not necessarily allocated to pensions. That state contribution also represents roughly a third of the district's actual pension contribution, which CPS says will hit $721 million in fiscal year 2017 and estimates will surpass $800 million within the next five years.
Rauner said the state will increase public education spending in his third year in office and he hopes to revise Illinois' broken education funding system to send more money to low-income school districts.
"And Chicago will get a heck of a lot of that money, as I believe they should," he said.
Claypool this week repeatedly compared the Republican governor to Trump, saying Rauner is unfairly harming Chicago students with his efforts to appease his political base. But in a letter sent from the governor's office, Illinois Education Secretary Beth Purvis said Tuesday the district created its own financial mess rather than working with Springfield to pass reform legislation.
Rauner, who repeatedly called himself a "passionate supporter" of public education, said Friday that CPS has been treated fairly by the state and called on Claypool and Mayor Rahm Emanuel to end the blame game and help get legislation passed in Springfield.
"Don't try to point fingers or lay off blame for responsibility you have here in Chicago to manage CPS properly, and it has not been managed properly," he said. "Help in Springfield. Let's get pension reform, let's get the new school funding formula passed that the bipartisan commission recommended. Let's work together and solve the problems, let's stop the blaming and the finger-pointing."
Follow us on Twitter: @AmandaVinicky | @byMattMasterson | @WTTW
---
Related stories: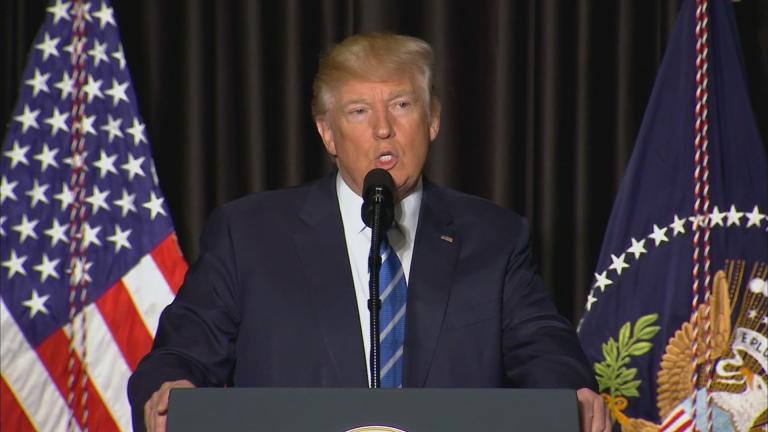 Next Steps in Case Against President's Immigration Ban
Feb. 8: How a federal appeals court could read the law on the president's immigration ban.
---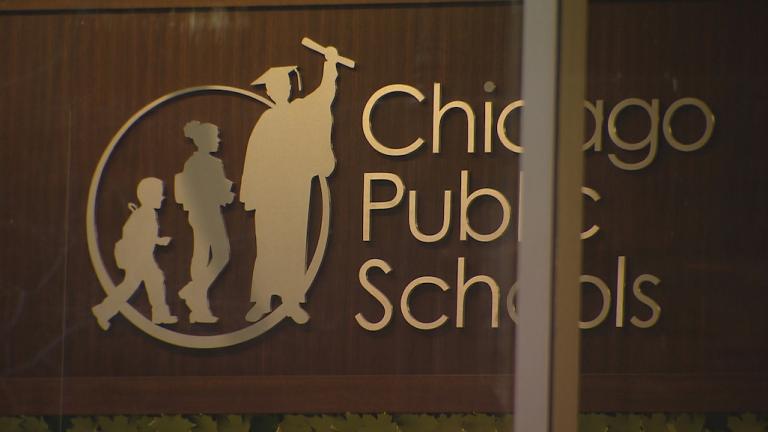 CPS Freezing up to $69M in School Spending to Help Fill Budget Gap
Feb. 6: Chicago Public Schools announced Monday it will implement new cost-saving measures as it works to fill its 2017 budget hole, this time freezing as much as $69 million in school discretionary funds.
---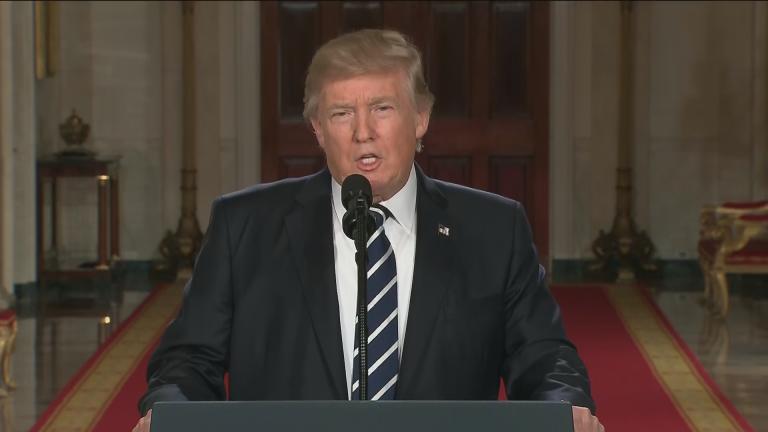 Appeals Court to Weigh In On Constitutionality of Trump Travel Ban
Feb. 6: President Trump's spokesman believes the travel ban is constitutional – a federal appeals court will weigh in on Tuesday.
---