As a federal appeals court deliberates the fate of the president's travel ban, a Syrian refugee family has arrived at O'Hare International Airport on Tuesday to be relocated in Chicago. The family had originally been scheduled to come last week but was turned away after the executive order came down.
Will there be a happy ending for the family or could they be turned away again?
A young couple, Baraa and Abdulmajeed, and their 18-month-old daughter landed at O'Hare at 6 p.m. Tuesday and cleared customs by 7 p.m.
The couple's parents and the group that has sponsored them, the Lincoln Square Moms, are waiting to welcome the family before they are resettled in an apartment in Skokie – worlds away from the home they fled in Aleppo.
The family's arrival would cap off a yearslong odyssey which included living in a refugee camp in Turkey while being vetted. It's a journey that lasted a week longer than expected because of the president's executive order.
"It was heartbreaking to see how it affected them, that they were kept from their own family that was here, that they had gone through two years of vetting and background checks, they had been cleared to come, they were so excited to be reunited, and then to be told they couldn't come – at that point, we didn't know if they would ever be allowed to come," said Alisa Wartick of Lincoln Square Moms.
According to attorneys that are assisting refugees at O'Hare, Customs and Border Protection officials do have leeway to hold refugees for 48 hours without legal representation. It had raised concern earlier in the day that officials may want to wait until the legal fight over this ban is ironed out.
"I would not be surprised at all if they're detained until there's some final type of ruling if that were to happen today," said immigration attorney Martin Perez.
And the California federal appeals court panel heard oral arguments Tuesday evening from the government and the solicitor general from the state of Washington on whether or not to lift the injunction on the travel ban.
Trump's Justice Department argues the ban is needed while vetting procedures are reviewed. A lower court upheld the injunction on the ban.
The case will most likely go before the U.S. Supreme Court. Attorneys at O'Hare say they're fairly confident that once this family is in, they can't be deported even if the ban is reinstated.
The president has argued for suspending the Syrian refugee program indefinitely while the travel ban on the other six countries would be temporary.
The head of the Syrian Community Network says Syrians have a tougher vetting process than almost all other refugee groups.
"You have Homeland Security, you have the FBI, they do background checks, they ask questions of where they live, what they did, and then they do cultural and language readiness classes before you go through the U.S.," said Suzanne Sahloul. "So, Syrians do go through a very strict vetting process."
Follow Paris Schutz on Twitter: @paschutz
---
Related stories: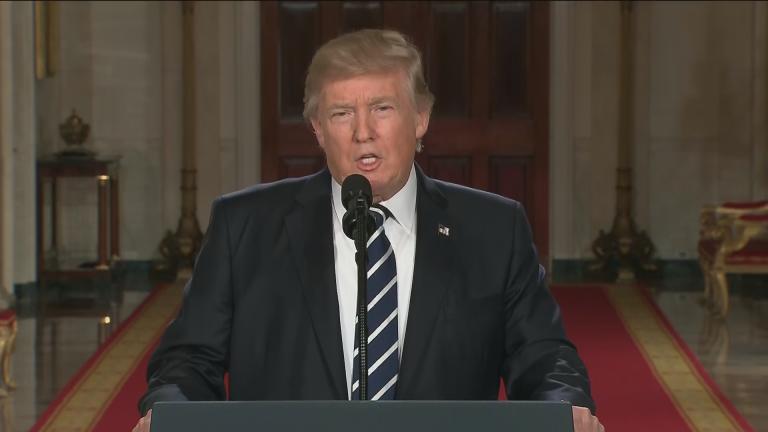 Appeals Court to Weigh In On Constitutionality of Trump Travel Ban
Feb. 6: President Trump's spokesman believes the travel ban is constitutional – a federal appeals court will weigh in on Tuesday.
---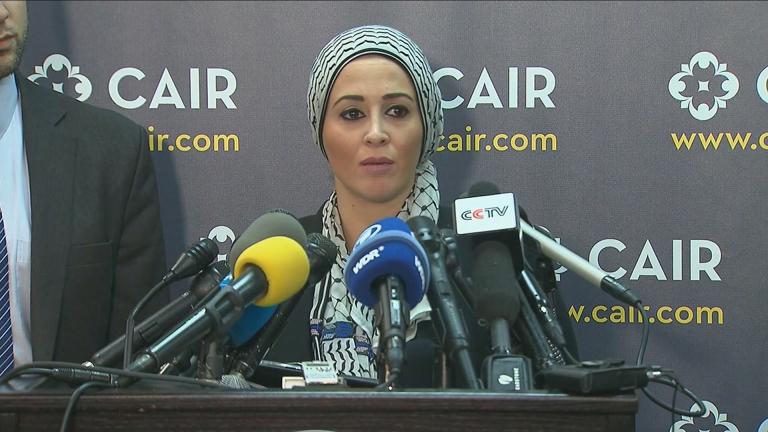 Muslim Civil Rights Group Sues Over Constitutionality of Travel Ban
Jan. 30: The Council on American-Islamic Relations filed a federal lawsuit Monday over the constitutionality of President Donald Trump's executive order, which they say targets Muslims.
---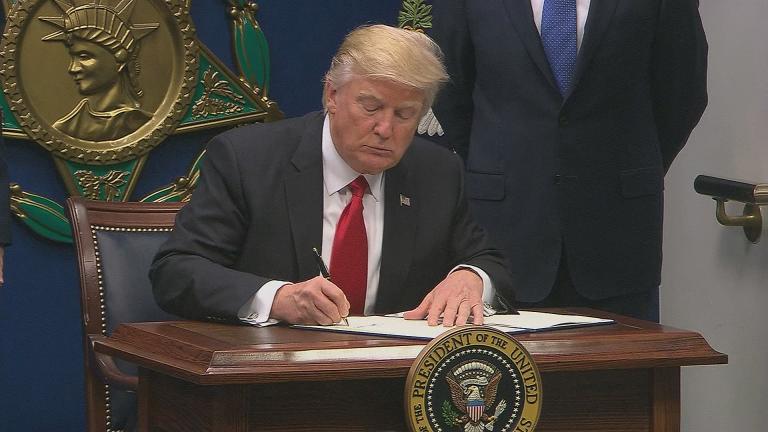 Does Trump's Travel Ban Make Americans Less Safe?
Jan. 30: The White House pushes back against criticism of President Donald Trump's travel ban. Is the executive order a big setback for counterterrorism efforts?
---