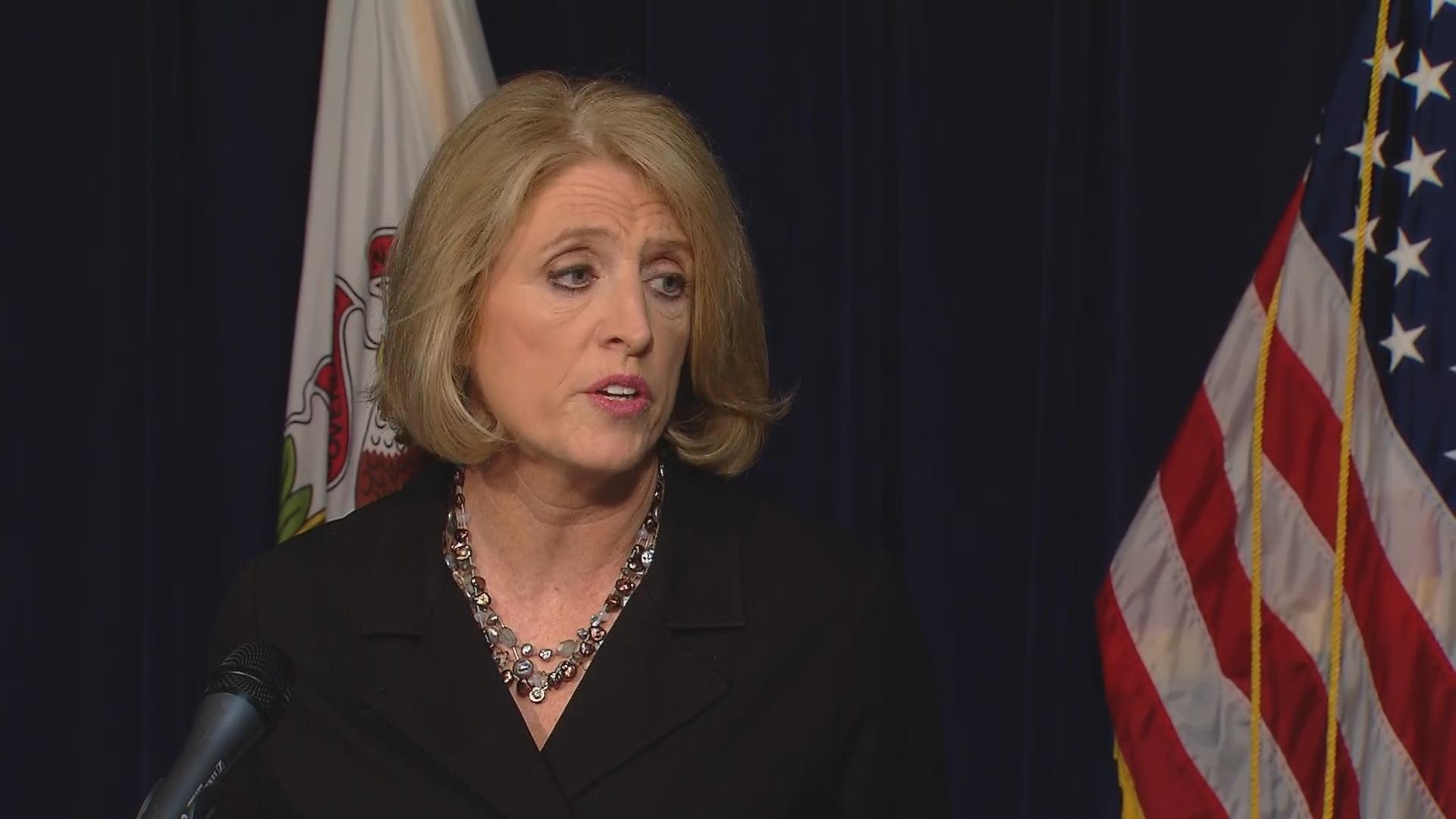 Leslie Munger (Chicago Tonight)
Former Illinois Comptroller Leslie Munger may have lost last November's race to keep her seat, but will return to state government at her former, $135,000 salary.
Friday afternoon Gov. Bruce Rauner's office announced that Munger has been brought on as a deputy governor.  
"Leslie's vast business, human services and government experiences make her uniquely qualified to serve in this important role," Rauner said in a statement. "We are thrilled that she has agreed to return to public service and bring people together to find long-term solutions for our state and its residents."
The news came as Illinois entered its 20th month without a complete budget. Wednesday, Fitch downgraded the state's worst-in-the-nation credit rating another notch, noting that "the failure to act (to pass a budget) to date has fundamentally weakened the state's financial profile."
Rauner critics were quick to seize on Munger's hire as fiscally imprudent.
"Rather than recite all of the obvious reasons why it's wrong for our wealthy governor to clout his wealthy friend into a state government job at a lucrative salary when we have no budget after she lost her bid for election in November, I'll simply note some of the many ways a rural downstate public school could put $135,000 to use," State Sen. Andy Manar, D-Bunker Hill, said in a statement, which went on to list examples including "3 additional teachers at a salary of $45,000 per year," "270 iPads for students to use in the classroom" and "1,350  $100 high school chemistry or algebra text books to replace the out-of-date ones."
Munger, a former Helene Curtis executive from Lincolnshire, lost a race for state representative to the 59th district's Democratic incumbent in 2014.
Shortly thereafter Rauner chose to appoint her as comptroller, following Judy Baar Topinka's death. 
In the 2016 special election to fill the remainder of Topinka's original term, challenger – and ultimate victor – Susana Mendoza repeatedly painted Munger as Rauner's puppet.
"Frankly it's Gov. Rauner who is running this office," Mendoza said during an October 2016 forum on Chicago Tonight.  "She just accepted – from the person who she's supposed to be a checks and balances to – last week a check for $1 million."
Munger repeatedly framed herself as independent.
"The governor has not bought me. In fact I'm probably the most independent person here because I don't need this job. I took this role because I love Illinois," she said at the time. "I had my career in the private sector. I spent 20 years volunteering for a human service organization that serves developmentally disabled adults. I accepted this appointment because I want to help our state get back on a good fiscal track."
Munger is the latest, most high-profile of a string of hires from her former office.
The State Journal Register reported that after the election, the Rauner administration hired 23 people who had worked for Munger in the comptroller's office at a collective salary of $1.8 million.
"Comptroller Munger, and Comptroller Judy Baar Topinka  – they had the same staffs for the most part – they have very experienced, very smart, talented people," Rauner said when asked by a reporter on Jan. 9  whether he'd have cried cronyism had Quinn gone on a similar hiring spree had a Democrat lost a statewide election.
 "A number of which I didn't want to see lose, you know, come out of the government. 'Cause, you know, skilled people, who know the numbers and know how to get things done in government, they don't grow on trees," he said.
Rauner has consistently made instituting term limits a requisite for negotiating with Democratic legislators on a budget.
Follow Amanda Vinicky on Twitter: @AmandaVinicky
---
Related stories: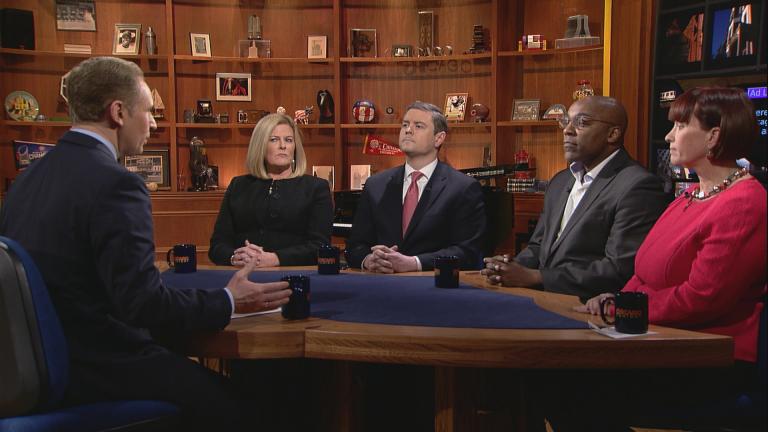 Senate Negotiations on 'Grand Bargain' Budget Continue
Feb. 1: What progress have state senators made on negotiating a budget deal, and how will Gov. Bruce Rauner and House Speaker Michael Madigan react if it passes?
---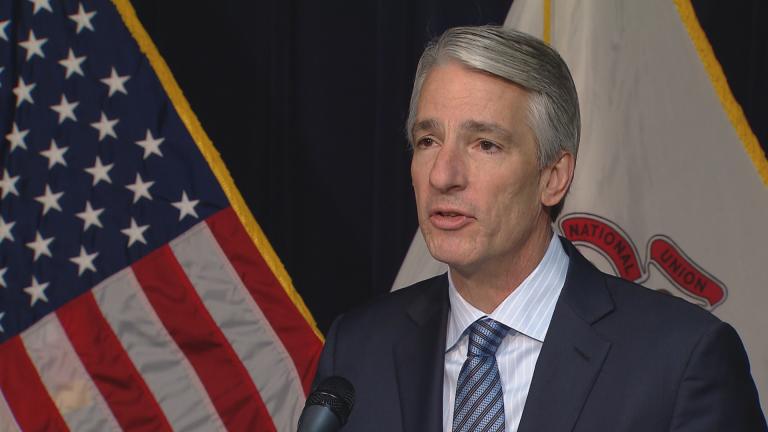 Is It Really Possible to Balance the State Budget Without a Tax Hike?
Jan. 31: The conservative Illinois Policy Institute unveiled a plan Tuesday that promises to fill Illinois' $7.1 billion budget hole, without any increase in taxes.
---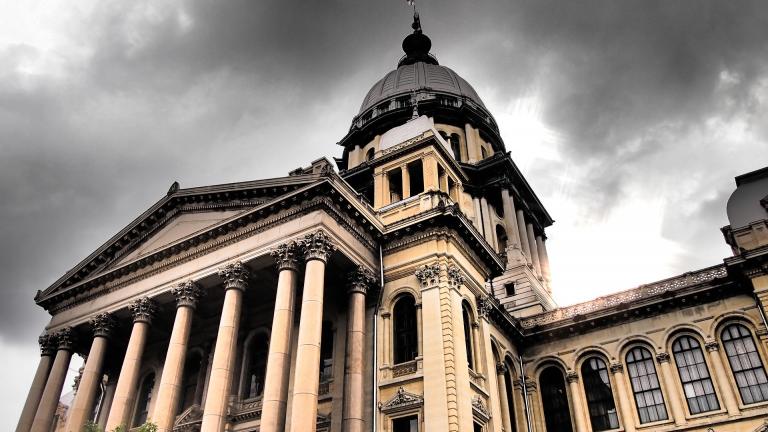 Behind the Court Case That Could Shut Down State Government
Jan. 30: State employees are in the middle of a political war on two fronts, both of which could leave workers broke. Both could also spur action that could end Illinois' 19-month budget impasse by forcing a shutdown.
---