State employees are in the middle of a political war on two fronts, both of which could leave workers broke. Both could also spur action that could end Illinois' 19-month budget impasse by forcing a shutdown.
The state's largest public employees union on Monday began voting on whether to strike. The American Federation of State, County and Municipal Employees Council 31 will continue voting through Feb. 18. A majority vote won't necessarily mean 38,000 workers will hit the picket line, but it authorizes the possibility.
They could lose wages anyway, depending on the outcome of a court motion filed last week by Attorney General Lisa Madigan that argues it's illegal to continue paying the state workforce absent a budget. She filed a motion to lift an order issued by a St. Clair County judge in July 2015 that has since permitted legislators to be paid despite a law actually appropriating the funding.
It's stirred up a political hornet's nest, with critics questioning Madigan's motivations and timing, given that her argument relies strongly on a separate decision the Illinois Supreme Court issued a year ago.
Republicans accuse Madigan of trying to scuttle the bipartisan "grand compromise" senators are negotiating, perhaps as a favor to her father – House Speaker Michael Madigan – who they claim doesn't want the impasse resolved in a prolonged attempt to make Gov. Bruce Rauner look bad.
Rauner himself says it's "disappointing" and has urged the attorney general to reconsider. 
But it could also be viewed as the opposite: By asking the court to halt employee pay absent a budget starting Feb. 28, it gives senators a hard deadline and thus may help build momentum.
Further, while Rauner may be casting himself as a defender of state employees in this instance, his administration has argued the exact opposite position on another court case. The governor maintains that social service providers should not be paid for services they provided the state, despite signed contracts, absent a law.
Madigan has said in a statement that she waited because she was hopeful the governor and lawmakers would pass a budget. In the ruling, the attorney general's ruling writes "the court's order has removed any imperative" to do so.
There's no guarantee government will shut down. The legislature could pass a budget, even a partial one authorizing state employees get paid. And there's no telling what the St. Clair judge will decide this time.
But if there is a shutdown, many Illinois residents who thus far haven't been directly affected by the impasse may take notice. Even if a government shutdown brings an end to the 19-month impasse, it would likely impose short-term suffering in the interim.
Some older state employees say they're not too concerned because they have savings. One manager says a worker told him he's looking for another job, because he can't handle the uncertainty of working for Illinois government any longer.
"I'm scared about it, because I think that he governor and the speaker should get together and come up with a budget soon, because eventually I won't be able to get paid, and I have bills as well as taking care of my two precious kids," state employee Claiborne Wade said Monday. 
Follow Amanda Vinicky on Twitter: @AmandaVinicky
---
Related stories: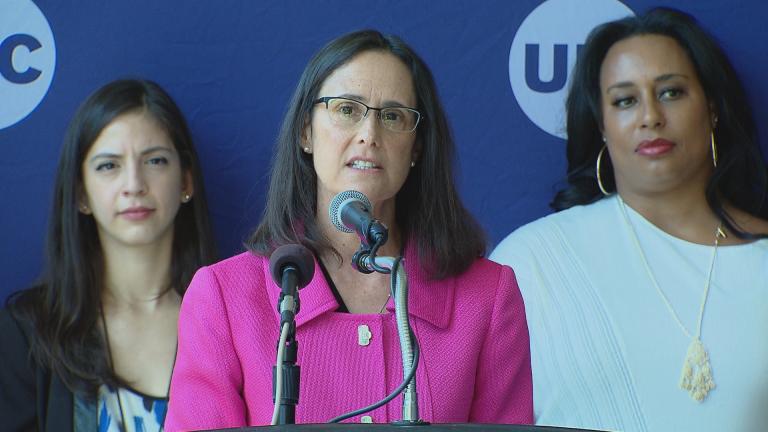 AG Madigan Files Motion to Stop State Workers' Pay Until Budget Passed
Jan. 27: Attorney General Lisa Madigan took legal action Thursday night that could bring an end to Illinois' long-running budget imbroglio, by initiating either a shutdown or a compromise.
---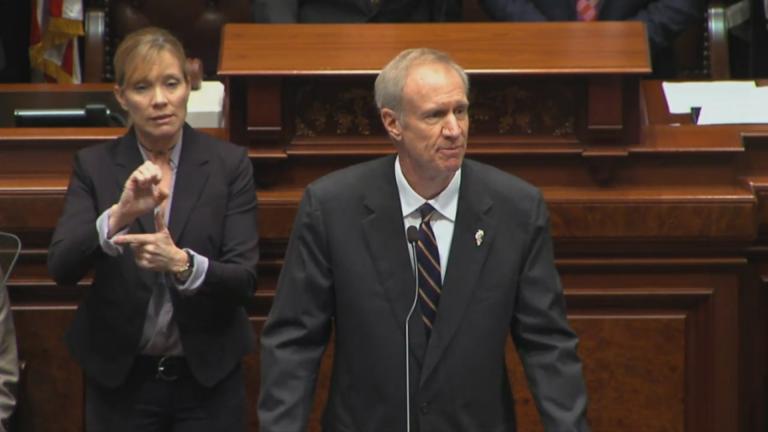 Gentler Governor Calls for Compromise but Sticks to Demands
Jan. 25: Gov. Bruce Rauner largely bypassed Illinois' myriad troubles and instead spent much of his speech Wednesday listing his administration's achievements and calling for cooperation.
---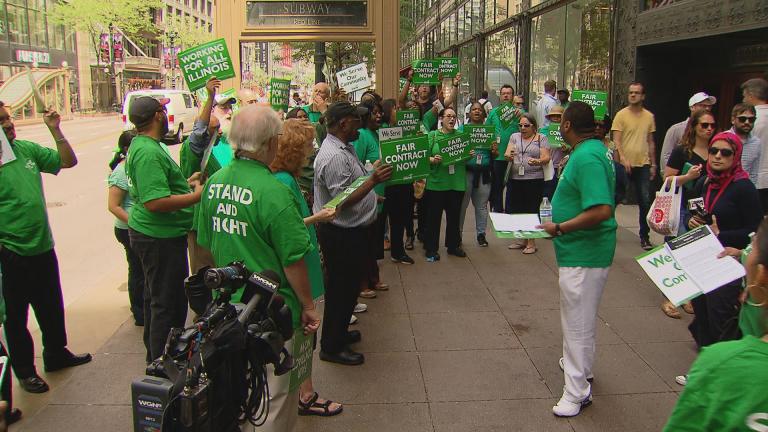 What's Behind State Workers' Potential Strike?
Jan. 16: There's no guarantee Illinois government employees will strike, but the American Federation of State, County and Municipal Employees Council 31 has taken initial steps toward the unprecedented action.
---