Illinois Attorney General Lisa Madigan speaks about campus sexual assault on Aug. 23, 2016. (Chicago Tonight)
Attorney General Lisa Madigan took legal action Thursday night that could bring an end to Illinois' long-running budget imbroglio, by initiating either a shutdown or a compromise.
The state has muddled along for 19 months without a complete budget thanks to a feud, leaving state universities, vendors and social services ailing in politicians' wake.
Unlike the scores of organizations and vendors forced to go without state funding, some 60,000 state employees' paychecks have gone uninterrupted thanks to a ruling from a St. Clair County judge in the early stages of the impasse in summer of 2015.
"The court's order has removed any imperative for the executive and legislative branches to fulfill their basic constitutional obligations and resolve the budget impasse," the filing reads.  
According to the motion, on the federal level and in every other state, the lack of a budget "leads to the real risk of a shutdown of non-essential services.
"As a practical reality, that possibility forces the legislative and executive branches to fulfill their constitutional duties."
An alternative reality is playing out in Illinois: Employees have continually gotten paid and therefore gone to work, which has "allowed the legislative and executive branches to fail to fulfill their constitutional duties without facing the real threat of a government shutdown."
Madigan is now seeking to dissolve that order, citing a March 2016 Illinois Supreme Court decision from a separate case.
Her office filed the motion Thursday evening – after the General Assembly had adjourned for the week. Lawmakers return to Springfield the week after next. Gov. Bruce Rauner will introduce his proposed budget Feb. 15.
The action comes at a tense time for much of the state's workforce.
The state's largest public employees' union, the American Federation of State, County and Municipal Employees Council 31, will begin voting on a strike authorization on Monday – a decision that has the potential to ultimately leave its 38,000 members choosing to forgo pay in protest of a contract imposed by Gov. Bruce Rauner.
It also comes as Senate President John Cullerton and Senate Republican Leader Christine Radogno are trying to usher through a broad and politically delicate package of legislation conceived as a bipartisan answer to Illinois' unraveling; Senate leaders say to expect action on the plan starting Feb. 7, and had expressed optimism and resolve Thursday morning. 
But Radogno in a statement Thursday night said "the timing of this action could create an unnecessary crisis that could derail real compromise." 
"The timing of the Attorney General's action is questionable in light of the current attempts to resolve the budget impasse. This decision clearly undermines the legislature's duty to negotiate a bipartisan solution," said House Republican Leader Jim Durkin.
Madigan's motion doesn't seek to put an immediate end to processing the government payroll; rather it requests a Feb. 28 end date "to avoid undue hardship" and to give lawmakers and the governor "adequate time" to "fulfill their constitutional obligations" and pass a budget.
In a statement, Madigan says it's an "appropriate time" for the motion given that a new legislative session (a new class of legislators was sworn in earlier this month) is now underway.
"It has always been our goal to allow the executive and legislative branches to do their job without further litigation," Madigan spokeswoman Maura Possley said. "The Legislature and the Governor now face the need to enact a budget for the rest of the fiscal year. With the legislature in session, this is an appropriate time to address the need to pass a full budget to cover all operations."
Madigan is the daughter of House Speaker – and Rauner nemesis – Michael Madigan.
"It's disappointing to see any move to stop employee pay and disrupt government services, especially now as the Senate is on the verge of a bipartisan agreement to enact a balanced budget with changes to the system. This filing seeks to directly harm thousands of employee families and even more who rely on our dedicated state workers everyday," Rauner spokeswoman Catherine Kelly said in a statement. "We urge the Attorney General to reconsider this filing and pledge to do all we can to defend employee pay."
The Republican Party, which Rauner has largely funded and which frequently attacks Speaker Madigan, took a still harsher tone.
"While serious bipartisan negotiations have accelerated in the Senate, it is outrageous that Lisa Madigan tonight decided to put Speaker Madigan's power politics ahead of hard-working families in an effort to shut down state government," GOP spokesman Steven Yaffe said in a statement. "Only a Madigan would try to disrupt bipartisan momentum in a matter that threatens to cripple government services and hurt state workers and their families."
The St. Clair judge had sided with AFSCME in a lawsuit the union filed, arguing that it would breach constitutional contract protections if its members weren't paid per the terms of their contract with the state.
Madigan says that state's high court effectively nullified that argument, when it ruled in a different case that the state did not have to pay AFSCME members raises promised in their contract, because collective bargaining agreements are contingent on appropriations specified in state law. Therefore, absent a budget authorizing state employees' pay, there's no impairment of the contract clause.
AFSCME spokesman Anders Lindall says the union is reviewing the motion and will respond in court.
"The last thing Illinois needs is the further instability that blocking state payroll could cause," Lindall said. "Governor Rauner created this hostage situation by refusing to enact a fully funded budget unless his unrelated personal demands were enacted first. He should put aside those demands and do his job to work toward a budget without preconditions. Even so, we are shocked and extremely disappointed that the Attorney General would take this action."
Although the initial court case was brought by AFSCME on behalf of its members, even state employees who are not part of the union have continually been paid.
The federal Fair Labor Standards Act requires that certain workers get a federal minimum wage, even absent a budget.
Former Comptroller Leslie Munger argued in court that outdated payroll systems made it impossible to decipher those employees from the rest.  Rather than risk running afoul of the feds and risking financial penalties, the comptroller won approval to pay all workers.
Munger, who had been appointed by the governor, lost a November special election to retain the post.
The victor, Susana Mendoza, says employees don't deserve to be treated like pawns by Rauner.
"It's shameful that under his administration, the fifth largest state in the country is forced to operate like a bankrupt business," she said in a statement.
She also panned her predecessor.
"Despite the possibility of a payroll stoppage over the last 18 months, the previous administration did not put in place policies to deal with this scenario," Mendoza said. "The Office of the Comptroller is currently moving forward with contingency plans to meet the technical adjustments that a payroll stoppage would require."
In the motion, Attorney General Madigan says by not funding services or paying vendors and grantees, they've been left "bearing the brunt of this egregious and untenable budget impasse."
Illinois went a year without a budget – from July 2015 to July 2016 – before enacting a six-month stopgap that authorized partial spending. That expired at the start of 2017, once again leaving universities and many social service agencies without state funding.
Elected officials themselves have seen their own pocketbooks affected. Mendoza has continued a practice put in place under Munger that puts legislators' paychecks at the back of Illinois' $10.7 billion heap of overdue bills the state can't afford to pay, in effect treating them like other vendors and organizations. The resulting several months' delay in paychecks has strained the finances of legislators who don't have other jobs or who aren't individually wealthy. A separate lawsuit – alleging it's an executive overreach and breach of the separation of powers – is ongoing. 
Rauner is holding out on negotiating a budget (and signing on to a tax increase) until Democrats pass fundamental changes he says would grow the economy long-term, including a property tax freeze, term limits and making workers' compensation less expensive for businesses.  Democrats view the governor's agenda as a path to undercutting their power, curbing unions' and slicing middle class wages.
Follow Amanda Vinicky on Twitter: @AmandaVinicky
---
Related stories: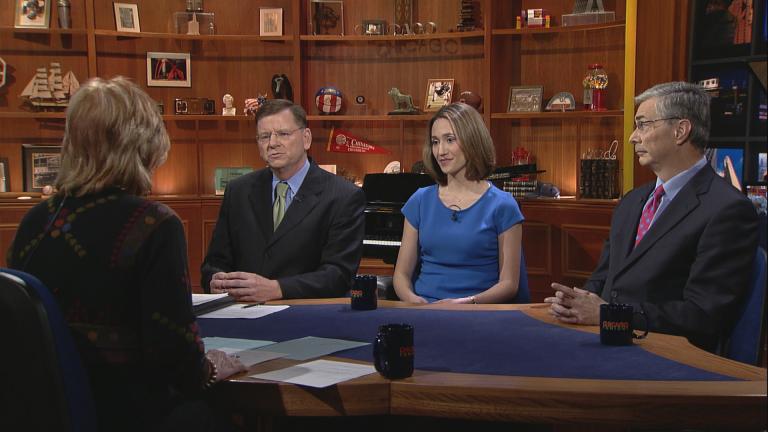 Reaction to Rauner's State of the State Address, Illinois' Fiscal Woes
Jan. 25: The governor strikes a conciliatory tone in his State of State address. We get reaction from public policy professionals with different points of view.
---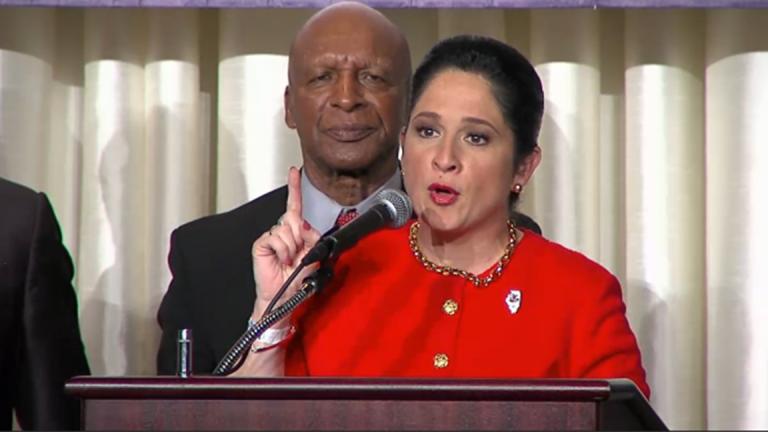 Susana Mendoza on New Role as Comptroller, Future of State Finances
Jan. 23: Illinois' backlog of unpaid bills exceeds $11 billion. Does Comptroller Susana Mendoza think the state can ever catch up?
---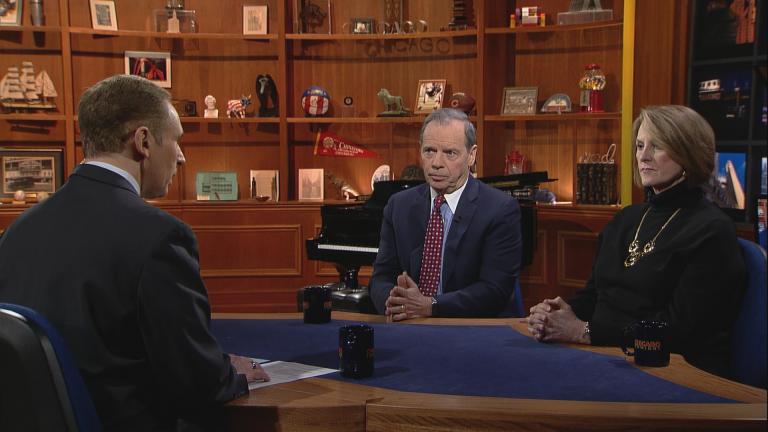 Cullerton, Radogno Discuss Budget 'Grand Bargain'
Jan. 19: The Illinois Senate leaders join us to discuss their negotiations and fiscal plans for the state.
---