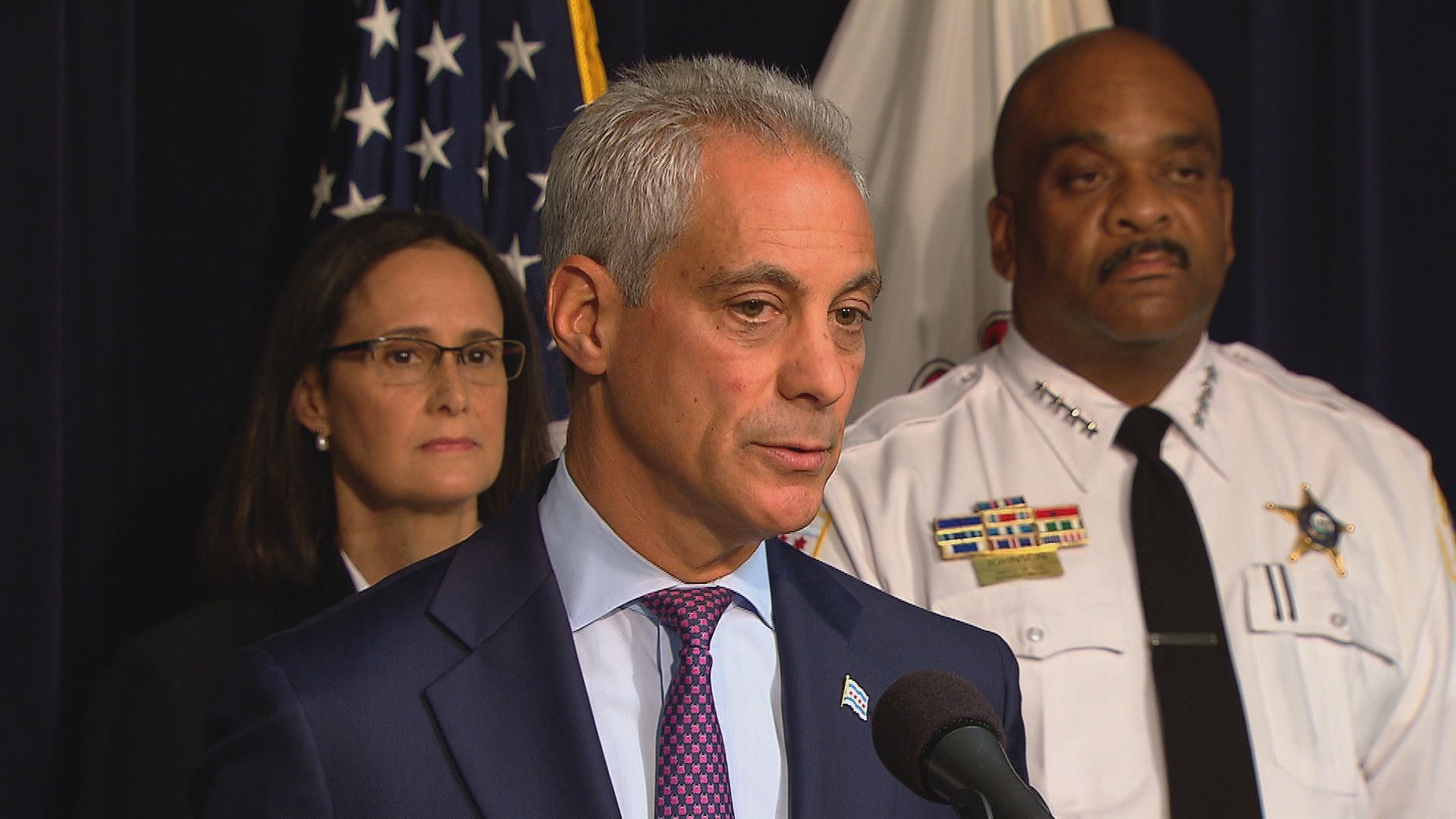 Mayor Rahm Emanuel, Illinois Attorney General Lisa Madigan and Chicago Police Superintendent Eddie Johnson discuss steps toward oversight of the Chicago Police Department on Aug. 29, 2017.
A retired federal judge from Chicago, an assistant U.S. attorney from New York and a former Illinois inspector general who is currently reviewing sexual misconduct procedures within Chicago Public Schools are among the finalists to oversee Chicago police reforms through a proposed consent decree.
Mayor Rahm Emanuel and Illinois Attorney General Lisa Madigan on Thursday afternoon revealed their four finalists to implement Chicago Police Department reforms contained in the yet-to-be-finalized decree.
"As we move forward as a city to this next important phase of police reform, we are being sure that residents across the city will continue to have an important voice," Emanuel said in a statement. "The selection of the best possible independent monitor is a critical part of ensuring the police department is held accountable to meeting the ambitious goals laid out in the consent decree."
Those seeking the role of federal monitor applied as part of a team. In all, nine teams replied to an initial request for proposal. The four teams announced Thursday as finalists include: Coar, Police Foundation, Schiff Hardin-CNA and StoneTurn.
Coar, based in Chicago, would be led by former federal Judge David Coar. The Police Foundation's proposed monitor is former Sacramento police Chief Rick Braziel, while Katherine Lemire, who previously served as an assistant U.S. attorney in New York's Southern District, would lead StoneTurn.
As for the Schiff Hardin team, its proposed monitor is partner Maggie Hickey – a former assistant U.S. attorney and Illinois executive inspector general who is currently conducting a top-to-bottom review of CPS sexual misconduct practices in the wake of Chicago Tribune reporting on widespread cases of abuse.
The school district paid Schiff Hardin $500,000 to contract Hickey's services earlier this year.
Chicago has been working toward a consent decree with Madigan, who sued the city to force changes following the Laquan McDonald shooting and a scathing report from the U.S. Department of Justice about systemic problems in the police department.
Emanuel and Madigan filed the proposed consent decree last month in federal court. The final appointment will be made by Judge Robert M. Dow, Jr., who is overseeing Madigan's lawsuit.
"The independent monitor will oversee the critical reforms contained in the consent decree," Madigan said in a statement. "I am pleased with the finalists and look forward to the public's feedback on them."
The proposed consent decree, Madigan says, will require comprehensive reforms of CPD's policies, practices, training and accountability mechanisms in order to address issues concerning use of force, police accountability, and community trust.
The next step in the process is to gather public input, which will be done through a pair of upcoming forum sessions on Nov. 3 at the Thompson Center (sessions take place from 9:30 a.m.-1:30 p.m.; and from 3-7 p.m.). 
Additional public hearings on the consent decree itself will be held next Wednesday and Thursday between 9:30 a.m. and 3 p.m. in the James B. Parsons Ceremonial Courtroom on the 25th Floor of the Dirksen Federal Building.
---
Related stories:
Parties Near Agreement on Chicago Police Consent Decree
New COPA Chief Sydney Roberts Starts at Revamped Police Oversight Body
Chicago Reporter Analysis Shows Slow Progress on Police Reform
Developments in Court Oversight for the Chicago Police Department
Chicago FOP President and ACLU Weigh In on Police Reform
---