There's no guarantee Illinois government employees will strike, but the American Federation of State, County and Municipal Employees Council 31 has taken initial steps toward the unprecedented action.
Gov. Bruce Rauner's administration began negotiating with the state's largest public employees union even before its last contract expired the summer of 2015. Dozens of bargaining sessions failed to bring about a compromise.
Then, a year ago, on Jan. 8, 2016, a frustrated Rauner cut off talks, and moved to have negotiations be declared at impasse. AFSCME remonstrated to no avail.
In November, the Illinois State Labor Relations Board unanimously agreed.
It's a major win for Rauner, and one that allows him to implement his preferred version of a contract – the "last best terms" of what AFSCME had nixed during negotiations: a wage freeze, and doubling of health care premiums.
AFSCME is fighting that in court, but last Friday the union also announced that it will hold a strike authorization vote. From Jan. 30 through Feb. 19, AFSCME workers across Illinois will decide if they want to give their leaders the ability to call a strike.
AFSCME spokesman Anders Lindall says it doesn't have to come to this. His members are asking Rauner to willingly return to the bargaining table.
"And look, let's be clear who we're talking about. People who protect kids from child abuse, who respond to emergencies, who care for veterans and people with disabilities and mental illnesses. Folks who help struggling families who might be out of work to get unemployment benefits or medical or nutritional help," he said. "These are vital services that are provided in every part of our state every day, that the governor would essentially play chicken with providing those services and really seek a shutdown is disturbing to us."
The governor has not called for a shutdown, has gone out of his way to praise state workers and frequently cites agreements reached with other labor unions as evidence he's reasonable.
But he also hasn't shown a willingness to reopen talks. After all, he won and can enact his less expensive, preferred contract.
Rauner's office likewise rejected a public settlement offer from AFSCME last week, in which members would agree to a freeze on wages, and to paying moderately more for their health care premiums.
The administration says it's not really a wage freeze, as the proposed framework calls for allowing newer workers to keep in place a pay plan that allows what are known as a "step increases" as they move up the ladder.
"That's almost half a billion dollars more than the State's last, best, and final offer, and demonstrates why the parties continue to be at an impasse. AFSCME needs to get serious and stop misleading employees and the public in its quest for unaffordable benefit increases," Rauner's office said in a statement.
Rauner promotes other terms in the contract – the aspects that may sound more pleasing to people, like overtime kicking in at 40 hours rather than 37.5 hours, drug testing for employees under suspicion of being under the influence, and subcontracting.
What this could mean for Illinois residents is unclear.  
"We really are in uncharted territory here," said Robert Bruno of the University of Illinois Urbana Champaign's Labor Education Program. "How this would work, the effectiveness of it, the mechanisms the parties would have to use in terms of either prosecuting the strike or preventing it … really is somewhat undetermined."
Certain workers – determined necessary for public safety, such as corrections guards and state troopers – cannot strike. 
That leaves some 27,000 to 29,000 state employees who may choose to not come to work, and in the process forgo paychecks and be left paying the full tab for their health insurance.  Rauner's administration pegs that the average worker will lose $8,000 in wages and benefits over a one-month strike.
The governor's office says it's prepared to make sure that services citizens depend on won't be interrupted.  That could mean hiring a private company to do AFSCME workers' jobs, or relying on cities or other state governments.
Not to mention the administration's emailed notice to employees that offered ominous warnings, like the possibility they won't get their jobs back.
The governor's office says it "will vigorously pursue all lawful means at its disposal for challenging an unlawful strike."
Follow Amanda Vinicky on Twitter: @AmandaVinicky
---
Related stories: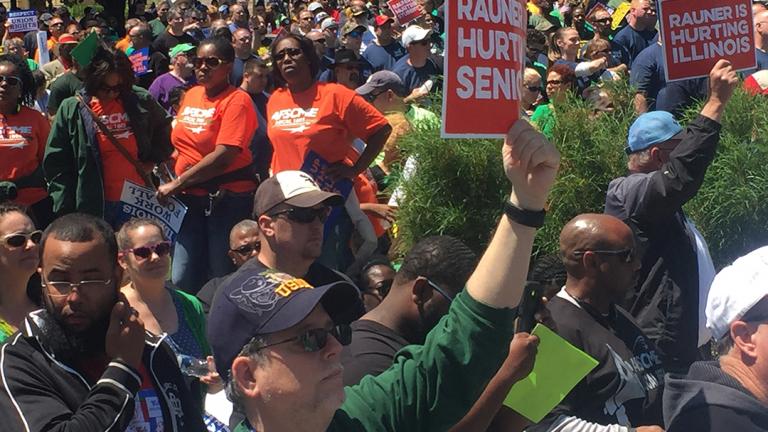 AFSCME Sets Dates for Strike Vote
Jan. 13: The prolonged standoff between Gov. Bruce Rauner and Illinois' largest public employees' union may lead to an unprecedented strike of state government employees.
---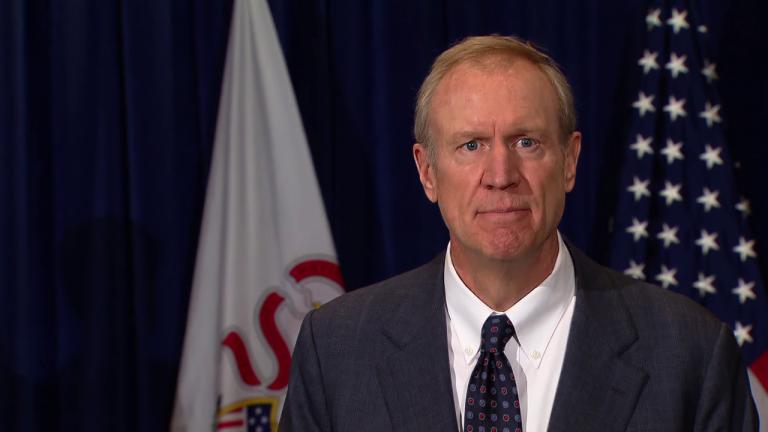 Rauner on 2-Year Anniversary: 'I Will Never Give Up'
Jan. 12: "We made some wonderful progress, also had some frustrations with lack of progress on some key items," Gov. Bruce Rauner said of his tenure Thursday as he took to Facebook Live for a two-year review.
---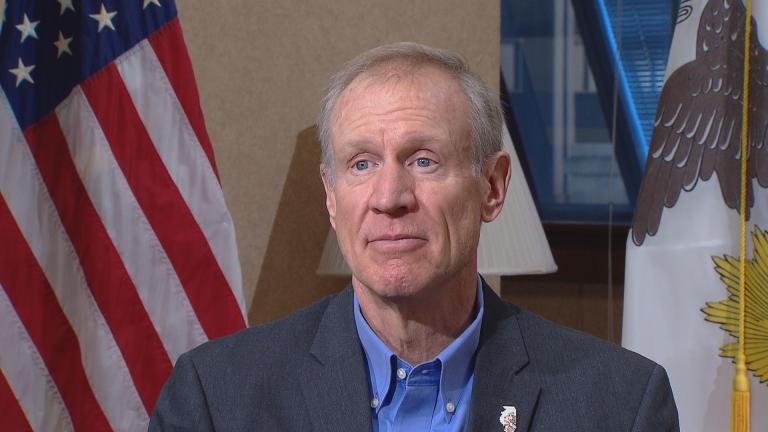 Gov. Rauner on Budget: 'I'm Flexible'
Jan. 4: The state begins the new year, once again, without a budget. A one-on-one with Gov. Bruce Rauner to find out how he plans to finally come to a compromise.
---