Noble Charter CEO Michael Milkie is urging urge local and national officials to mainain the DACA program and support undocumented students. (Chicago Tonight)
Educators across Chicago have continued their calls this week for undocumented students to be protected from deportation and discrimination leading up to President-elect Donald Trump's inauguration ceremony Friday.
Noting deep concerns expressed by families and the community, the head of Noble Charter Schools said this week he "wholeheartedly affirm(s)" the network's commitment to students included in the Deferred Action for Childhood Arrivals program.
To that end, Noble Superintendent and CEO Michael Milkie issued a statement Wednesday, which read:
"Our DACA students are an inseparable part of our school community, and they deserve our love and support. In Chicago and across the country, many families are deeply concerned about national rhetoric that threatens the status of DACA residents. As a public school leader in one of our country's largest cities, I wholeheartedly affirm Noble's commitment to our undocumented students and their families. 
"Given the positive contribution these students have made and can continue to make to our nation, I urge local and national elected officials to continue the DACA program and support these students. Now is the time for our national leaders to make that commitment."
Trump has pledged to reverse the DACA program, which allows immigrants brought here as children to apply for a protected status.
Part of that commitment from Noble includes maintaining the Pritzker Access Scholarships for Dreamers – the title given to those who qualify under DACA. The scholarships offer up to $12,000 in tuition to Noble seniors who have a protected immigrant status and have been accepted to a four-year college.
Within that network, the number of DACA students entering college has jumped since that aid was created, from about 25 percent before the scholarship up to 75 percent for the first group of recipients in the class of 2015. The exact number of Dreamers within the charter network isn't available, but Acosta estimates there are at least a couple hundred.
The Pritzker scholarship is run by Aidé Acosta, the Dreamers Support Manager for the Noble Network of Charter Schools. Created in 2015, her office works with a school liaison to distribute updates and event information on DACA and immigration issues to the network's 12,000-plus students.
Acosta also helps DACA students apply for a two-year renewal, but planning for that in 2017 has been on hiatus because "we just don't know what direction this is going to go."
"The goal is to continue those kinds of supports," she said. "It's going to depend on wherever we're at next week or where we are after (Friday)."
Currently the network has 113 students (48 sophomores, 65 freshmen) receiving the Pritzker scholarship. Earlier this week, the 17-campus charter school network also hosted an immigration forum along with a handful of local community organizations to talk over any student and family concerns. 
Once any announcement is made on the future of the DACA program, Acosta said her office will be there to offer immediate support in any way possible to continue those students' path to college.
Following the election, Mayor Rahm Emanuel and other U.S. mayors delivered a letter to Trump urging protection for the 700,000 to 800,000 Dreamers. Approximately 40,000 Dreamers reside in Illinois, with a majority of those around the Chicago area.
In December, the Chicago Board of Education passed a Welcoming District resolution prohibiting the "unlawful discrimination or harassment on the basis of immigration status" within Chicago Public Schools programs, services and activities.
CPS officials also planned to provide resources to principals, counselors and teachers within in the district to help students through any "strong feelings" they had following the election.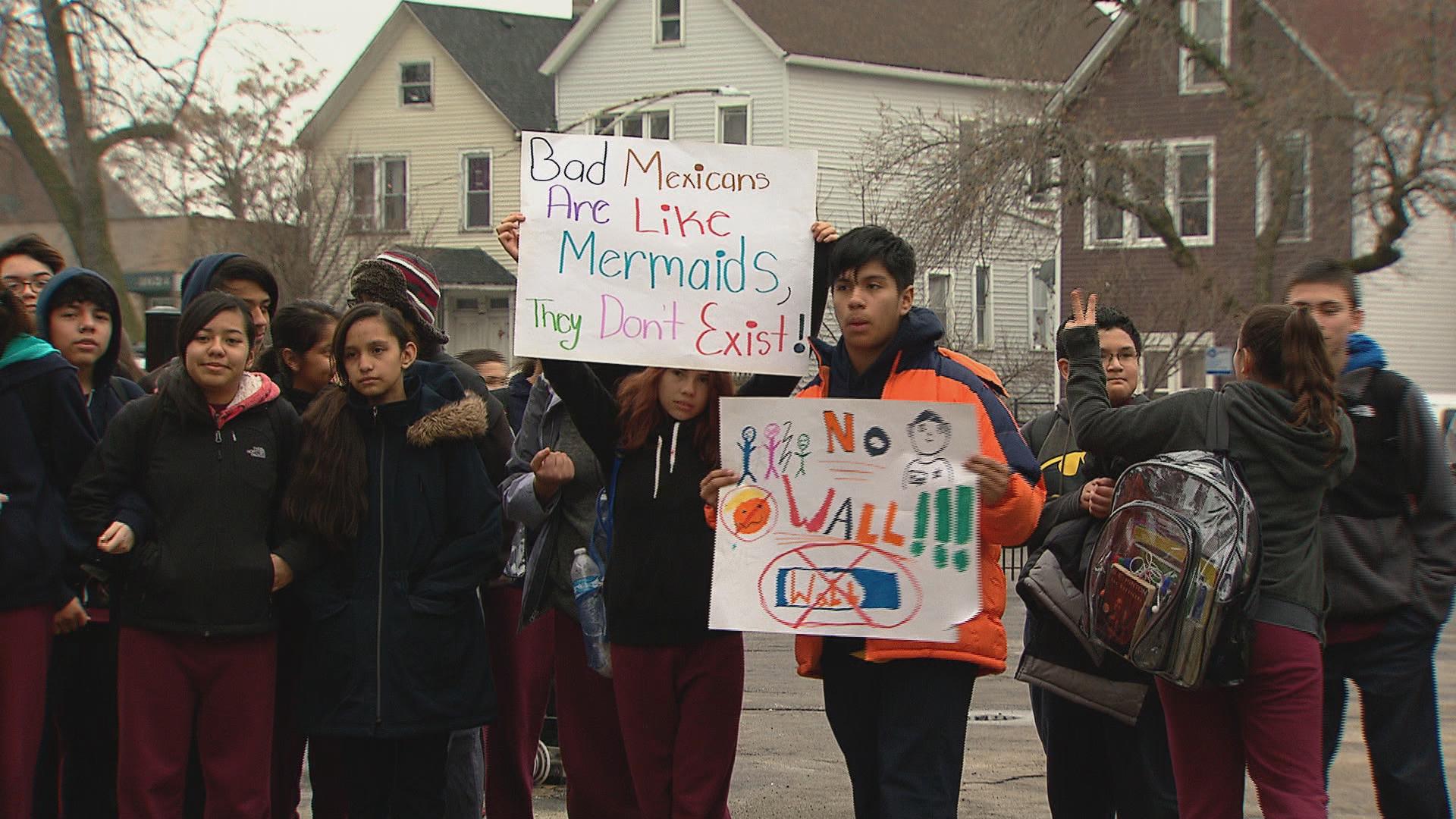 (Chicago Tonight)
On Thursday, members of the Chicago Teachers Union held "walk-in" protests at schools across the city demanding, among other things, that all CPS schools become "sanctuary schools" to protect undocumented students.
"I am here on behalf of those 26,000 teachers and educators," CTU Vice President Jesse Sharkey said outside Seward Elementary on Thursday, referencing the union's total membership, "to say that we stand with our students, we stand with our parents. Immigrants are welcome here.
"We are a country that is built on immigration. We say no to every politician who tries to attack our schools or attack our students or attack our parents. We will fight to defend you and on that you have our word."
---
Union members also called for an elected Board of Education, a millionaires tax to help increase K-12 funding and on U.S. senators to reject federal education secretary nominee Betsy DeVos.
Follow Matt Masterson on Twitter: @ByMattMasterson
---
Related stories: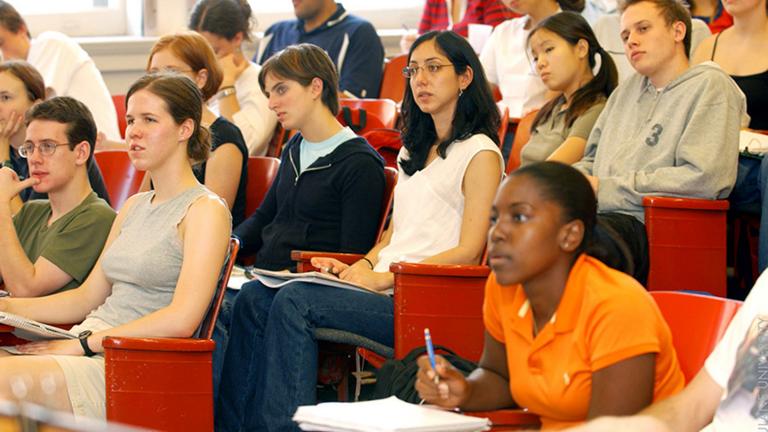 CPS Passes 'Welcoming District' Resolution to Shield Students From Discrimination
Dec. 9: The Chicago Board of Education this week unanimously approved a resolution affirming Chicago Public Schools' status as a "welcoming district" for all students, no matter their race, gender or religion.
---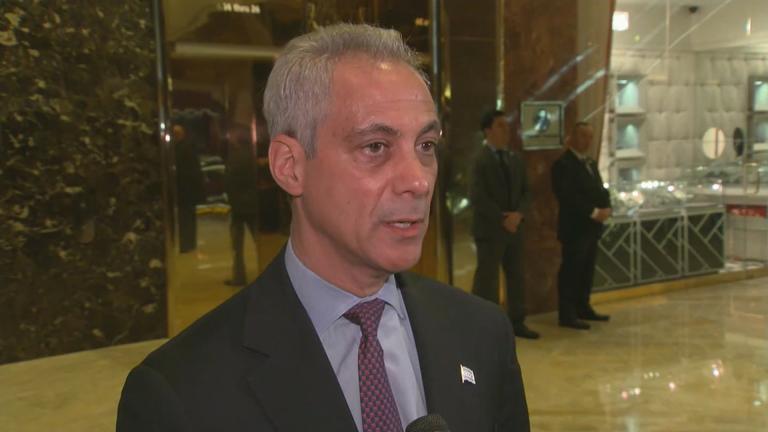 Mayor Emanuel Meets with President-Elect Trump
Dec. 7: The mayor delivers a letter to Donald Trump, urging the president-elect to protect the status of Dreamers.
---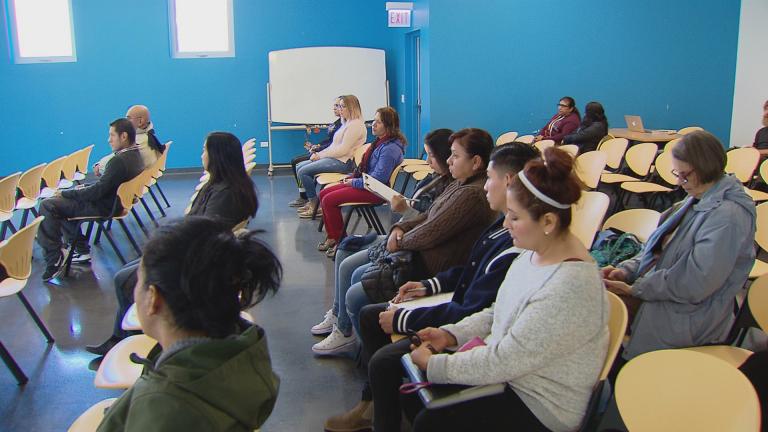 DACA Recipients Fear the Future Under Trump
Nov. 17: As inauguration day grows closer, so does the fear for some young immigrants that their status in the U.S. will be revoked.
---