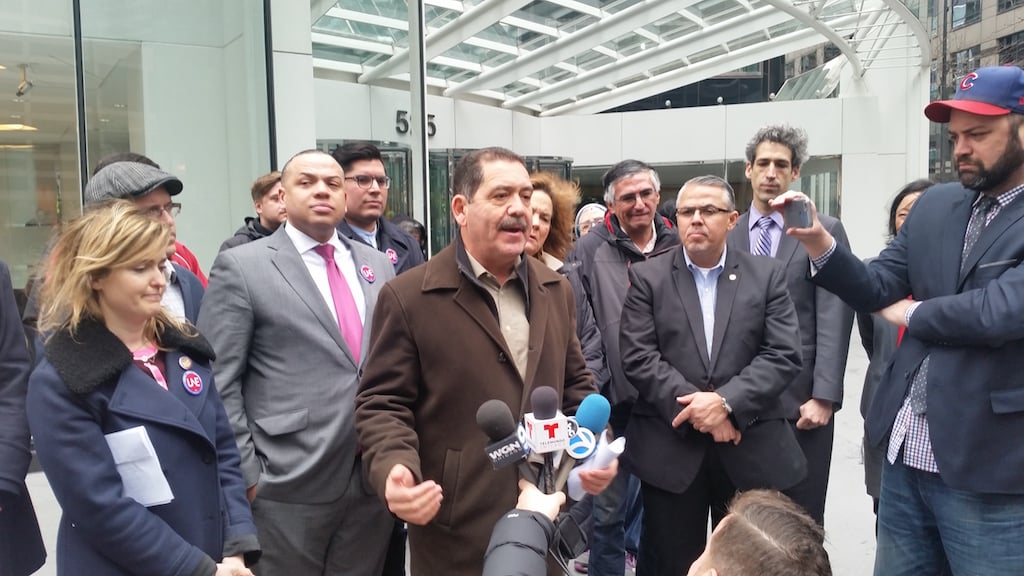 Cook County Commissioner Jesus "Chuy" Garcia stood in support Monday of Noble educators, who are looking to form what would be the nation's largest charter teachers union. (Matt Masterson / Chicago Tonight)
Noble Network of Charter School educators received backing from a half-dozen elected officials Monday as they continue working to create what would be the nation's largest charter teachers union.
Cook County Commissioner Jesus "Chuy" Garcia, state Sen. Daniel Biss, D-Evanston, and Ald. Carlos Ramirez-Rosa (35th Ward) were among those who pledged their support Monday for the charter teachers outside a meeting of the Noble Board of Directors.
"They ought to be able to have the opportunity to see generations of students graduating from their schools and coming back to their communities to be productive," Garcia told media during a press conference. "As workers ban together to improve their lot, they ought to be able to do it free of intimidation or interference."
Legislators and more than a dozen Noble teachers planned on attending the meeting to ask the board to remain neutral as the teachers decide whether to unionize on their own.
The move comes after more than 130 Noble educators signed on Friday an open letter to the board and charter network CEO and Superintendent Michael Milkie, asking them to agree to a "fair process" that would keep the unionization effort free of administration interference.
Thus far, their efforts have earned the support of the Illinois Federation of Teachers as well as the Chicago Teachers Union – both of whom had representatives at Monday's press conference.
A petition calling for solidarity with the teachers' movement has also gained more than 250 signatures as of Monday afternoon.
"When teachers have a voice at the table, we have better educational outcomes," said Ramirez-Rosa, whose 35th Ward includes the campus of Noble's Pritzker College Prep. "When teachers are treated with dignity, when they receive fair pay, when their rights are respected by a union contract, we have better educational outcomes."
If formed, the Union of Noble Educators would join Chicago ACTS Local 4343 – a local affiliate of the American Federation of Teachers – which includes more than a dozen local charter schools.
While Milkie says he and administration respect the teachers' right to organize, he also expressed concerns over a potentially "restrictive" union contract he believes could negatively impact classroom curriculum and flexibility.
With more than 12,000 students enrolled across 17 campuses this school year, Noble is Chicago's largest charter school network. Its approximately 800 teachers are looking for a say in network decisions and want increased job security and teacher retention.
"I am here today because I love my students and I love my schools," said Ivy McDaniel, a teacher at Golder College Prep, adding that each teacher attending Monday's meeting had taken one of their five allotted days off to be there.
"Our students deserve a stable and fair community with teachers who are empowered to advocate for them and to determine the direction of our school. My former students who are currently studying education in college deserve to come back to our school as educators some day and know that their voice will be valued."
Follow Matt Masterson on Twitter: @byMattMasterson
---
Related stories:
Noble Educators Begin Forming Nation's Largest Charter Teachers Union
March 3: Teachers in Chicago's biggest charter network say a union will allow them to better advocate for their students and colleagues. If successful, it will create the largest charter teachers union in the country.
---
Noble Charters, CTU Take Steps to Protect Undocumented Students
Jan. 19: Educators across Chicago have continued calls for undocumented students to be protected from deportation and discrimination leading up to President-elect Donald Trump's inauguration Friday.
---
CPS Says Employee Provided Noble Charter Schools With Unauthorized Student Information
Nov. 17: Chicago Public Schools is investigating an employee who allegedly turned over confidential student information to the Noble Network of Charter Schools earlier this fall, according to a letter sent to district parents this week.
---