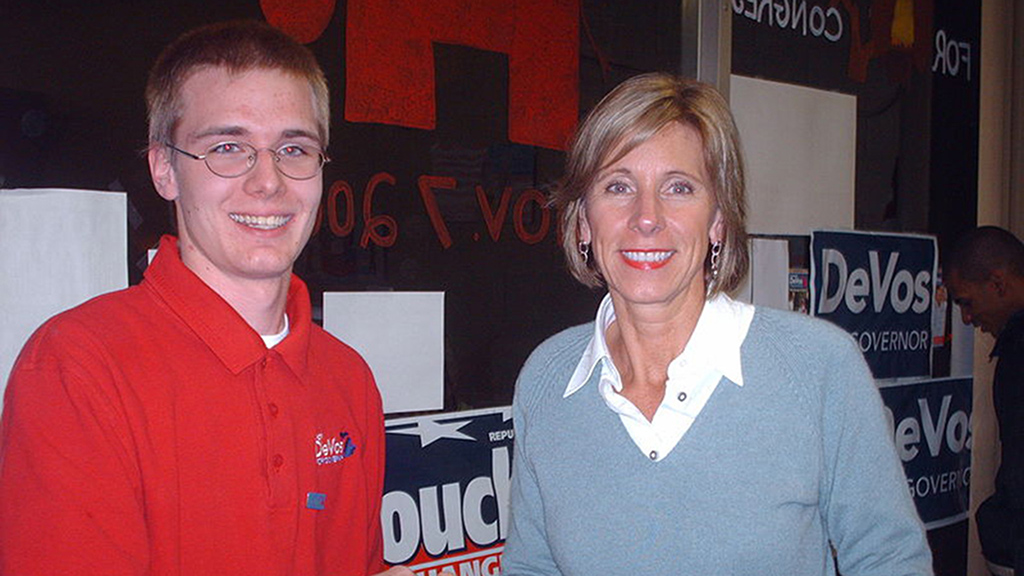 The Senate confirmation process for U.S. education secretary nominee and Michigan billionaire Betsy DeVos is scheduled to begin Tuesday after a weeklong delay. (Keithalmli / Wikimedia Commons)
Like many of President-elect Donald Trump's cabinet selections, his education secretary nominee Betsy DeVos, a Michigan billionaire and GOP mega-donor, has been met with controversy.
Public education activists have roundly rejected DeVos as a viable candidate, pointing to her long history of backing school vouchers, charter schools and education privatization in her home state of Michigan at the expense of the public education system, which she has reportedly called a "dead end."
"Half of the schools she helped create in Detroit are amongst the worst in the United States," Journey for Justice Alliance National Director Jitu Brown said. "Also, it's important to note that … for me, if someone is going to take a position like that, of secretary of education, they have to have an understanding of why public education is important."
The U.S. Senate Committee on Health, Education, Labor and Pensions will start its confirmation hearing for DeVos on Tuesday, one week after the process was initially slated to begin.
Members of the Journey for Justice Alliance, a national community activist organization, flew to D.C. last week to meet with a newly formed House Public Education Caucus and protest DeVos' hearing.
A former chair of the Michigan Republican Party and the Alliance for School Choice, DeVos is seen by critics as being "anti-public education" after her and her husband, Dick, have spent millions advocating for school choice and charter causes.
"Unfortunately Michigan isn't a great model for charters and choice," said Peter Cunningham, the executive director of Education Post, a Chicago-based nonpartisan education organization, and a former assistant secretary in the federal Department of Education under President Obama.
"They tend to veer toward the for-profit (model), which is not a very accountable or very efficient or effective sector of the charter world and they veer away from accountability, which is the biggest concern."
The DeVos family, according to Cunningham, has spent parts of the last two years fighting a charter accountability law in Michigan.
Laws regulating charter authorizers, the groups tasked with creating, regulating, and if necessary, shutting down charter schools, vary state-by-state. There are currently 12 authorizers in Illinois, including one – Chicago Public Schools – for the entire city of Chicago.
In Michigan there are more than 40. Cunningham said some of those even have the ability to open charters across the state without concern for local needs, and charter authorizers don't typically set a high bar for success.
But does any of that power stem from the DeVos family's influence?
"Unquestionably," he said. "They are the biggest players in that state and to the best of my knowledge, more than anyone they are the responsible for the laws and the rules and the regulations surrounding the charter sector in Michigan."
What's in store for public education?
Originally scheduled last Wednesday, DeVos' hearing was postponed until this week "to accommodate the Senate schedule." The Washington Post reports the delay came after Democrats raised concerns that the government's ethics office had not yet finished its review of DeVos and her various business holdings.
A Chicago native, Brown has expressed concern over DeVos' apparent animosity for public education, saying the confirmation of her or anyone else with that sort of view "could mean the death toll for public education as we know it."
"We are very clear," Brown said, "that there's a need in our local cities to build the power to be able to resist whatever out-of-whack policies they try to heap upon our cities and then to push decision-makers to support a public education agenda, which may include alternative forms of funding."
Brown is flying back to the nation's capital Monday to meet with 100 "victims" of DeVos' education efforts in Michigan and again speak out against her confirmation.
DeVos, herself, has largely flown under the radar since Trump nominated her for the position in November.
She has not taken questions from media since that time and even declined to state specific policy goals in a Q&A on her own website in which she "defer(s) expounding on specifics" until the confirmation process begins.
Trump spoke on the campaign trail of a $20 billion federal voucher program, but education experts doubt that plan's economic viability. DeVos could, however, push for a tax credit in Congress that would give families the funds to pull students from public schools and send them to private schools.
"If they become a vehicle for the middle class to leave schools, that would be very bad," said Cunningham, specifically noting its possible impact on Chicago schools. "Economic isolation, racial isolation, those are both things that we've been working very hard to combat for decades. And a tax credit that draws middle class families out of the (public) school system would not advance those goals. In fact it would reverse them."
Unprecedented 'lack of experience' or 'inspired choice'?
Last week, Sen. Elizabeth Warren, D-Mass., a member of the HELP Committee, penned an open letter to DeVos questioning the nominee's lack of credentials and her history of education privatization efforts.
Warren repeatedly states no secretary nominee has ever had such limited background with the responsibilities of this position, stating bluntly "There is no precedent for an Education Department Secretary nominee with your lack of experience in public education."
Backlash to the nomination from public education officials has only grown since her appointment was announced.
Nearly 100,000 form letters have been sent through the Network for Public Education's website calling on senators across the country to reject DeVos. Chicago Teachers Union President Karen Lewis late last year called her "a nightmare." U.S. Sen. Debbie Stabenow, a Michigan Democrat, told The Detroit Free Press earlier this month the billionaire has "a long record of pushing policies that I believe have seriously undermined public education in Michigan and failed our children."
But DeVos does have her share of supporters as well. Illinois Gov. Bruce Rauner and more than a dozen other Republican governors – including Scott Walker of Wisconsin, Rick Snyder of Michigan and Chris Christie of New Jersey – signed a letter last week calling her an "inspired choice" for education secretary.
"While state and local governments bear the chief responsibility for funding our K-12 systems, we take issue with many of the mandates imposed on states," the letter states. "That is why we strongly support Betsy DeVos, President-elect Donald Trump's nominee for secretary of education. Betsy DeVos will fight to streamline the federal education bureaucracy, return authority back to states and local school boards, and ensure that more dollars are reaching the classroom."
Following the hearing, an executive session will be held next week to vote on DeVos' confirmation. If approved, she would become the third-ever female education secretary in the department's nearly 40-year history.
With a Republican Senate and Cabinet rejections a historical rarity, it's likely DeVos will be confirmed later this month. If that is the case, Cunningham hopes she fully understands the responsibilities of protecting students in all schools across the country.
"I hope that she takes time to sit with the career staff over there, really understand all the activities involved in the department and think through how to make sure that she is responsive to them," he said, "because it's a big job and there's a lot of people who are counting on her."
Follow Matt Masterson on Twitter: @ByMattMasterson
---
Related stories: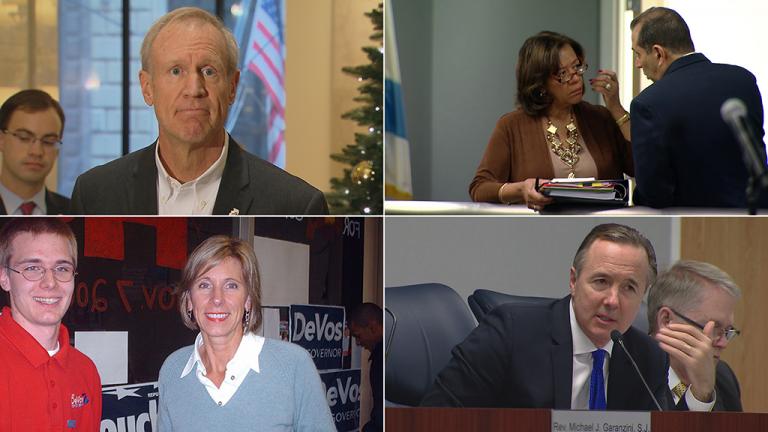 Education Issues to Watch in 2017
Jan. 3: A $215 million hole in Chicago Public Schools' budget and a sentencing date for its former CEO headline local education issues to follow in the coming year.
---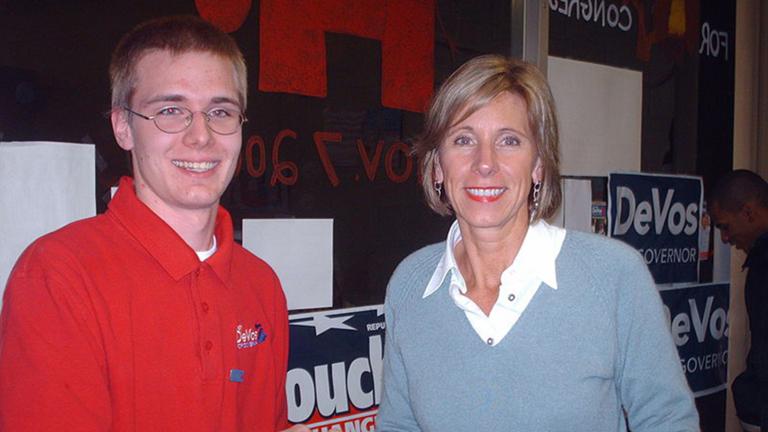 Teachers Union Leaders Blast Trump's Pick for Education Secretary
Nov. 23: President-elect Donald Trump on Wednesday tabbed billionaire donor and school choice activist Betsy DeVos as the next federal Secretary of Education, a move the head of the Illinois Federation of Teachers immediately called "hugely troubling."
---
How Will Education Policy Be Shaped Under President Trump?
Nov. 14: The president-elect did not say much about his education plans during his run for the White House. Here's an explainer of what has been said.
---