Noble teachers announced Friday they have filed charges with the National Labor Relations Board, claiming network administration is interfering with their right to unionize. (Chicago Tonight)
Educators in the Noble Network of Charter Schools claim administration has violated their right to discuss creating what would be the largest charter school teachers union in the country.
Noble teachers announced Friday they have filed charges with the National Labor Relations Board, citing administration's "use of surveillance" to interfere with their rights granted by the National Labor Relations Act.
"It's just been an accumulation of incidences," said Carlos Fernandez, a spokesman with the Chicago Alliance of Charter Teachers and Staff, an affiliate of the American Federation of Teachers. "We felt that there was enough evidence here and before the policies they set into place just became a little bit too set in stone, we wanted to get the NLRB involved."
Teachers announced last month they had begun preliminary talks to form the Union of Noble Educators. With 800 teachers spread across 17 charter campuses in Chicago, that would be the largest charter teachers union in the country.
Educators have already received support in their unionization efforts from politicians across the city and state, including Cook County Commissioner Jesus "Chuy" Garcia and gubernatorial candidate and state Sen. Daniel Biss, D-Evanston. U.S. Sen. Dick Durbin has also penned a letter supporting their right to unionize through a "fair and transparent" organizing process.
When unionization efforts began in March, teachers had asked that CEO and Superintendent Michael Milkie and the Noble Board of Directors agree to a "fair process" that would allow educators to move through this process without administration interference.
Milkie said last month that administration respects the teachers' right to "organize or not organize," but also expressed concerns that a union could negatively impact Noble classrooms.
"The release today from ChiACTS is a complete mischaracterization of how Noble has conducted itself since this process began, and we're disappointed that ChiACTS would resort to such tactics in an attempt to disrupt our Noble family," Milkie said in a statement Friday. "Noble's leadership has and will continue to respect every Noble teacher's right to organize or not to organize."
With about 12,000 students enrolled this school year, Noble is the largest charter school network in Chicago. 
Teachers claim Milkie has gone from school to school to present anti-union messages and presentations to staff. But administration say he was only attending staff meetings to share his perspective. Educators also say administration has begun enforcing a strict non-solicitation policy and has conducted surveillance of union activity.
Fernandez claims administrators observed teachers both as they distributed union leaflets outside schools and as they gathered for a press conference outside the board offices. He said these actions have created "a culture of silence, if not fear" among teachers as they decide whether or not to unionize.
"It's become harder to gauge how people are feeling because people are less able to express themselves openly," he said.
This story has been updated to clarify the content of Sen. Durbin's letter.
Follow Matt Masterson on Twitter: @byMattMasterson
---
Related stories: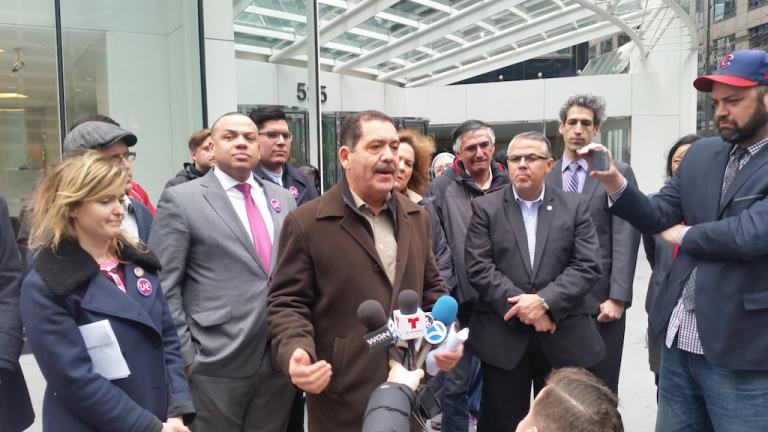 Noble Teachers Earn Legislator Support in Unionization Efforts
March 6: Cook County Commissioner Jesus "Chuy" Garcia, state Sen. Daniel Biss and Ald. Carlos Ramirez-Rosa were among those who pledged their support for Noble charter teachers who are working to create what would be the nation's largest charter teachers union.
---
Noble Educators Begin Forming Nation's Largest Charter Teachers Union
March 3: Teachers in Chicago's biggest charter network say a union will allow them to better advocate for their students and colleagues. If successful, it will create the largest charter teachers union in the country.
---
Noble Charters, CTU Take Steps to Protect Undocumented Students
Jan. 19: Educators across Chicago have continued calls for undocumented students to be protected from deportation and discrimination leading up to President-elect Donald Trump's inauguration Friday.
---