The video cannot be displayed.
Dennis Hastert will become the first former U.S. House speaker to go to prison, as a federal judge sentenced Hastert on Wednesday to 15 months behind bars. U.S. District Judge Thomas Durkin's decision goes far beyond the prosecution's recommended sentence ranging from probation to six months in prison.
While the charges against Hastert pertained to federal banking violations, much of Wednesday's hearing centered on the alleged sexual abuse that took place decades ago when Hastert worked as a wrestling coach at Yorkville High School.
While he admitted to the sexual abuse allegations, Hastert did not see any related charges because the statute of limitations had passed. If the sexual abuse allegations factored into Hastert's sentencing on charges he skirted banking laws, should the statute of limitations even exist?
Host Eddie Arruza talked with former federal prosecutor Patrick Collins and veteran defense attorney James Graham about the sentencing, whether an appeal is likely, and what was up with that secret court hearing?
On the unorthodox case
"This is a case like no other, and this is a sentencing like no other. To have graphic testimony from two victims who are absolutely victims, but are not victims of the charged conduct is very, very rare. To have Judge Durkin, who's a very experienced judge – former prosecutor, former defense lawyer – to be so emotional and invested in this is, I think, not the typical situation," Collins said.
Graham said it would have been a difficult case for the defense since Hastert was apparently dishonest with his own lawyers.
"The client needed to basically come clean," Graham said. "I was there for the sentencing and it was pretty clear that he was in denial up to the sentencing. He only came clean when Judge Durkin asked him about specific victims one by one. And at that point he said yes."
Courtroom sketch by Thomas Gianni shows Dennis Hastert standing with the aid of a walker while U.S. District Judge Thomas Durkin asks him questions about molestation.
On Hastert's sentence
Collins and Graham said it was fair for the judge to consider the sexual abuse despite the statute of limitations.
"The motive for the crimes that Mr. Hastert committed was the sexual abuse and keeping it quiet. The parties agreed to the sentence, but the judge is allowed to take a broader brush at this thing, and the personal characteristics of the defendant are in play during sentencing," Collins said. "I don't think anyone can argue – this became a trial about the sexual abuse issues."
Graham said Judge Durkin was visibly upset during the sentencing.
"This isn't the kind of crime that usually is aired in federal court," Graham said. "He was upset by the crime, he was upset by the victims, he was upset by the testimony and he was upset about Hastert basically lying about it from the very beginning."
On the impact of Scott Cross, or 'Individual D' on the sentence
Hastert reportedly sought out a letter of support from Tom Cross, whose brother Scott was one of the alleged victims. Collins said that was very damaging for Hastert's sentencing.
"First of all, if Mr. Hastert was clearly oblivious and didn't remember the incident with Scott Cross, it makes one wonder how many people there were, how many other victims there were, because when defendants can't remember certain things, one has to ask the question. On the other hand, if it was this diabolical effort to try to get [Tom] Cross lined up it didn't work and it certainly backfired, and it was the reason Scott Cross said that he was there," Collins said.
Below, a timeline of Hastert's career and court case.
---
Related 'Chicago Tonight' content
Dennis Hastert Sentenced to 15 Months in Prison, Admits to Sexual Abuse
Dennis Hastert has gone from the longest-serving U.S. House Speaker to the highest-ranking federal public official to go to jail. Hastert was sentenced to 15 months in prison and to two years of supervised release, and he was ordered to pay $250,000.
---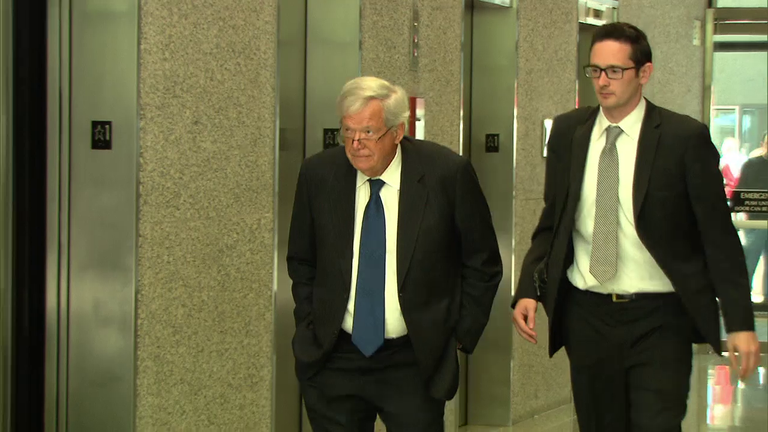 Dennis Hastert Faces Sentencing, Accusers on Wednesday
April 26: Former U.S. House Speaker Dennis Hastert will face some of his alleged sexual assault victims during sentencing Wednesday in federal court. We preview the proceedings.
---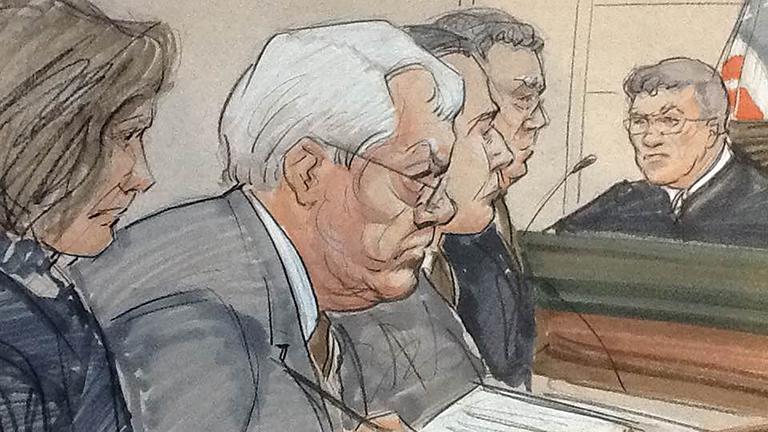 Could Sexual Abuse Allegations Impact Dennis Hastert's Sentence?
April 11: The sexual abuse allegations against Dennis Hastert could send him to prison, even though he has not been charged or convicted of the crime. WBEZ senior news editor Robert Wildeboer explains.
---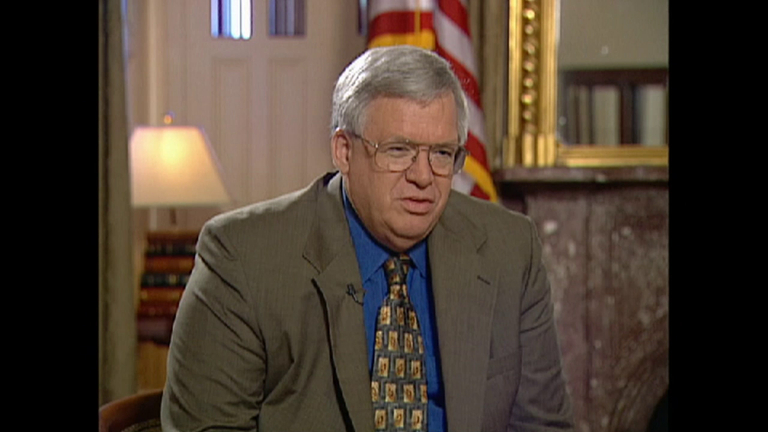 Reporters Shine Light on alleged Victims in Dennis Hastert Case
April 11: Recent court documents claim former U.S. House Speaker Dennis Hastert sexually abused five students. We talk with a Chicago Tribune reporter covering the case.
---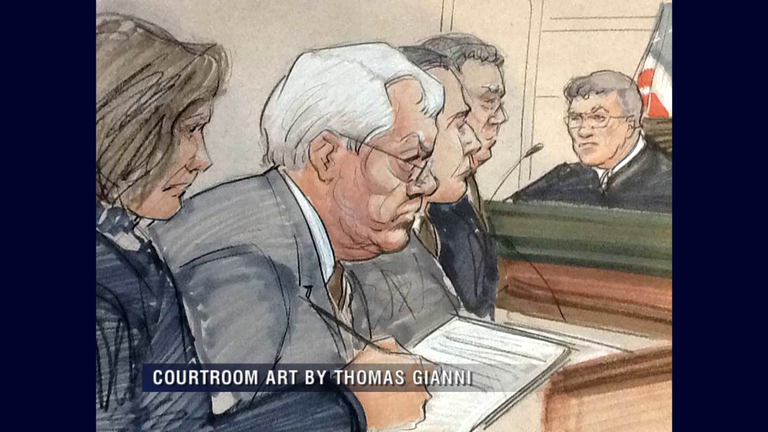 Dennis Hastert Pleads Guilty to Federal Charges in Hush-Money Scheme
Oct. 28, 2015: Former U.S. House Speaker Dennis Hastert pleads guilty to federal charges connected to a hush-money scheme. Did anything else come to light about this mysterious case?
---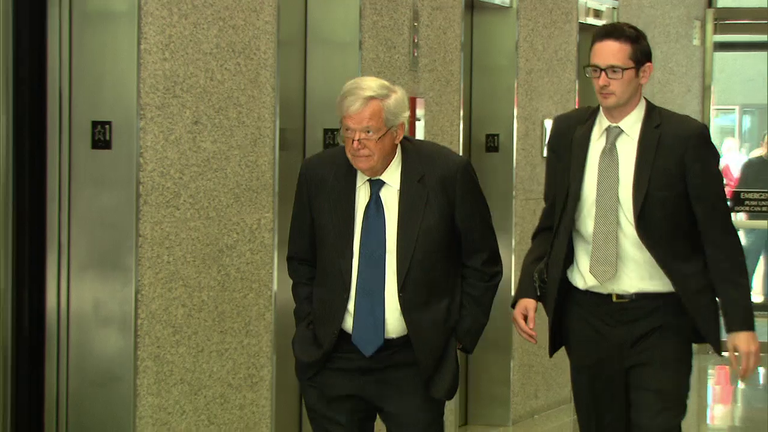 Dennis Hastert Pleads Not Guilty
June 9, 2015: Former U.S. House Speaker Dennis Hastert, who's accused of bank fraud and lying to the FBI in connection with a sexual abuse scandal, pleads not guilty in federal court.
---
A Closer Look at the Charges Against Dennis Hastert
June 1, 2015: We take a closer look at the legal issues behind the indictment and the possible ramifications.
---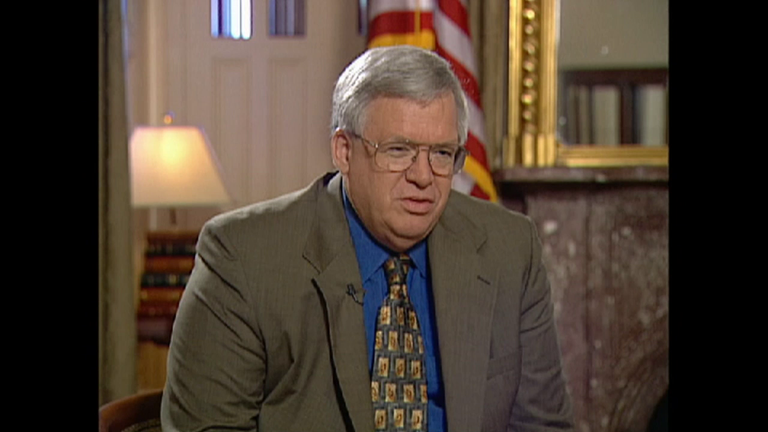 Former US Speaker of the House Dennis Hastert Indicted
May 28, 2015: Late Thursday afternoon, former U.S. Speaker Dennis Hastert was charged in a scheme to withdraw millions of dollars to pay off an accuser for "past misconduct."
---