Gov. Bruce Rauner is coming up empty in his bid to influence several General Assembly primary races, despite he and allies spending millions of dollars. If tonight's races are indicative of a wider proxy war with House Speaker Mike Madigan, Madigan appears to be the runaway winner.
One of Rauner's Democratic allies, Ken Dunkin, was trounced by challenger Juliana Stratton, who was endorsed by President Barack Obama. Madigan himself handily defeated opponent Jason Gonzales who received most of his donations from people who also gave to Rauner's campaign.
In a statement, Madigan said:
"Yesterday, voters in the Democratic primary election made it very clear they want representatives in the State Capitol who will stand up for middle-class families, children and the elderly, not turn their backs on them. I'm honored to have again received the trust and support of the voters of the 22nd District, where they rejected a candidate who received his financial support from a number of Republicans and those aligned with the governor's belief in how government should be run.
"Voters in the 5th Representative District clearly were unhappy with Ken Dunkin's record, how he turned his back on the elderly, children and families struggling to make ends meet, his failure to follow through on promises he made, and his association with Bruce Rauner and the governor's allies. Also, a message was sent that spending more money does not translate into electoral success. The millions spent by Ken Dunkin, IllinoisGO, the Illinois Opportunity Project and others – an effort that significantly outspent the Juliana Stratton campaign – did not persuade voters because their views do not reflect the views of middle-class and struggling families.
"As Speaker, I have consistently and successfully worked with Republican governors to find common ground on issues important to moving the state forward. I am prepared, as I have been for the last year, to work cooperatively and professionally with Governor Rauner to address the most important issues facing our state today. However, the gridlock that we are experiencing stems not from a difference in political parties, but from the governor's insistence that we focus on his agenda attacking middle-class families, rather than making the budget deficit his priority. Over the last year, you will find the times that the governor and the Legislature were able to work together, such as the passage of a measure to free up billions of dollars in federal funds and rejecting cost of living adjustments for lawmakers, is when the governor was willing to put aside his agenda that hurts middle-class families and work directly with the Legislature on the most important issue at hand.
"With the clear message sent by voters Tuesday, I am hopeful we can use this framework moving forward to implement a state budget and work together to get things accomplished for the people we serve."
The Rauner administration issued the following statement by communications Director Lance Trover:
"There were many races last night where special interests backed by Speaker Madigan failed to defeat Republican incumbents and candidates who support Governor Rauner's call for structural reforms that grow our economy alongside a balanced budget. Even in a Democratic primary, the Speaker needed to call in the President of the United States to defeat one legislator who dared to show a hint of independent thinking. But the primary elections are over and rather than issuing partisan press releases, the Speaker needs to end his month long vacation and begin working with the Governor to enact a balanced budget alongside structural reforms that grow our economy."
SEIU Healthcare Illinois, a public employee union, called Tuesday's results a "stunning rejection of the Rauner Agenda and his Checkbook Politics."
The results don't necessarily mean tensions will thaw and the nine-month budget impasse will end. House Democrats, despite holding a supermajority, have had trouble corralling two other members, Reps. Scott Drury (D-Highwood) and Jack Franks (D-Marengo) to pass a budget with a veto-proof majority.
5th State Legislative District: Stratton Defeats Rauner-Backed Incumbent Ken Dunkin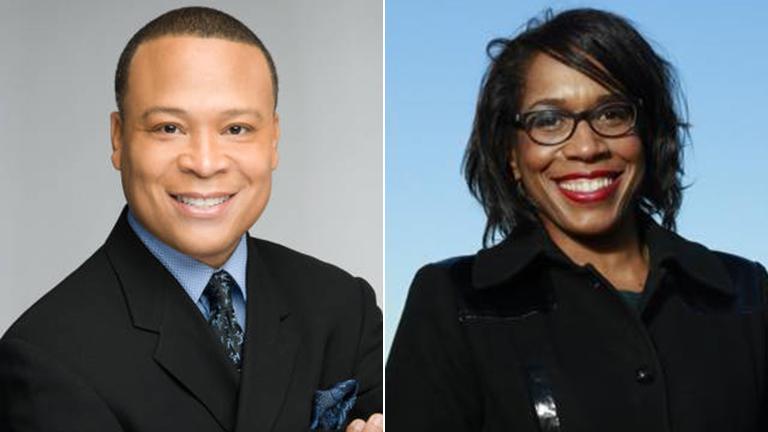 Ken Dunkin, Juliana Stratton
Stratton soundly defeated Dunkin with a 67 to 32 percent margin. Dunkin received more than a million dollars, including a last-minute $500,000 dump from a PAC called the Illinois Opportunity Project, co-founded by Rauner ally and conservative talk show host Dan Proft. But it wasn't enough to overcome the groundswell of support Stratton received from organized labor and a last-minute surprise endorsement from President Barack Obama.
Rauner effectively picked off Dunkin from Madigan and the Democrats when Dunkin missed a vote on a labor union bill. It dealt a legislative defeat to Madigan and served notice that Madigan could not get his entire supermajority in line to oppose Rauner. Dunkin vociferously proclaimed to "Chicago Tonight" after that vote, "I don't work for Mike Madigan," and then sided with Rauner on a host of other issues.
Stratton, for her part, says she believed residents were fed up with Dunkin's erratic attendance and voting record.
"I haven't heard anybody tell me that, 'You know what, I really want to support you because this is about a proxy war,'" said Stratton. "What I hear them saying to me is that they are looking for representation in Springfield and they're looking for somebody who's going to put their interests at the forefront."
Tonight's result could spell doom for any Democrat who chooses to break ranks with Madigan and end Rauner's hopes of picking off more Democrats to support his agenda. It could also spell doom for any of the governor's "Turnaround Agenda," as Democrats appear to be more unified than ever to oppose most or all elements of it.
"My colleagues … really don't want to be under the thumb – under the boot – of Mike Madigan for another 45 years," Dunkin said.
22nd Legislative District: Madigan Soundly Defeats 'Serious' Challenger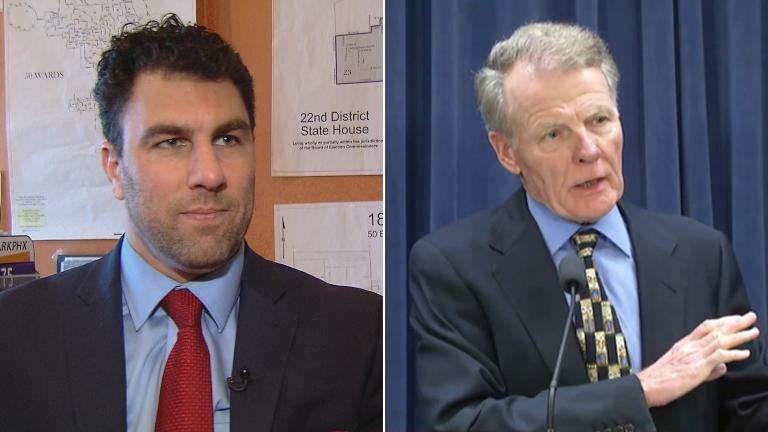 Jason Gonzales, Mike Madigan
Turns out the first serious challenge to Madigan in a long time wasn't so serious after all.
Madigan won re-election 66 percent to 27 percent over Gonzales, a business consultant and first time candidate that received the majority of his campaign money from donors that also gave to Rauner. Gonzales also benefited from a Super PAC called Illinois United For Change that spent nearly $800,000 supporting him and opposing Madigan. The PAC's largest contributor was Blair Hull, the investor and former Democratic U.S. Senate Candidate who lost a primary to Barack Obama, and has admitted his disdain for Madigan.
The 22nd district includes the Southwest Chicago neighborhoods of Clearing and West Lawn, as well as parts of suburban Burbank and Bridgeview.
Madigan forces accused Gonzales, 41, of being a Rauner plant and called attention to his troubled past. Gonzales was arrested on multiple occasions in his late teens for forgery, theft and credit card fraud. It's a past that Madigan forces have dredged up on campaign literature, referring to Gonzales as a convicted felon (although his record was pardoned by former Gov. Pat Quinn).
Madigan – the state's Democratic party chairman – is in control of a massive war chest and army of patronage workers in all levels of government.
"I can't be concerned with where Mr. Madigan has spread his tentacles," Gonzales said. "We know he's spread them everywhere. But has he spread them into the hearts and minds of voters in this district that want a change?"
2nd Legislative District: First Asian-American Legislator Wins Seat in Illinois House
Theresa Mah, a former college professor and policy advisor under Gov. Pat Quinn, narrowly squeaked by Eddie Acevedo, the son of longtime incumbent and Madigan ally Eddie Acevedo, with a 51 percent to 39  percent lead. The elder Acevedo, who rose out of the now-defunct politically connected Hispanic Democratic Organization, is stepping down after serving in Springfield since 1995.
The district incorporates South Side Chicago neighborhoods including Bridgeport, McKinley Park, Armour Square and Chinatown.
Mah, the daughter of Chinese immigrants, has received the endorsement of prominent Latino public officials like Cook County Commissioner Jesus "Chuy" Garcia and U.S. Rep. Luis Gutierrez. It prompted pro-Acevedo Latino demonstrators to shout that Garcia and Gutierrez had "sold out," not supporting "one of their own." Mah claimed that the protesters were shouting racial slurs and trying to intimidate a campaign event she was holding.
40th Legislative District: Machine Candidate Defeats Grassroots Progressive
This race is a measure of entrenched machine forces versus an independent upstart candidate. With more than 90 precincts reporting, the incumbent, Jamie Andrade, has a 60 percent to 40 percent lead on his opponent, Harish Patel. Andrade was installed in 2013 by 33rd Ward Committeeman Dick Mell after serving as Mell's aide in City Council. Andrade received heavy backing from House Speaker Madigan.
Patel has received most of his campaign money from individual donors and has an intriguing backstory, migrating to Chicago from India when he was 14 years old. He is an entrepreneur and community activist who touts himself as a grassroots progressive. He founded the group "Chicago Votes," which encourages young people to get involved in politics and lobbies to relax voting restrictions.
The district encompasses neighborhoods on the Northwest Side of Chicago.
The campaign has, at times, turned nasty, with Andrade accusing Patel of being funded by a "secretive group to ... help support Governor Rauner's reckless agenda.."
Patel says Andrade won't say who the "secretive group" is, and says he received a contribution from a single donor who had also contributed to U.S. Sen. Dick Durbin and President Obama.
"Sadly, some old-school machine political operatives believe that the best way to win elections is to resort to these untrue attacks. I think it is important to set the record straight, especially when the attacks are totally irresponsible," said Patel in a statement on his website. "I have always been and will continue to be a relentless voice against Gov. Rauner's failed policy agenda that has done nothing but harm working families and communities. The voters don't just deserve independent progressive leadership, they deserve honesty."
50th State Senate District: Pro-Union Republican Triumphs Over Rauner-Backed Challenger
Incumbent Sen. Sam McCann scored a narrow victory of 52 percent over Bryce Benton's 48 percent.
This is a race where Rauner had attempted to punish an incumbent for going against some of his pro-business, anti-union Turnaround agenda. McCann voted against Rauner on a bill that would have limited the governor's power to negotiate contracts with government unions (the aforementioned bill that Rep. Ken Dunkin was absent for).
Pro-Rauner forces have spent millions backing Benton, an Illinois State Trooper. McCann has received an endorsement from the AFL-CIO. But the Springfield Journal Register reports that McCann will face an elections board hearing over $38,000 in mileage reimbursements he billed to his campaign.
The district encompasses part of the city of Springfield, home to a lot of unionized government workers, and the southwest portion of the state.
Follow Paris Schutz on Twitter: @paschutz
---
Related stories from 'Chicago Tonight'