The Chicago Public Schools budget that is short half a billion dollars is officially enacted. The fate of that $500 million assistance is in the hands of the Illinois House, where support is currently tenuous at best. Thursday, some House lawmakers sent a message to the city and Chicago Public Schools: certain things have to happen before that chamber gets on board. What are they?
The message is clear: the assistance from Springfield is not going to come for free. The $500 million in pension relief passed the Senate, it will be heard in the House and it is believed that a supermajority will be needed in the House because Gov. Bruce Rauner will not approve that aid to CPS without changes to public employee unions. 
So the choice, according to Mayor Rahm Emanuel and CPS President Forrest Claypool, is to pass this bill or lay off thousands of teachers and watch class sizes swell sometime this fall or winter. 
But the bill could come with a high price. Among other things, some lawmakers say Chicago taxpayers are going to have to pony up and pay higher property taxes.
"The city needs to have a frank conversation with its constituents about taxation," said Northwest Side state Rep. Rob Martwick (D-Chicago). "We have the lowest taxes in the city limits and the highest taxes outside, and every other major metropolitan area is worse. The only way to solve this is a combination of cuts and revenues, and those revenues mean tax increases."
Other lawmakers believe it will take more to get suburban and downstate Democrats on board.
"We have many members outside of Chicago. They are going to be looking for some sort of help for their districts if they are going to help out Chicago," said state Rep. Will Guzzardi (D-Chicago).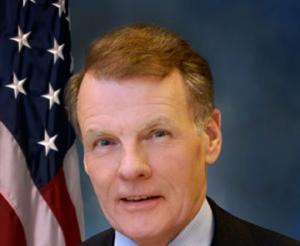 House Speaker Michael Madigan A lot also depends on House Speaker Mike Madigan, who has moderated his position to say Emanuel's request is understandable given that Chicago is the only school district where local property taxpayers fund Chicago Teacher pensions and downstate and suburban teacher pensions.
Another constituency that might have to get on board is the Chicago Teachers Union – who at the City Club railed against the CPS budget that was passed Wednesday. Senate President John Cullerton told Chicago Tonight that if CTU joins the effort and helps persuade lawmakers, it could make the difference. The problem right now is that the teacher's union doesn't like the bailout bill either.
"It just strikes us as more kicking the can down the road," said CTU Vice President Jesse Sharkey. "If you want to attach some new revenue to this re-amortization proposal, like taxing the wealthy, maybe we can have a conversation."
As a reminder, Cullerton's bill provides $480 million in pension relief by having the state pay $200 million every year and then re-amortizing the rest of the debt so the city pays less each year but over a longer period of time. It also calls for a property tax freeze in the suburbs and downstate and a redo of how the state funds education overall.
Rauner has also put out a bill that would have the state pay for $200 million in Chicago teacher pensions for the next two years, but would also force some union changes that could lower wages that Democrats oppose.
Meanwhile, Emanuel says he feels the city has met the demands mentioned by House lawmakers by cutting the central office budget and proposing $225 million in additional property taxes if teachers agree to phase out 7 percent of their pension pickup. He said that it's up to the legislative leaders to marshal their troops.
"Every leader I've talked to has acknowledged that the Chicago Public School pension inequity will be addressed," Emanuel said. "That's why, unlike past years, I'm confident that Springfield is finally going to come to terms with 40 years of inequity because it's been breaking the back of CPS' finances."
House hearings on the nearly $500 million CPS pension bill are expected next week.