Watch the video: Illinois Congressmen Randy Hultgren (R) and Luis Gutierrez (D) are discuss issues surrounding Iran, Planned Parenthood, clean energy, 2016, and more.
---
Congress this month takes its summer break, but when lawmakers return to Washington in September, they face a hefty must-do list that includes voting on the Iran nuclear deal, agreeing on a spending plan before an Oct. 1 fiscal cliff, another debt-ceiling deadline, a growing economic crisis in Puerto Rico, tackling human trafficking, and quite a bit more. All with sights set on next year's presidential and congressional elections.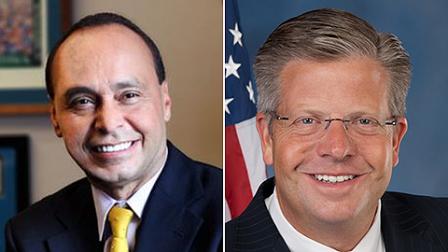 Illinois Congressmen Luis Gutiérrez, left, and Randy Hultgren Joining us with hopefully some bipartisanship are two members of the Illinois Congressional delegation: Rep. Luis Gutiérrez (D) whose 4th Illinois district includes parts of Chicago, Melrose Park, Brookfield, and Cicero; and Rep. Randy Hultgren (R), whose 14th district covers a wide swath of Chicago's northern and western suburbs, from Antioch on the north to Yorkville on the south.
Exploring the issues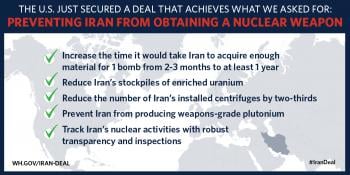 After more than 20 months of negotiations, a landmark deal was reached July 14 between world powers and Iran that curbs Iran's nuclear program in exchange for the easing of economic sanctions. 
The deal reduces Iran's stockpiles of enriched uranium. Currently, Iran has two uranium enrichment facilities: Natanz and Fordow. According to the U.S. government, Iran has a uranium stockpile that could create eight to 10 nuclear bombs. Under the nuclear deal, Iran must reduce its stockpile by 98 percent and will keep its level of uranium enrichment at 3.67 percent– a level significantly below what is needed to create a nuclear bomb. Read more of our article about the deal.
Planned Parenthood funding
The latest battle over federal aid to Planned Parenthood was sparked by a series of clandestine videos that seemingly expose Planned Parenthood officials' cavalier attitudes towards buying and selling fetal tissue for profit.
Planned Parenthood has since apologized for the seemingly insensitive statements made in the videos but denies any wrongdoing in contributing fetal tissue for research. (The use of fetal tissue for research is not new. In fact, research conducted using fetal tissue earned the 1954 Nobel Prize in medicine and led to the development of the polio vaccine. In fiscal year 2014, the National Institutes of Health spent $76 million on this field of research.)
As a result, Senate majority leader Mitch McConnell drafted a bill to defund Planned Parenthood. While losing federal funding would be a big blow to Planned Parenthood — which has reported that $528 million of its $1.3 billion in revenue last year came from taxpayers — the organization's allies contend that cutting federal aid wouldn't really affect its abortion services since that funding can only be used in cases of rape, incest, or when the woman's life is in danger.
The bill failed in the Senate on Monday, falling just short of the 60 votes needed to move forward with a count of 53-46. Only two democrats and two republicans voted against the rest of their party, with Illinois' Republican Sen. Mark Kirk being one of them.
Still, the fight is not over. Some Republicans have announced that they will not support any spending bill that directs federal funds toward Planned Parenthood. They're hoping that Democrats give in and cut funding to the group in order to prevent another government shutdown.
Clean Power Plan
President Obama unveiled an ambitious plan to reduce carbon emissions and shift toward renewable energy sources on Monday that he's calling the Clean Power Plan. Chicago Tonight hosted a panel discussion on the president's plan and heard reaction from local policymakers.
Puerto Rico's financial crisis
Puerto Rico is facing a huge financial crisis after its governor stated that the country could not repay the $72 billion worth of debt that it's holding. Earlier this summer, Chicago Tonight invited two economists to discuss the situation. When Congress returns in the fall, they must decide whether to get involved by providing the island nation with bankruptcy protection.