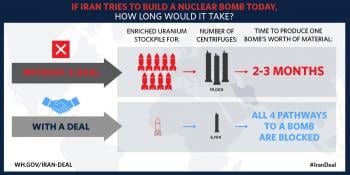 After more than 20 months of negotiations, a landmark deal was reached Tuesday between world powers and Iran that curbs Iran's nuclear program in exchange for the easing of economic sanctions. 
The deal reduces Iran's stockpiles of enriched uranium. Currently, Iran has two uranium enrichment facilities: Natanz and Fordow. According to the U.S. government, Iran has a uranium stockpile that could create eight to 10 nuclear bombs. Under the nuclear deal, Iran must reduce its stockpile by 98 percent and will keep its level of uranium enrichment at 3.67 percent– a level significantly below what is needed to create a nuclear bomb.
Under the agreement, Iran will also have to reduce its number of centrifuges by two-thirds for the next 10 years. Of the nearly 20,000 operating centrifuges, only 6,104 will be allowed to remain active. In addition, no uranium enrichment will be allowed at the Fordow facility.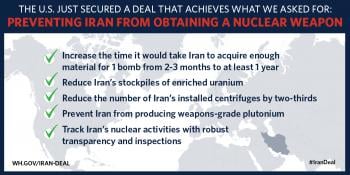 The landmark deal also prevents Iran from producing weapons-grade plutonium, which is another chemical element that could be used to build a nuclear bomb. Under the agreement, Iran's Arak reactor will be redesigned so it could not produce weapons-grade plutonium, and all of the country's spent fuel rods will be sent out of the country as long as the reactor exists. In addition, Iran will not be able to construct a heavy-water reactor for at least 15 years.
In addition to monitoring Iran's declared facilities, the International Atomic Agency (IAEA) will be responsible for "verifying that no fissile material is covertly carted off to a secret location to build a bomb," according to the White House. If IAEA inspectors discover a suspicious location, Iran has agreed to allow inspectors access and inspect any sites deemed suspicious.
President Barack Obama praised the deal Tuesday morning.
"Today, after two years of negotiations, the United States, together with our international partners, has achieved something that decades of animosity has not -- a comprehensive, long-term deal with Iran that will prevent it from obtaining a nuclear weapon," Obama said, "Today, because America negotiated from a position of strength and principle, we have stopped the spread of nuclear weapons in this region. Because of this deal, the international community will be able to verify that the Islamic Republic of Iran will not develop a nuclear weapon."
The deal comes after more than a decade of negotiations between Iran, United States, United Kingdom, France, China, and Russia. If Iran violates the deal, sanctions by the United Nations will automatically snap back for 10 years, with the possibility of a five-year extension if deemed necessary. In addition, sanctions by the U.S. and European Union can be imposed if any aspect of the deal is violated.
Reaction to the Deal
Reaction from senators and congressmen to the announcement of the deal has been mixed. Read statements by local senators and congressmen.
U.S. Sen. Dick Durbin released the following statement regarding the announced agreement reached by international negotiators to prevent a nuclear-armed Iran:
U.S. Sen. Dick Durbin

"The United States, working with our allies, has reached a historic agreement with Iran that, according to President Obama and Secretary Kerry, will prevent Iran from obtaining a nuclear weapon. I commend our negotiators for this critical effort. Finding a diplomatic solution will make our country, our allies, and the world a safer place." 
U.S. Sen. Mark Kirk issued the following statement today after the United States and other world powers announced the completion of a nuclear agreement with Iran:
U.S. Sen. Mark Kirk

"I am gravely concerned that the nuclear agreement will condemn the next generation to living with an Iranian nuclear power in the Persian Gulf and ultimately endanger the security of the United States, Israel, and other regional allies over the long term.

"This agreement will enrich and empower Iran, the world's foremost sponsor of terrorism, because it will dismantle the international sanctions regime against Iran, give Iran back over $100 billion in frozen assets, and lift a U.N. arms embargo that has banned Iran from buying and selling conventional weapons and ballistic missiles.

"Worse, this agreement will pave Iran's path to nuclear weapons because it requires Iran to take temporary and reversible steps that keep it at the threshold of acquiring nuclear weapons, and will allow Iran to obstruct and veto inspections at suspect nuclear facilities instead of imposing zero-notice nuclear inspections anytime and at any place in Iran, including military sites."
U.S. Rep. Robin Kelly (D-IL 2nd District) issued the following statement Tuesday in response to the Obama administration's announcement of a nuclear agreement with Iran:  
U.S. Rep. Robin Kelly

"After two long years of negotiations, and two decades of sanctions, the U.S. and international community have achieved an important victory in preventing a nuclear armed Iran. I commend the President, Secretary Kerry and Secretary Moniz for their leadership, tireless negotiations and willingness to extend an olive branch to usher in a more secure future in the Middle East and global community.

Without question, a nuclear Iran is unacceptable. It threatens not only the U.S. but our allies in Israel and the Gulf. Today begins the work of this Congress, and my colleagues on the House Foreign Affairs Committee, in ensuring that Iran is held accountable and is unable to manipulate this agreement to a perverse gain.  In pursuing a more diplomatic path, we must remain vigilant so as to not empower or incentivize Iranian nuclear expansion."
U.S. Rep. Bill Foster (D-IL 11th District) released the following statement on the announcement of a proposed nuclear agreement with Iran: 
U.S. Rep. Bill Foster

"I commend President Obama, Secretary Kerry, and Secretary Moniz for their tireless efforts that have led to this historic agreement.

"A nuclear armed Iran is not acceptable. As the only Ph.D. scientist in Congress, I will continue to be fully engaged on the Congressional oversight of the technical details of the proposed Iran nuclear agreement.

"This agreement should be based on verification, not trust, and the technical details are crucial."
U.S. Rep. Robert Dold (R-IL 10th District) released the following statement today after the United States and other world powers agreed to a nuclear deal with Iran:
U.S. Rep. Robert Dold

"Although the Administration has repeatedly claimed to believe that no deal is better than a bad deal, their actions speak louder than words. The measure of success in diplomacy isn't simply whether any agreement is reached, it's whether a good agreement is achieved. Unfortunately, the Administration arrived at this deal through a parade of dangerous concessions which have prevented us from achieving our goal of dismantling Iran's illicit nuclear program.

"Because of this deal, the world is more dangerous and war is more likely. Congress can and must step forward to reject this dangerous pact."
U.S. Rep. Peter Roskam (R-IL 6th District), co-chair of the House Republican Israel Caucus, released the following statement after the P5+1 announced a final nuclear agreement with Iran:
U.S. Rep. Peter Roskam "Nearly two years ago, I cautioned the Obama administration against striking a nuclear deal with Iran that shifts our longstanding policy of prevention to a dangerous policy of containment. The final agreement reached today marks a U-turn on economic sanctions that were working to cripple Iran's economy and force meaningful, permanent concessions from the regime. In fact, this deal all but ensures Iran will become a nuclear power in our lifetime, defeating from the outset the Obama administration's own long-stated goal of preventing a nuclear-armed Iran.

"In the coming years, Tehran will receive billions in additional sanctions relief and regain the ability to buy and sell not only conventional weapons, but also ballistic missiles capable of carrying a nuclear warhead—all with explicit support of the U.S government, until now an unthinkable proposition. Meanwhile, most nuclear restraints under this deal will soon expire, leaving the mullahs with a revitalized economy and a cleared path to a bomb. Perhaps worst of all, this agreement legitimizes and rewards the world's chief state-sponsor of international terrorism—responsible for the deaths of hundreds of Americans and countless other innocent lives—with reintegration into the international community. Therefore, I plan to not only strongly oppose this deal, but urge my colleagues in the House and Senate to do the same."
U.S. Rep. Randy Hultgren (R-IL 14th District) released a statement today following news that the United States and five world powers, collectively known as the P5+1, reached a framework agreement with the Islamic Republic of Iran to roll back its nuclear program, long suspected of being used to develop nuclear weapons capability:
U.S. Rep. Randy Hultgren

"Major powers have reached a framework to check the nuclear ambitions of the Islamic Republic of Iran, but based on what we've seen already, I am concerned this agreement is a setback for American and global security," said Rep. Hultgren. "The Iranian government continues to pose a threat to the United States' national security and to global stability. Tehran is supporting Houthi militants in Yemen that is pushing the country to the brink of civil war. Iranian military personnel are actively advising and coordinating Shi'a militants in Iraq—the same groups that killed and maimed American troops and are presently suspected of committing atrocities on par with the Islamic State.  Iranian support has been directly responsible for keeping Syria's Bashar Assad in power and has aided his indiscriminate and murderous campaign, leading to the deaths of tens of thousands of Syrians. Iran, furthermore, is the primary sponsor of Hamas which launches rockets into civilian areas in Israel and instigated the recent conflict in Gaza. Providing such a regime with more cash on hand to further its regional and global aims seems nonsensical.

"The stated purpose for entering into months of negotiations and forging an agreement in the first place was to enhance global and our national security by halting Iran's nuclear ambitions. I am not sure this deal accomplishes that. It seems to rely on short-term rewards for Iran without long-term security assurances reasonable people would expect.

"We will need time to review the provisions of the agreement, but so far I have serious questions and deep reservations about whether this agreement will be effective and ultimately in the best interests of our national security and that of our allies in the region.

"Above all, Iran must be kept from obtaining nuclear weapons capability, which this deal fails to accomplish. I will closely at the terms of the agreement over the next 60 days to determine how prudent this deal is. My colleagues and I in Congress will continue urging the administration to hold Tehran's regional aggression accountable."
What's next?
The Republican-controlled Congress will have 60 days to review the deal. While Republicans have objected to the deal, Obama has said he would use his veto to override any resolution of disapproval.
In addition, the agreement will need to be ratified by Iranian Supreme Leader Ayatollah Ali Khamenei, as well as ratified by the U.N. Security Council.