Construction gets underway this week on the Argyle Streetscape project in Uptown, which will create a first-of-its-kind Chicago street that blurs the line between designated lanes and sidewalks, resulting in a shared space for cars, bikes, and pedestrians.
The city has also announced a discounted Divvy bike share membership rate for lower-income Chicagoans, and it's currently adding protected lanes to encourage more bicycling.
We take a closer look at both developments with Ron Burke, executive director of the Active Transportation Alliance, 48th Ward Ald. Harry Osterman, and Chicago Department of Transportation commissioner Rebekah Scheinfeld
---
Argyle Streetscape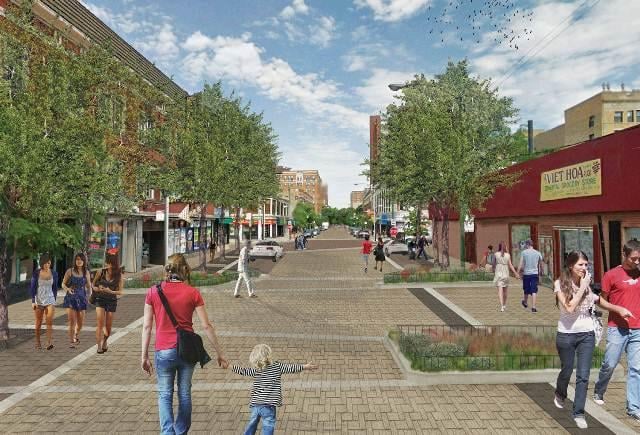 While shared streets are featured in cities across the globe, the Argyle Streetscape –which will allow pedestrians, bikes, and cars to share Argyle Street between Sheridan and Broadway—will be the first such space in Chicago. 
According to 48th Ward Ald. Harry Osterman's website, "Argyle would have a uniform street level, blurring the distinction between sidewalk and street."
Streetscape plans call for the addition of tree planters, street furniture and other design elements which will designate pedestrian-only areas and parking lanes. Street parking will remain available along Argyle and adjacent streets. The speed limit on Argyle will be reduced to 15 mph.
According to Argyle Streetscape public meeting documents the project goals aim to:
Improve infrastructure by creating a cohesive and flexible streetscape plan with funding limitations (according to DNAinfo Chicago, the project will cost $3 million).
Support existing Argyle Street merchants and their customers, and bolster Argyle Street as a regional business destination.
Brand Argyle Street business district and develop community identification. (The Argyle Street Streetscape December 2013 public meeting documents show various options for vertical identifiers, and Osterman's website also states that the community will vote on an Argyle identifier to be placed at Argyle and Broadway.)
Provide a complete and shared street that benefits the flow of pedestrian, vehicular, and bike traffic equally.
Implement streetscape and infrastructure elements that increase public safety and deter negative activity.
The 2013 project, which is now underway, will be split into three to four phases for construction, according to DNAinfo Chicago. Those phases are as follows:
Phase 1: July 9-October 6
Broadway to Sheridan Road, north side of Argyle Street
According to an update from Osterman's office, residents can expect this week for the contractor to take photographs and videos of existing conditions. Surveyor layouts for demolitions, and the results of soil samples are expected to be received Thursday or Friday. Also on Thursday, July 9, the weekly Argyle Street Market will be held 5:00 pm to 9:00 pm between Kenmore and Sheridan.
Phase 2: October 6-November 20
Broadway to Kenmore Avenue, south side of Argyle Street
Note: No construction will occur from November 20 until spring 2016.
Phases 3 and 4: Spring 2016
Kenmore Avenue to Sheridan Road and Argyle Street
During construction, the Argyle CTA Red Line stop will remain open, as well as all of the businesses along Argyle Street. The street will only allow one-way traffic heading eastbound during construction.
For more information and updates about the project, visit Osterman's website.
Divvy Expansion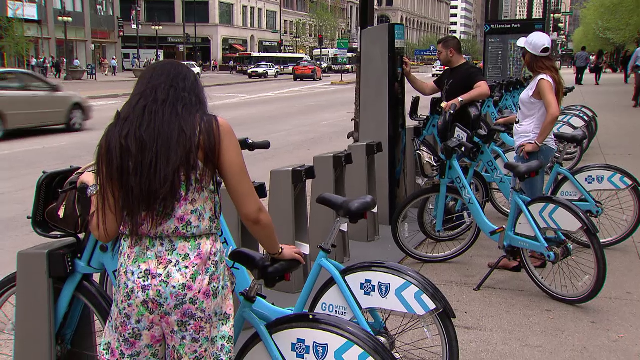 On Tuesday, Mayor Rahm Emanuel announced that Divvy will begin offering reduced-cost annual memberships to some residents. Through the new initiative Divvy for Everyone (D4E), Chicago residents with incomes below $35,000 (a figure that is below 300 percent of the federal poverty level) who don't have a credit or debit card will qualify for a $5 annual membership, which regularly costs $75.
Check out the chart below to determine if you qualify for a discounted Divvy membership.
| Family Size | Maximum Household Income |
| --- | --- |
| 1 | $35,310 |
| 2 | $47,790 |
| 3 | $60,270 |
| 4 | $72,750 |
| 5 | $85,230 |
| 6 | $97,710 |
"In two years Divvy has grown to more neighborhoods and become a transit option for more residents, but cost was still a barrier for too many people," Emanuel said in a statement. "Divvy only works when everyone has a chance to use it. Today we are bridging gaps by offering $5 annual memberships so more residents can benefit from Divvy, regardless of their ability to pay."
According to a press release from the Office of the Mayor, the D4E program is made possible through a $75,000 grant from the Better Bike Share Partnership and matching funds from Divvy's sponsor, BlueCross BlueShield of Illinois. 
Earlier this year, Divvy expanded the number of stations, adding 176 stations and more than 1,750 bikes. Divvy bikes are now available as far north as Touhy Avenue, as far south as 75th Street, and as far west as Pulaski Road.
Protected Bike Lanes
Late last month, construction began on a raised concrete median between bikes and vehicles along Clybourn Avenue between North Avenue and Division Street, as well as along Division between Clybourn and Orleans Street, according to the Chicago Tribune.
According to the City of Chicago, there are currently more than 200 miles of on-street protected, buffered, and shared bike lanes in the city. Under the Chicago Streets for Cycling 2020 Plan, there would be a 645-mile network of biking facilities in place by 2020.
---