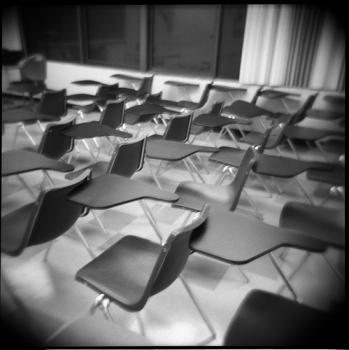 Chicago Public School students will be returning to the classroom tomorrow, after this week's bitterly cold days forced the district to cancel classes.
But, to some critics of the school closures, it seems there have been more of them in the last few years than in the past.
This morning, the Chicago Tribune ran a commentary article by a Chicago attorney who also has three children enrolled in Chicago Public Schools.
In it, Bill Choslovsky argues that there may be times when weather conditions are so severe that canceling classes is warranted -- but thinks neither yesterday nor today was one of those times.
He makes the point that school children are going out to play on snow days and certainly on weekends, so for some kids it's not a matter them being appropriately bundled up, and for students for whom that is a problem, he says that should be addressed, rather than shutting down the whole school system.
"That I didn't think yesterday on a sunny, crisp, clear day when the thermometer hit minus 1 or minus 2 that my kids should have the day off," Choslovsky said. "Think about it. The suggestion that the school and city officials is giving for a lot of parents is what? Is to take them to museums and to the Y and even to schools. Well, of course, if you can get to those places, it begs the question, why can't you get to school in the first place?"
The title of that column was Toughen up kids: Cold is a lousy excuse to close schools.
Choslovsky made clear that he didn't select that title- he knows it's not kids who chose to close schools, that the grown-ups at the city make that decision. 
A number of suburban districts are closed today or had a late start. And except for Catholic schools, several other private schools like Latin, Parker and the Lab Schools were all open today.
That might be considered a slightly different situation, where those students are more likely to be driven to school than take public transportation or walk, as you might to a neighborhood school.
We spoke with Jesse Sharkey, interim president of the Chicago Teachers Union, and he says, for once he thinks, the district did the right thing.
He says during Arne Duncan's tenure as the CEO of the schools, there was almost never a school closure for the weather.
But, Sharkey says it's the right thing to do now.
"It's winter. It's Chicago; Chicagoans are tough, so we're going to have to deal with some winter weather. There's just a line somewhere where it's too cold, and it exposes kids to risk and, you know, I don't know exactly where that line is. But when it's zero and the wind's going 20 miles an hour, that's probably on the side of dangerous," Sharkey said. "So I think I can say, we're going to have to make these days up later. It's better to err on the side of caution, and I'm glad they did that." 
Sharkey says the instructional time earlier in the semester is a bit more valuable than later in the semester, when students are facing standardized testing, so it is a bit of a problem to break up the instruction time.
Chicago Public Schools says these missed school days will be rescheduled later in the year, and while teachers are not being paid for the last two days out of school, they will be paid during the make-up days later.
And the district, tonight, explains that it doesn't take the cancellation of classes lightly -- and yes, it's rare.
Last year, there were four cancellations. Before that, the last district-wide, weather-related closing was the big snowstorm in February of 2011, and the last time before that, was January 1999.­
Here are some options on where to take your kids when school is closed: