The far north suburban community of Fox Lake is still grieving today, as dozens of local, state and federal law enforcement officers search for three men who allegedly shot and killed a Fox Lake police officer.
The search has many names – manhunt, canvass – but Cmdr. George Filenko who leads the Lake County Major Crimes Task Force says the investigation is ongoing.
Fox Lake was much quieter today than yesterday. While there are still about 100 officers working the case in and around Fox Lake, there were no visible helicopters and no foot or grid search like there was all day yesterday.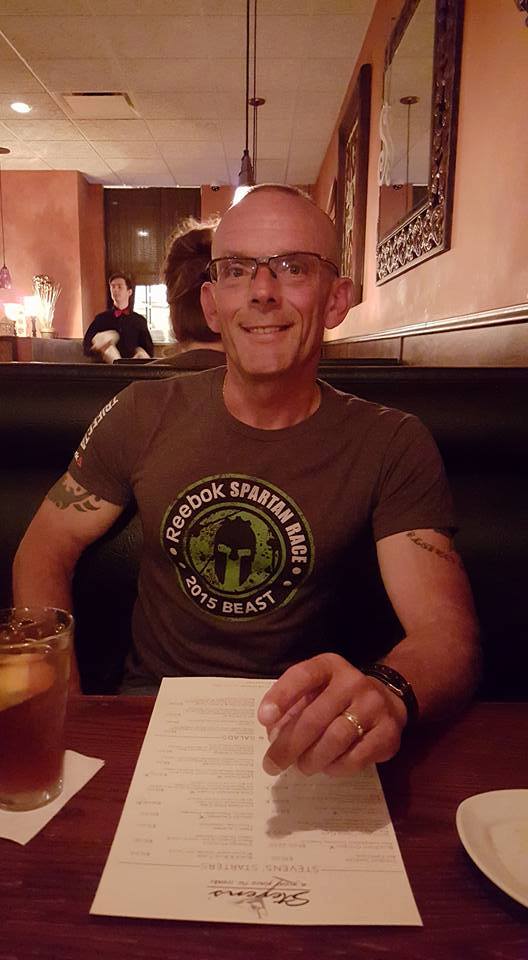 Police Lt. Joe Gliniewicz was fatally shot Tuesday morning in Fox Lake.
The Fox Lake Police department says the search perimeter was established yesterday morning, immediately after Lt. Joe Gliniewicz was found around Rt. 12 and Sayton Road in Fox Lake.
But after an unsuccessful day of searching, the two-square mile perimeter was pulled around 10:30 p.m. Tuesday, after a thorough search found nothing.
Cmdr. Filenko told reporters during a briefing today that officers are still canvassing the area, knocking on doors and following leads – but about the investigation, he couldn't say much more.
The search is for three individuals – two white men and one black one – but that is the extent of the description given, making it difficult for police and the public to know exactly who they're looking for.
Cmdr. Filenko says they are reviewing surveillance video from around the area where Lt. Gliniewicz was found, but he couldn't say much about his service weapon, whether it was fired, whether it was recovered.
The lieutenant's autopsy was performed Tuesday night. Filenko says autopsies always provide some additional information to help the investigation, but because it's still an open investigation he couldn't say much more.
Fox Lake has a small police department of just 25 officers. Lt. Gliniewicz served 32 years on that force – and everyone in town knew him or knew of him.
And even if they didn't, they're still saddened that this could happen so close to their homes.
A makeshift shrine has begun to form just outside the police department with balloons and flowers. Whether or not they knew GI Joe – as he came to be known – we witnessed multiple neighbors dropping off flowers and paying their respects.
---
Gliniewicz, pictured on the left, in 2012 with Explorer Post 300 Joe Gliniewicz, age 52, was a Fox Lake native who graduated from Antioch Community High School and went on to complete a master's degree in criminal justice from Kaplan University. An Army veteran, Gliniewicz served in active duty and in the reserves from 1980 to 2007 and earned the rank of first sergeant.
As an active member in the Fox Lake community, Gliniewicz worked as an advisor for the Fox Lake Law Enforcement Explorer Post 300, a youth program that mentors adolescents and young adults who are interested in law enforcement careers. Gliniewicz was set to retire from the police force at the end of this month.
Gliniewicz is survived by his wife of 26 years and four sons. Two vigils are being held Wednesday evening in memory of Gliniewicz at Lakefront Park in Fox Lake at 6:00 pm and at the Fox Lake Police Department at 8:00 pm.
A memorial Facebook page has been launched in memory of Gliniewicz.
---
Incident Timeline and Map
7:52 a.m. Fox Lake police Lt. Joe Gliniewicz observes three suspicious subjects near the intersection of Rt. 12 and Sayton Road in Fox Lake and radios dispatch.
7:55 a.m. Gliniewicz pursues the subjects in a foot chase and calls for backup as the three subjects head toward a swamp.
8:01 a.m. Two officers respond to the call for backup and arrive on scene.
8:09 a.m. Officers discover the body of Gliniewicz in a wooded, swampy area approximately 50 yards from his police vehicle. Gliniewicz was shot and fatally wounded, authorities said.
8:18 a.m.  A radio dispatch is released to all departments in the area that reports, "Man with a gun in the area of 128 Honing in Fox Lake. Wanted subjects are a male white and a male black who fled the scene, taking the officer's sidearm and pepper spray, shots were fired." The investigation later reveals a third suspect, a second white male, was also involved in the incident. A manhunt begins for the suspects and local law enforcement sets up a 2-square-mile search area that is coordinated with 400 local, state, and federal law enforcement agents, including multiple helicopters and 48 canine units.
10:30 p.m. After a 14-hour search, the Lake County Major Crime Task Force pulls the perimeter of the search area and takes over the investigation.
The map below shows the area of Fox Lake where the incident was reported: