Article Reveals the "Real" Bruce Rauner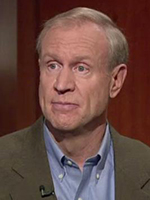 In the October issue of Chicago Magazine, writer Carol Felsenthal revealed details we didn't know about Republican gubernatorial candidate Bruce Rauner. From his family dynamic to his climb up the corporate ladder, Felsenthal told the story of a more complex Rauner than one can imagine. Felsenthal joins Chicago Tonight to discuss the Bruce Rauner the public has yet to meet. 
In addition to chronicling the life and times of the Winnetka businessman, the article highlights what Chicago Magazine calls "13 facts you didn't know." The details reported by Felsenthal were more personal than professional. View the highlighted assertions below and read the full article here.
"Rauner is not close to his three siblings, all of whom live in Arizona."
"Rauner was a student at Lake Forest High School."
"Rauner's father eventually rose to be a senior vice president at Motorola."
"Rauner returned to the Darmouth campus impressed by Sweden's social safety net."
"The couple married in August 1980, at the First Presbyterian Church in Lake Forest, when Rauner was 24 and Beth 26."
"By the time Rauner's marriage began, his parents' had ended."
"A 20-something brunette named Diana Mendley signed on to Rauner's firm as an associate."
"Beth 'discovered a paramour existed.'"
"Rauner initially took the unorthodox step of forgoing a lawyer and representing himself in the divorce."
"In 1994, Rauner and Mendley wed. Not long afterward, their first child, Margaret, was born. She was followed by Matthew and Katherine."
"Rauner has also given millions to his alma mater, Darmouth, which three of his daughters attended."
"In 2010, Eric, then 21, got arrested for trying to rob a Walgreen's drive-through in Missoula, Montana."
"Eldest daughter Elizabeth got married four years ago in a lavish ceremony in Ojai, California, that was covered in the glossy magazine Martha Stewart Weddings."