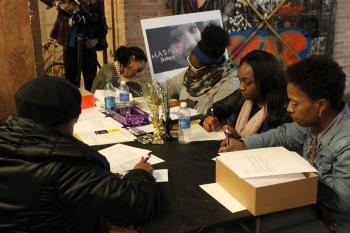 Whoever thought that the simple act of writing a letter to someone you've probably never met could help change a person's life? Well, sometimes they do; and each year, around Human Rights Day, Amnesty International strives to change the lives of those whose human rights have been abused, by utilizing the simple task of writing.
Amnesty International's annual Write for Rights campaign spotlights 10 cases from around the world, of individuals who are or were imprisoned because of their conscience activities. Last year, people in 143 different countries wrote letters in record-breaking numbers, resulting in the release of three Prisoners of Conscience.
"When Amnesty started, it was the bold idea that the average person could influence the government; that the people ultimately had the power," said Amnesty International Executive Director Steven Hawkins. "And if we were able to shine a spotlight on an injustice, we could actually make a difference in someone's life."
This year, two of the cases selected are from Chicago.
"So, here in Chicago, we're actually focusing on Hadiya Pendleton, and Hadiya losing her life," said Hawkins. "So the reason why Hadiya is being highlighted in our global campaign is because governments have a duty to protect their citizens. And the U.S. government fails in that duty because anybody can buy a gun in this society and use it. It's not that way in other parts of the world."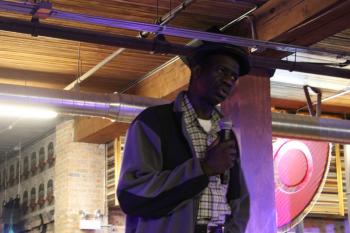 The other case is victims of former Chicago Police Cmdr. Jon Burge.
"We're also looking at Darrell Cannon's case here in Chicago," said Hawkins. "Darrell spent 24 years in prison, tortured. Here we have this report released by the Senate Intelligence Committee on torture by the CIA and Guantanamo detainees, and most Americans don't know the torture that the Chicago Police Department did. And we certainly have been working on pushing for the Chicago City Council to give these torture survivors the basics, to recognize their rights and provide the remedies that they need to try and make up for the torture that they endured."
Cannon was honored that Amnesty International selected his case as part of this year's campaign. Getting emotional as he spoke, he stated he doesn't want people to feel sorry for him and to understand that he gets emotional not because he feels sorry for himself; but because he's mad.
"I was surprised, yet I was pleased because I intend to continue to speak even if Amnesty had not taken me on as their stepchild," Cannon said. "I still would have continued to speak because of the fact it's the right thing to do. There are a whole lot of other Darrell Cannons still in prison who have not been as blessed as I have to have gotten my freedom."
With Amnesty working closely with young people, and its long history of working with artists, they found Donda's House a perfect partner for the Write for Rights Chicago event held on Wednesday, Dec. 10. The night not only included the writing of letters to elected officials, but performances, poetry, visual art stations, and a video chat with a 24-hour letter writing group in the Netherlands.
"Donda's House, as an organization, is working to combat it [human rights abuse] mainly through creative arts," said Donda's House board member Todd Walton. "Considering the background with Amnesty and their work with artists, creatively, it's a good synergy and Chicago has a good opportunity to spread that message."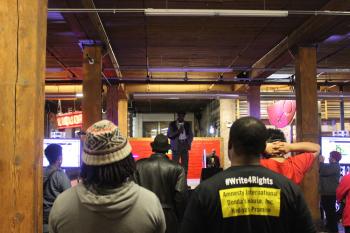 And spreading the message of human rights locally and globally is what Cannon, Donda's House, and Hawkins plan to do.
"Reparations will help others who desperately need some help; the others who are still in prison, who have not had fair hearings," said Cannon. "These reparations will in fact help them. And that is my mission, to get fair and impartial hearings for at least 25 to 30 other guys who we know of that fit the same criteria as Darrell Cannon, who had the same detectives involved in their cases."
"We're just taking it from the standpoint of, you can either be a part of the problem or part of the solution," Walton said. "And one of the big parts of the solution is creativity and continuing to create things in our communities; whether it's art, whether it's jobs, just creating."
"I see a common thread with the energy of the young people who are out on the streets in Hong Kong, or the energy of the young people who are a part of the Arab Spring, or the energy of the young folks down in Brazil right now where they have a hundred cases like Mike Brown every single month," said Hawkins. "And my counterpart in Brazil looks just like me. So we're talking about how we begin to work together. How we take some of our youth activists here, and the artwork and the expression here, and connect that to the young people in Brazil, and truly make the world smaller. Because we're fighting against the same forces of oppression, and I'm convinced and I know that our young people will make a difference."
The Write for Rights campaign runs through Dec. 17, with hopes that this year's writing actions will impact even more of the selected cases than years past.
View a slideshow from the event.