Aim High is a Chicago mentoring program that strives to ensure that 100 percent of participating students graduate high school, enter college, and gain skills to succeed in the workplace. They do this by partnering with both public and private employers, and pairing their employees with high school students in a mentorship program.
Aim High Founder and President Marci Koblenz has been selected to visit the White House as part of College Opportunity Day of Action, which will announce new actions to help more students prepare for and graduate from college. Aim High, along with college presidents and other higher education leaders, will commit to new action in one of four areas: building networks of colleges around promoting completion, creating K-16 partnerships around college readiness, investing in high school counselors, and increasing the number of college graduates in the STEM fields.
The mentoring program has had much success since Jay Shefsky first visited them in 2011. Watch his story below.
Since July 2013, 100 percent of the program's participating students have graduated from high school, with 97 percent enrolling in a four-year college. There are 89 percent still attending their original college, while others have transferred to City Colleges; and 84 percent are on track to graduate in four years.
And 6.25 percent of Aim High students have received Gates Millennium Scholarships, including alumni Shaiesha Moore; while 25 percent are attending more selective colleges, including schools such as Augustana College, Colgate, and Georgetown University.
We spoke with two Aim High alumni, Quincy Cochran and Shaiesha Moore, to find out what they've been doing since we last saw them. Check out their stories below.
Quincy Cochran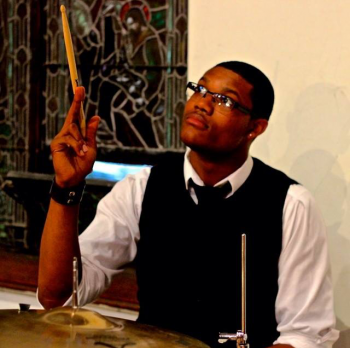 What high school did you attend?
I graduated from Urban Prep Charter Academy's Englewood Campus in 2011.
Which college do you currently attend?
I currently attend North Park University, where I'm working on my BA in Music and minor in Swedish. I'll be graduating in the Spring of 2016.  
I hope to get a job in Sweden or find a job here in the states related to leading worship or music. I'm interested in performing background vocals or stepping into the spotlight myself. I've sung gospel music my entire life. I also play the saxophone, piano, drums and clarinet.
Why Sweden?
I took a year off from school to live there to sing with a music school. It was great being able to travel and sing, and I made a lot of great connections. I credit that opportunity to Mr. Walt Whitman, the director of Soul Children of Chicago.
How has having a mentor prepared you for college success?
Greg would tell me like it is. If I'm struggling in school, he says, "you have all the resources available to you. Everything you need, it's been paid for, you just have to go to them and ask them for it." He tells me to make sure I know my teachers, and the things that are in place for me to be successful.
Do you and your Aim High mentor, Greg Lernihan, still talk?
Yes, about once every two weeks, sometimes more. He took me out for my 21st birthday. He's been there since I was 16. I started off with a few mentors in the beginning but some fell off. Greg became a single mentor; he's held on throughout the years.
Why do you think mentorship is so important?
I know for me, I didn't grow up with a father, and I'm an only child. Having that male figure there is great, especially those years when it's most important to grow as a man. My mother could only do so much, and having that male perspective really helps.
What advice would you give to adults considering becoming mentors or who may be thinking about no longer mentoring?
I hope that they realize they're saving a child's life; that they're stepping into a category that could potentially set them up for a successful future. If they give up on the student, the student may give up on themselves. But if they stay, that's giving the mentee the extra push to strive to succeed.
Aim High is a great program and they continue to keep in touch with the alumni to make sure we're doing great. Marci [Koblenz, Founder and President of Companies That Care] is doing a great job, and I'm truly grateful for her putting Greg in my life. Anything is possible. It doesn't matter what the statistics say about black boys and girls from the south side of Chicago or other urban areas. It doesn't matter if the mentor is white, Latino or black. You never know how someone may change another person's life around.
---
Shaiesha Moore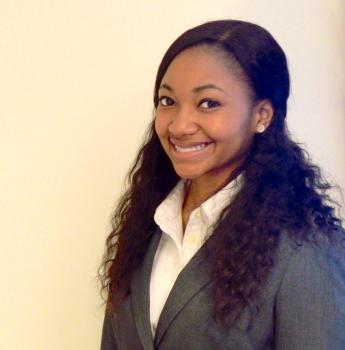 What high school did you attend?
I attended the University of Chicago Charter School Woodlawn Campus, and I graduated in 2011.
What college are you currently studying at?
I go to Georgetown University in Washington, D.C. I'm a Middle East studies major in the School of Foreign Service. I graduate at the end of this school year.
What are your future plans?
I was selected for the Thomas. R. Pickering Foreign Affairs Fellowship through the Department of State to go into the foreign service in 2017. It's a seven-year contract and they pay for graduate school. So, after I graduate, I'll go to grad school for two years, and then go into foreign services as an officer. For my first tour, it'll be a diplomat-like role and I'll be working in the embassy of whichever country I'm stationed in on the visa line. For the second tour, I'll be a public diplomacy officer, working with the media in foreign countries to ensure that American policies are properly portrayed.
What was your family's response to you getting the fellowship?
I received mixed reactions. They were happy for me because only 20 students are selected for the fellowship, but not too excited about the seven-year commitment. I will be stationed in countries that are considered dangerous, like war zones or places with high terrorism risks, and that's a concern for my mom.
Do you have any concerns?
No. I've always known this is what I wanted to do and I'm taking the expedited route through the fellowship. I'm willing to take the risk to represent my country abroad.
Do you still keep in touch with your mentor(s)?
When I first started as a freshman, I had seven from University HealthSystem Consortium (UHC), so most of my mentors were in the health care field. Since my start with Aim High, I've kept in touch with two consistently. They both came to my high school graduation and will be attending my college graduation in the spring. I also see them every summer when I come home to Chicago.
How have your mentors prepared you for college and workplace success?
I think one of the most important things they've told me is that I didn't have to have a set plan going into college. I thought I had to stick with what I said I was going to do in high school. They told me to keep an open mind and see where my interests take me. That helped me understand what my passions and goals were.
I had the opportunity to intern at UHC where my mentors were from, and that internship helped me understand some of the organizational makeups of companies and work. That was also important for me because those were things I took with me when I interned in Sen. Dick Durbin's office.
Tell me about the internship with Sen. Durbin.
It was this past summer from May to July. I was a press intern for his Chicago office. It was a great experience and I learned a lot about domestic policies and immigration reform. That's an issue I've taken to heart since being in school. I enjoyed seeing how the senator actually took those cases on and advocated for those individuals on a federal level. It really opened my eyes.
Why do you think mentorship is important?
One of my issues with growing up on Chicago's south side is we don't have those figures to use as resources for those careers we are interested in. I didn't know anyone growing up who did federal government work, so I had no idea how to go about it. I think other communities have those resources that help guide the next generation to those careers. Having a mentor served that role that other communities get from having different professions present. Aim High prepared me more than I ever anticipated. For example, through career fairs, which taught us the power of networking, which is what helped me get the fellowship I have now; and how to interact in the workplace. I probably wouldn't have learned that and wouldn't have been as prepared for college.
Do you currently mentor anyone?
I founded the Immigration Coalition organization at my school. Through it, I've interacted with younger students and have worked with them so that one can take over when I graduate. I teach them things like how to run the organization and keep connections with D.C. advocacy groups. It's kind of like a mentor but not formally.
What advice would you give to adults considering becoming mentors?
To be proactive. I understand that life gets in the way of mentorship because it is an additional responsibility. But you need to be proactive because the student may not always be. Being a mentor does require a lot of work, but I think understanding your role as someone who is trying to help a younger person to succeed does require time and effort.
Interviews have been condensed and edited.