City officials aren't the only ones trying to make a dent in Chicago's violence. There are heroes and heroines throughout Chicago's neighborhoods providing positive alternatives for youth in an effort to help reduce the violence that plagues the city. We talk with Nathaniel Pendleton, father of 15-year-old Hadiya Pendleton who was shot and killed while she was in a park with her friends; Diane Latiker of Kids Off The Block, a youth program which focuses on all aspects of young peoples' lives; and Darryl Smith, president of Englewood Political Taskforce whose mission is the social, economic and political upliftment of the people in Englewood.
---
Earlier this summer, Chicago Tonight began Heat of the Summer, a web series, about the men and women working to end violence in their neighborhoods by providing activities and opportunities for local youth. Read about our earlier editions of Heat of the Summer.
Fighting For Change
Boxing Club Gives Youth Hope One Punch at a Time
Boxing and church don't seem to go hand in hand. But Beautiful Zion M.B. Church on the city's South Side is home to the Crushers Club, a boxing gym that helps rehabilitate Englewood's youth. Last year, Crushers Club took up residence at the church, and since then it has been flooded with young people. Learn more about the club and Sally Hazelgrove, who moved from the suburbs to Englewood determined to make a difference in the community. Watch a video and view a slideshow.
Repairing Broken Winggz
Foundation Helps Paralyzed Gunshot Victims
Not all gunshot victims die, and not all that survive are able to walk. Eric Wilkins was 28 when he was hit by two bullets, paralyzing him. Before he was shot, Wilkins was involved in the streets, selling drugs, drinking and smoking despite having a job. After the shooting, Wilkins wanted to help other paralyzed gunshot victims. Read more about Wilkins and Repairing Broken Winggz, the foundation he created. Watch a video and view a slideshow.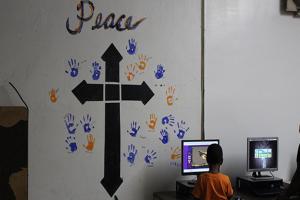 "Emotionally, I feel…"
Building P.E.A.C.E. Over 20 Years
Every week, an intimate group of teens and their instructor check in with each other to see how each person is doing emotionally, physically, and spiritually. The teens are part of a select group participating in One Summer Chicago through the P.E.A.C.E. Community Center, which is trying to help children in the Englewood community. Read an article about the P.E.A.C.E. Community Center.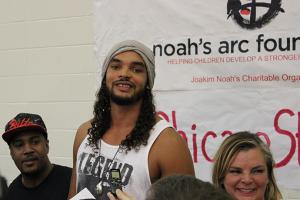 #ChicagoStandUp
Bulls' Noah Joins the Fight Against Chicago Violence
Chicago Bulls star Joakim Noah teamed up with rapper, actor, and Chicago native Common to unveil a new anti-violence program including a star-studded public service announcement. Read an article about Noah's efforts, view a slideshow, and watch the PSA.