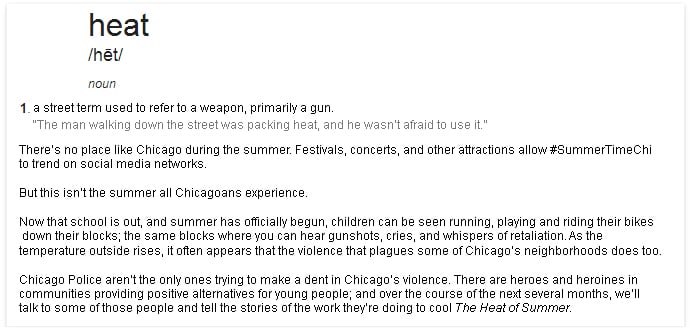 "Emotionally, I feel…"
"Physically, I feel…"
"Spiritually, I feel… "
"And I feel connected to…"
Those are the phrases an intimate group of teens and their instructor use to check in with each other. The teens are part of a select group participating in One Summer Chicago, which is an effort to connect youth to a successful future by placing them in a summer job.
It's been said it takes a village to raise a child, and the P.E.A.C.E Community Center is trying to create that village. That's why they are serving as one of the many locations for the One Summer Chicago program. The center has been providing after school tutoring, nutrition and wellness, computer classes and many other resources to the Englewood community since it opened in October 1991.
"These programs are very important," said Chyrisse Dunnorm, director of Youth Programming at the Center. "It gives a child a place to go where they feel safe, can be themselves, where they can learn, and they can be free."
"They don't have to worry about someone shooting at them. They don't have to worry about being harassed. With so much going on in their neighborhoods, they need a place where they can come and just be themselves, if just for a couple of hours."
P.E.A.C.E stands for People Educating Against Crime in Englewood, and one of its founders, Hal Baskin Sr., says his motive is to stop violence and help kids.
"You can't teach what you don't know, and you can't lead where you don't go," said Baskin, "I'm talking from a perspective that I lived."
Baskin was a gang member when he was younger, but says he "grew up" once he turned 19.
"I had a baby on the way, and I had other things to do," he said. "Work took me out of that life. There wasn't a lot of idle time for me to be out in the streets. These young boys don't have the mindset to grow up."
But Baskin, along with other members of the P.E.A.C.E Community Center, is trying to help them find that mindset. As part of the six-week summer program, the teens are exposed to financial literacy, resume building, and mock interviews. They also take weekly fieldtrips to gain exposure to other areas of the city and see places outside of their own neighborhoods.  Recent trips were to the Lincoln Park Zoo and Cloud Gate in Millennium Park.
Dunnorm also stresses the importance of an education.
"I've gotten my GED and went back to get my bachelor's in human services," she said. "In order for me to be an asset for the children, I needed to go back to school to show them what you can obtain with going to college."
One teen who attends the center says he sees Dunnorm as the mother he never had. Dunnorm teaches youth that their decisions can change every aspect of their lives, and the lives of the people around them.
"You don't have to leave the neighborhood to do the right thing," said 18-year-old Darrius Pryor. "You just have to know what not to do. You may not know what you do want, but you know what you don't want. And whatever you don't want will lead you to the right path."
Dunnorm says the youth have so much to say, and she believes that some of the violence in the community is due to youth acting out in order to be heard.
Both she and Baskin feel there is a lack of communication and a much needed relationship between members of the communities and those who serve the city.
"If they want to stop violence across this country, there has to be a conversation behind closed doors with community members," said Baskin. "So we can have a dialogue and come together to create a solution."
"People like me are a dying breed, we are getting older. We need to do something while people like me are still around."
And after another weekend filled with violence, a meeting was held with city officials, residents and community leaders.
Baskin and the P.E.A.C.E Community Center are looking forward to the future, and he believes the future is in the hands of the youth.
"I would like to see younger people come out and take our vison to the next level, create new programs and enhance the ones we have," he said.
Dunnorm agrees.
"There are great and marvelous things being done in Englewood and it's starting with the youth."