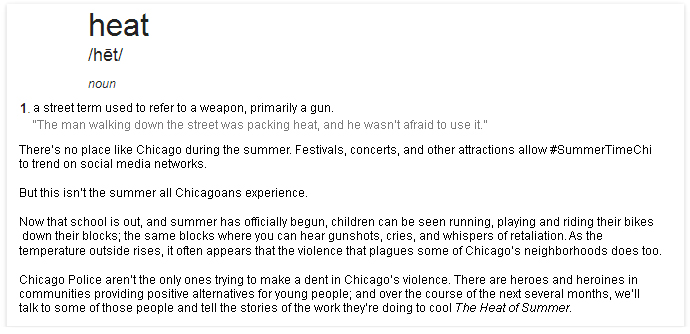 If you ask community members one way to reduce Chicago's violence, the common response is "give them something to do."
Like the community members and organizations featured in the Heat of the Summer series, an all-star athlete is trying to do just that and make a difference through Noah's Arc Foundation.
Chicago Bulls star Joakim Noah spent Saturday, July 26, at the United Center watching the finale of the foundation's One City Basketball Tournament. Two teams, the South Side, coached by Derek Rose and the West Side, coached by Houston Rockets guard Patrick Beverley, a Chicago native, played in a game for peace. The South Side team won.
"Sports is something that unites people," said Noah. "This peace tournament at the United Center is very, very special to me. To have guys from all around the city play together, guys that usually wouldn't be hanging out together, play basketball together I think is a beautiful thing." 
"All this violence that's going on in Chicago, it's all our problem. It's not just a West Side problem. It's not just a South Side problem. It's a city problem, and we all have to come together."
By coming together, Noah means standing up against gun violence. The day before the One City Basketball Tournament, Noah premiered his new PSA, #ChicagoStandUp, to a group of adolescents at the Major Adams Community Committee Center. The anti-violence star-studded public service announcement features Noah, his mother Cecilia Rodhe, and Bulls teammate Derek Rose among several other community leaders.
Rapper, actor, and Chicago native Common showed his support, attending the premiere of the PSA.
"Joakim is somebody who is true to helping the people," he said. "He's about it. He's born from that and he is that. So I knew he was sincere about it."
"I just wanted to be supportive of him. And he's on the same mission. It's not about; 'OK, I'm from this side of town or this side.' We [are] all Chicago, and we all want peace and we all want a better life for everybody."
Watch the #ChicagoStandUp PSA below.