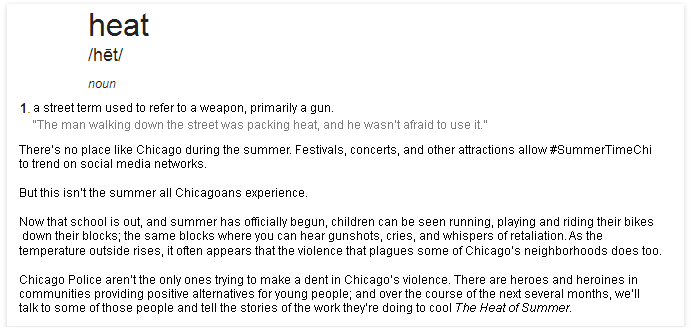 ---
Boxing and church don't seem to go hand in hand. But Beautiful Zion M.B. Church on the city's South Side is home to the Crushers Club, a boxing gym that helps rehabilitate Englewood's youth. Just last year Crushers Club took up residence at the church, and since then it has been flooded with young people. Just as interesting as its location are the characters that call this place home.
There's Sally Hazelgrove, the founder of the club. She's a middle-aged white woman with shoulder length blonde hair, standing a little over five feet tall. She grew up in Naperville. She says when she was young, she acted out a lot and did things that would be considered breaking the law. But because of the affluence of Naperville, she didn't have to face the same consequences that the boys she works with now do.
Hazelgrove would constantly hear about Englewood on the news, and felt there were children in the area that needed her; so in 2000 she picked up and moved her family to the crime infested neighborhood and started volunteering. She began working in programs through the Department of Children and Family Services, but she wanted to find out what would get the boys "off the block."    
"I surveyed the boys on the corners," said Hazelgrove. "I had my little pad and paper, and asked them what would get them off the corner. Something they wanted to do that they don't have access to that would get them off the block for a few hours so they're safe."
"Boxing was the No. 1 answer."
Hazelgrove got trained in boxing, and started taking boys from the elementary schools she worked with along with her. And in 2012 she applied for A Better Chicago grant, where the grand prize was a $100,000 and a year of management support.
She won.
Now she's not the one teaching boxing to the club's younger members. Mentors who have completed boxing training are educating the younger boys. Some of them are now paid as employees.
There are 21 boys on the payroll between the ages of 14 and 24. A large part of their job is to act as a big brother and show love, but Hazelgrove says their biggest takeaway is gaining work experience. 
"A lot of the boys that come here haven't had a job before or even know someone who has modeled that for them," said Hazelgrove. "We want their mistakes to come out here. Being late, conduct, clothing, engagement; we weed out the bad habits. After a year to three years here, they'll go out and get another job, and not make the same mistakes there."
One of the workers, 24-year-old Curtis Williams, serves as the youth supervisor; which puts him in the position of managing his fellow co-workers. He already knew Hazelgrove from hanging out in the neighborhood, and he came to the gym last year after it opened at the church.
"I ran into Sally, and she asked about my current situation, and I was honest with her," said Williams. "I was telling her about my kids. I was reckless. I was robbing people, shooting, trying to support my family. She told me to come check out the gym, and offered me a job."
Williams is a father of three, and working with children is one of his favorite parts of the job.
"I like talking to them and explaining how the streets ain't the place for them," he said.
Hakeem Pittman, 18, is another Crushers Club employee. His favorite part of his job is teaching the children discipline, and how to walk away from fights. He also enjoys the family feel that the gym provides.
"They're like family, and Sally is like my second mom. I had prom and graduation coming, and I was having problems with tuition," he said. "Sally helped me pay for it."
Pittman has been involved with karate since he was six, and started boxing a few years ago after meeting Hazelgrove at one of his matches. At the end of the summer, he'll be leaving to attend Ivy Tech in Fort Wayne, Ind. to study athletic training.
But boxing isn't the only resource that Hazelgrove and the Crushers Club provide.  After recognizing talent in one 19-year-old, she made him an offer he couldn't refuse.
"A young boy on the block would tell me to go inside when they were about to shoot," Hazelgrove said. "I knew he was very creative, and I told him when I get my own place, I'm going to build him a studio if he stops being a solider on the street. So I kept my end of the deal, and he kept his."
From that, The Voice of Englewood Studio was born.
"I started doing music at like nine or 10, because my father was into music," said Joseph "Jo-Jo" Cook, the teen who kept his end of the bargain with Hazelgrove. "I like to do engineering, producing, promoting, and making videos. "
His passion for music and producing shines through the glass as he instructs one of the few females seen in the gym during a recording session.
"A lot of people have lost hope, and we're trying to bring people in and give them another option for what they can do in their life," said Cook. "We got some guys who don't even care about losing their life. But it feels safe here."
And that's Hazelgrove's ultimate goal — to create a safe place that delivers supportive services.
"I have to find a light that burns brighter than the street," she said. "I have to find something just as exciting."
Hazelgrove says boxing is a sport that can do that. Now she's working to keep that light burning even brighter.