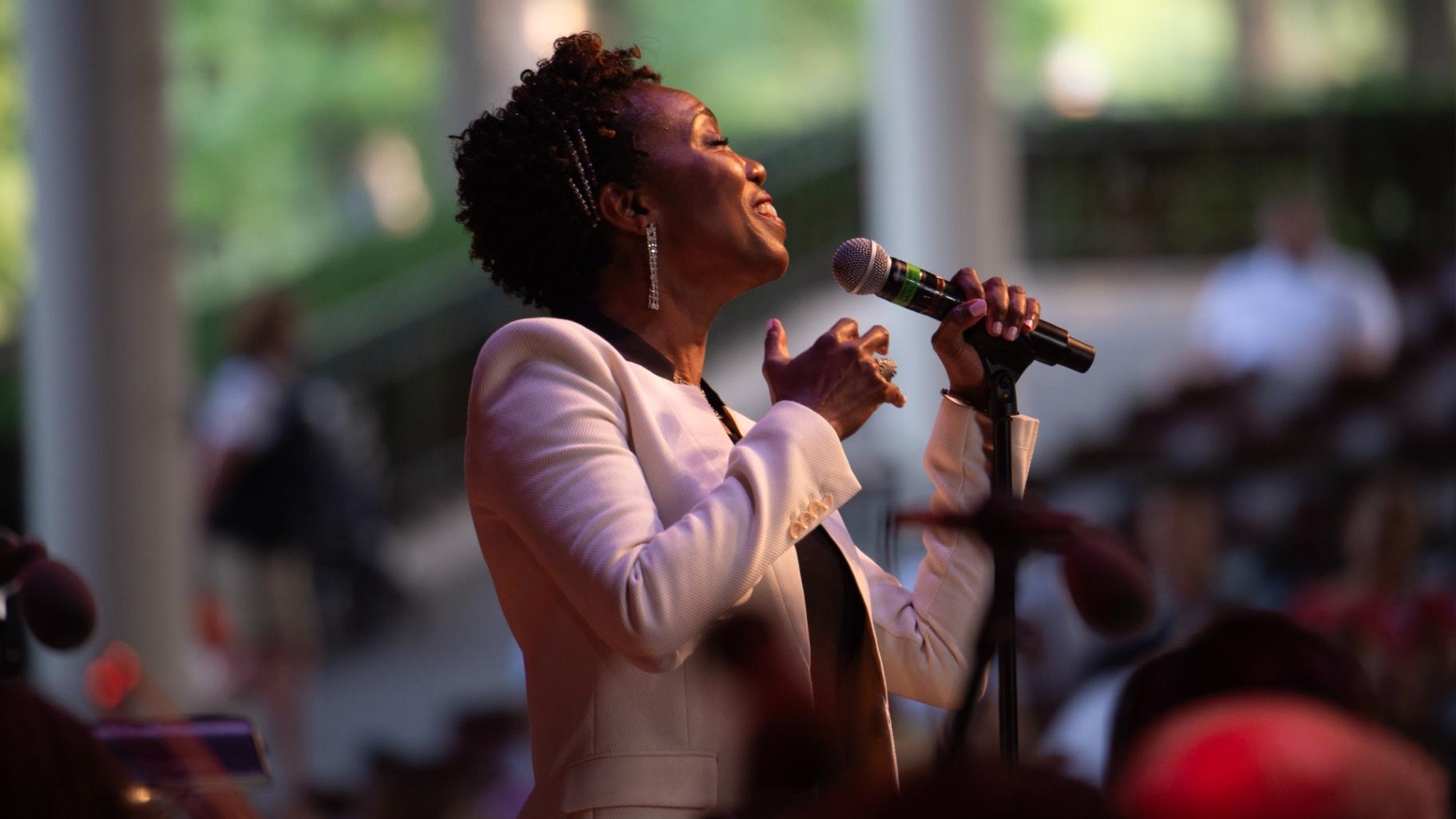 Heather Headley performs at the Ravinia Pavilion on July 16, 2023. (Patrick Gipson / Ravinia Festival)
Whether she is performing songs from a Broadway musical, a familiar hymn or a gospel classic, Heather Headley (who was born in Trinidad, came to the U.S. in her teens and graduated from Northwestern University) possesses a voice and personality that can easily mesmerize an audience. And so she did Sunday night with a grand-scale performance that brought together a huge number of people both inside and outside the Ravinia Pavilion on an ideal summer evening.
Headley was superbly backed by the ever-exceptional Chicago Symphony Orchestra (deftly conducted by Marin Alsop), as well as by guest pianist Ron Colvard, the exuberant Voices of Trinity Mass Choir, the young singers of the Ravinia Lawndale Family Music School, and to top it all off, special guest Rodrick Dickson, the magnificent opera tenor.
But perhaps the most notable aspect of the evening was the way Headley (a recipient of Tony and Emmy awards) used her formidable voice to interpret both familiar and more rarely performed songs by injecting them with a wide range of stylistic shifts — whether a hint of jazz or an almost operatic intensity. The CSO added its own splendid voice to the concert with a brief but beautiful performance of the Allegro from Mozart's irresistible "Eine Kleine Nachtmusik" ("A Little Night Music").
The program opened with a subtly unconventional performance of "Somewhere Over the Rainbow," followed by "Easy as Life," a beautiful song of lost love from the Elton John/Tim Rice Broadway musical version of "Aida" in which Headley appeared in the title role (and for which she won a Tony Award). She then went on to a stunning take on "Can You Feel the Love Tonight," another Elton John classic from his score for "The Lion King," in which she played Nala on Broadway.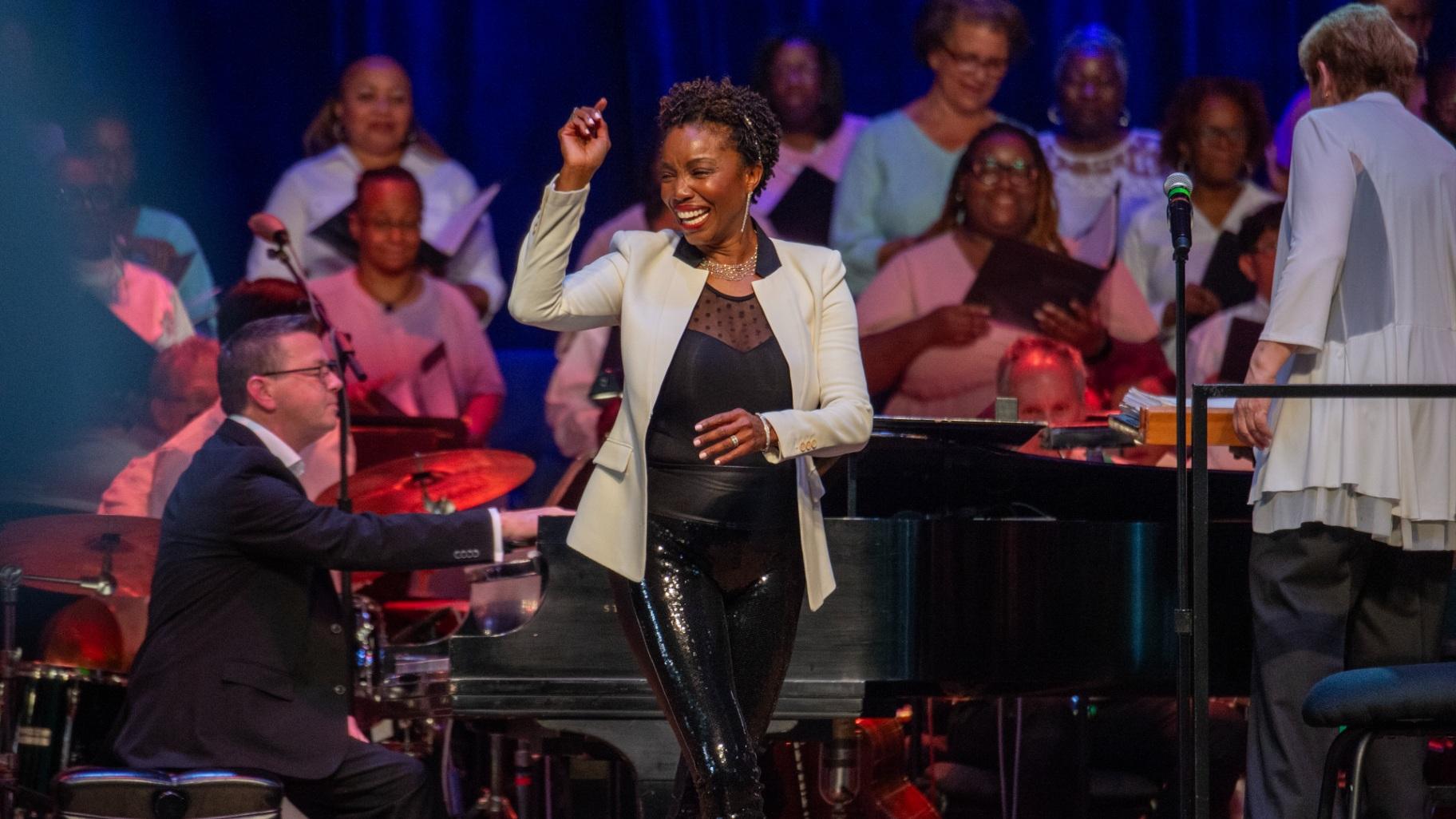 Heather Headley performs at the Ravinia Pavilion on July 16, 2023. (Patrick Gipson / Ravinia Festival)
Married and the mother of three children, Headley introduced the next song — "My House" (from "Matilda," the musical by Tim Minchin, based on a novel by Roald Dahl) — and explained how it took on added meaning during the pandemic, when her family was homebound. And then it was on to a medley of three songs: Elton John's "Written in the Stars," Kurt Weill's "Lost in the Stars" and Wilson Phillips' "Hold On."
The young members of Ravinia Lawndale, plus the great assemblage of the adults in the Voices of Trinity choir,  joined forces with the CSO for soulful renderings of "River Deep, Mountain High" by Phil Spector, Jeff Barry and Ellie Greenwich, and Elton John's "Your Song." And then, with his stunning voice, Dixon, the "surprise guest," arrived on stage and sang "The Prayer" (by David Foster and Carol Bayer Sager). And, as its lyric pleaded, it led us to a wonderful place where "we'd be safe."
Happily noting, "It's Sunday, and I'm a church girl," Headley joined Dixon for a rousing take on "Amazing Grace." And then it was on to "Reach Out and Touch Somebody," with Headley joined by both choirs.
The evening wrapped up as she thanked her family (seated in the audience), the CSO musicians, the backstage crew and many others. Headley then launched into the song she chose for an encore. It was "For Good," from Stephen Schwartz's musical "Wicked," about how the interplay between two people can change them. To borrow from the song's lyrics, Headley's performance unquestionably left her audience "changed for the better."
Follow Hedy Weiss on Twitter: @HedyWeissCritic
---