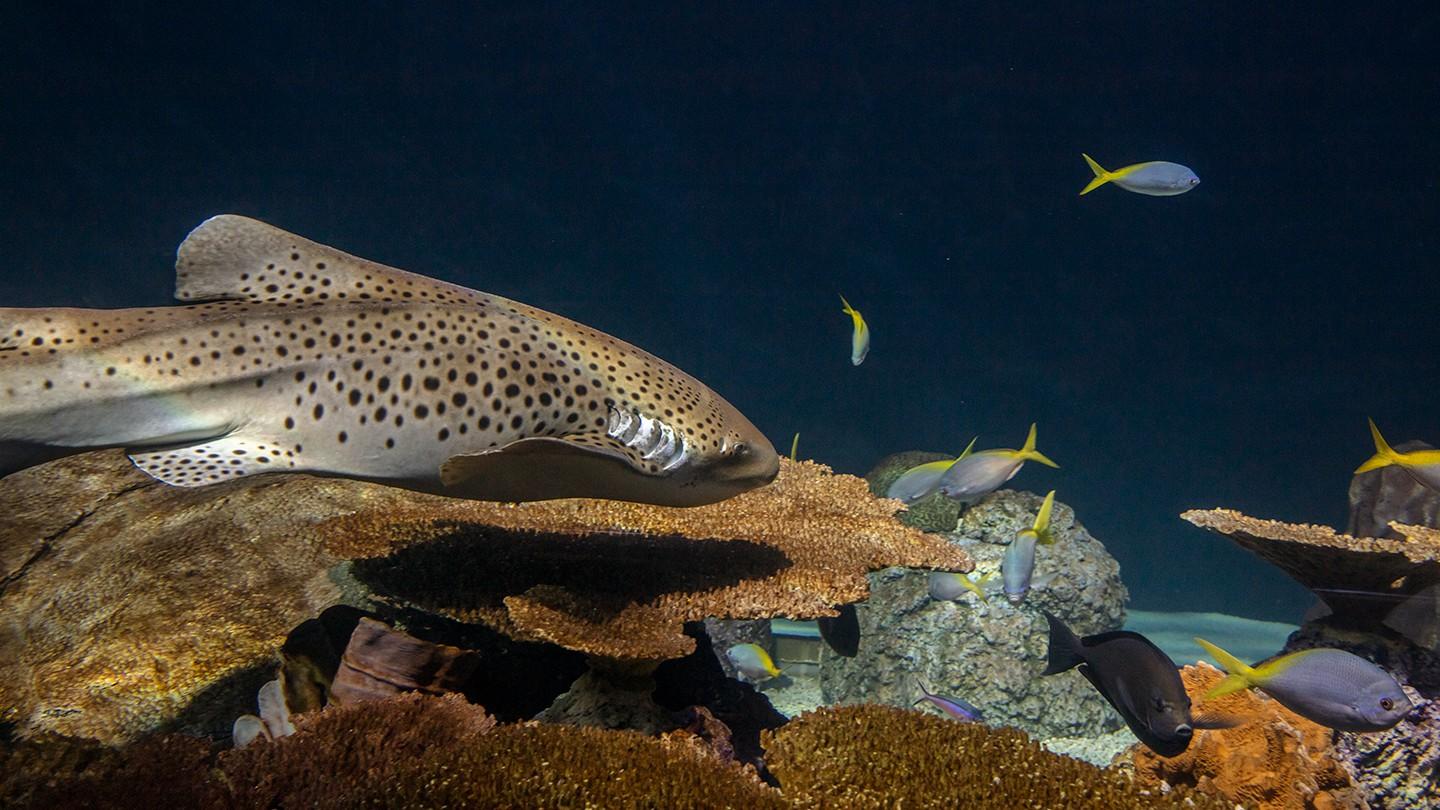 Zebra shark. (Brenna Hernandez / Shedd Aquarium)
In case you hadn't heard, the big nature story this week was the weather. The term "bomb cyclone" entered our vocabulary and we learned that blizzards are woefully misunderstood. 
In between briefings from the National Weather Service, we also covered a bit of ongoing drama at the Chicago Park District involving rogue construction in Humboldt Park, as well as the city's announcement of a Climate Infrastructure Fund that will offer grants to nonprofits and small businesses. 
Here's what else caught our attention this week on the climate and nature beat.
Biodiversity
All the noise about the week's impending winter storm pushed news about COP15 — the global conference on biodiversity — off the front page. The conference wrapped up Dec. 19 in Montreal and the New York Times has a summary of the agreement signed onto by nearly 200 nations. The U.S. isn't one of them.
Cut to the chase: The pledge to protect 30% of the planet's land and water by 2030 sounds ambitious, but also like the kind of target that's never been met in the past.
---
Wild Kingdom
The Field Museum and Shedd Aquarium announced a joint research paper investigating a virgin birth among the aquarium's zebra sharks. Bubbles, a female shark, fertilized her own eggs — not uncommon for certain species in the absence of males, but in this case, Bubbles had a couple of suitors at hand and still opted to go it alone. [Chicago Sun-Times]
Cut to the chase: Researchers say Bubbles' behavior could have implications for conserving endangered species.
---
Conservation
Speaking of biodiversity, the Royal Botanic Gardens in Great Britain recorded more than 100 new species of plants and fungi in 2022. In a case of hello, goodbye, the gardens introduced people to a new species of leafy herb (Gomphostemma phetchaburiense) only to declare it critically endangered. [The Guardian UK]
Cut to the chase: Fewer than 50 of the plants exist in the wild, all at the mouth of a limestone cave in southeast Asia. Here's where the story takes a crappy turn: The plants' survival is threatened by a nearby colony of rock pigeons or, more specifically, the pigeons' droppings.  
---
Birds
OK, technically this happened last week but we just caught up to the news: 2023's bird of the year is the Belted Kingfisher. Or should we say Queenfisher.
Cut to the chase: The Belted Kingfisher is one of the few bird species where the female gets the showier plumage, with a broad rust-colored band on her belly. All hail the Queen.     
@ABA 2023 Bird of the Year, "Queenfisher". Painting by @ipaintbirbs Liz Clayton Fuller. #FemaleBirds pic.twitter.com/rysTMGvh5L

— ' (@GREGNEISE) December 13, 2022
---
Tweet of the Week
Merry Fishmas!
The @YVR tank at international departures, moments ago.... #Fishmas is closer than you think. Hope all can get to where you need to go, eventually. We count ourselves lucky to board in a few minutes. #YVR pic.twitter.com/aRnkctX60G

— Dr. Nikolaus Gantner (@NikolausGantner) December 21, 2022
Contact Patty Wetli: @pattywetli | (773) 509-5623 |  [email protected]