There's a castle-like building in Humboldt Park, at the corner of Humboldt Drive and Division Street, that inevitably elicits exclamations of "What is that?" from first-time passersby.
"It is magical and there is nothing else like it," resident Daniel Zapata said of what's officially known as the Receptory Building and Stable, a Chicago and national landmark that dates back to 1896 and once housed the office of famed landscape architect Jens Jensen.
Neighbors, preservationists and park advocates are calling for the demolition of an unauthorized annex to the landmarked Receptory Building and Stable in Humboldt Park. The building is leased by the National Museum of Puerto Rican Arts and Culture, which began construction of an adjacent archive facility without permits. (Top photo: Patty Wetli / WTTW News; Bottom photo: Change.org)
But a recent change to the building's site has community members wondering "What is that?" for entirely different reasons.
The National Museum of Puerto Rican Arts and Culture, which leases the Receptory and Stable from the Chicago Park District for $1 per year, began construction on what they say will be an archive facility, situated just a couple hundred feet from the landmark structure.
That was news to neighbors, the Park District and the city of Chicago.
The Department of Buildings confirmed to WTTW News that construction started on the archive facility not only before any permit was issued to the nonprofit museum, but before any permit application had even been filed. Nor was permission obtained in writing from the Chicago Park District, which is a condition of the museum's lease, park officials said. (A permit application was filed with the district in October; July 1, 2022, was listed as the date work began.) 
"I have to ask my landlord if I want to put a bookshelf on my wall. And they never even thought to ask their landlord, 'Hey, can we build a structure on your land?'" said Mary Lu Seidel, director of community engagement for Preservation Chicago. "It's a hot mess."
Longtime Humboldt Park residents Kurt Gippert and Maria Paula Cabrera launched a Change.org petition opposing the archive facility, which Cabrera termed an "eyesore," and delivered the accumulated 1,300-plus signatures to the Park District Board of Commissioners at the group's December meeting.
Objections to the new building range from aesthetics that are incompatible with the landmarked Receptory and Stable — Zapata, a design student, said the cinder-block archive box "looks like a Best Buy" — to the underhanded manner in which the museum skirted Chicago's permitting process.
"We oppose illegal construction. It's not illegal to build an extension, but it is illegal without any level of review that's required," said Juanita Irizarry, executive director of Friends of the Parks. "We understand this was not authorized."
For comparison, Irizarry said institutions such as Shedd Aquarium and Lincoln Park Zoo reach out to her organization whenever they're contemplating changes to their campuses.
"The community should have been part of the process (in Humboldt Park)," she said. "We would have expected to at the very least ask about building size, height and does it match the historic nature of the other building. It would have been a long vetting process."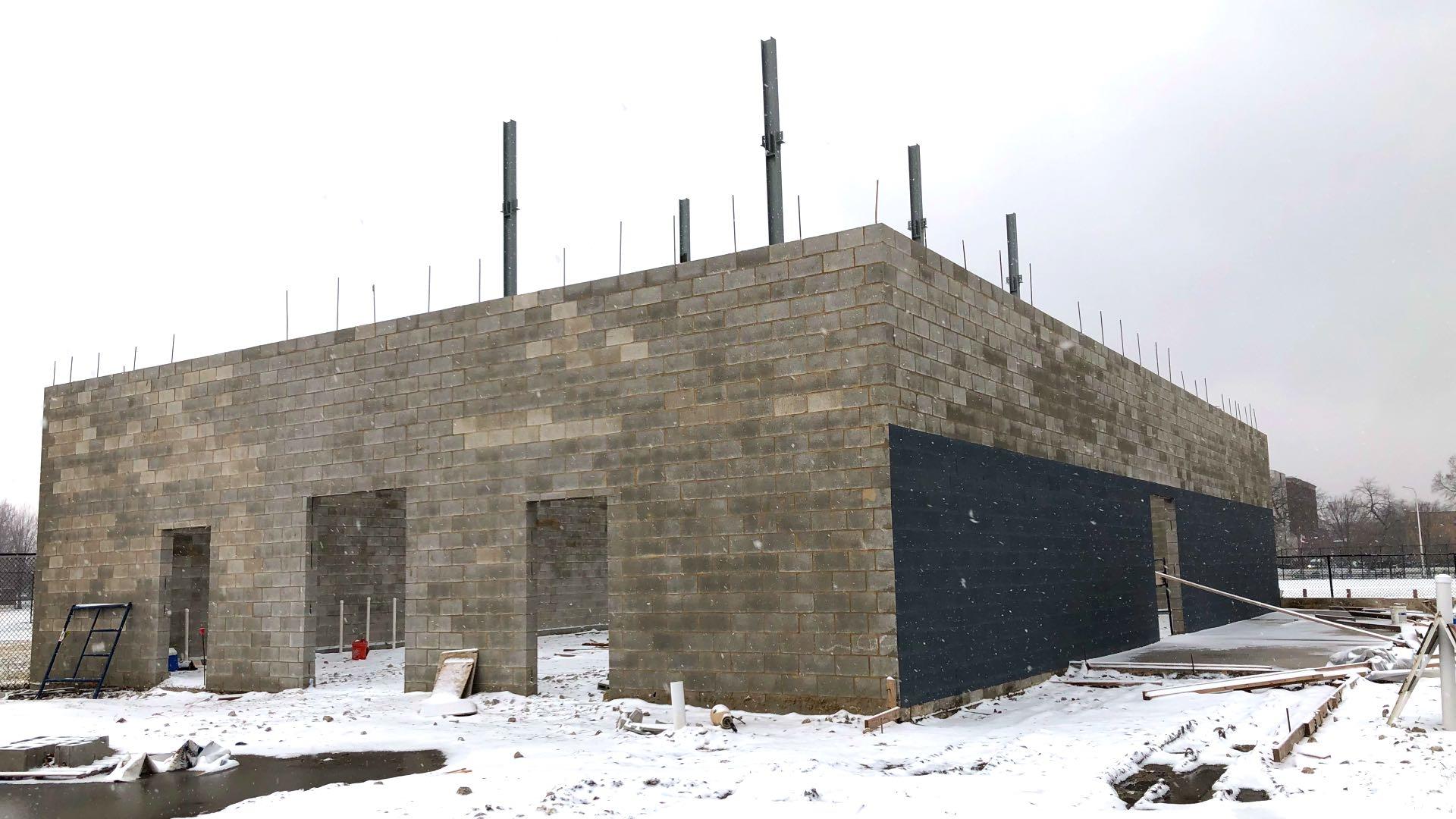 The half-finished shell of the archive facility. The dark gray paint was used to cover graffiti. (Patty Wetli / WTTW News)
It was neighbors who initially raised the alarm regarding the rogue construction, reporting it via 3-1-1, which resulted in a "stop work" order that's been in effect since fall. The building remains in limbo, its half-finished shell roped off by orange plastic mesh fencing.
The Park District said it's "evaluating the proper next steps and will continue to work with all relevant agencies to determine the future of the project." For its part the Department of Buildings said its process is to work "with the applicant to see if a plan can be brought into compliance." 
Park advocates are pushing for stronger action from the Park District and the city.
"We see the new structure as a symbol of public corruption every time we visit the park," Cabrera said. "There is no defense for building without Park District approval and without permits from the city of Chicago. There is no other appropriate solution than to order a demolition."
They're also calling for a full investigation into the museum's actions and how the construction managed to proceed as far as it did before it was halted.
"They poured a foundation and put up cinder-block walls. That takes time," Seidel said.
Billy Ocasio, the museum's president and CEO and a well-connected former alderman, did not respond to requests for comment from WTTW News. He previously told Block Club Chicago, "Some honest mistakes were made, and we're trying to correct them."
"These are not honest mistakes. He knows exactly how the system works," Seidel said of the building going up without permits, without approval and without input. "What are the repercussions? It's scary if it goes forward because then it's a free for all. That says to everyone, 'Go ahead with your plan and ask forgiveness later.'"
Irizarry concurred: "They have done these things on purpose," she said of the museum's leadership. "You can be Puerto Rican and love the museum and not believe this is an appropriate action. This is not what an above-board process looks like."
An additional wrinkle is the museum's receipt in 2020 of a $750,000 grant from the Illinois Department of Resource's public museum capital grants program, to be used toward the archive facility's construction.
Through a Freedom of Information Act request, Seidel obtained documents related to the grant application and approval, which she shared with WTTW News.
Among the inconsistencies, Seidel said, is that on the grant application, the facility is said to be 1,500 square feet, whereas the permit application eventually filed with the Park District shows a building in excess of 5,000 square feet.
"Either they were not being truthful two years ago, or the plans dramatically changed," she said. In either event, "When you submit a grant application, you have to certify the information is correct."
Seidel is equally disturbed by state officials' acceptance of a "back of a napkin" sketch of the archive building, rather than the expected detailed architectural specifications and renderings. Typically, she said, samples of materials — such as stone, brick, tile or paint — would be provided to demonstrate a relationship to the landmarked structure.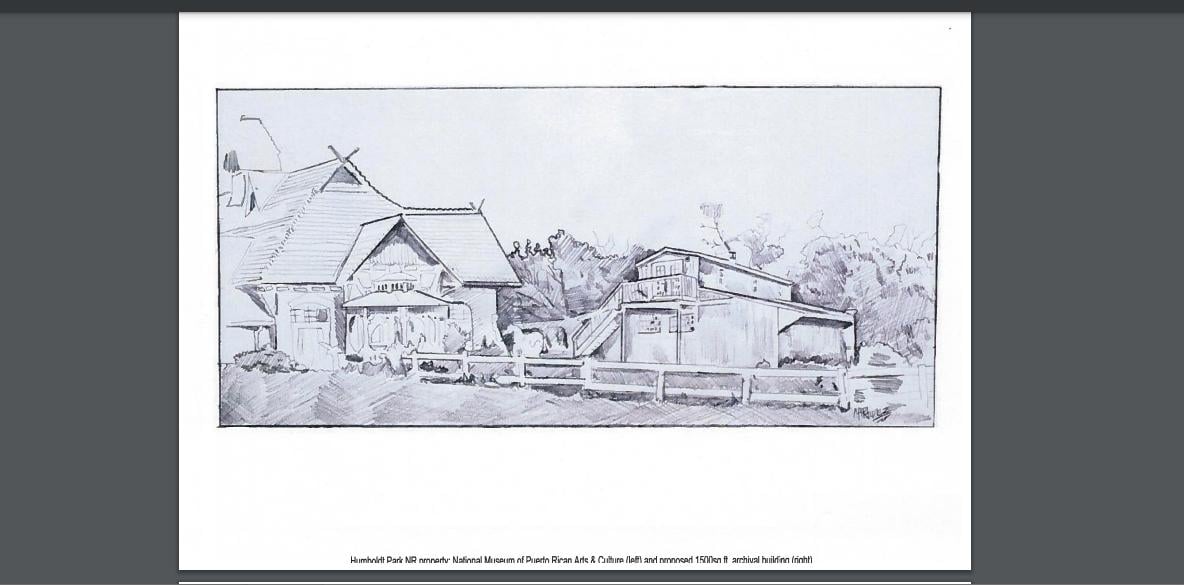 The "back of napkin" sketch of the archive facility (left) provided by the National Museum of Puerto Rican Arts and Culture on a grant application. (Illinois Department of Natural Resources)
"That is not normal at all," she said. "Normally you better cross every 't' and dot every 'i.'"
Neighbors are further alarmed by language in the grant application that references "a later phase" in which the museum "will establish an outdoor entertainment stage similiar to Ravinia."
"This is not what the community wants," Cabrera told Park District commissioners.
Between the inconsistencies, the lack of transparency and the flauting of the permit process, Seidel said there's ample justification for the Park District to launch a full top to bottom review of the archive project. 
"There needs to be a thorough public investigation," she said. "When it stinks a little bit of impropriety, it probably is."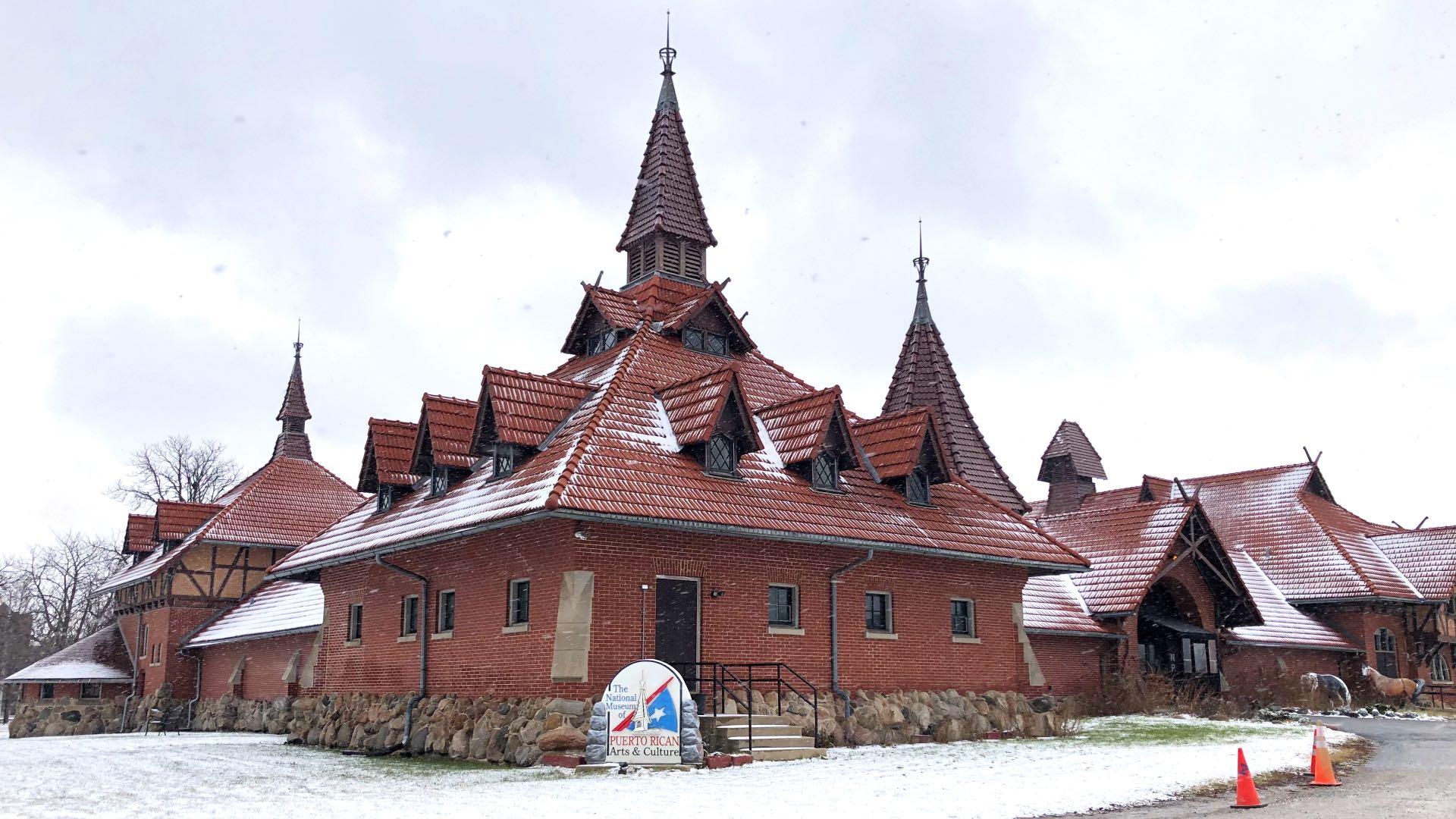 View of the Receptory Building and Stable from its parking lot off of Division Street. In documents prepared for the building's landmark status, it's described as a "visually exuberant structure built in a picturesque architectural style," with unusual features that include a "plethora of steeply-pitched, cross-gable roofs, spires and dormers with diamond-pane windows." (Patty Wetli / WTTW News)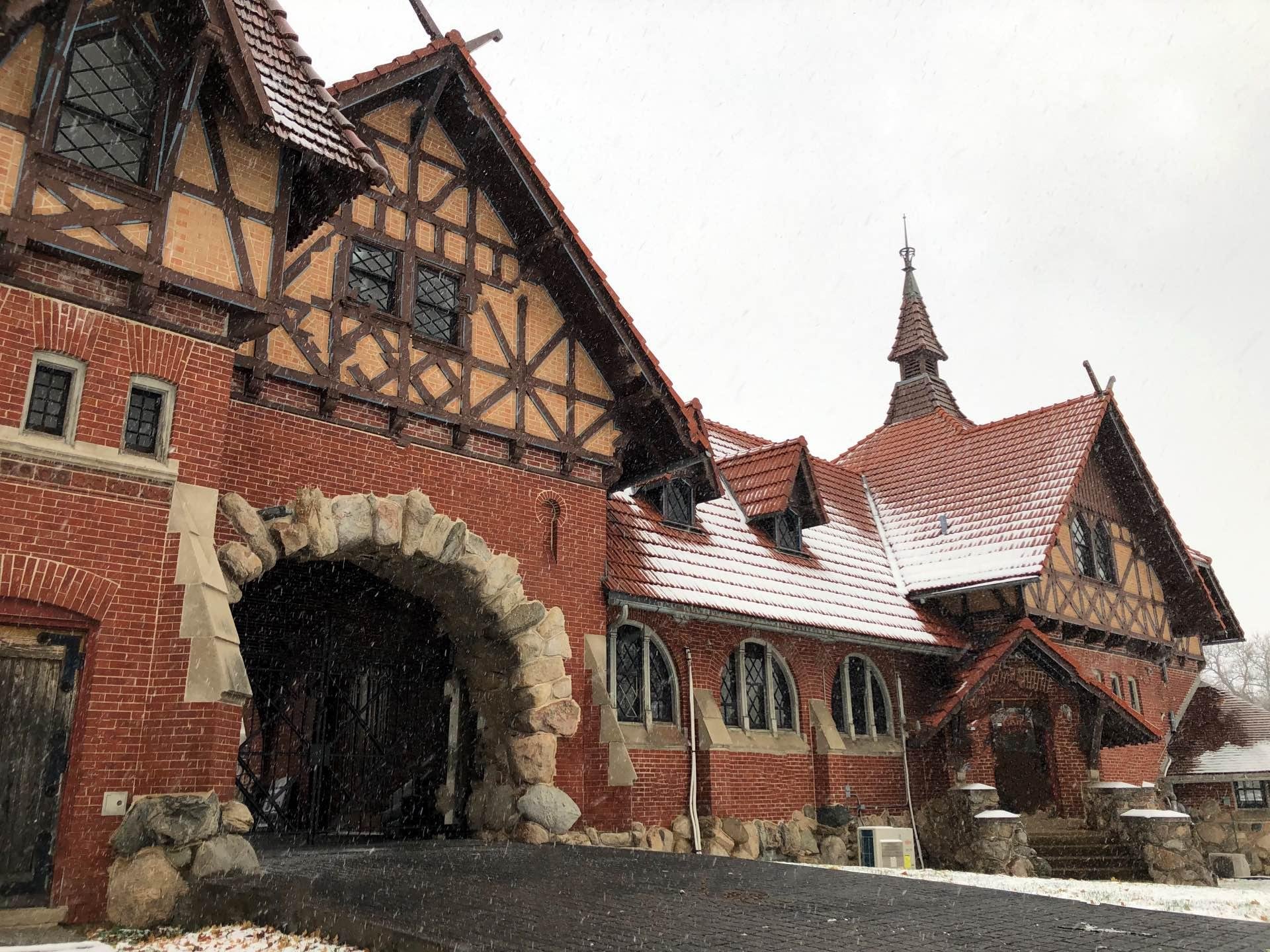 During a typical review process, the proposed archive facility would be expected to mimic or incorporate details of the landmarked Receptory Building and Stable, such as the stone, brick, tile and rooflines. (Patty Wetli / WTTW News)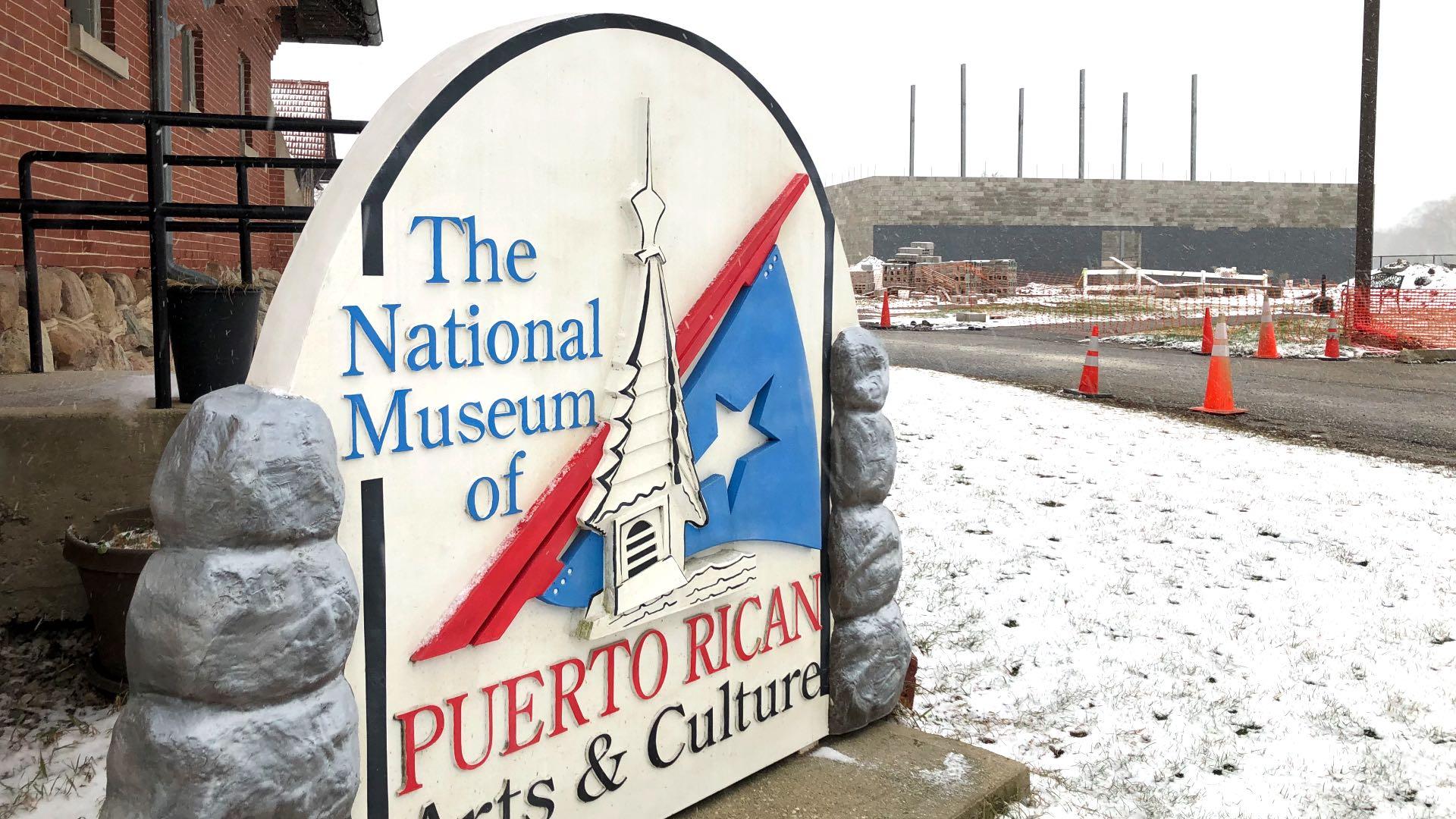 The National Museum of Puerto Rican Arts and Culture leases the Receptory Building and Stable in Humboldt Park for $1 per year. The archive facility seen in rear. (Patty Wetli / WTTW News)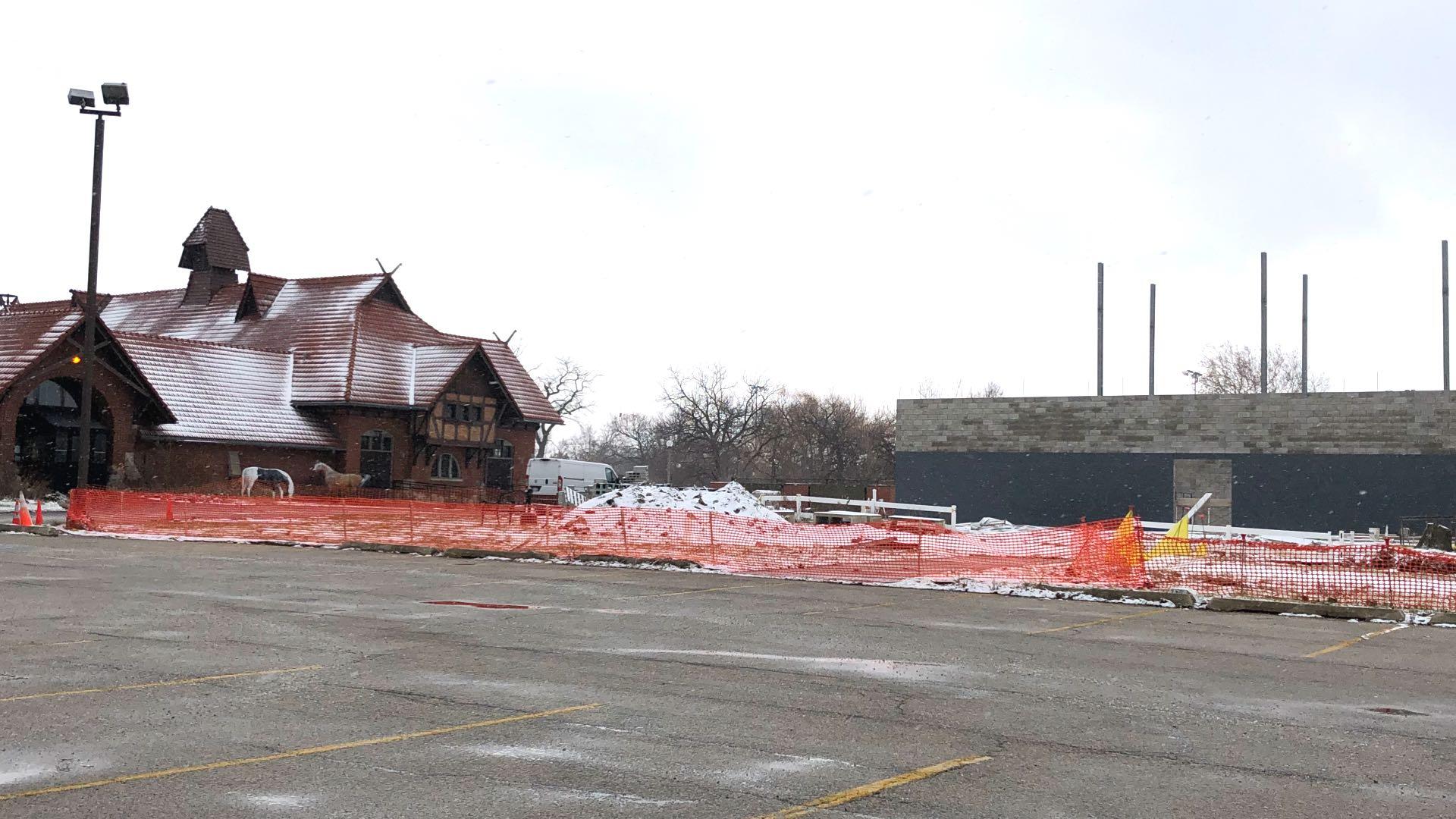 The landmarked Receptory Building and Stable, in relation to the archive facility. Critics argue the new building obscures views from the west and dominates the approach to the landmarked building from its parking lot. (Patty Wetli / WTTW News)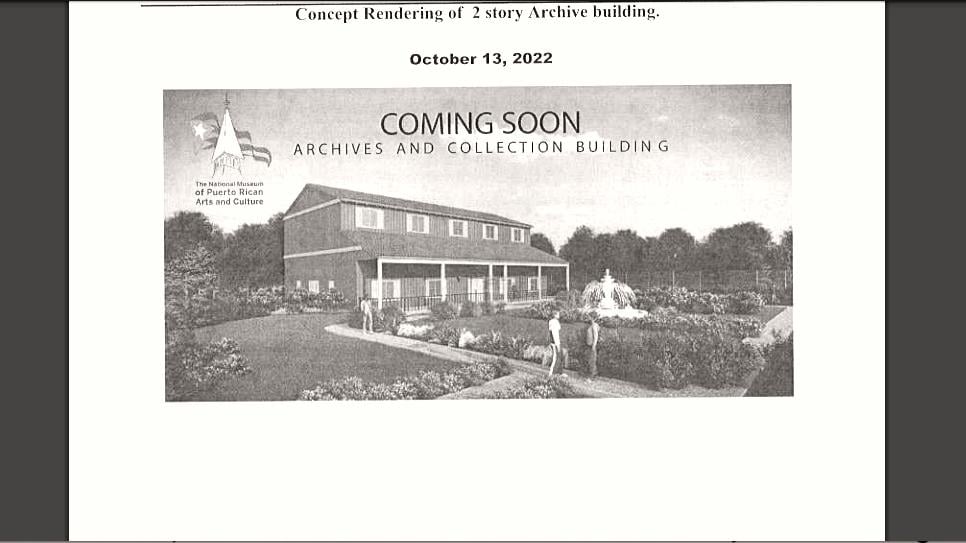 Rendering of proposed archive facility, provided in permit application. (Chicago Park District)
Contact Patty Wetli: @pattywetli | (773) 509-5623 |  [email protected]