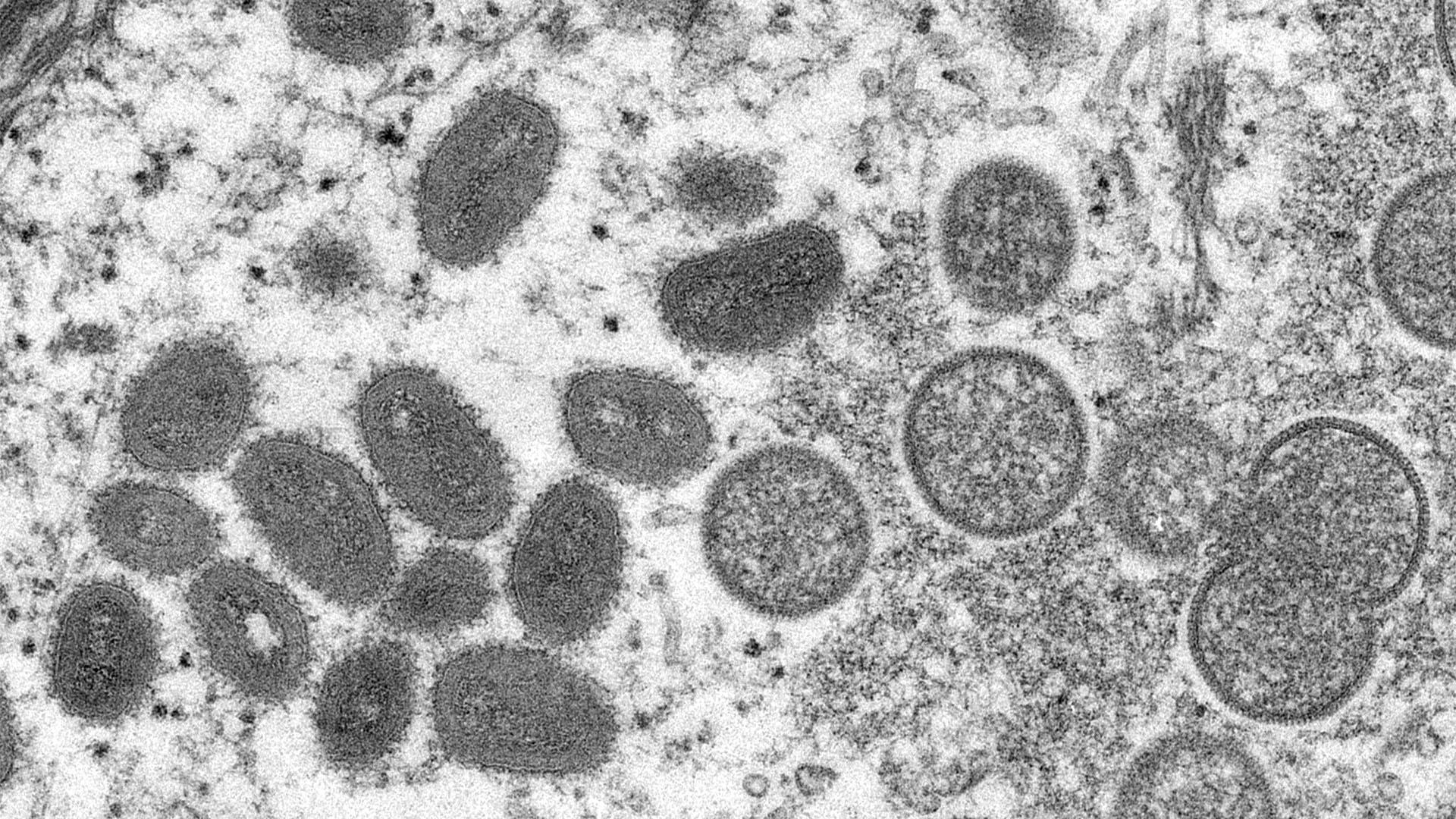 This electron microscope image shows mature, oval-shaped monkeypox virions, left, and spherical immature virions, right, from a human skin sample associated with a 2003 prairie dog outbreak. (Cynthia S. Goldsmith, Russell Regnery / CDC)
Nine cases of monkeypox have been detected in Chicago while one case has been identified in DuPage County, the Illinois Department of Public Health announced Thursday.
Earlier this week, the Chicago Department of Public Health announced it had confirmed seven cases of the virus in the city. The first probable case of the rare disease was discovered on June 3 in a man who recently returned to Chicago from Europe, according to state and city health officials.
Across the country, 84 cases have been reported in 19 states and Washington, D.C., with 16 cases reported in both California and New York and 10 in Illinois, according to the Centers for Disease Control and Prevention.
Most of the infected individuals have reported only mild symptoms, and none have died, health officials said. While the CDC is tracking multiple clusters of the virus, including cases among men who have sex with men, health officials say anyone can spread the virus.
Monkeypox, which originates in wild animals like rodents and primates, is spread to people via infected animals, with most cases occurring in central and west Africa. However, person-to-person transmission is possible through close physical contact with monkeypox sores, items that have been contaminated with fluids or sores or through respiratory droplets following prolonged face-to-face contact, officials said.
People initially develop flu-like symptoms, such as fever, muscle aches, swollen lymph nodes, chills and fatigue within two weeks of exposure. A rash that looks like pimples or blisters may develop within three days of symptom onset, according to officials, who say most infections last up to a month.
IDPH is working with federal and local health officials to investigate suspected cases of monkeypox in Illinois as well as health care providers to identify individuals who may have been in contact with patients while they were infectious.
While the threat to the general public remains low, CDC officials have released guidance on how to stay safe from the virus while attending festivals, parades or other summer events where close, personal, skin-to-skin contact is likely to occur.
Anyone who has symptoms or develops an unusual rash should not attend gatherings and see a doctor, who can test for monkeypox and provide treatment, including smallpox vaccines which are effective against monkeypox.
For more information about monkeypox cases in America, visit the CDC's website.
Heather Cherone contributed.
Contact Kristen Thometz: @kristenthometz | (773) 509-5452 |  [email protected]
---