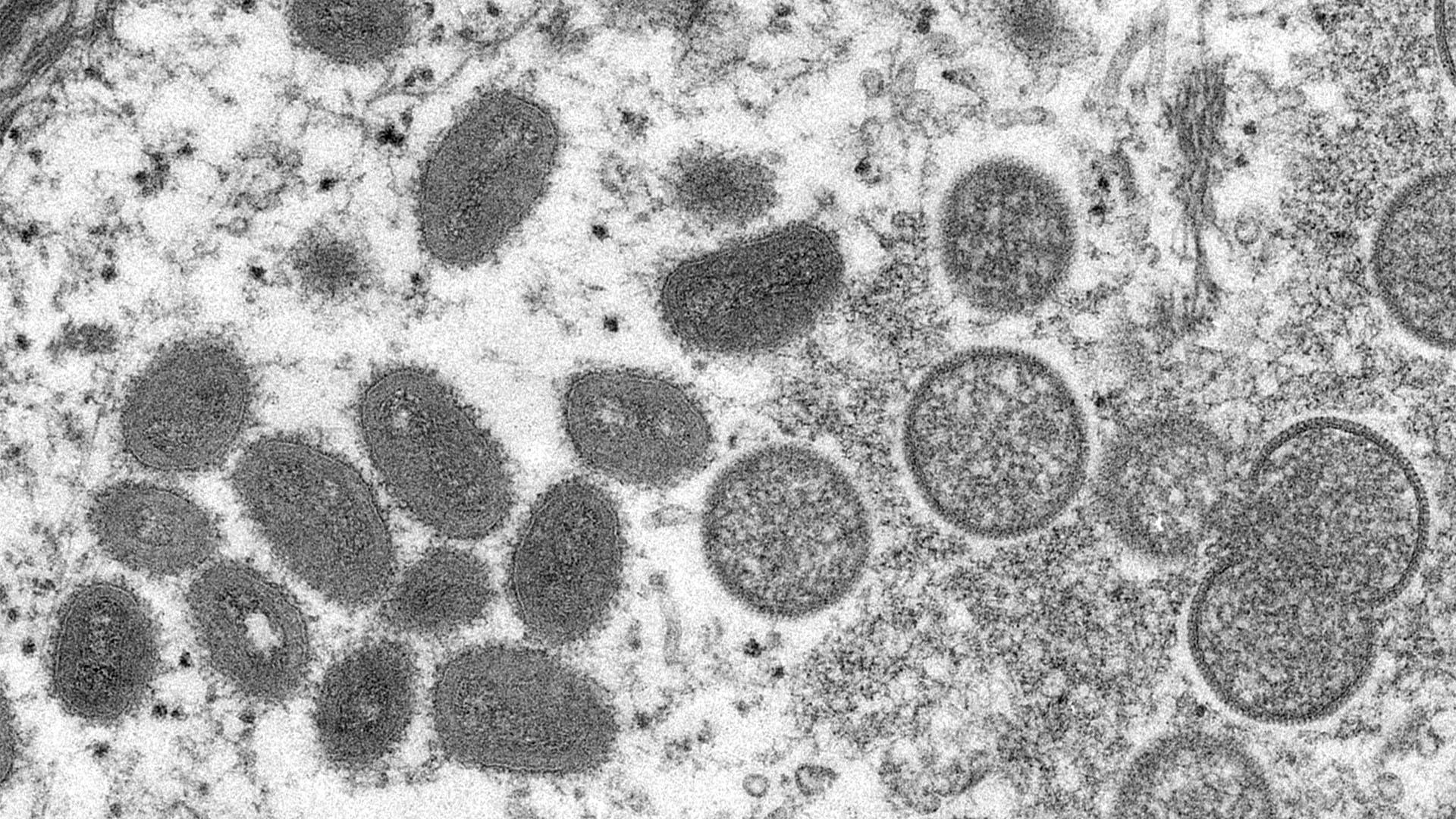 This electron microscope image shows mature, oval-shaped mpox virions, left, and spherical immature virions, right, from a human skin sample associated with a 2003 prairie dog outbreak. (Cynthia S. Goldsmith, Russell Regnery / CDC)
Mpox cases are once again rising in Chicago, health officials said Tuesday, urging those at highest risk to get vaccinated as soon as possible.
Officials with the Chicago Department of Public Health have documented 29 cases of the virus that can cause intensely painful lesions between April 22 and Tuesday, after recording just five cases between Jan. 1 and April 15, according to city data.
That represents the first significant increase in mpox, also known as monkeypox, cases since October. However, cases are nowhere near the level recorded in July, when Chicago was an epicenter in the nationwide outbreak of the virus. That outbreak receded following a massive public health and vaccination effort, after causing the death of three people and hospitalizing more than six dozen.
Dr. Allison Arwady, the commissioner of the Chicago Department of Public Health, said men who have sex with other men are at highest risk of contracting mpox, and should take extra precautions as they prepare to celebrate Pride month.
"We want to make sure we're raising awareness" about the uptick in cases, and the fact that a two-dose vaccine is available to fight monkeypox, Arwady said during an online question-and-answer session Tuesday. "It is really important to get that vaccine."
The vaccine is free and available from the Chicago Department of Health.
Arwady said she was especially concerned that Chicago has already seen an increase before the International Mr. Leather conference that takes place between May 25-29 and the annual Pride month celebration in June.
Conference organizers are encouraging attendees to be fully vaccinated, and city health officials will be on hand with information about mpox, said Antonio King, the LGBTQ outreach liaison for the city health department.
"We just want us to be protected, you guys," King said.
All of the recent cases of mpox have been diagnosed in men. Of those, 60% are White and the average age is 33, according to city data. Those who were vaccinated before contracting the virus have experienced "quite mild" symptoms, Arwady said.
The virus can be transmitted through close physical contact with sores, rashes, items that have been contaminated with fluids or through respiratory droplets following prolonged face-to-face contact, officials said.
Mpox belongs to the same virus family as smallpox and can cause fever, body aches, chills and fatigue. People with a serious mpox infection may develop a rash and lesions on the face and hands that can spread to other body parts.
Contact Heather Cherone: @HeatherCherone | (773) 569-1863 | [email protected]
---