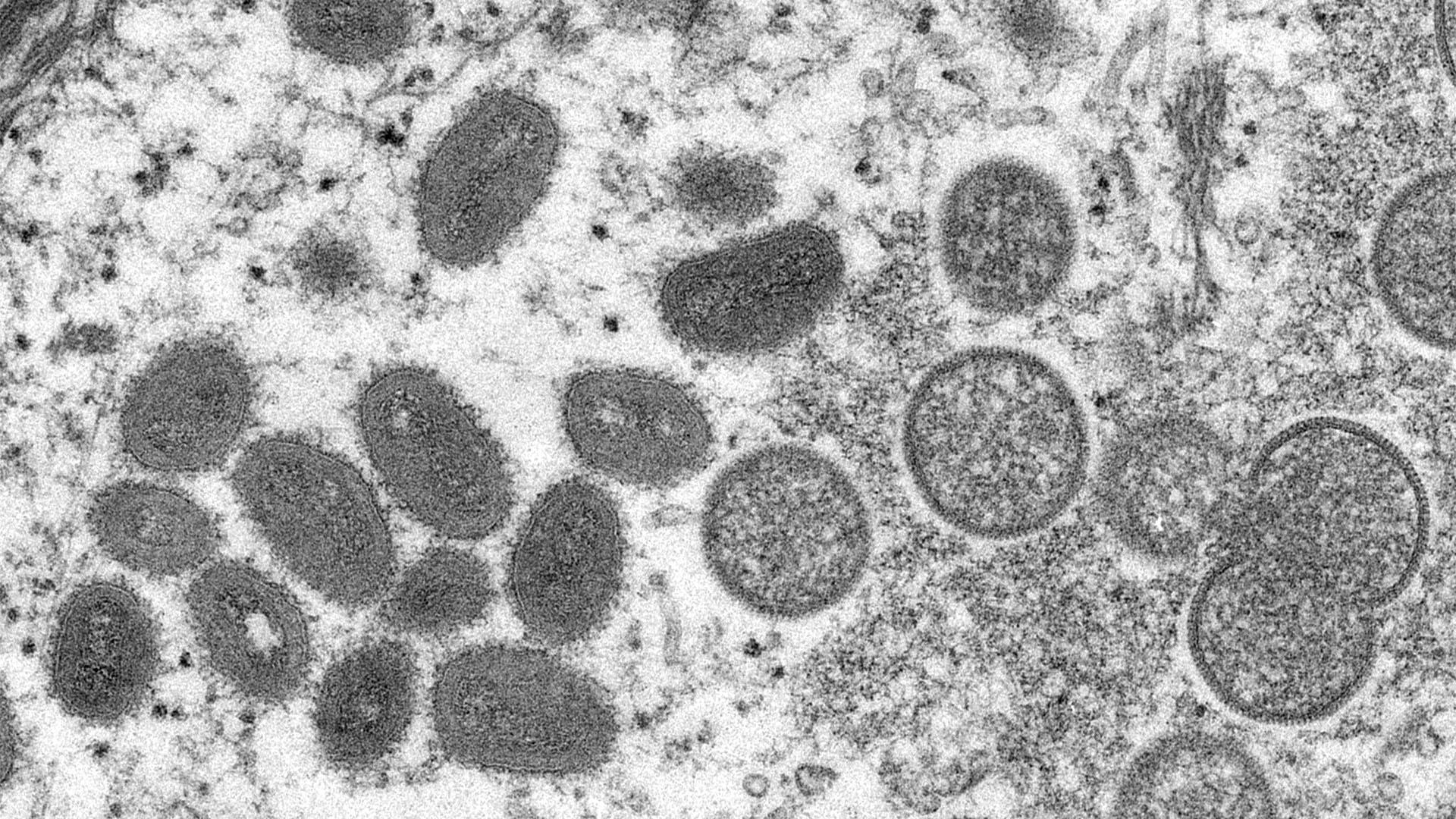 This electron microscope image shows mature, oval-shaped monkeypox virions, left, and spherical immature virions, right, from a human skin sample associated with a 2003 prairie dog outbreak. (Cynthia S. Goldsmith, Russell Regnery / CDC)
More monkeypox vaccine is headed to Chicago from the federal stockpile, and eligibility for who can obtain a shot is being expanded, city health officials announced Thursday.
According to the Chicago Department of Public Health, the city will receive up to 20,000 doses of the monkeypox vaccine from the Strategic National Stockpile. Distribution to clinics should take place next week.  
Eligibility now includes anyone in Chicago or Illinois who meets the criteria of: sexually active gay, bisexual or other (cis or trans) men who have sex with men, as well as anyone who has had close physical contact with someone diagnosed with monkeypox — regardless of sex, gender or sexual orientation. Students enrolled at Chicago colleges and universities are included among the eligible.
Access codes are no longer required to schedule an appointment.
The U.S. Food and Drug Administration has approved administration of the vaccine closer to the surface of the skin, which is purported to produce the same level of immunity while requiring a smaller dose. This will stretch the number of available vaccine doses, officials said.
The health department is encouraging people who have received their first of the two-dose regimen to schedule an appointment for a second dose at least 28 days after the original shot.
"We are pleased to be opening up larger clinics to serve even more Chicagoans, while still working to vaccinate those at highest risk to help stop the spread," said CDPH Medical Director Janna Kerins.
Here's where to obtain a vaccine:
— Center on Halsted, 3656 N. Halsted St.; offering 500 appointments Aug. 20, 9 a.m. to 2 p.m. at the CDPH MPV Vaccination Clinic. Registration is required (click here). 
— Lakeview STI Specialty Clinic, 2849 N. Clark St., 1st Floor
— Austin STI Specialty Clinic, 4909 W. Division St., Suite 411
— Roseland STI Specialty Clinic, 200 E. 115th St., 1.5 Floor
More resources and information are available on the health department's monkeypox web page.
Monkeypox spreads through close, intimate contact. Symptoms include a rash or sores that can look like pimples or blisters, as well as fever, swollen glands or lymph nodes, headache and fatigue. Anyone who's had or is currently experiencing symptoms that match the description should see a healthcare provider.
Chicago has recorded 707 cases of diagnosed monkeypox, with 41 individuals hospitalized. Men account for 91% of the cases; 75% of the cases have bee diagnosed in men ages 25 to 44, according to health department data.
---
Contact Patty Wetli: @pattywetli | (773) 509-5623 |  [email protected]