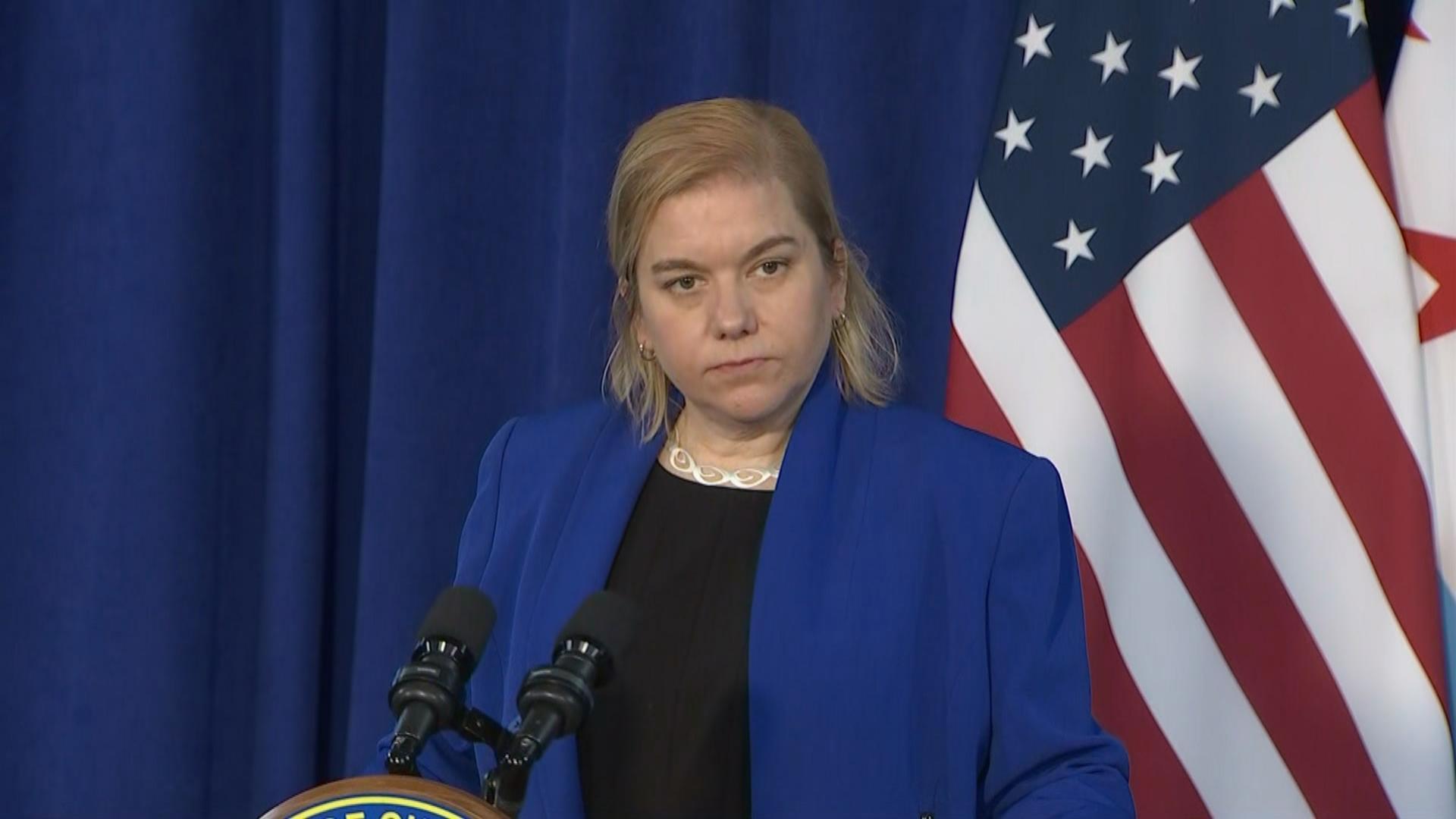 Chicago Department of Public Health Commissioner Dr. Allison Arwady speaks Thursday, May 26, 2022. (WTTW News)
Seven confirmed cases of monkeypox have been detected in Chicago, city health officials announced Monday. 
The first probable case of the rare disease was discovered on June 3 in a man who recently returned to Chicago from Europe, according to a statement from the Illinois Department of Public Health and the Chicago Department of Public Health.
Some of the recently diagnosed cases involved people who traveled to Europe, officials said. One Chicago resident diagnosed with monkeypox attended the International Mr. Leather conference in Chicago between May 26 and May 30. Residents from another state diagnosed with monkeypox also attended the conference, health officials said. The conference took place at the Congress Hotel and Convention Center and the Arie Crown Theater at McCormick Place, according to its website.
"While the risk in Chicago remains low, CDPH wants the public to be able to make informed choices about gathering in spaces or participating in events where monkeypox could be spread through close or intimate contact," said Dr. Allison Arwady, the commissioner of the Chicago Department of Public Health.
Forty-nine confirmed monkeypox cases have been reported in 16 states and Washington, D.C. Most of the infected individuals have reported only mild symptoms, and none have died, health officials said.
The virus, which originates in wild animals like rodents and primates, is spread to people via infected animals, with most cases occurring in central and west Africa. However, person-to-person transmission is possible through close physical contact with monkeypox sores, items that have been contaminated with fluids or sores or through respiratory droplets following prolonged face-to-face contact, officials said.
Early data from the outbreak that appears to have begun in Europe before it spread to Canada and the United States suggest that gay, bisexual, and other men who have sex with men make up a high number of initial cases, officials said.
"It is important to note that the risk of monkeypox is not limited to (men who have sex with men) and not all Chicago cases have been among men," Chicago health officials said. "Anyone who has close contact with someone who is infectious is at risk."
Monkeypox belongs to the same virus family as smallpox and can cause fever, body aches, chills and fatigue. People with a serious monkeypox infection may develop a rash and lesions on the face and hands that can spread to other body parts.
"Individuals attending festivals or other summer events should consider how much close, personal, skin-to-skin contact is likely to occur at the events they plan to attend," according to a statement from Chicago health officials.
Anyone who has symptoms or develops an unusual rash should see a doctor, who can test for monkeypox and provide treatment, including smallpox vaccines which are effective against monkeypox, officials said.
Contact Heather Cherone: @HeatherCherone | (773) 569-1863 | [email protected]
---