Video: Chicago becomes the first major city to fire up electronic voting in City Council, our Spotlight Politics team has that and more. (Produced by Acacia Hernandez)
---
The Chicago City Council vaulted into the 21st century Wednesday, trading in its yellow vote tally sheets for a cloud-based voting system that worked mostly as advertised.
The brand-new system implemented by City Clerk Anna Valencia survived a series of roll call votes amid a pointed debate over Mayor Lori Lightfoot's bid to create a so-called "super committee" to consider her pick for where a Chicago casino should be located, and who should run the gambling and entertainment palace.
"Ladies and gentlemen, we're about to make history here," Lightfoot said, just before the first electronic vote.
Most alderpeople were able to vote easily, but a team from the city clerk's office stood ready to help those who struggled to find the right button, or to connect to the network, which several alderpeople said was a challenge.
After the City Council meeting, Lightfoot said she thought alderpeople liked seeing their names light up in green or red on the newly installed digital voting screens in the Council Chambers.
The electronic voting system was the first glimpse of the $3.5 million modernization effort that began in 2017. The electronic voting system cost $500,000, officials said.
"Change is not always easy," said Valencia, who is running for the Democratic nomination in the race to replace retiring Secretary of State Jesse White. She faces former state Treasurer Alexi Giannoulias and Ald. David Moore (17th Ward) in the June primary.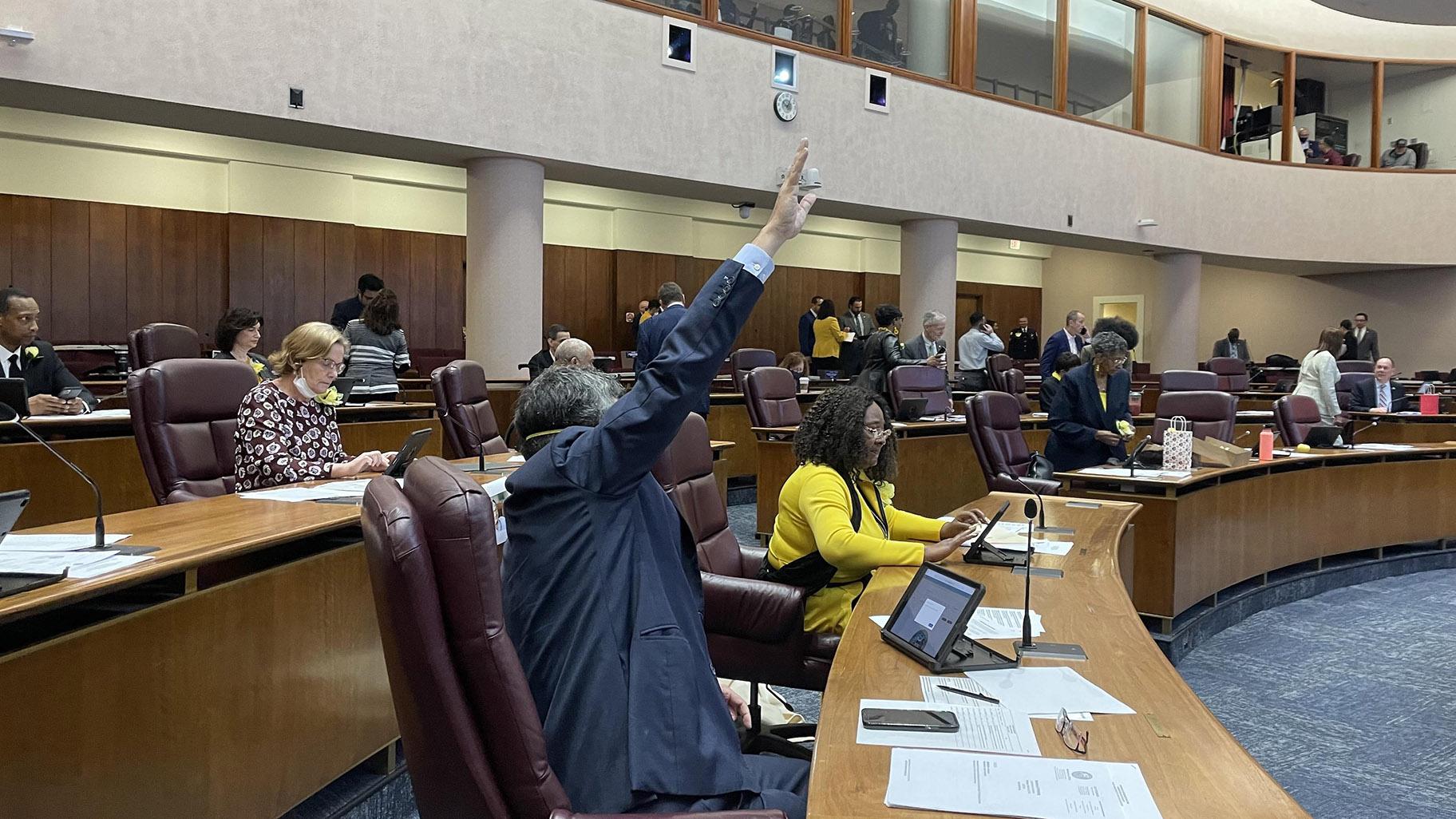 Ald. Brian Hopkins raises his hand to summon help with the electronic voting system. (Heather Cherone / WTTW News)
The casino super committee made up of all committee chairs and vice-chairs as well as President Pro Temp Ald. Brendan Reilly (42nd Ward) will be convened. That committee will be led by Ald. Tom Tunney (44th Ward) while Ald. Jason Ervin (28th Ward) will serve as the vice chair.
Tunney is the head of the Zoning Committee and Ervin leads the Contracting Oversight and Equity Commission, in addition to leading the City Council's Black Caucus.
That committee will examine all zoning, licensing, public health, traffic and financial issues connected to the casino, giving it an immense amount of power over the proposal's fate.
After the meeting, Lightfoot said the plan would streamline the consideration of the casino proposal.
"If we broke it up into little parts, it would go to four or five different committees," Lightfoot said. "And rather than do that, let's have a committee that's larger, composed of chairs and vice chairs, and people can weigh in, in one fell swoop."
An effort led by Ald. Raymond Lopez (15th Ward) that would have made all 49 alderpeople members of that special committee failed, with just 12 alderpeople supporting that push that was unveiled less than 24 hours before the vote.
"This is not bringing in the light," said Ald. Carlos Ramirez-Rosa (35th Ward), using Lightfoot's 2019 campaign slogan to throw shade at the mayor. "This is not transparency. This is not good government."
Tunney said he would run the new casino super committee in a "fair and democratic" manner, and allow all alderpeople to participate.
The casino finalists are:
●      The $1.62 billion proposal from Rush Street Gaming, led by Chicago billionaire and Rivers Casino Des Plaines operator Neil Bluhm. Plans call for a casino and resort to be built on vacant land between the South Loop and Chinatown along the Chicago River on land set to be redeveloped by Related Midwest into a new development known as The 78.
●      The $1.74 billion proposal from Bally's to build the casino and resort on what is now the Chicago Tribune printing plant and newsroom near Chicago Avenue and Halsted Street.
●      The $1.74 billion proposal from Hard Rock to build the casino and resort as part of the proposed One Central development, across DuSable Lake Shore Drive from Soldier Field.
Lightfoot does not expect to pick one of the three finalists and ask the Chicago City Council to ratify her decision until early summer, a significant delay since the fall, when the mayor's office unveiled the five bids for the Chicago casino. In December, Lightfoot said she expected to make a decision in early 2022.
In other action, the City Council approved a series of measures:
●      That will require property owners and developers who want to demolish existing buildings in Pilsen and near the 606 Bloomingdale Trail to pay a fee of up to $15,000 for two additional years.
●      To pay $450,000 to the family of a man who was struck and killed by a speeding, unmarked police vehicle in 2017.
●      An agreement to sell more than 200 acres of city of Chicago land to the Illinois Tollway to create a way to get to O'Hare Airport from the western suburbs.
●      A ban on people convicted of committing a hate crime, sedition or treason from doing business with the city of Chicago.
●      A measure that permanently bans city investments in oil and gas companies.
Contact Heather Cherone: @HeatherCherone | (773) 569-1863 | [email protected]
---