A new study has found that Black patients often have a different medical experience than White patients due to discrimination and inequities in health care settings.  
The survey from health news site Verywell Health reports 32% of Black Americans say they've experienced racism while dealing with the health care system, and 59% say racism caused them to stop or interrupt their treatment, whether that meant changing health care providers, not making a follow-up appointment or delaying making a health decision.
Dr. Jessica Shepherd, Verywell Health's chief medical officer and former director of minimally invasive gynecology at the University of Illinois Chicago, said the survey was intended to focus on the health care experience of Black patients.
"Now, we have a lot of data that shows where those discrepancies and where those health care disparities are, but we haven't really had good data on why that experience is within the Black community and that's what we were able to do with this Black health experience survey," Shepherd said.
Nonprofit organization West Side United is focused on reducing the life expectancy gap between downtown and the West Side of Chicago, and that includes addressing health needs.
"We look directly at maternal child health disparity, where our East Garfield Park community has the highest disparity and we look at hypertension management," said Ayesha Jaco, executive director of West Side United. "So it's really around coordinating care across our six healthcare partners, making sure we standardize care so that no matter if you're a Black woman from Oak Park or the West Side of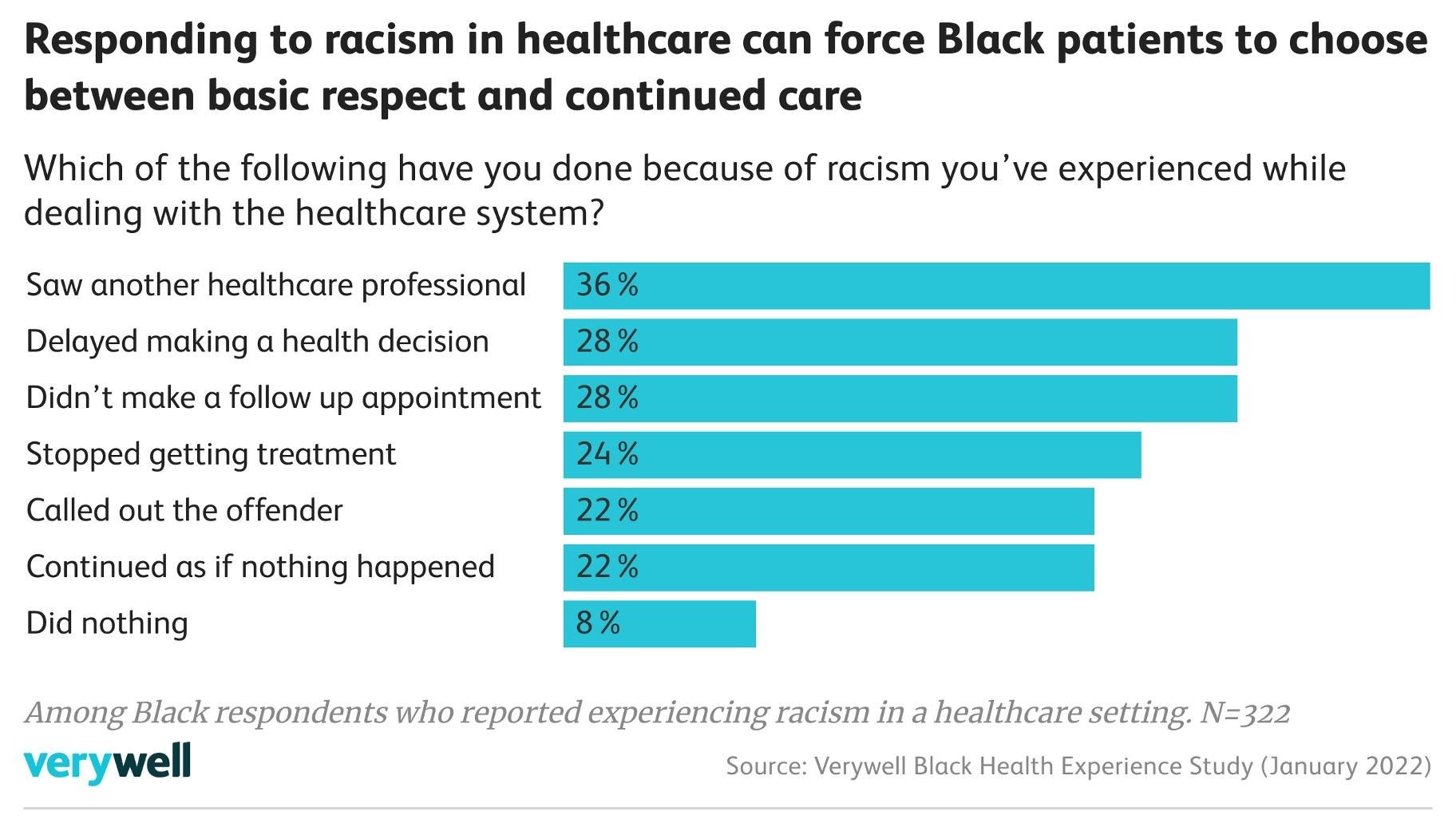 A new study from Very Well Health has found that Black patients often have a different medical experience than White patients due to discrimination and inequities in health care settings. (Very Well Health) Chicago, you go in and you get the same level of care."
According to the Black Health Experience Survey by Verywell Health, 36% of Black patients said racism caused them to change health care providers, 28% said it caused them to delay making a health decision, 28% said they didn't make a follow-up appointment, and 24% said they stopped getting treatment altogether. 
"Disparities in health outcomes are obviously going to be multifactorial, but when we actually look at those numbers, in looking at the experiences, this has a direct correlation with example, hypertension," Shepherd said. "What does that look like from a treatment perspective and when we're seeing that 24% will stop treatment or 36% will switch their health care provider, which might create a gap in their actual management plan and then 28% not following up with their appointment, that's going to lead to some stops in the care that they're being given, and also what is that management plan and how is it going to carry out in order to have better outcomes of health? So, yes, this is directly correlated with what we're seeing with chronic illnesses."
Jaco says the solution to reducing the health gap and disparities in health outcomes is getting the community involved.
"It's really around starting where people are most impacted so that we don't come in with something that people are not going to respond to," Jaco said. 
Shepherd said representation and having more health care providers of color is also a way to bridge the gap and build trust between providers and their patients.
---