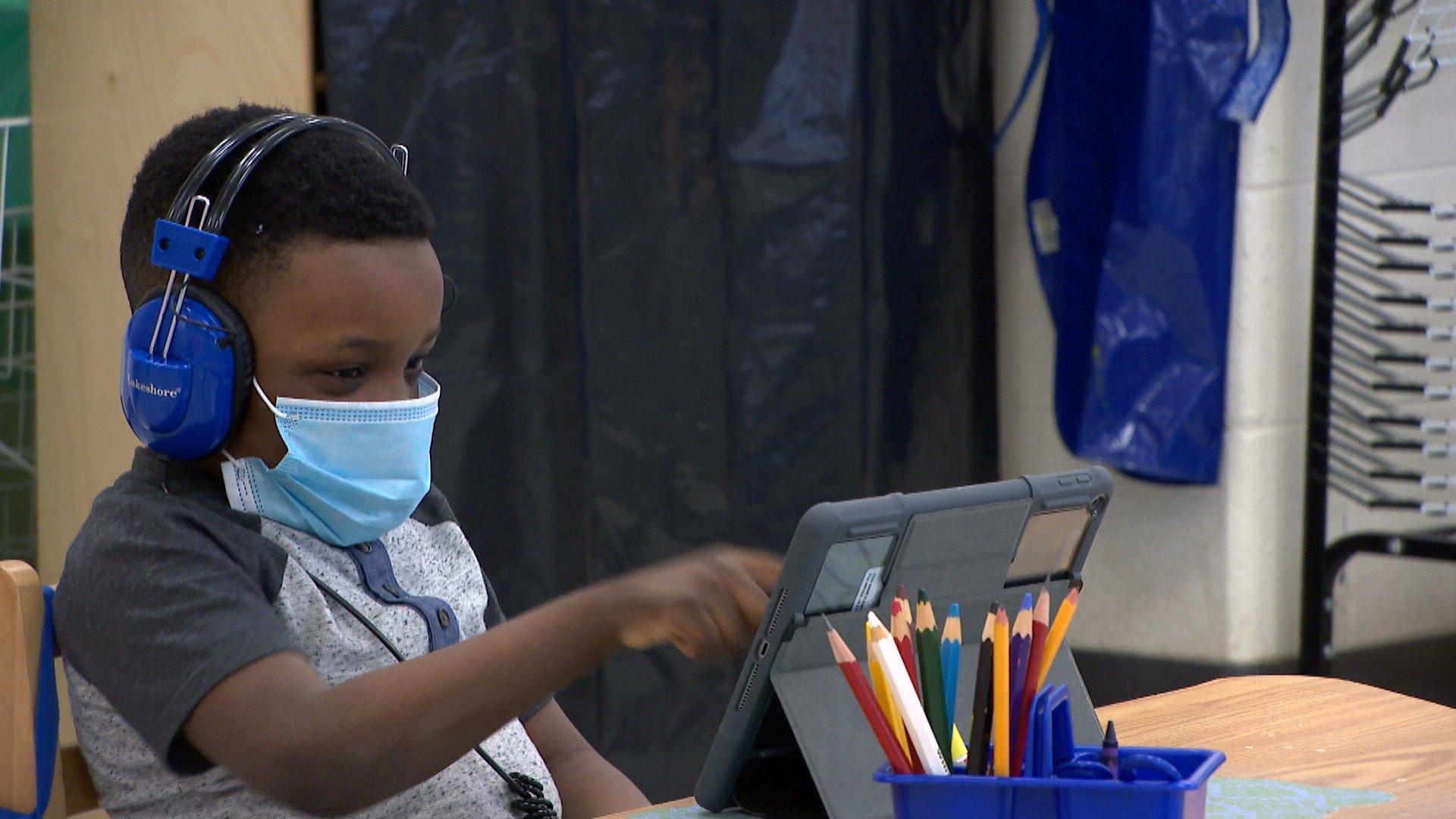 (WTTW News) The seeds of the dispute that would eventually grow into the impasse that shuttered Chicago Public Schools for five days amid a surge of COVID-19 cases were sown even before students returned to class Aug. 30.
Mayor Lori Lightfoot and Dr. Allison Arwady assured parents their students would be safe going back to school this year without capacity limits for the first time since the start of the COVID-19 pandemic, even as the delta variant prompted state and city officials to reimpose mask mandates amid a significant increase in cases.
But Chicago Teachers Union leaders spoke out, and urged Lightfoot to consent to an agreement like the one the two sides negotiated in February 2021 after teachers refused to teach in person, demanding more protections from the virus.
But Lightfoot refused, saying in the weeks leading up to the first day that schools were safe for students and promising that they were committed to testing 100% of students and staff each week to ensure embers that could cause outbreaks could be stamped out before they would catch fire.
But the district's testing program immediately came under fire from union leaders, teachers and parents, and Lightfoot told WTTW News she was "disappointed" by the program's slow roll out and said there "should have been a much more robust plan and infrastructure in place."
Lightfoot charged Arwady with revamping the testing program and promised new schools CEO Pedro Martinez would make improvements. But the district never tested more than 30,000 students in any given week — far short of what district officials promised and what outside health experts said was necessary. 
Then in November, Arwady told reporters that it was sufficient to test just 10% of students every week for COVID-19. That outraged Chicago Teachers Union Vice President Stacy Davis Gates, who said on Twitter that the reversal was more evidence of the Lightfoot administration's incompetence.
That uneasy state of affairs persisted for several months, even after the mother of a student who was exposed to COVID-19 at a West Side elementary school died of the virus in September and a classroom aide died of COVID-19 in December. After both deaths, union leaders called for additional testing, vaccine supply and more protections, only to be blasted by Lightfoot for using both deaths as "an opportunity to score political points."
But the arrival of the omicron variant of COVID-19, which triggered a massive surge of cases and hospitalizations, upended that truce, especially after the district's efforts to test 150,000 students with at-home tests before returning from winter break turned into a fiasco. Only a small fraction of tests resulted in reliable results, as kits piled up outside FedEx drop boxes or languished unused prompting outrage and frustration.
At the same time, confirmed cases of COVID-19 in Chicago began to soar in the days before Christmas, and it became almost impossible to find a test — of any kind — for COVID-19, ratcheting up concerns that sick Chicagoans could completely overwhelm the city's hospitals once students went back to school. 
Even as Lightfoot insisted that schools remained safe, members of the Chicago Teachers Union voted Jan. 4 to only work remotely. That vote prompted Lightfoot to shut down Chicago's schools entirely.
After that vote, Arwady acknowledged that the amount of testing conducted by the district was insufficient and said she agreed with union leaders that improvements needed to be made. However, that push was complicated by the nationwide shortage of tests, prompting Arwady to promise to redouble her efforts to obtain tests.
Initially, union leaders demanded that students be tested before returning to in-person classes and said district officials should test all students for COVID-19 unless parents withheld their permission. 
That brought a furious response from Lightfoot, who called the nasal swabs used to test for COVID-19 a "quasi-medical procedure" and called it "morally repugnant" to test children without explicit permission from their parents or guardians.
After three days of no school for nearly 330,000 students, union leaders dropped both demands and proposed that the district test 10% of randomly selected students each week to gauge the spread of COVID-19 within schools. 
That proposal made it into the final agreement that returned students to in-person learning Wednesday morning. Students would also be allowed to opt out of taking those tests.
However, it was not clear Tuesday afternoon exactly how Chicago Public Schools officials would expand testing, given the nationwide shortage of supplies and limited lab capacity. 
A schools spokesperson did not respond to questions from WTTW News about the announcement on Saturday by Gov. JB Pritzker that he had arranged for Abbott Laboratories and the University of Illinois SHIELD testing program to provide 350,000 tests to Chicago schools. Lightfoot welcomed that announcement, but said Chicago would be purchasing those tests.
Chicago received $81 million in federal funds to pay for school-based testing programs, but it is not clear how much the additional tests would cost, where they would be deployed and when.
The agreement negotiated by district officials and union leaders calls for them to work together to "increase student participation in screening testing and student vaccination with the goal of achieving 100% participation by Feb. 1."
Teachers who volunteer to call parents as part of phone banking efforts will be paid for their time, additional tests will be sent to schools where confirmed cases are rising and students who are removed from class with potential COVID-19 symptoms will be tested, according to the tentative agreement.
At schools that meet the new standard to switch to remote learning, all staff and students, even if they are not experiencing symptoms, will be offered a test within the first five calendar days after the switch, according to the agreement.
Even as students and teachers returned to school, union members were voting on whether to ratify the deal, which would last until August. Union President Jesse Sharkey said it was not a perfect agreement, but one that would allow union members to "hold our heads up about."
But the deal's ability to lessen the enmity between Lightfoot and union leaders is not off to a promising start, with Vice President Stacy Davis Gates calling Lightfoot "unfit to lead this city."
Contact Heather Cherone: @HeatherCherone | (773) 569-1863 | [email protected]
---