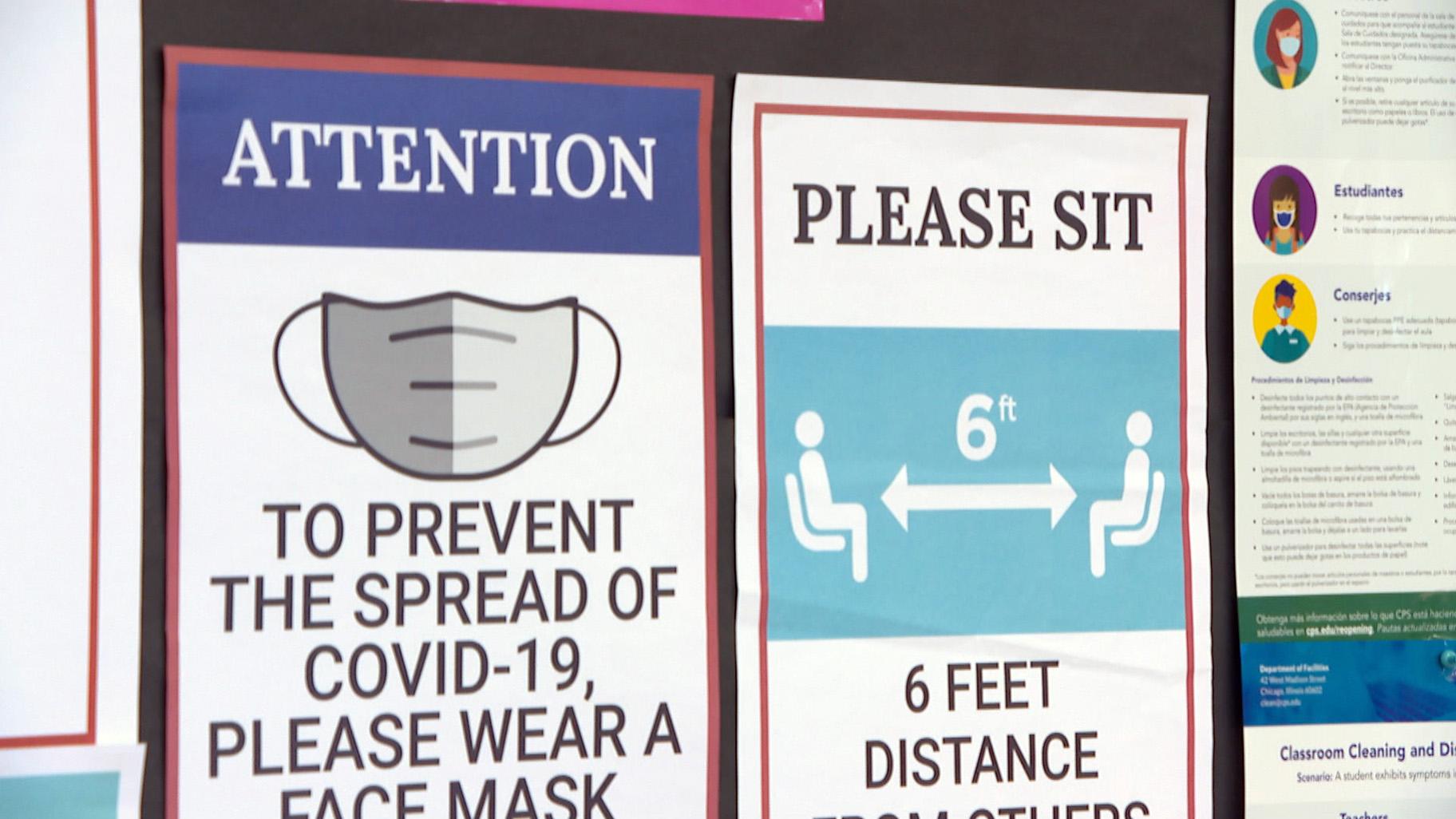 (WTTW News)
Classes are canceled Wednesday for Chicago Public Schools students after teachers approved a labor action to work remotely due to safety concerns as COVID-19 and its omicron variant surge in the city and beyond.
The Chicago Teachers Union announced late Tuesday that its rank-and-file members voted in favor of a measure to halt in-person work and transition to remote work Wednesday as it continues negotiating a deal with the city and school district over additional health and safety measures.
Per the union, 73% of members voted in favor of the remote-work-only job action.
In announcing the results, the CTU said its action will end "when one of the following conditions is met: The current surge in cases substantially subsides, or the mayor's team at CPS signs an agreement establishing conditions for return that are voted on and approved by the CTU House of Delegates."
"This decision was made with a heavy heart and a singular focus on student and community safety," the union said in a statement. "Let us be clear. The educators of this city want to be in their classrooms with their students. We believe that our city's classrooms are where our students should be. Regrettably, the Mayor and her CPS leadership have put the safety and vibrancy of our students and their educators in jeopardy."
CPS CEO Pedro Martinez said earlier on Tuesday that if the CTU went ahead with its labor action, he'd have no choice but to cancel classes.
Remote learning will not be held Wednesday and all after-school activities and athletics will also be canceled. The school district will unveil a more comprehensive plan for students and their families in the event the CTU action lasts beyond Wednesday.
Despite the vote, Mayor Lori Lightfoot still expects teachers to show up for in-person work Wednesday, while those who don't will be placed into a no-pay status. She repeated throughout the day Tuesday that there is no public health reason to close schools, even as Chicago is seeing its highest rate of new daily COVID-19 cases since the start of the pandemic.
"There is no basis in the data, the science or common sense for us to shut an entire system down when we can surgically do this at a school level," Lightfoot said at a press conference Tuesday evening.
The CTU has asked the district to increase regular testing, provide masks to all students and staff, provide a "major increase" in vaccinations at schools and require those who've had COVID-19 to get a negative test before returning to school.
The union also sought a two-week operational pause until after Martin Luther King Day, but said that proposal has been rejected.
Martinez unveiled a new offer to the union Tuesday afternoon that would set rules for each school to transition to remote learning based on the number of teachers and students out sick with COVID-19. That proposal also offers increased contact tracing capability, approximately 200,000 KN95 masks for staff and reinstituting health screeners and temperature checks at schools.
Despite the omicron surge, both Martinez and Chicago Department of Public Health Commissioner Dr. Allison Arwady said Tuesday it remains safe for Chicago students to attend classes in person because students are required to wear masks, vaccines are widely available for students older than 5 as well as teachers and staff members and kept apart where possible.
"There is no evidence that our schools are unsafe," Martinez said.
The mayor on Tuesday referred to the labor action as an "illegal work stoppage." Both she and Martinez decried the lack of trust between the union and the city, and claimed CTU leadership has "moved the goalposts" during negotiations.
Union leaders, meanwhile, have insisted the city has dragged its feet in getting an agreement done.
Lightfoot said Tuesday felt like Groundhog Day after similar late-night, last-minute negotiations with the CTU as the district began bringing back students and staff for in-person learning early last year.
City and district leaders have repeatedly said schools should remain open because remote learning did not work for most students and hurt many students' mental health.
"The expectation is that every single member of the school community will show up tomorrow and report for duty because that's what their obligation is to our parents and our students," she said. "I'm urging teachers: Come to schools, teach your kids. Your students need you."
Heather Cherone contributed to this report.
Contact Matt Masterson: @ByMattMasterson | [email protected] | (773) 509-5431
---