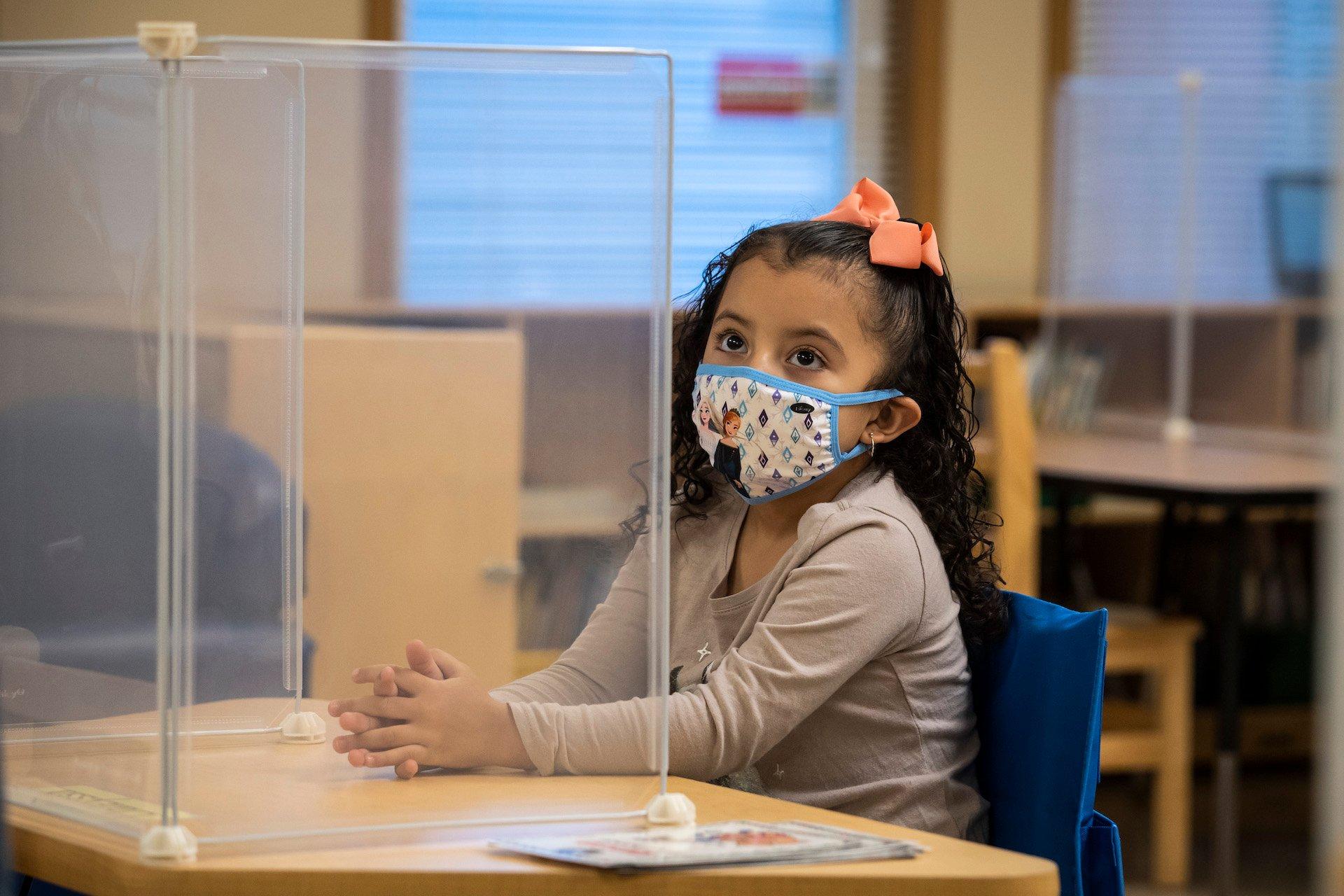 A preschool student listens as her teacher talks during class at Dawes Elementary School at 3810 W. 81st Place on the Southwest Side, Monday morning, Jan. 11, 2021. (Ashlee Rezin Garcia / Chicago Sun-Times / Pool)
The Chicago Teachers Union's governing body voted Monday night to ask its members to approve a deal that would allow in-person learning to resume at Chicago Public Schools for the first time since the coronavirus pandemic forced schools to close in March 2020 — and avert the second strike in 15 months.
While Mayor Lori Lightfoot announced just before noon on Sunday that there was a tentative agreement to resolve the monthslong dispute, union officials did not take the first step toward ratifying the deal until about 8 p.m. Monday with support of approximately 85% of the union's 620 delegates, sources said.
The vote of the union's 25,000 members will take until midnight Tuesday, with the vote announced on Wednesday. . A vote to ratify the deal would greenlight the return of approximately 70,000 preschool and elementary school students who have told district officials they want to return to classrooms for two or three days a week.
However, rank-and-file members could reject the deal, sending the two sides back to the bargaining table.
In a separate motion, 90% of delegates voted to adopt a measure of no confidence in Lightfoot and the leadership of Chicago Public Schools.
"Delegates' vote of no confidence tonight reflects their disgust that it has taken almost a year of effort just to extract the most basic enforceable safety guarantees from a school district with a dismal record of broken promises," according to a statement from the union.  
Until the breakthrough announced on Sunday, negotiations had been deadlocked since elementary teachers refused to report to schools Jan. 25.
The framework's timeline calls for students in preschool and special education classes to return to classes Thursday, with kindergarten through fifth grade teachers and staff set to return on Feb. 22 followed by their students on March 1.
Sixth through eighth grade teachers and staff would return March 1 followed by students on March 8, according to the framework.
The framework also revises the metrics that would require a return to full remote learning citywide, for individual schools and specific classes.
In-person learning would be suspended for 14 days if the city's COVID-19 test positivity rate, based on a seven-day rolling average, increases for seven consecutive days, if the rate for each of the seven consecutive days is at least 15% higher than the rate one week prior and if the rate on the seventh day is 10% or greater, according to the framework.
That is in line with demands made by union negotiators, while city officials pushed to have just school-specific metrics in place. Individual classes will return to remote learning with one or more positive cases, while schools will return to remote learning with three or more confirmed cases at a school within a 14-day period, according to the framework.
The two sides were also split on how quickly to vaccinate teachers and staff members. The framework's staggered approach to resuming in-person learning is designed to offer the vaccine to teachers before they return to their classrooms, meeting a key union demand, officials said.
The Chicago Department of Public Health agreed to provide at least 1,500 vaccine doses per week to school employees. Those who live or work in 15 Chicago neighborhoods considered by the city to be hardest hit by the pandemic will be prioritized for the vaccine, according to the framework.
In addition, union members at the highest risk of severe COVID-19 infections because of their age, race or ethnicity — as well as those who agree to return to classrooms — will be prioritized, according to the framework.
Doses of the vaccine will also be reserved for teachers and staff who live with people at a severe risk of COVID-19 and "grant telework accommodations to the extent operationally feasible," according to the framework. That was also a key demand by union negotiators.
Agreements are also in place on safety protocols, ventilation, testing for COVID-19, contact tracing and a joint safety committee.
Note: This story was originally published Feb. 8, 2021. It has been updated.
Contact Heather Cherone: @HeatherCherone | (773) 569-1863 | [email protected]
---