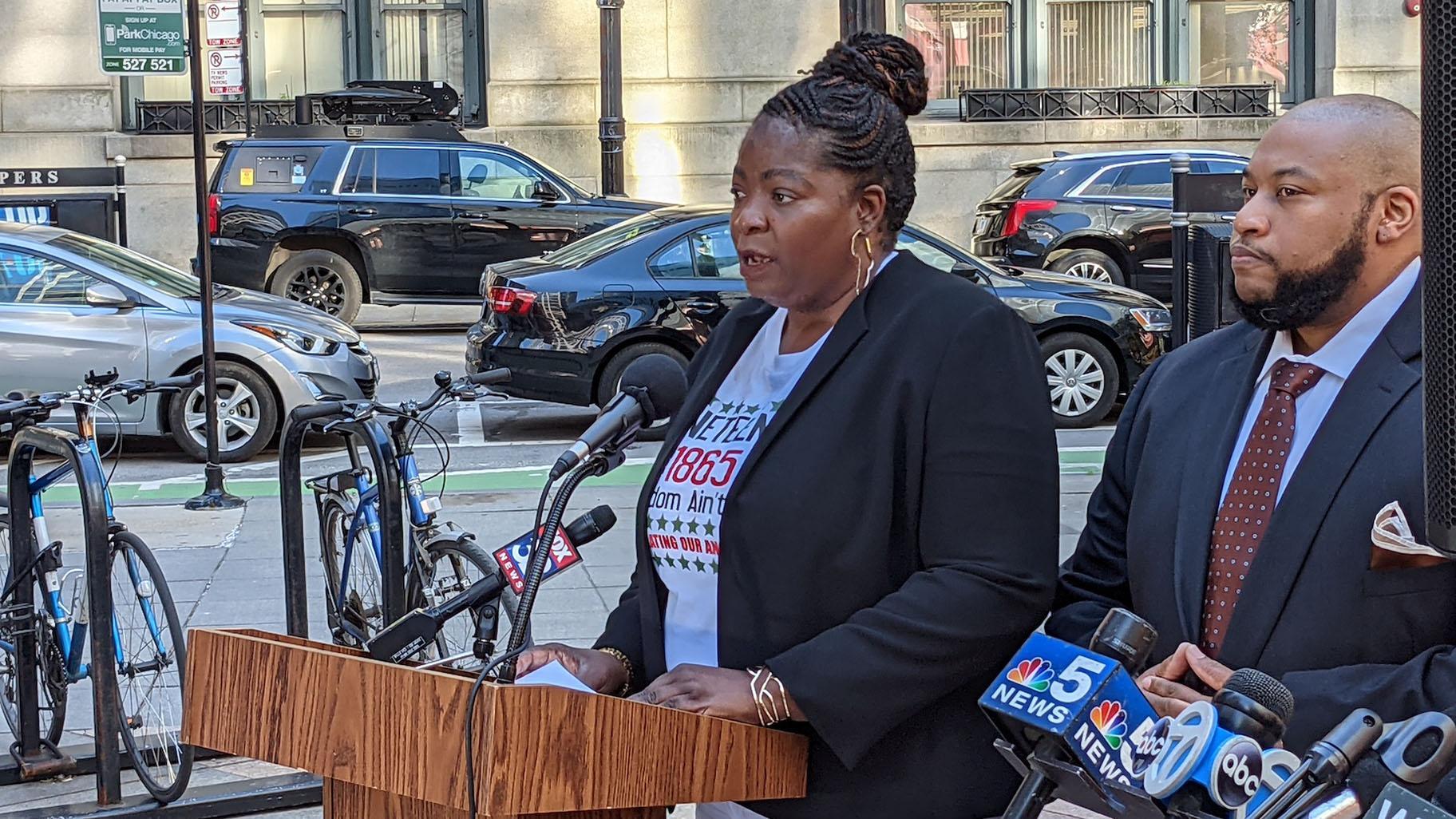 Anjanette Young and her attorney Keenan Saulter speak outside the the James R. Thompson Center on June 16, 2021. (Matt Masterson / WTTW News)
On Monday, members of City Council's finance committee unanimously endorsed a recommendation to pay $2.9 million to Anjanette Young to resolve the lawsuit she brought after police officers handcuffed her while she was naked and ignored her pleas for help during a botched raid in February 2019.
The proposed settlement is now set for a final vote Wednesday by the full council.
The potential settlement comes nearly a year after Chicago's CBS affiliate, WBBM-TV, aired video of the raid, which showed Young had been left unclothed by a group of male officers who were looking for someone else, touching off a political firestorm.
In June, Young told reporters she felt "betrayed" by the reluctance of attorneys representing the city to settle the case, months after Chicago Police Superintendent David Brown told members of the Chicago City Council the officers who conducted the raid had violated Young's human rights. 
Appearing virtually at Monday's meeting, Celia Meza — the city's top lawyer — presented the proposed settlement to committee members and defended it as "fair and just."
There was no substantive debate over the terms of the settlement, which Meza said had been endorsed by Young and her attorney.
Ald. Raymond Lopez (15th Ward) said the settlement was't enough.   
"My heart of heart tells me this is insufficient. I believe that we owed her more," said Lopez, who, along with Ald. Jeanette Taylor (20th Ward), had previously attempted to block Meza's appointment as head of the Law Department in protest over the city's handling of Young's lawsuit. 
Mayor Lori Lightfoot said at an unrelated news conference Monday afternoon that it was "a good thing" the lawsuit was one step away from being resolved, once again calling the video of what happened to Young "horrific."
"We need to heal from this and move forward," Lightfoot said.
Brown has moved to fire Sgt. Alex Wolinski, the officer who led the raid.
A probe of the raid by the Civilian Office of Police Accountability found evidence that nearly a dozen officers committed nearly 100 acts of misconduct during the search of Young's home.
COPA's probe was one of three investigations into the raid. 
Former Inspector General Joseph Ferguson sent a 163-page report of his own investigation to Lightfoot just hours before he left office Oct. 15.
Although Lightfoot promised "complete transparency" about what happened to Young, the mayor has repeatedly refused to commit to releasing Ferguson's report and told WTTW News it was inadequate.
Lightfoot did not "fully cooperate" with his probe, Ferguson said.
A third probe, by retired Judge Ann Claire Williams and the law firm Jones Day, is still ongoing. That investigation into the raid and the conduct of the mayor's office, the city's Law Department and the police department has been underway for nearly a year with no completion date announced.
After the raid of Young's home, the Chicago Police Department changed its policy for serving search warrants to add a requirement that bureau chiefs sign off on any no-knock warrants. It also adds steps before, during and after the execution of a search warrant, such as requiring officers to account for the possible presence of children or vulnerable parties and mandating a lieutenant or higher-ranking official is on the scene. 
Illinois Attorney General Kwame Raoul told WTTW News those changes are insufficient.
A measure backed by several alderpeople, including five Black female council members, includes an outright ban on no-knock warrants and requires officers to use "tactics that are the least intrusive to people's home, property and person and least harmful to people's physical and emotional health" while tracking warrants.
That proposal, which is also supported by Young, has yet to get a hearing in the City Council.
Contact Heather Cherone: @HeatherCherone | (773) 569-1863 | [email protected]
---